Are you living in a rural city or in some state in India where you used to face very frequent power cuts or used to have regular scheduled power cuts and life becomes a mess because of scarcity of availability of cold water for drinking purpose and keeping vegetables and fruit fresh in summers or even in winters and used to face storage problems of milk products specially because they need to be kept in continuous cold environment and frequent power cuts ends up with too much wastage of such products because of non-availability of continuous supply of electricity to refrigerators all the time. And even 3-4 hours power cut makes a big impact on freshness of products kept inside it.
Also, if you know, 70-80% of the Indians prefer to have vegetarian food, hence usage of refrigerator section becomes more prominent if compared to freezer usage and yes, freezer is also used frequently but when compared, it shall never get more importance then refrigerator section.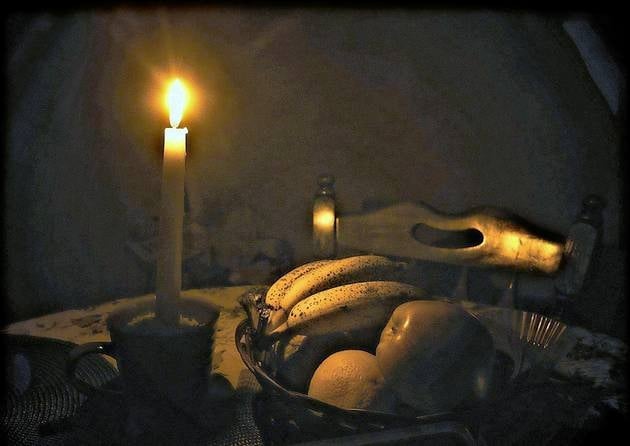 Hence, above discussed points raise the need to cooling retention during powercuts and shall be highly in demand in future if some company may bring such technology to consumers with more than required cooling retention period.
And realizing such demands, LG developed a technology named EverCooL™ which is designed on the basic design concept of an additional cooling medium required for cooling retention when there is absence of normal power supply & the compressor is not working.
LG EverCool Technology Explained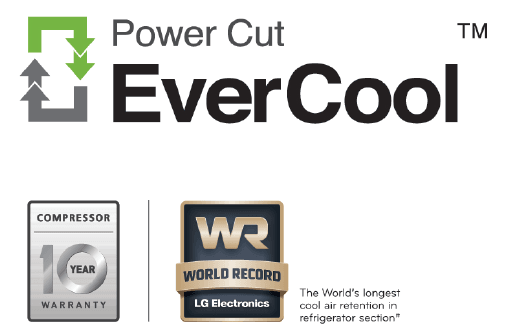 Based on this basic design need, an additional cooling mechanism (Cooling Plates, Cooling Pipes & Cooling medium – Refrigerant) is installed with control mechanism as valve which works on basic principle of thermo siphon & operates only when the power is not there.
The cooling mechanism has main parts Like Cooling Retention Source, Cooling pipes, Refrigerant, Cooling Plates and Control Mechanism Valve.
A closed loop is created with refrigerant stored inside the cooling pipes and this refrigerant comes in motion through valve activation & it activates only when there is no power, initiating the refrigerant flow in closed loop & cooling through the cooling retention source at top of the refrigerator.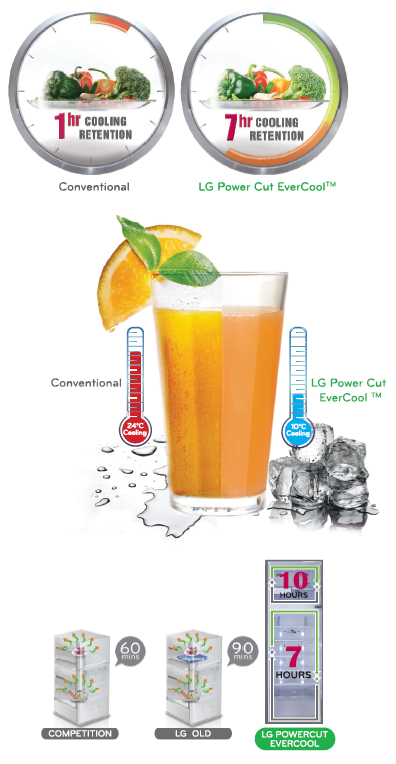 Additional cooling plates ensure cooling retention in refrigerator section for 7 Hours in Frost Free range.
Direct cool works on the concept that cold air moves down & hot air rises. At the top installed are 3 sides of additional innovative cooling retention medium in freezer and 4th side in the chiller tray ensuring 6 hours cooling retention in refrigerator section which provides 6 hours of cooling retention in refrigerator section.
In case if you want to see TVC, here you go..
Features of Evercool Technology: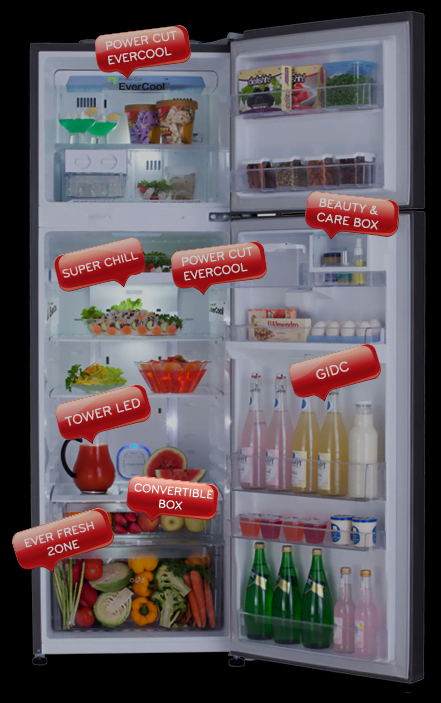 It provides longest cooling retention in refrigerator section

Energy consumption is NIL

No extra load on the compressor due to Unique cooling gel

Cooling provided by power cut EverCool refrigerator is 7 times longer, which ensures cooling of up to 7 hours in refrigerator portion and 9 hours in freezer portion even after the power cuts

Cooling gel used is not hazardous to health and environment

Life cycle of cooling gel used in EverCool technology is 10 years

Fast freezing provides delights at a touch of button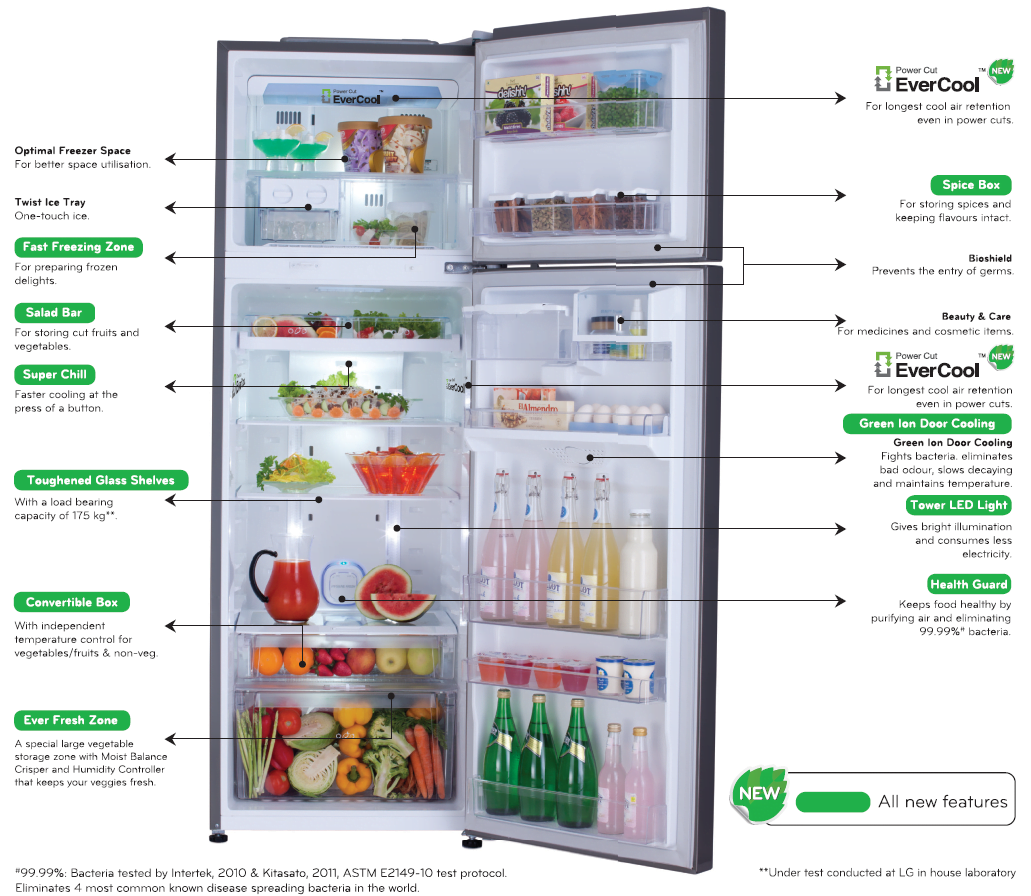 Some additional highly valuable features of LG refrigerators combined with EverCool Technology: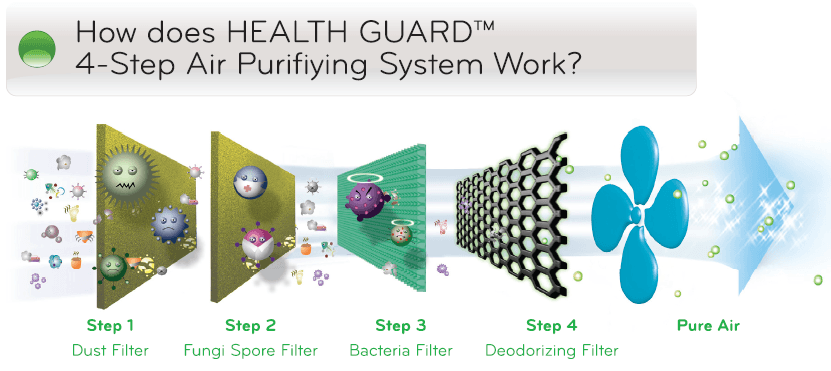 Health Guard is also a unique (and my favorite) technology by LG which preserves the freshness and nutritional value of food by 4-step air purifying system that actively purifies the interior and sterilises upto 99.9% of bacteria.
GIDC (Green Ion Door Cooling) and Multi Flow Cooling

GIDC adds an additional level of food protection by fighting bacteria and helps eliminating bad odour. And last not the least, Multi AirFlow (with door cooling) evenly spreads cool air and keep food fresh for longer period of time. But It doesn't mean that you'll need to store food only at doors but this is an additional feature for keep food fresh anywhere.
Organized Space Management provides different sections for storing different items like convertible box, salad bar, spice box, beauty and care box, ever fresh zone etc.

Freezer lamp – which will allow you to view food items in the freezer assuming if you're in a low-lit room.

Low Voltage Start Ability (LVS) helps refrigerator to perform optimally even in low voltage conditions and thus it can operate within a range of 135V-290V and will withstand voltage fluctuations, making it virtually stabilizer free.

Plus the LG intello compressor has a better energy efficiency ratio, which helps lowering the rate of power consumption too.
Final Verdict
Please don't count this article as a review of an refrigerator. I wrote this to spread knowledge about this highly innovative technology which is actually needed by consumers who used to face highly frequent power cuts and having a refrigerator which offers cooling retention for even 7 hours (without power) in refrigerator is a boon for them.
Tell us in which state you live and what kind of problems you face with your refrigerator in comments.