Adaptxt is one of the best option for replacement of default android keyboard application and is available for download at Play Store now for download as a free application. This app is developed by Key Point Technologies which is leading input text solution provider and have many leading OEM companies as their clients. But, why we are writing a review of this application, it's because this is the only application i came across which support many multilingual languages like Hinglish, Banglish, Marathinglish, Odinglish and many more. And the list continues with supporting normal local language as well like English, Hindi, Kannada, Malay, Marathi and many many more. Apart from this, the uniquest thing this app got is providing Industrial SMS dictionaries like Business, Financial, Legal, Medical, Sports and much many more.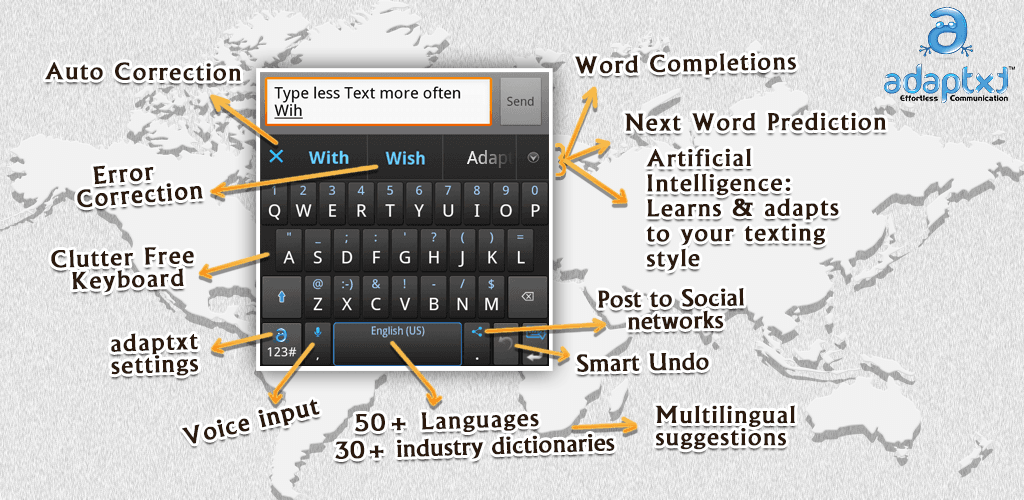 Adaptxt Keyboard Review
Let's start the review by showing it's major features with images to make things more clear and understandable. There are many features in this app which are really great to have in any keyboard, however there are some scope of improvements too which we'll discuss along with the review.
As you can see layout of this keyboard, it is indeed pretty nice. We tested this app on Huawei Ascend G300 which has 4″ display size and came to us for review recently. This keyboard has three themes inbuilt supporting White, Black and blue color. We found white and black theme pretty nice in looks, however blue looked a bit odd.
Scope of Improvement: When we installed the app for fist time, indeed it showed us options that how we can enable it for using that, but after enabling, it should show some small demo in form of a slide of images (tour) or anything which may instruct an user where he/she could find option for updating social networks, changing keyboard layout and finding many other options.
Pressing the bottom-left key with adaptxt icon continuously open up a pop-up menu with options of Privacy Mode, Choosing layout, Auto-Correction, Removing Accents, ATR (Automatic Text Replacement) Settings and Keyboard Settings.
Scope of Improvement: Currently when you select any language like English (US), Hinglish or say any language, an user can use one language at a time. However this thing can become more awesome and can provide very high rich user experience if the app gives an option to use two or more dictionaries at same time. Means like i am a north Indian, so i would like to get automatic suggestion from both English and Hinglish while typing. I would never like to change the dictionary for getting a suggestion from another dictionary. Same thing applies for say Marathi and Marathinglish as well or any other language.
Usually this application learns new words automatically which you commonly use while typing anywhere and add those words in the custom dictionary for future use. There is no point of worry, as these words will be saved in your phone memory only and nothing will get uploaded on Internet anywhere to maintain user privacy. However when you want that keyboard may not learn words for some of your sensitive conversations, you can turn ON the privacy mode and the app will not learn anything then until you turn OFF the option back.
Scope of Improvement: Currently you can save a backup copy of custom dictionary to SD card and restore as well, but there is a limit of 1500 words of storing words in it. Also there should be an option of taking backup of whole settings of keyboard to SD card, so that in case, you format your phone or change it, you may could restore all the settings including custom dictionary as well.
Checking out settings, you have My dictionary (custom dictionary), Add-On Manager (where you can download and add dictionaries to the keyboard), Personalize Suggestions (where you give permissions to the keyboard from where he should learn the words like SMS, Contacts, Facebook and Twitter. It also gives option to import custom words from Android Dictionary.
Automatic Text Replacement
This is one of the key feature why we loved in this app. Using this, you can set an Acronym for a longtail statement which you use oftenly while conversations. It is something which can save you a lots of time while on the go. E.g if you set hru as acronym for Hi, How are you? Then when you type hru, in auto-suggestions, +hru will appear which upon tapping will change the statement as set by you.
Lookup meaning in Wikipedia
This app also supports finding meaning of words on Wikipedia. All you need to type the word, tap the suggestion continuously and a pop menu will open up showing option to search the word on Wikipedia. Also wherever a password option appears, this app doesn't learn automatically whatever you type.
Scope of Improvement: Currently the search query to wikipedia is sent to the desktop site and since you're opening the site on a phone, the site will redirected to mobile version. Hence, the app developer can send the search query directly to mobile site to enhance user experience and for saving time from redirects.
Update Facebook and Twitter right from Keyboard
Use can update your social networks like Facebook, Twitter and other supported networks using share text option in the keyboard. Just type the text anywhere and choose share option, by pressing the key given on right of space bar and it'll give you option to update your Facebook and Twitter or you can choose option 'More' and share the same text to many other supported places.
Scope of Improvement: App developer can make an option or create a widget which may tapping upon open up a blank space to write whenever the user wants to update their social networks. It makes no sense currently to open any random app for updating another app. Otherwise, an user can directly open the social network app and update it accordingly and hence this feature becomes useless. So, changes in this features becomes a mandatory part.
Final Verdict
Indeed currently ignoring scope of improvements i suggested, still this app is awesome to use. Since it has much more features compared to any other app available in Play Store. And moreover it's Ad Free and available free of Cost. I am sure developers of this app will take my suggestions into account and will work upon it. As per my recommendation, this is definitely a must have app. You can download this app from Play Store for Phone and for Tablet here. If you have any other query about this app, you can ask me straight in comments.