AppTab Duniya is one of the 5 tablets which company recently announced and presented as a mid-ranged budget tablets targeting premium category customers. AppTab Duniya is the one with highest specs amount the range company has in 7″ sized tablets currently. The key features this tablet have is A9 Cortex 1GHz processor with 3G calling facility. If you're not aware of the name of AppTab, then it's an bangalore based IT company and this brand is pretty much famous in South India.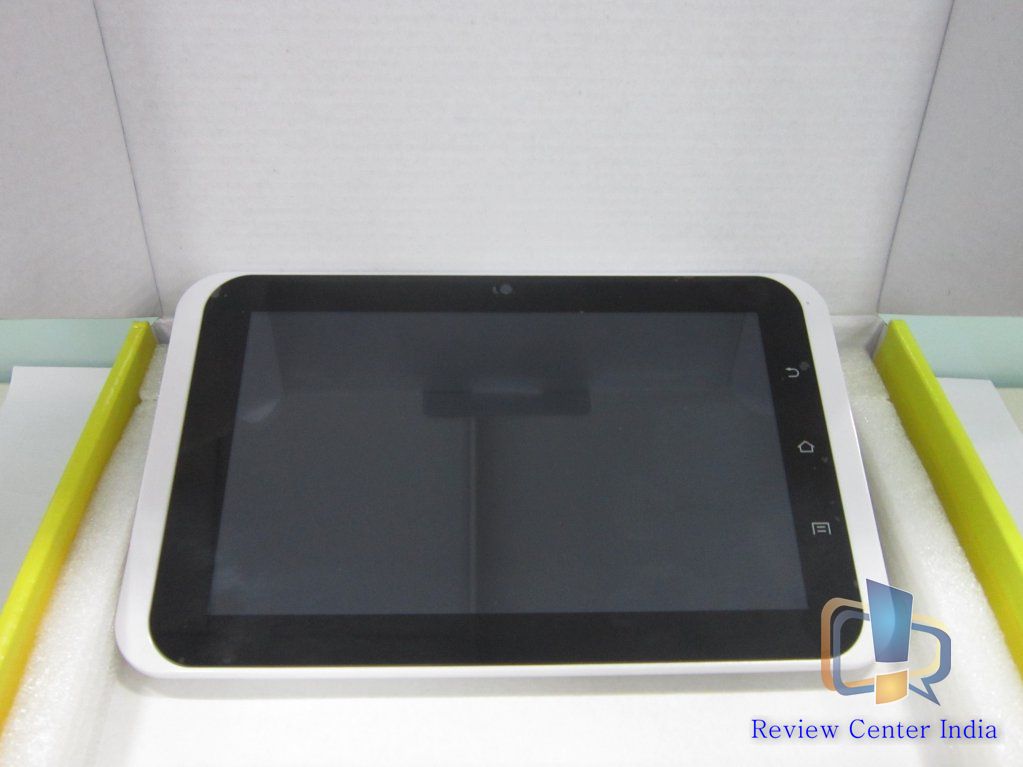 AppTab Duniya Tablet Review
This tablet impress anyone with the specifications and features it has. It's a good looking tablet having a combination of black front surrounded by white bezel. However we need to keep this in mind, that good specifications comes with a cost and so it is priced accordingly to it. It is currently priced at Rs. 14000 approx which i think is a bit higher as there are many other competitors taking out there product with almost same specifications at lower prices. Hence we expect that the price of this tablet shall come down very soon or might be it should be available at lower cost at local offline retailers.
AppTab Duniya Tablet Design
AppTab Duniya had a good design with a combination of black and white in front as we explained above. Overall build quality is nice and the plastic is also of fine grade. The tablet has a rectangular design with curves around corners and there is a white bezel around the front and even whole back white coloured which looks nice. However many people to whom we showed the tablet, didn't liked the big company logo printed at back.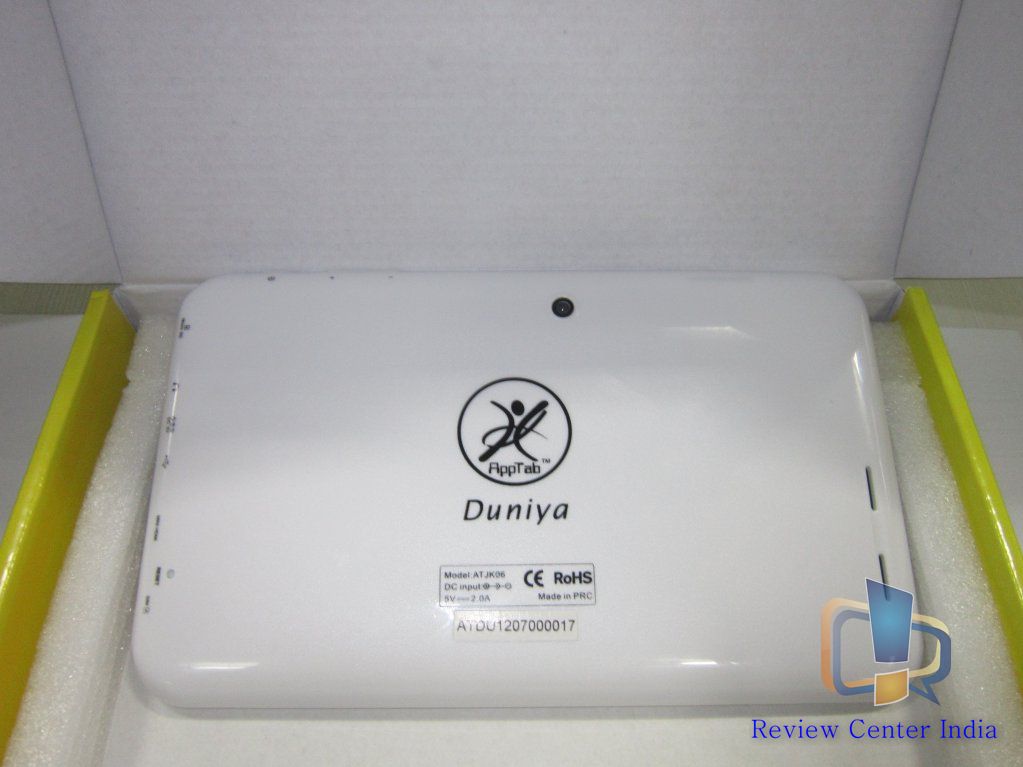 And there is a 2 megapixel camera given at back with no flash and since mostly ports are given at bottom, all the symbols which represents the functionality of them is also printed at back bottom in black as small icons. The sim slot is also present at bottom only along with mini USB, micro SD, mic, HDMI port and 3.5mm jack. Volume rocker and power buttons are given at top right, which are the best place to give nice user experience. Overall all the things including ports and buttons are ergonomically placed in this tablet.
AppTab Duniya Tablet Display
The AppTab Duniya tablet comes with a 7 inch capacitive display with multi point touch and 4:3 display aspect ratio. The display is much much better in detailing since it has an IPS screen with a resolution of 1024×600. Touch response is great and the display quality is superb for watching movies surfting internet. Playing games is also a pleasureable experience because of nice touch response and great speed.
AppTab Duniya Tablet Images
AppTab Duniya Tablet Performance
Even though the tablet has 1.0 Ghz processor but it's of Cortex A-9 version (AML8726-M3), it's quite fast in performance unlike the A-8 which will be stopped using soon by manufacturers. Also it's coupled wtih 1 GB RAM which helps running applications fast and smooth. The tablet worked smooth even playing some high processor consuming games without any obstructions and the sensors also worked fine which are usually required by many games like Gyro or Gravity sensor.
Since, it has a Cortex A-9 Processor, we found most of the games compatible in Google Play Store. Although after playing games, the tablet do get heated up, but it's not that very much that may become a point of worry.
Internet browsing worked well in both Wi-Fi and on 3G. Overall the tablet is quite fast in closing and opening applications or even switching from one app to another. Since, it has ICS android, we were able to do multi-tasking smoothly without any hassle or slowness.
AppTab Duniya Tablet Camera
Although it has 2MP camera at back, the camera is not very bad at taking pics. Even though 2MP is obviously not of very good quality, but is quiet reasonable. For operating the camera, android default application is there and there is no dedicated shutter button. Although as usual you can use other applications for operating the camera.
At front, it has a VGA camera (0.3MP) which is not much impressive but yes you can use for video chats and there it gives the reasonable quality, so that one may not hate it.
AppTab Duniya Tablet Battery
It has a 4000 mAH battery which is actually a decent size and impressive battery a tablet must have. The tablet battery actually lasts 16 hours with fair usage of Wi-Fi and 3G, few calls, gaming and movies. And with a full charge and without any usage, the battery lasted approximately 2 days.
Calling
One of the key feature of this tablet is voice calling. It has a normal Sim card slot given at bottom, hence you need not buy a saperate micro-SIM for this. Making and receiving calls worked fine and we didn't faced any issue in having network coverage as well. However, for keeping privacy, you'll need headphones all the time if you want that others should be able to hear about your conversation, since without them, you'll need to keep the back side of tablet towards ear to hear from speaker which is loud enough at full volume, that others may too hear what you're talking about.
Entertainment
As we mentioned above earlier, it has a processor which is capable to play games and videos quiet smoothly. We were able to play even MKV format videos, obviously it played other formats as well like MP4, AVI and other by default android supported formats. Sound quality via speakers is good and can be used for listening music in a room well. However the headset, which comes with box is not that par when it comes to quality.
Navigator – Map My India
One of the eye-candy feature of this tablet is that AppTab is offering Map My India maps too with this tablet. Maps and Navigator application is pre-installed in tablet, but just in case, if you delete the installed maps, there is no need to worry as you'll get the DVD of maps which is also included in box contents.
Final Verdict
Since, currently there are so many competitiors out there who are offering tablets with almost similar hardware specifications and lower cost, this tablet is really going to have diffulties getting sales at a price tag of Rs 14000 range. However, if the price drops upto a range of 10-12K, this tablet definitely becomes a good deal to buy.