After so much of hustle and bustle, finally Samsung Galaxy S3 is available in market to create new records of selling units. In starting it has gained lots of negativity like it had a same situation as iPhone 4S had in his starting phase. But taking in real sense, all negativity was for only new looks which actually are nice if we observe it little closer. Apple had always after being Samsung, suing him with charges that there design matches iPhone very well, so this time coming up with a major upgrade in design was pretty obvious by Samsung. That's why it is said on humour part that this phone is designed by lawyers. Samsung made so many changes in its design that it gives him a fresh look other than typical square black or white (body) smart phones looks. Even though Apple iPhone looks have become so typical that they also need a overhaul in there looks as well. However we will stick here to review of Galaxy S3 only.
Samsung Galaxy S3 Review
Galaxy S3 is launched after a long time gap release of S2. However this delay was because of growing sales of Galaxy NOTE as well. However this time in case of S3, Samsung had focused on more providing services and features rather than showing technical Specifications and power. They even this time didn't even mentioned the speed of cores as well because this time they want to make this phone more of people who like services and features rather than power. Features has always been a sales driving thing for cell phones manufacturers and hence more features means more sales for Samsung.
Samsung Galaxy S3 Looks
 When a product is launched, it gains popularity by two things – positive reviews or negative reviews. Since Galaxy SIII has different and some fresh look, it doesn't got a warm hugging welcome by users who are used to see the usual design of Samsung or iPhone. The design of this phone is simply out of the box. I am sure, this time Apple will get nothing to sue Samsung on base of design for this phone. If you're really a avid user of Smartphone, and you are bored by usual typical iPhone looks of smartphone's by other manufacturers as well, this phone would bring a avid breeze of freshness for you.
Samsung Galaxy S3 White
Samsung Galaxy S3 Blue
Talking of Design, have a look at following points:
This is a phone which has curvy edges and it is not a perfect rectangle from even sides. May be this thing they had done for better grip. If you observe the phone, the sides are not perfectly parallel and are little curvy. So the major point it has that all four corners are uniformly rounded.
The substantial thickness of above and below perimeter of phone is unequal. The top bezel is 16% smaller than bottom bezel. May be this is because of again keeping the design specification different from previous release phones.
There is a small metallic surround framing the perimeter on top surface.
This time Samsung doesn't cared much for blending the front camera and sensor in design itself. They are pretty clearly visible, however this is the point which should have taken care by Samsung.
The middle button is made slimy, may be because of small bezel size at bottom for providing a bigger screen as well as to keep the phone length to minimum.
Although it's technical specs match quite much with Galaxy Nexus, still then it looks better than former.
The phone definitely looks & feels good in your hand. I am a avid fan of bigger screen phones and S3 has got something bigger in it. It's rounded edges will also not make you feel uncomfortable when it is in pockets. The phone is quiet light, however not lighter than SII, but they may be because of a huge battery in it. But the weight is really ignorant since 133g is nothing much bulky to carry.  The back cover of phone has a rich coating called hyper-glazing which is very prone to fingerprints. However this is not pretty much an issue.
Samsung Galaxy S3 Hardware Review
 We will talk for hardware review point wise:
Samsung Galaxy S3 Display
 The display of SGS3 is 21% bigger than SGS2. And the Super AMOLED  HD (no plus) screen is simply awesome. Samsung is giving pen-tile display in which pixel grain size is bigger than the usual one, but keeping it big is for one simple reason. The contrast and brightness level on this phone would be better because of this. And having SAMOLED HD screen itself says the story.
Samsung Galaxy S3 Performance
 Exynos is simply awesome. This phone is having Exynos 4 Quad core Cortex A9 processor. This is another best thing about this phone. This process evolution happened from dual-core Exynos which is present in Galaxy S2 phone. This processor has made the phone run like a fluid. The phone performed extremely well in java-script performance test and various other tests too. If you check below, Sunspider test results are extremely good. Below given images will get zoomed on click.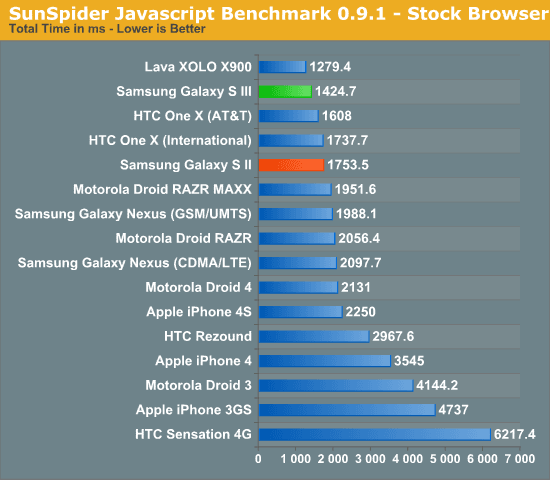 BrowserMark Test Results: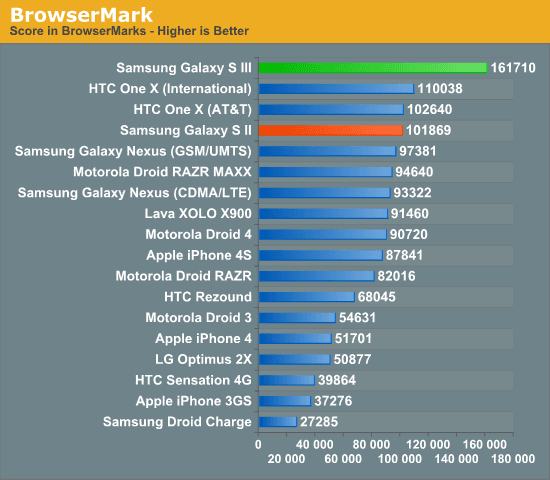 Samsung Galaxy S3 GPU
This phone has got a GPU which is just better than S2. This is Mali-400MP4 which is an upgrade version of Mali-400. Samsung already has the crown for fastest GPU for S2 in its range. And the onscreen GLBenchmark Egpyt & Pro results are extremely good. This meant clearly that this phone can run more complex games and other application if compared to its previous versions.
Below given images will get zoomed on click. 
Samsung Galaxy S3 Audio
This is something very special in this phone. This phone has got best audio features in it. This phone is powered with
Wolfson WM1811 DAC
which is best in this industry. The special thing about this is that its integerated class D speaker driver and Class W headphone driver minimize power consumption during audio playback and the native sampling rage is 44100 Hz. This means that the music played will be sent as-is to the DAC before being processed by any un-sampling routine software which means more good sound quality. So regardless of any other platform, Galaxy S3 is the ideal phone for high quality music listening.
Samsung Galaxy S3 Camera
This phone boasts a 1.9MP front camera and a 8MP camera at back. The back camera system is F/2.6 and with a focal length of 3.7mm. It also has flash inbuilt which is pretty obvious to have.  The camera is able to record HD Videos upto 1080p format. Also it does high profile recording video on a very high baseline of 17 mbps. And the picture quality clicked from S3 is quite much better than quality of S2. Also, the camera can be activated through voice actions (S Voice) and also it recognize sound, means if you shout "cheese", it will click your picture.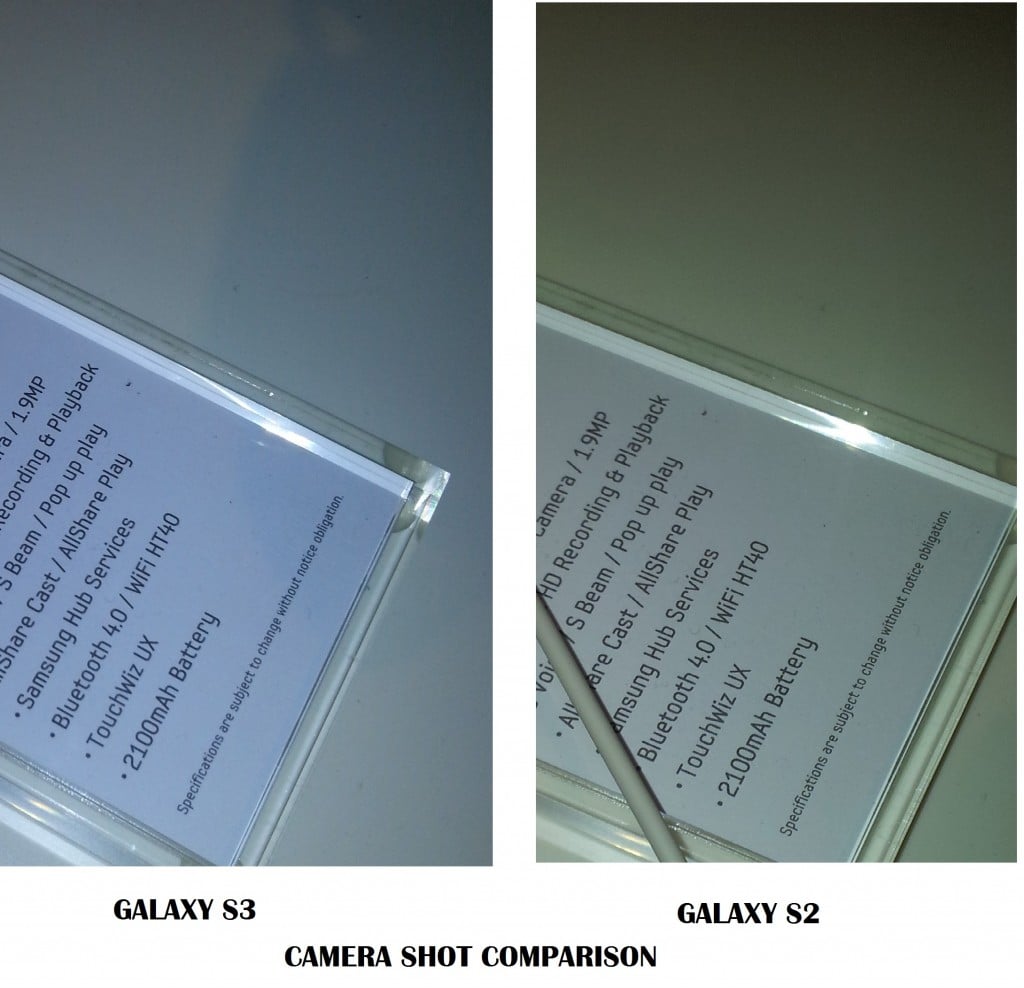 Also some camera shot samples are provided below:
Image Credit: Unknown. All images are click to zoom.
Samsung Galaxy S3 Battery
This phone boasts a 2100 mAh battery (removable) which is huge. Also its better because of lithography in 32nm HKMG. Battery utilization by this phone is pretty less because of some special capabilities of Exynos processor. Each core of it can be turned on and off independently with "hot plug" capability or can be put into a state of half cache turned off. Samsung utilize both Frequency Scaling (DCVS), Dynamic Voltage and power gating. Also each of the audio/video IP blocks can be turned of independently. It also supports wireless charging technology support (this feature needs an external aftermarket accessory).
Samsung Galaxy S3 Storage
This phone supports MicroSD upto 64GB and has a offer of free 50GB dropbox account as well. Also inbuilt storage variants are availabe in 16GB and 32GB. Also its worth mentioning that its memory also supports exFAT which means you can store files bigger than 4GB too in it.
Samsung Galaxy S3 RAM
It has inbuilt 1GB RAM which is more than enough to play big games or applications. Also it has more memory available to use after boot if compared to other phones which is remarkable. 
Samsung Galaxy S3 Software Review
This phone is butter smooth. The phone is still having the green "Gingerbready" looks and feel which is made intentional by Samsung. Samsung wants that people must get the similar kind of feeling using Galaxy products which they get in other similar galaxy devices too. However the operating system is ICS only till the time i wrote this review. However giving "Gingerbready" looks and feel is what i doesn't agree too. I think people must be aware what new features and functions are available in ICS which they are missing currently even after having phone boasting that OS.
Samsung has pre-filled this phones with lots of extra features to give it an edge over other phones. It also has double applications any company has ever provided in any phone. If you're a user who remain more happy in using Custom ROM's by developer, this could be the first phone for you in which you would like to stick with stock OS only. Here is a list of some of the highlighted features by Samsung in this phone:
This feature is an addition to current stock Face unlock feature of ICS. That means if you have activated this feature, the phone will require both face as well as voice recognition too.
It is a sensor based feature which periodically checks if you phone screen is facing your face. That means it will keep an check if you're looking at phone or not. If yes, then it'll keep the screen lit up, but when you keep the screen away from your face, the phone will undim the lit. Since because the sensor is not ON all the time because of this, the batter usage is also negligible.
This feature will give you a friendly vibrate alert when you'll have a missed call or unread messages on your phone when you had been away from him and as soon as you pick it, it will give you the alert. This feature is indeed truly useful. Isn't it?
This feature allows you to perform a series of gestures like if you do a wiper-blade gesture, it'll take a screenshot. Again if you double tap the top of phone, the scroll-able list will jump to the top. By placing your thumb over video for some time, you can pause it. There are more gestures which you can discover in the mean time by using it yourself.
Just in case if you're having a SMS conversation with someone, and now you need to call him/her, so if you're just looking at the SMS, take your phone to the ear, and phone will automatically dial the number of the person of whom you were reading the SMS. This feature also works on a contact detail page too.
Just in case you're watching any video on phone, and you got a SMS and you need to reply to that too. So, this feature will allow you to reply to the SMS as well as you can keep watching the video too.
Using this feature, the S3 can take a bunch of pictures at one go and then automatically pick one to save. This needs burst mode to be activated as well. Just keep the settings correct, and after when phone is done clicking pictures, it'll show you all the results in which you can keep the one to save.
This is another feature made exclusively by Samsung to compete SIRI of iPhone. This feature is a well polished app and it's upto till date the best voice assistant ever came to android. You'll need to try this by yourself to dig out more how well it is performing to voice recognition's as well.
This feature is a combination of NFC and Wi-Fi direct, which allows you to transfer music, videos, images or any other type of file you want to transfer in a much much faster speed and at great distances than NFC.
This feature is all about a new concept being introduced by Samsung. Share shot uses Wi-Fi direct to share images you click between all connected devices present in range of it. Just suppose, if you're gone in a party and you had your device connected with many other devices there, you'll end up having all the images of connected device and you'll never need to ask everyone to provide you pics later on. Also this feature doesn't require an Wi-Fi network that's why it is called as Wi-Fi direct.
This phone use facial recognition to analyze and auto-tags your photos. If it is not sure of any picture match, it will show a question mark nearby it and you can later on approve it with right match. Also once you have tagged them, you can call, SMS, email or even interact with them on attached and supported social networks.
This feature has 2 parts – Cloud Sync and Direct Connection. The first part is powered by SugarSync and is deeply integerated into the OS and you attach upto 6 devices on one account and you can have you files synchronized between all the connected devices. Also this phone has 50GB dropbox cloud service free for 2 years. So 2 cloud services on one phone. How cool is that.
This features helps you in streaming photos and videos to your TV using DLNA or Wi-Fi direct option. You'll need an AllShare Cast dongle to support the stream and the TV must have a HDMI input as well.
If you're a person who like to read news on the go all the time, this is a perfect feature for you. Just enable this news ticker feature, and you'll start having a ticker of news headlines at bottom of your phone and if you like any headline, you can flip it up to know more details about it. This flip up will open your phone browser to show the news.
The quick access options present in Notifications area have been changed and now they include Toggling mobile data, Bluetooth, driving mod, synchronization and power savings as well.
Samsung Galaxy S3 Specifications
Below given chart is a comparison specification chart of Galaxy S3, Galaxy S2, HTC ONE X and iPhone 4S.
| | | | | |
| --- | --- | --- | --- | --- |
|   | Samsung Galaxy S 3 | Apple iPhone 4S | HTC One X (AT&T) | Samsung Galaxy S 2 |
| Height | 136.6 mm (5.38″) | 115.2 mm (4.5″) | 134.8 mm (5.31″) | 125.3 mm (4.93″) |
| Width | 70.6 mm (2.78″) | 58.6 mm (2.31″) | 69.9 mm (2.75″) | 66.1 mm (2.60″) |
| Depth | 8.6 mm (0.34″) | 9.3 mm ( 0.37″) | 8.9 mm (0.35″) | 8.49 mm (0.33″) |
| Weight | 133 g (4.7 oz) | 140 g (4.9 oz) | 129 g (4.6 oz) | 115 g (4.06 oz) |
| CPU | Exynos 4 Quad (4412) Quad Core Cortex A9 / Dual Core Qualcomm Snapdragon MSM8960 | Apple A5 @ ~800MHz Dual Core Cortex A9 | 1.5 GHz Dual Core Qualcomm Snapdragon MSM8960 | 1.2 GHz Exynos 4210 Dual Core Cortex A9 |
| GPU | ARM Mali400MP4 / Adreno 225 | PowerVR SGX 543MP2 | Adreno 225 | ARM Mali-400 |
| RAM | 1 GB LPDDR2 | 512MB LPDDR2-800 | 1 GB LPDDR2 | 1 GB LPDDR2 |
| NAND | 16/32/64 GB NAND with up to 32 GB microSD | 16GB, 32GB or 64GB integrated | 16 GB NAND | 16 GB NAND with up to 32 GB microSD |
| Camera | 8 MP with AF/LED Flash, 1.9 MP front facing | 8 MP with LED Flash, Front Facing Camera | 8 MP with AF/LED Flash, 1.3 MP front facing | 8 MP AF/LED flash, 2 MP front facing |
| Screen | 4.8″ 1280×720 SAMOLED HD | 3.5″ 640 x 960 LED backlit LCD | 4.7″ 1280 x 720 LCD-TFT | 4.27″ 800 x 480 SAMOLED+ |
| Battery | Removable 7.77 Whr | Internal 5.3 Whr | Internal 6.66 Whr | Removable 6.11 Whr |
Samsung Galaxy S3 Price
This phone will come with a price tag of Rs. 36,000 in month of june when it'll be available for sales in India.
Final Verdict
This phone is no matter, the best phone ever launched by Samsung till date. It isn't as big as Galaxy NOTE nor smaller, having a perfect size for watching movies, playing games and yeah ofcourse doing calls as well. However having such unique and great features in any phone is really appreciable and i really wish to own such phone permanently too. So, its pretty obvious, this phone is definitely a recommended buy.