Imaging Pioneer Fujifilm has announced the launch of the much the Fujifilm GFX50s mirrorless camera in India. The company claims that the GFX50s is built to achieve the best image quality, adopting a 43.8x32.9mm medium format (Fujifilm G Format) 51.4 MP sensor. The camera also comes with X-Processor Pro ISP, compact body, 3.69M-dot organic EL electronic viewfinder and 2.36M-dot touchscreen LCD back panel.
Commenting on the occasion, Mr. Haruto Iwata, Managing Director, Fujifilm India Pvt. Ltd. said, "We are excited to launch the much-awaited GFX50s and G-mount lenses for our esteemed customers in India. Fujifilm's X Series system has been appreciated by professional photographers and photo enthusiasts around the world, due to its excellent image quality and mobility across a wide range of genres including landscape, commercial and fashion photography. Taking forward our promise for developing innovative technology, and to strengthen our commitment towards mirrorless segment, we have introduced this range to offer even higher image quality. As we complete 10 years in India, we continue to bring the best of technology and innovation to our consumers at the best possible price point.''
Along with the new Fujifilm GFX50s, the company also launched the new FUJINON GF Lens series, which the company claims to be capable of creating the world's highest level of photographic expressions. The line-up includes seven interchangeable lenses- GF23mmF4 RLM WR, GF45mmF 2.8R WR, GF63mmF2.8 R WR, GF110mmF2 R LM WR, GF120mmF4 R LM OIS WR macro, GF250mmF4 R LM OIS WR and GF32-64mmF4 R LM WR.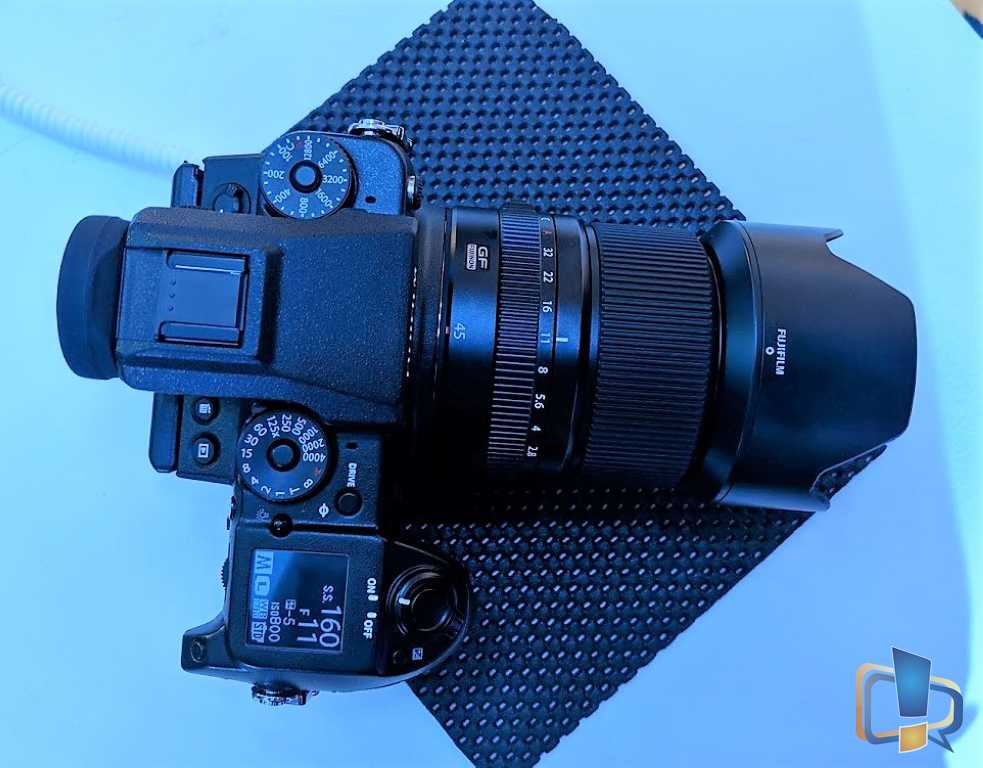 The new Fujifilm GFX50s comes with highly rated X-Processor Pro, which is also used in the X-Pro2 and X-T2 cameras as well, which supports high-quality video with no post-processing. The camera weighs approximately 1230g when paired with a standard lens (GF63mm F2.8 R WR), which is 40% less than a medium format DSLR camera equipped with a sensor of the same size.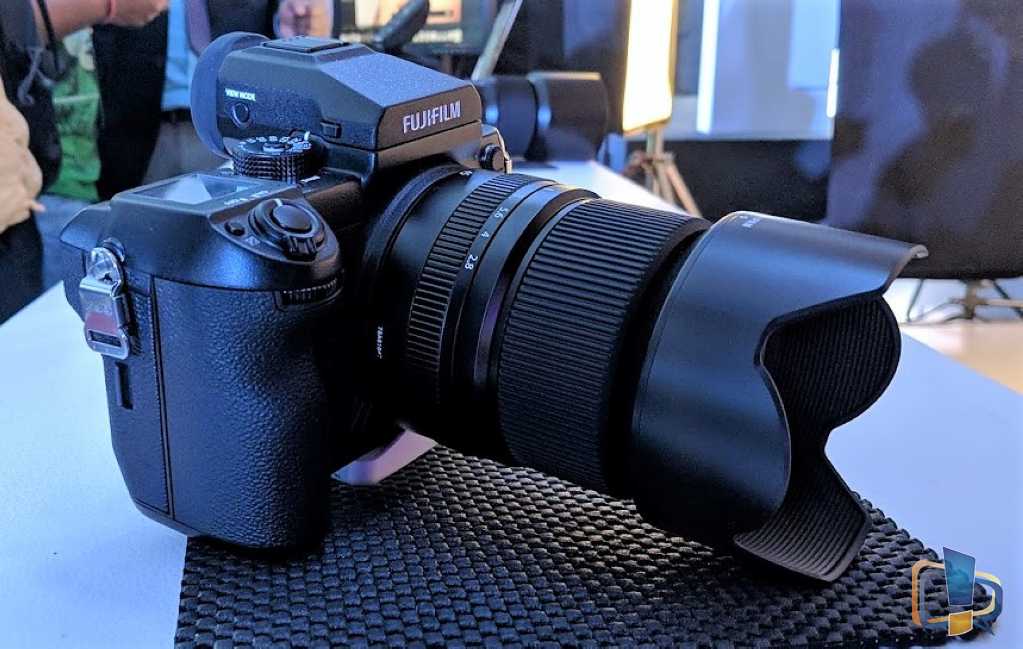 In the new Fujifilm GFX50s, a detachable structure has been adopted which allows for flexible operation as per convenience. Using the EVF-TL1 EVF tilt adapter, the angle can be changed to a maximum angle of 90° when shooting horizontal landscapes and ±45° when shooting in the portrait position. A 3.2-inch, 2.36M-dot touch panel has been added allowing touch operations for the selection of the menu, distance measuring points and viewing of images that have been taken.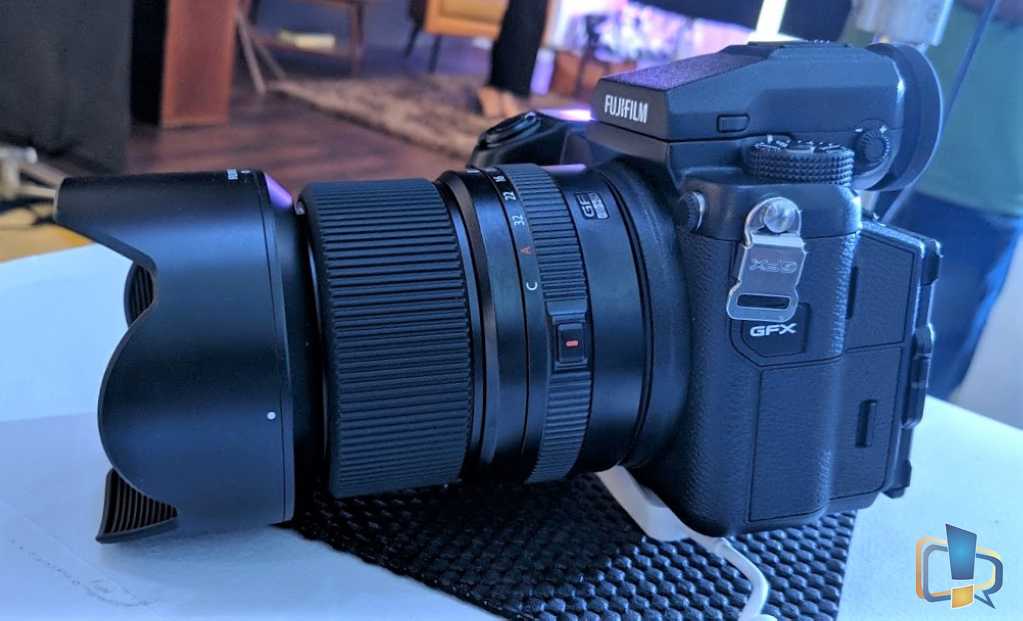 In terms of the new lenses, the new FUJINON GF23mmF4 R LM WR has a focal length equivalent to 18mm in the 35mm format and is perfectly suited for landscape and architectural applications., while the FUJINON GF45mmF2.8 R WR is a highly versatile wide angle lens with a focal length equivalent to 36mm on a 35mm format and maximum F2.8 aperture. The FUJINON GF63mmF2.8 R WR features an angle of view of approximately 50mm in 35mm format and the FUJINON GF110mmF2 R LM WR is a medium telephoto lens for portraits having a focal length of 87mm in the 35mm format. The three other lenses are the FUJINON GF120mmF4 R LM OIS WR Macro, FUJINON GF250mmF4 R LM OIS WR (A telephoto lens that achieves approximately 198mm in 35mm format equivalent) and the FUJINON GF32-64mmF4 R LM WR.
The Fujifilm GFX50s Mirrorless Camera is priced at Rs 511,999 while the GF lenses are sold separately and their prices are mentioned below.
| | |
| --- | --- |
| Lens | Price |
| GF23mmF4 R LM WR | Rs. 2,04,999 |
| GF45mmF 2.8R WR | Rs. 1,33,999 |
| GF63mmF2.8 R WR | Rs. 1,19,999 |
| GF110mmF2 R LM WR | Rs. 2,19,999 |
| GF120mmF4 R LM OIS WR Macro | Rs. 2,09,999 |
| GF250mmF4 R LM OIS WR | Rs. 3,53,999 |
| GF32-64mmF4 R LM WR | Rs. 1,79,999 |
Fujifilm is working on the expansion of its X Series in the Indian Market and the company plans to expand its touch points to enhance customer touch and try experience. The company is adding 50 more service collection points by the end of FY 2018 and also planning to set up Fujifilm Professional Service by the second half of this fiscal.