Researching about the perfect air conditioner can be a hectic task considering, first, the consumers don't know which one to buy, and second, they don't know how to pick one over the other. What tonnage you should buy or what features to look for in an Air conditioner? There are so many questions that one needs answers before finalizing a model. So, here I am to help you with that, by explaining what things to consider before buying an air conditioner along with some brand recommendations at the end of the article:
Air Conditioner (AC) Buying Guide 2019 – Points to Consider before Buying it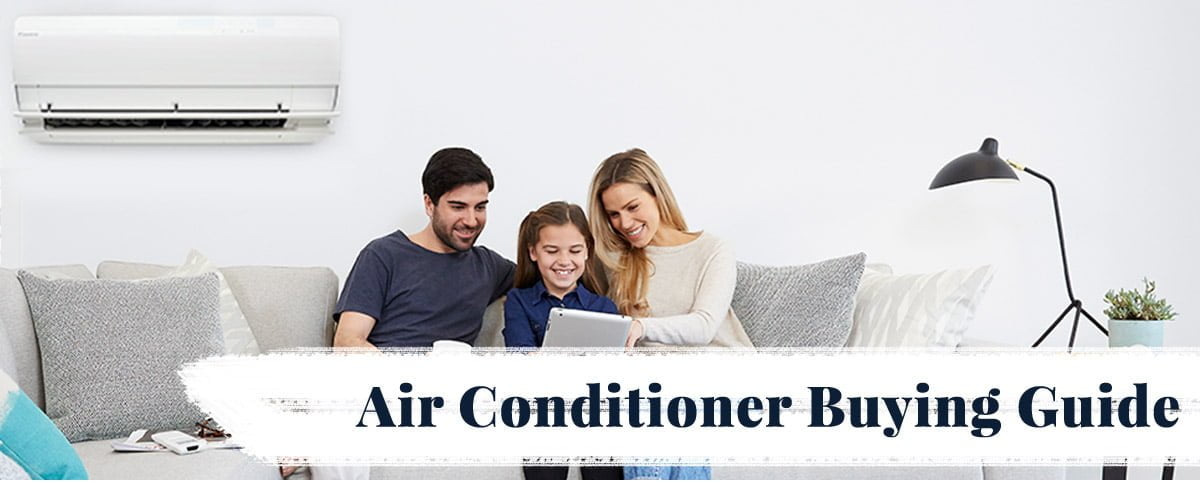 Window or Split AC
This is the easiest decision to make. Choosing between Window or split AC depends on the layout and size of your room and whether you have space outside to install the outdoor unit, if in case if you're considering buying a Split AC. If there is a possibility for you to install the Split AC, consider it as your first choice. But if you're a tenant or someone who keep moving from one place to another, Window AC is the best option for you or consider same if you don't have an appropriate space of installing the outdoor unit outside of Split AC.
The reason why you should consider buying Split AC as the first choice is because they run almost silently and you don't have to make a big hole in your room for installing it. Split AC looks better and suits the room decor as well. It's a myth that cooling of Split AC is better, both are good for cooling, however, with Split AC, your room might cool down faster because it has a wider opening to throw air into your room than a Window AC.
Installing a Split AC only requires a small hole behind the AC and the same area can be used for installing the upgrade, means if you're upgrading from 1 to 1.5 ton, you won't need a bigger hole in the room, unlike Window AC, whose size and shape can vary as per the tonnage and the design of it.
Tonnage Requirement
Buying the AC with correct tonnage is a very important point, considering some people end up buying bigger ACs with more tonnage than required. That is not a good idea as staying in extreme temperatures are bad for health and it also consumes more power and you would feel discomfort at night. Also, purchasing a less tonnage AC for a bigger area again would cost you more in energy bills as the AC has to work longer in order to reach the desired temperature, thereby costing you the money which you saved previously while buying the AC.
Hence, it's crucial to pick an AC with correct tonnage. Now the question arises, how to calculate the tonnage required for a room? Here's the method which you can use:
Find out your room floor area like (10 ft x 10 ft = 100 ft2)
Divide it by 600. So, this gives you basic AC capacity. And you have to add 0.5 ton for every 5 people.
So, it's like 100 divided by 600 = 0.167. Add 0.5 ton for 4-5 people living in that room which results as (0.167 + 0.5) = 0.667.
So, for 10 ft x 10 ft room, usually a 0.8 Ton air conditioner is enough.
Still, this is not a foolproof calculation. You can follow this standard table provided below for deciding tonnage required for your room:
| | |
| --- | --- |
| Floor Area (Room Size) | Capacity Required |
| Up to 100 ft2 | 0.8 Ton |
| Up to 150 ft2 | 1 Ton |
| Up to 250 ft2 | 1.5 Ton |
| Up to 350 or 400 ft2 | 2 Ton |
If you live in a place where the weather touches the extreme level, like in summers if temperature typically crosses 40-50 deg, you must consider adding 0.5 Ton extra with the required tonnage for effective cooling.
Star Ratings / Inverter AC
Since the launch of Inverter ACs, star ratings have become a thing of past. Although yes, Inverter ACs also come in star ratings, I always recommend consumers to buy even 2-3 star rated Inverter ACs as per your budget. Inverter ACs are the present and future of air conditioners and unless if you've only 3-4 hours usage of AC daily, you can consider buying non-inverter 3 or 5 stars rated AC. As per 2018 norms, it is now mandatory to have star ratings on every air conditioner being sold in the Indian market. This is why most brands have now launched their Inverter air conditioners with star ratings (ISEER).
There is a fear among consumers that their energy bills might skyrocket upon buying an AC, while in reality there's nothing like that. An air conditioner consumes electricity at full rated power only if you run AC at extreme temperature (like at 18 deg) all the time and not letting the compressor to cut off anytime. If you keep the AC running at an idle temperature range of 22 to 28, not only it'll consume less electricity while running, compressor cuts upon reaching the desired temperature also saves a lot. And always use a ceiling fan to circulate the cooling in the room, that's very important.
Now, there is a big difference between the normal star rated air conditioners and the Inverter ACs. Inverter ACs are designed to work at a variable voltage and they consume very less voltage during regular usage compared to a normal star rated air conditioners. If you're planning to buy an Inverter AC, just pick any star rated model whether 2 or 3 as per your budget, don't wait to make a budget for 5 stars rated model.
Why Pick an Inverter AC over Non-Inverter AC
When you turn on an Inverter series air conditioner, it'll first start consuming the full rated power for few minutes and then eventually the voltage consumption will keep lowering to even 1/6th of the rated power consumption e.g. if the rated power is 1500W, within half an hour or less, you'll find that the AC is consuming only 300-400W of energy per hour and for overnight 8 hours running, the AC shall consume only 3-4 units of energy. Keep in mind that this energy consumption usage pattern you'll get to see only if you keep the temperature range between 22 to 28, if you keep the temperature lower, the AC shall adjust the power consumption accordingly.
A non-inverter AC does not vary much at energy consumption like an inverter AC. It relies on the compressor to cut off upon reaching the desired compressor, but overall, an Inverter AC saves you a lot more in energy bills in the long run. And now in the market, Inverter Window ACs are also available to buy from LG 2018 models.
Energy Efficiency Ratings (EER)
Since the launch of 2018 models as per 2018 norms, the efficiency of these models has improved a lot. Although some people take EER into consideration while making a buying decision, I won't give that much weightage to it. For me or consumers, it is better to have some features than to compare ACs with higher EER. Higher the star ratings, higher the EER will be & most brands ACs EER differences are marginal, and if they're following the norms, we shouldn't worry much about EER, but must prefer having features in an AC.
Copper vs Aluminum coil
First of all, it's Aluminum alloy, not just simple aluminium and is very sturdy. This is a myth that condenser made of aluminium alloy lifespan is less. I have one LG split AC at my home, with aluminium alloy coil and one window AC with copper coils. Both are working fine without any issues and thankfully no repair has been needed till now.
But at present which one to consider? I would suggest preferring to buy the AC with Copper Coils as those have better heat transfer capacity and are easy to repair & maintenance. Although the cost of ACs with copper coils shall be higher and if your budget is restricted, just trust the brand and you can buy the one with Aluminium alloy coil as well.
Features Not to be Missed
There are lots of features which consumers don't know of but eventually need them once they buy it. There are some popular features like Mosquito Away by LG, PM2.5 filter in Daikin or Panasonic, Auto cleaning of the filter by Hitachi which one should get in their ACs. So here are some features you should look for while buying an AC:
4-way swing if you're buying it for drawing room otherwise 2-way is ok for the bedroom.
Air Purification (like having 3M or PM 2.5 filter) (Optional but preferred)
Smart Features with WiFi having Integration with Alexa & Google Assistant and could be controlled from a mobile app too.
Showing current room temperature on the AC itself (optional)
Quick cool, Jet cool, Himalayan cooling (naming varies with different manufacturers) like features comes handy when you require quick cooling in the room.
Mosquito Away (LG exclusive feature) (Optional)
Auto-restart (in case of a power cut, it must resume automatically)
Dehumidifier (comes handy in rainy seasons or for the people who live in nearby coastal areas and face high humidity) (Optional)
Night-glow buttons and backlit display in the remote controller (backlit option is hard to find, hence optional)
Hot and Cold AC (Very important for me who lives in a place like Delhi, I run my LG hot and cold AC in winters as well for room heating purpose)
Which Brands to prefer:
In the following list, I've added links from Paytm mall website as they provide consumers in their app with some of the best offers. They have a campaign going on – #BenefitsAreFree till 15th July, 2018, during which Paytm Mall is offering the following additional benefits, apart from the huge cashback up to Rs. 10,000. These include:
Free delivery
Free installation
No Cost EMI
100% cashback on voltage stabilizer purchase up to Rs. 1500
But the best thing of all, only at Paytm Mall you'll find "brands authorized dealer with a verified logo" sellers which offer peace of mind to consumers that they're buying from a verified seller and they shall receive legit/original product only. You can also select to buy extended manufacturer warranty from Paytm Mall.
About the recommendations of brands, I've been taking feedback from consumers for various brands who are using AC for many years and have made a list of preference and the brand I suggest:
Although there are many more brands who perform well in the market, for one reason or another, those didn't make it to my preferred list like "General" being such an old brand, offers average after sales service and they are yet to catch up in making energy efficient ACs. I also do not recommend Voltas and Hitachi because of their poor after sales service.