We live in a time where automation and refined technologies continue to gain greater importance in our lives. Nowadays, many products are being powered to take intelligent decisions on their own, thereby reducing manual intervention. These products are near perfection. We need such adaptive technologies in everyday devices because we don't have time and wish to get things done in one click.
Talking about the intelligent evolution of everyday products, refrigerators are not behind. Whirlpool is the only brand in India to offer an intelligent refrigerator. The Whirlpool Intellifresh refrigerator comes with an in-built Adaptive Intelligence system. This Adaptive Intelligence-powered refrigerator monitors a lot of factors inside the refrigerator, and takes smart decisions on your behalf to keep a correct cooling level and freshness of food inside. Thus, your food remains intact no matter what season it is outside.
Whirlpool Intellifresh Alpha Steel (3S) Refrigerator Review

All refrigerators available in the market today offer long lasting freshness and cooling. But, Whirlpool Intellifresh Alpha Steel (3S) refrigerator is the first of its kind in India powered by 3 intellisensors and AI ( Adaptive Intelligence) Microprocessor. As the name suggests, the Adaptive Intelligence microprocessor inside analyzes the data from various Intellisensors and adapts the cooling across all compartments, based on the weather outside, internal load and also usage pattern. Not only that, features like Adapta Shelves, Sealfresh Technology, and Intellisense Inverter technology sets it apart from any other refrigerator in this league.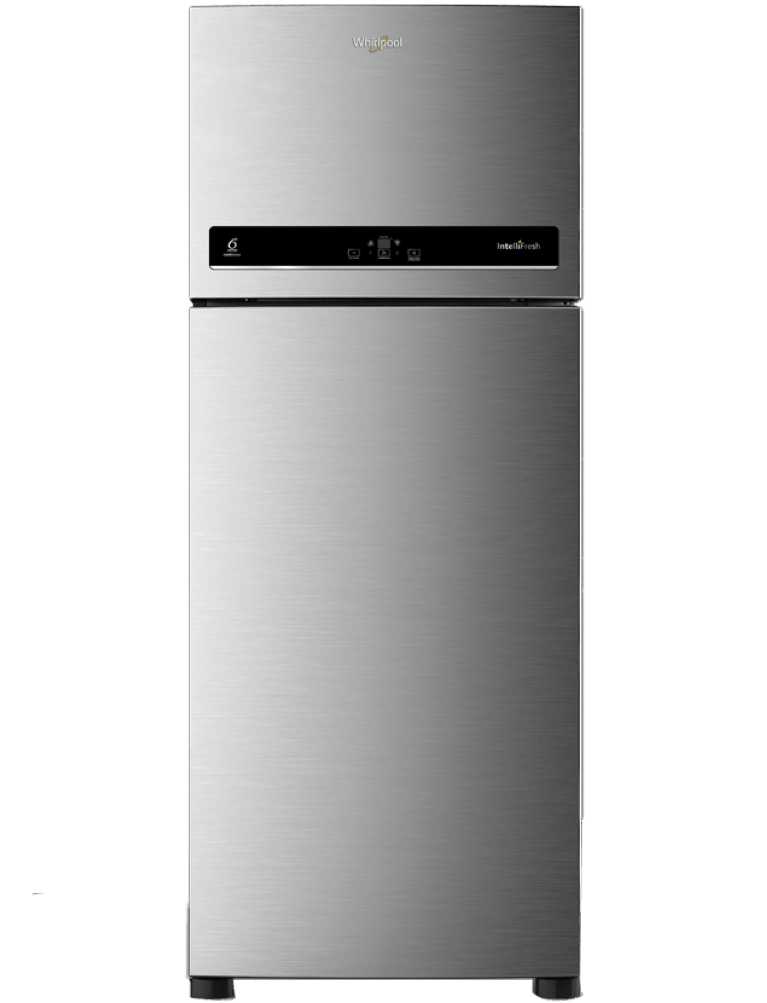 So What Makes Whirlpool Intellifresh an Intelligent Refrigerator?
6th Sense IntelliSensor Technology
Whirlpool patented 6th Sense IntelliSensor Technology is at the heart of this refrigerator. This Technology is powered by three sensors and an AI Microprocessor. Two intellisensors placed inside the refrigerator (one in the freezer and one in the lower compartment) monitor the load in the refrigerator, the usage pattern while the third Intellisensor senses the weather outside. The Adaptive Intelligence (AI) Microprocessor analyzes the data from all 3 Intellisensors and ensures an optimum cooling across all compartments, and in turn, delivering 59% Longer freshness*.
* Results based on internal lab testing done on select models under standard test conditions and may vary depending on testing conditions and models.
@Internal lab test conducted on select vegetables.
IntelliSense Inverter Technology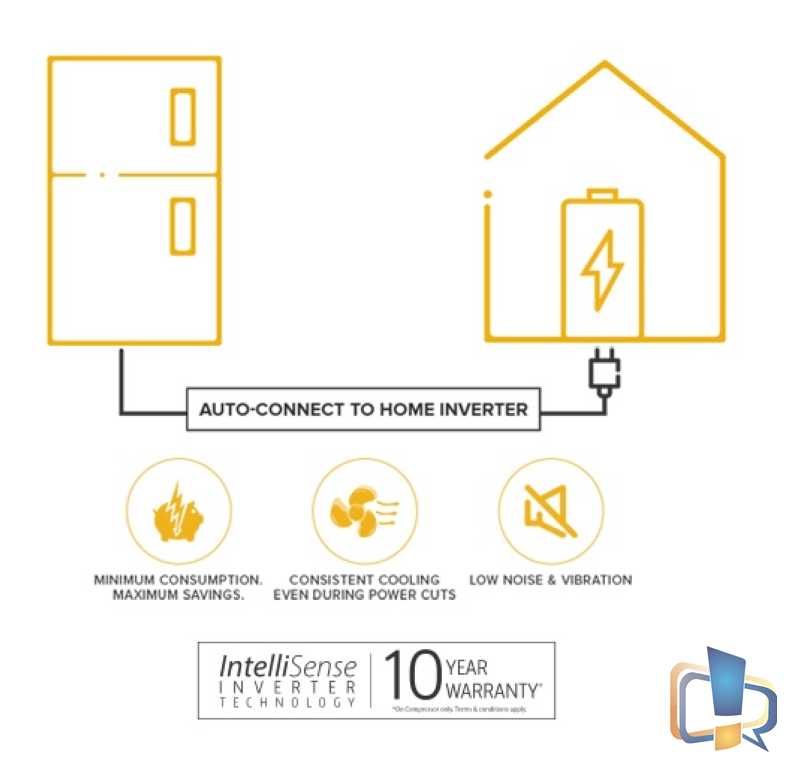 Another USP of this refrigerator is its Intellisense Inverter Technology. Inverter technology is now a must-have feature for home appliances especially for refrigerators and air-conditioners which work for longer durations. But what sets apart the Intellisense Inverter Technology in this refrigerator is that it not only adjusts the cooling requirement as per the internal load, but it also ensures matchless performance during power cuts. It connects to the home inverter* during a power outage, ensuring consistent cooling and maintaining long-lasting freshness. Below is a comparison between the Whirlpool IntelliSense Inverter Technology and its competitor Inverter Linear Compressor Technology, available in the market:
* Auto connect to >2KVA Inverter connected to the power switch

Seal Fresh Technology
One doesn't have to be a health expert to know that vegetables lying in the refrigerators lose moisture and hence their nutrient goodness over a period of time. Intellifresh Refrigerator addresses this issue with the help of its SealFresh Technology. The Twin Seal crispers help preserve the natural moisture of vegetables for longer.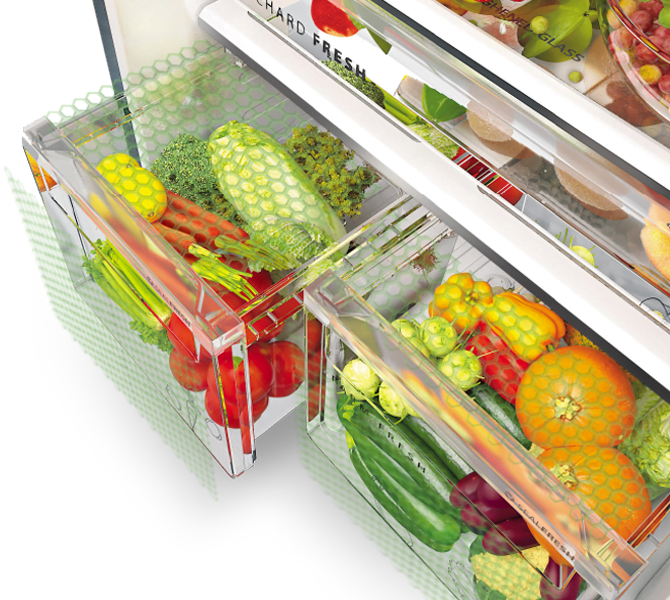 7 Days Dairy Fresh
This refrigerator is intelligent enough to sense milk and milk products in the chiller. To keep them fresh for a long time, the refrigerator adjusts itself to provide an optimum temperature. This preserves the freshness of the stored milk and other dairy products for seven days.
Innovative Space Management
Adapta Shelves is what I call an ingenious idea. I wonder why no other brand thought of that before. This feature gives so much flexibility in adjusting the gap between the shelves. You don't have to take out the whole tray this way. The height of the tray can be adjusted, and space can be customized to the last inch as per the requirement.
On the door, the rack for bottles can store up to 14L of water/beverages which is more than optimum for daily usage. You can store four bottles of 2 ltr capacity in the top rack and six bottles of 1 ltr capacity in the bottom rack.
How many times have we encountered the trouble of water spilling from the ice tray before it's placed to set in the freezer? Well, no more. This feature allows you to easily fill water for producing ice cubes without spilling the water here and there.
These provide an extra-large space for storing big bottles of jams, chocolates, and other stuff.
Feather Touch UI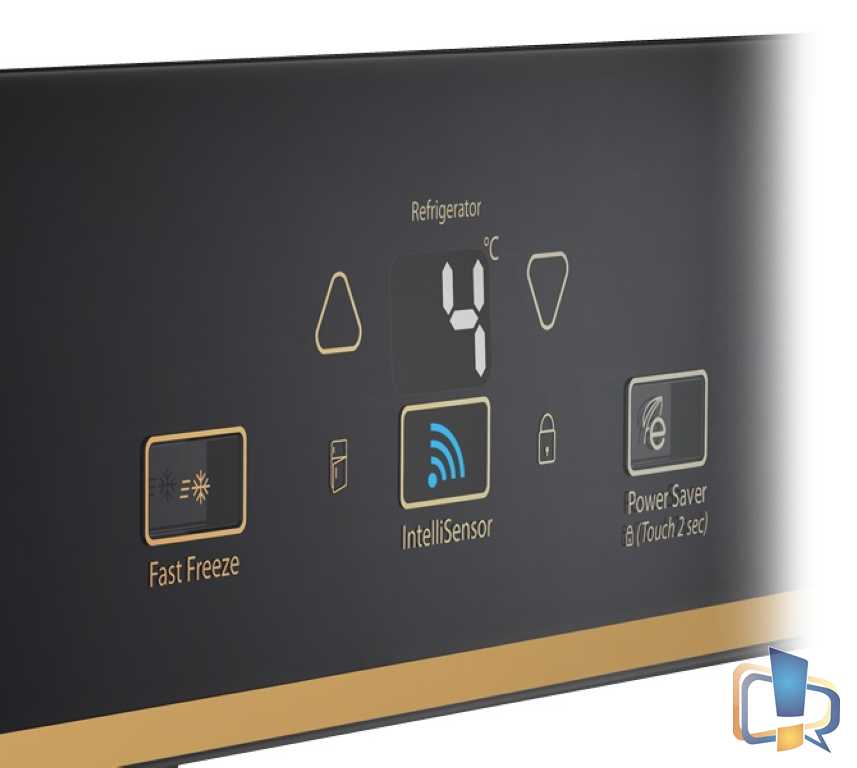 A touch panel on the front of the refrigerator is the latest trend. It looks classy, modern and is a symbol of an advanced intelligent refrigerator. While this refrigerator does the cooling adjustment for you, the elegant feather touch panel also allows you to manually control the refrigerator and freezer temperatures, make ice faster and manage energy efficiency.
Final Verdict
Whirlpool makes a big claim with this one – India's only intelligent refrigerator! However, the refrigerator does live up to it. But it's not just making big claims but also improving little things that matter to the users, that makes a good home appliance. That's where the years of experience of Whirlpool comes into play. In this model, Whirlpool has taken care of small things as well which matter for user's conveniences like adapta shelves, no-spill icemaker, space of extra-large bins, no crystal on frozen ice-creams and many more. Performance/cooling wise the refrigerator works great and does the task efficiently.
As mentioned above, Adaptive Intelligence features in the refrigerator work perfectly, proving it to be an advanced intelligent refrigerator. This model is available in three colors – Argile Gold (black gold), Caviar Black (black silver) and Alpha Steel (in addition to the mainstream steels). Other than the 465L variant under discussion, this refrigerator is also available in 440L, 500L, and 585L capacity models. This review holds good for those models as well. So this summer, sit back and let your refrigerator take care of your cooling needs, intelligently.