Finally, a brand came up with the idea of integrating an air purifier inside an air conditioner. I had this idea in mind for so long and although the idea is not unique, most brands were not considering it for some reason until Whirlpool made it a reality. Yes, now you can save money by buying an air purifier in the room where you have this air conditioner installed. Whirlpool has a long history in India, hence they also have a deep presence in most parts of India when it comes to sales or after-sales service. And I am here reviewing the Whirlpool latest model i.e. 3D Cool Purafresh 1.5 Ton Inverter Air conditioner. This model is also a Hot & Cold air conditioner.
Whirlpool 3D Cool Purafresh Inverter Air Conditioner Review
Whirlpool Purafresh Inverter Air Conditioner Design
The 2018 models from Whirlpool have really a new futuristic design with rounded edges on both sides. The indoor unit is around a meter long, although in pictures it looks quite compact. And wider the indoor unit, the better, as it covers more area faster and its reach will be better. There are 3 vents on the indoor unit for faster air intake, placed at the sides and at the top.

There is a display at the very center of the indoor unit which displays the active modes and temperature. The display is not very bright, hence you won't need to turn it off at night, but then it's a user preference. There are no buttons on it and all modes/features have to be operated by a remote controller only.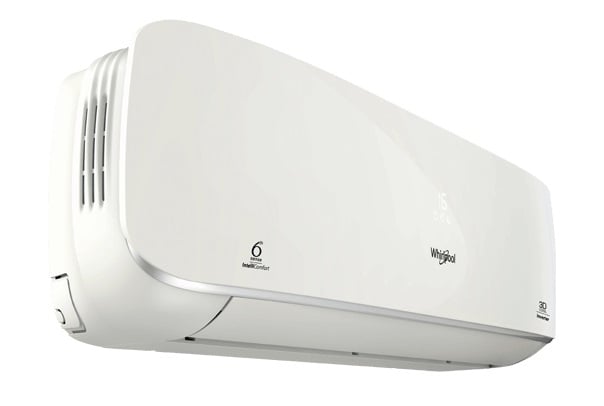 The vertical louver on the unit can be adjusted up and down for short distance or long distance cooling and horizontal louver left and right as per requirement. As it's an air purifier model, the basic air filters have been replaced with HD filters to purify the air. This filter is able to purify the air up to PM 0.3 level, it's the same level of purification which is being offered by most purifier models in India.
Speaking of the outdoor unit, as this mode specifically mentions that it is copper-made, hence its condenser coils/tubes are made of copper only. Whirlpool offers a 1-year warranty on the complete product, 5 years warranty on Condense, and 10 years warranty on Compressor.
Whirlpool Purafresh Inverter Air Conditioner Features
3D Cool Technology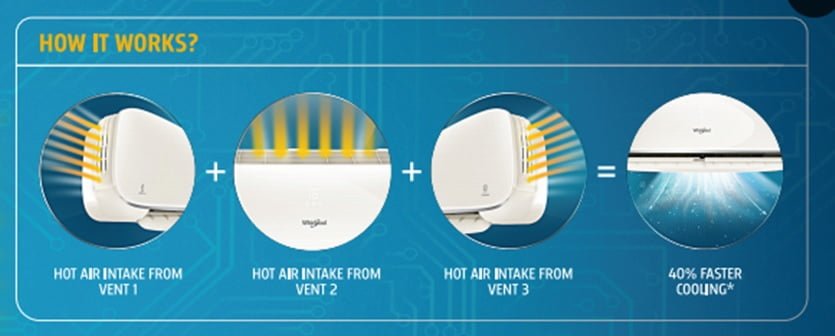 This and many 3D cool models of Whirlpool intake air from 3 vents placed at each side (left & right) and at the top for faster circulation of air from the room and the same can be said for purifying it as well. Compared to a conventional air conditioner, this model shall intake more air at one time to purify and cool it down. This is why the brand claims that this air conditioner cools down 40% faster. Other prominent benefits of the 3D cool technology include a 12 m air throw for facilitating uniform cooling in every corner of the room and the AC shall also be able to work in extreme temperatures up to 55ºC.
Built-in Air Purifier
This is my favorite feature which I saw the first time in an air conditioner. Whirlpool purafresh inverter air conditioner model comes fitted with an air filter to purify the air as well. This feature eliminates the need for having a separate air purifier in the same room. You can also operate the indoor unit only as an air purifier when air conditioning is not required like in winters.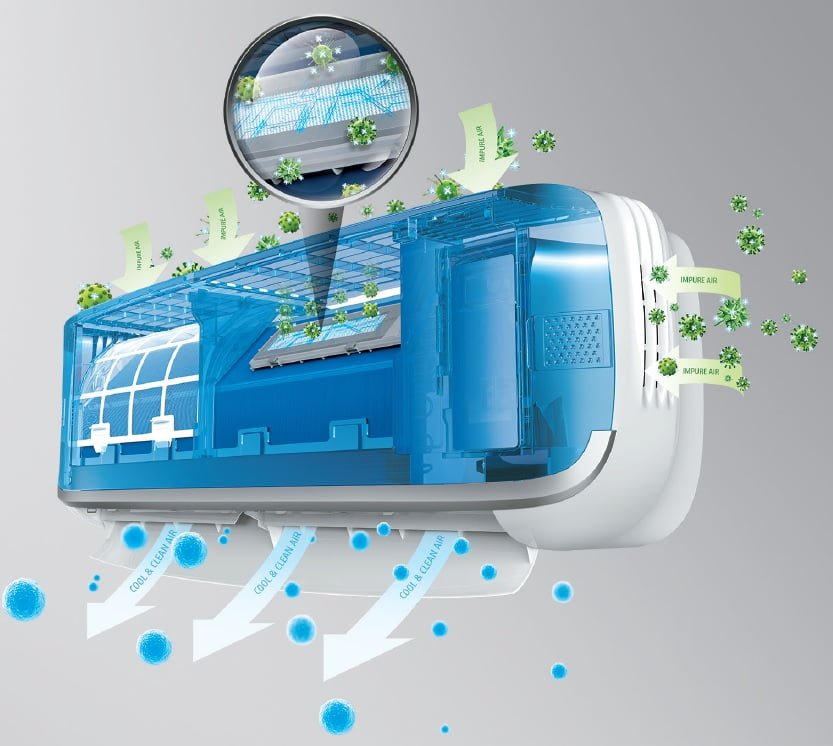 How is this air purifying in an air conditioner work?
The air purifier fitted inside the air conditioner releases Ions via electric poles fitted inside the indoor unit. Those ions attract oppositely charged dust particles floating in the room space and form charged particles. Then these particles are captured in the honeycomb filter with an electric field, leaving the air free from impurities.
Advantages of Purafresh Technology:
Removes up to 98.6% PM 0.3 Pollutants and allergens from the air.
Requires Zero maintenance. Only an Electric filter needs periodic cleaning which a user do it himself easily once every 2-3 months.
No need to buy an external air purifier for the same room.
Can be used as a stand-alone air purifier.
6th Sense IntelliComfort Technology
Conventional air conditioners only measure the room temperature of the room and adjust the cooling accordingly but those don't take humidity levels into consideration. Because of that, sometimes the AC is not able to set the correct temperature required, either the room would be too cold or won't be that cold to feel comfortable.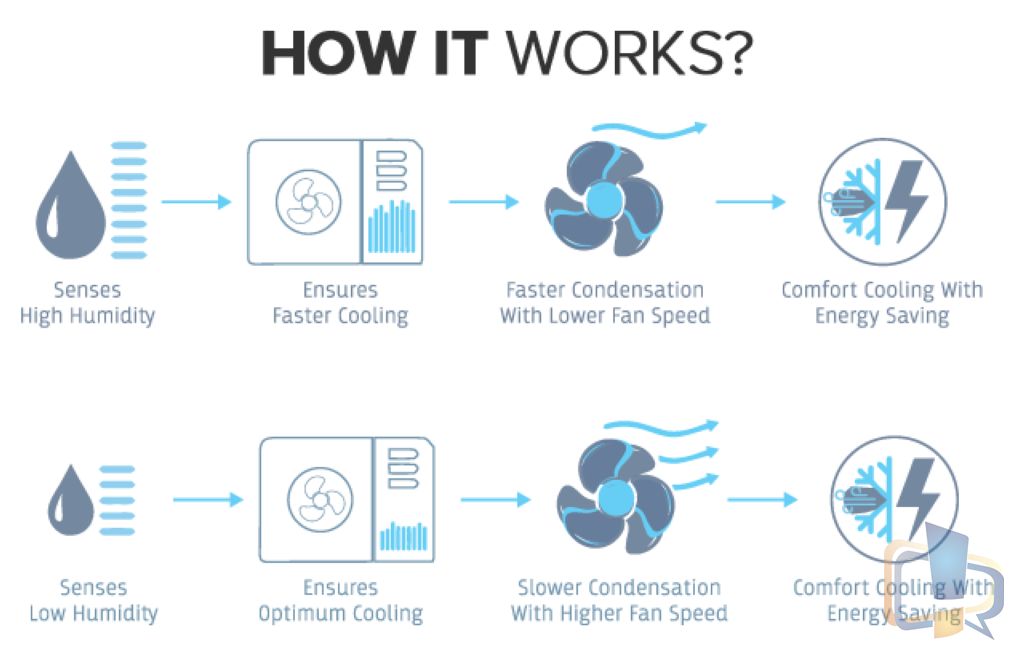 This is where Whirlpool Intellicomfort technology gives an advantage as the air conditioner with this sensor measures the room's REAL FEEL temperature taking into account humidity level as well and hence delivers the correct cooling level required. This air conditioner uses an advanced humidity sensor to measure the humidity levels and the logic chip optimizes the cooling accordingly by calibrating the compressor performance which also leads to more energy savings than conventional ACs.
Intellisense Inverter Technology
Inverter technology in an air conditioner is designed to reduce electricity consumption in the long run. However, the benefit Intellisense Inverter technology offers is that it adapts to the regular cooling needs of the consumer while reducing electricity usage. Also, it runs quite silent as the noise level hardly goes up to 37 dB. And as per brand recommendation, you don't need a voltage stabilizer with this air conditioner, but if you live at a place where voltage fluctuations are common, I always recommend getting one along i.e. any brand 4 KVA copper model voltage stabilizer.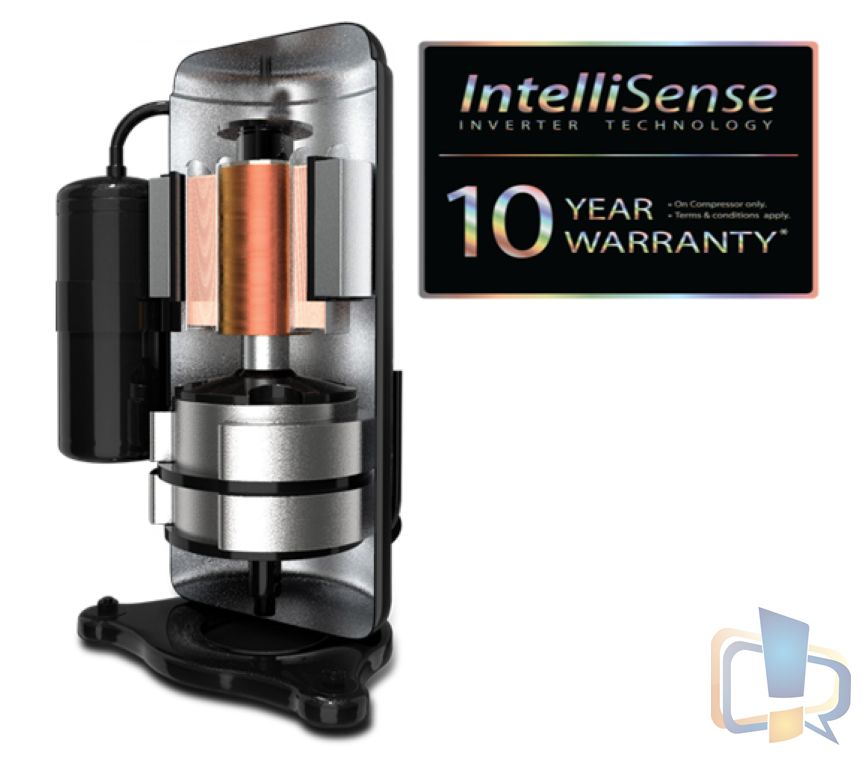 This smart energy management results in lifetime energy savings of up to Rs 43,000 on electricity bills. Non-purafresh models offer up to Rs 62,000 lifetime savings. These values were calculated by taking a per-unit rate of Rs 8 at 10 hours per day for a period of 8 months over 7 years. Also, there is a 10 years warranty on the compressor.
Other Features:
Hot & Cold model – Can be used in Winters for heating purposes too.
Delivers Long Air throw i.e. 12m long ensuring uniform cooling in every corner of the room.
Auto-restart feature – can be enabled or disabled as per user requirement.
Power saver mode
Turbo Cooling mode – Summer Chill
Self-cleaning / Self Diagnosis
Only consume 1W of energy during standby
Whirlpool Purafresh Inverter Air Conditioner Performance
As with 3D cool technology, this air conditioner sucks more air in one go using the 3-dimensional vent system, hence it cools down the room quite fast. This is very much comparable with the models which come with one vent, that time you'll find this model cooling faster by at least 5 minutes.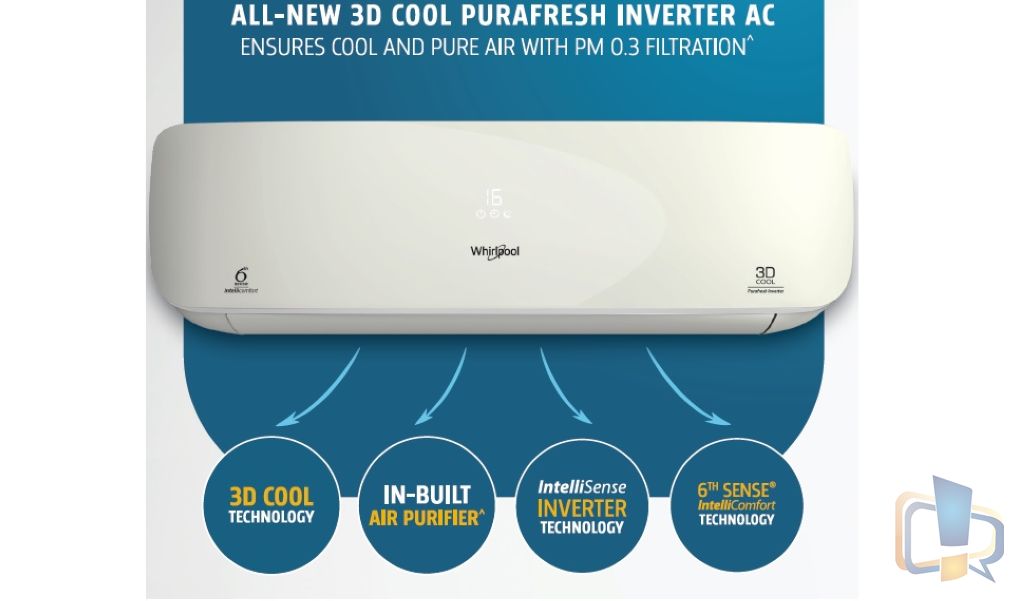 Although there isn't any way for me to find out the actual energy savings by the AC, as it is cooling faster, the compressor is not working for a longer period, thus how savings the energy bills further. The room cooling is the result when heat exchange happens through the evaporator and since the 3D cool technology intake a large quantity of air and passes it through the evaporator, the temperature pulls down faster.
Final Verdict
Whirlpool is offering too many features in one model, for example, an air purifier, hot and cold feature, Intelligent power consumption logic unit and humidity sensors for perfect cooling. For a price of Rs 55,250, this seems a great deal and Whirlpool is among the trustable brands in India for product quality and after-sales service. This air conditioner can work in extreme temperatures and offers copper-made condenser coils, and you won't need to worry about big energy bills.
Whirlpool 3D Cool Purafresh Inverter Air Conditioner Specifications
Model

Category
COPR 3S
Colour
White Silver

Whirlpool Model No.

SAI18K38DC1

Performance

 Cooling/ Heating Capacity
2525-5150-5600
Star Rating
3 Star

ISEER (W/ W)

3.36

Electricity Consumption (Units/Year)

1089

Air Circulation Max (M3/ Hr)

1000
R-410a

Voltage (V)/ Frequency (Hz)/ Phase

Power Consumption (Watts)

Intellicomfort
DC Inverter
Yes
HD Filter
Power Saver

Self Diagnosis/ Self Clean

Indoor ( W*H*D) mm
1050×320×235
Outdoor ( W*H*D) mm
780×540×260

Net Weight

Indoor (kg)

12
30

Warranty

Complete Product
1 Year
Compressor
10 Years
Condenser
5 Years