Planning to buy a big sized Bluetooth speaker? Any good quality bigger size branded Bluetooth speaker like of Sony, JBL or Logitech comes with a starting price range of around Rs 7K-14K. And those works only as a Bluetooth speaker. But what if you get a smart device in the same price range and it may works as a Bluetooth speaker too. Won't it be a great deal to pick that smart device rather? The device I am talking about here is Amazon Echo which is a smart speaker powered by Alexa. Alexa is an AI by Amazon which is wildly popular among families in developed countries and is used regularly on daily basis for many regular tasks.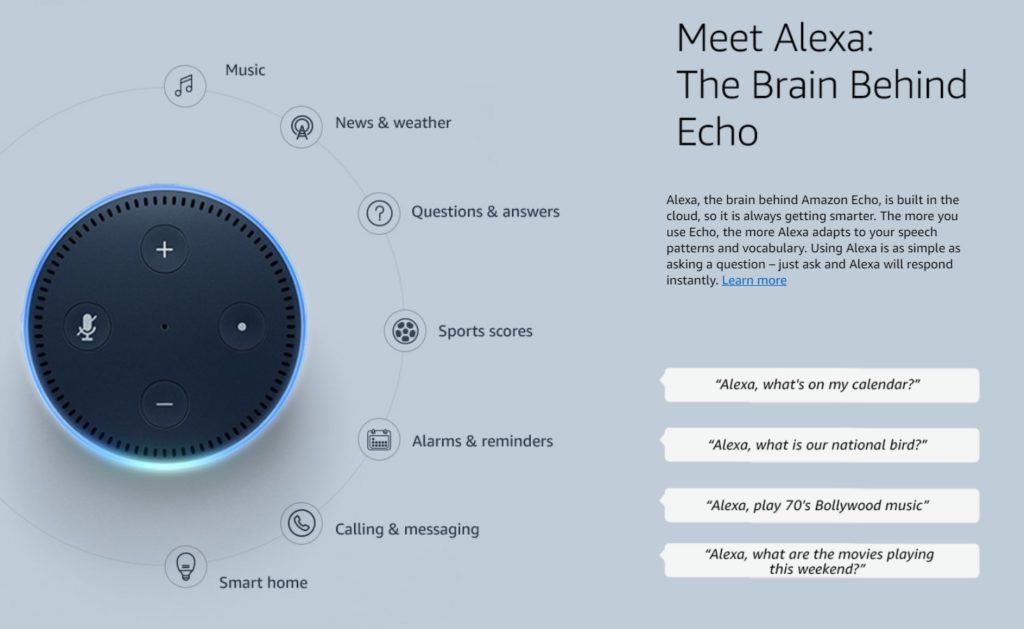 In India, Amazon Echo, a new smart home hub was launched last year and till now, many geeks have bought it considering the fact that Amazon Echo comes from a giant like Amazon that they can trust, it has quite a handful of features and the price tag, which is probably the most aggressive thing Amazon has done! So, if you haven't got one yet or confused about whether you should grab one or not, we are giving you 10 reasons to buy an Amazon Echo!
1. You can ask questions, and Echo is smart enough to answer them
All Amazon Echo devices are powered by Alexa, Amazon's own AI Assistant. And with AI, it's intelligent enough to answer questions. You can ask basic questions and it will surely answer, but, here's a warning for those who think it's a supercomputer capable of reading minds- If you ask questions like, "Will she break up with me?" I'm damn sure Echo will just return itself to Amazon.
2. You can shop!
Echo devices are connected to your Amazon Account and the Voice Shopping feature is enabled by default. So, you can ask Alexa to search for products. When you search for a product, it will show up the product on your phone as well and using Echo you can add it to your shopping cart or just order it right away. Also, if you save your payment methods on Amazon it can order anything instantly from Amazon or it will opt for payment via Amazon Pay balance or even cash on delivery.
3. Book a cab, get news, reserve a table at your favorite restaurant
This part is all about skills, that's what Amazon calls it enterprise level solution that makes customers' lives easier and hassle-free, also it saves a lot of time. If you are a business owner, you can build skills so that Echo can use it to take orders or respond. There are thousands of skill available with Echo and some of the best are probably from Ola and Uber, Zomato, Syska and many more.
4. You won't forget anything
It has functions like alarms, reminders and to-do lists which is handy and it works better than a phone because it speaks out, rather than a sound and even if you're not attentive enough, you know what you need to do. The shopping list is a feature that works flawlessly as you can keep adding things to the shopping list and while you move out, you can see the shopping list on your phone!
5. Scheduled Actions
This is a much-loved feature, not just by me but many others. Echo learns and can understand what you do every day at a certain time and through its understanding a light or fan can be set to turn on automatically or it can read out news to you while you get back home.
6. Works as a Bluetooth speaker
This is one of my favorite features as well, and this might be one of the reasons to buy an Amazon Echo. Echo doubles up as a Bluetooth speaker so you don't need to buy another speaker for your bedroom or reading table if you want to enjoy some music. As mentioned earlier, one of the Alexa skills let you use Saavn & Amazon Music and play music which is very nice and may save you from spending more money on a Bluetooth speaker while you can already enjoy music on Echo!
If you've doubt of sound quality, I must say Echo has excellent sound quality and is very much comparable with other branded Bluetooth speakers in the same price range. The only downside is, Amazon Echo is NOT battery powered, so you'll need a power source wherever you take it. If you want to use Echo at some remote place, you can configure its internet requirement using hotspot of your dongle or phone, as Echo is quick in connecting to familiar Wifi networks when available.
P.S: A Wifi network is required only when you want to use its smart features, otherwise once configured, you can use it as Bluetooth speaker anytime.
7. Can control lighting and fans at your home
Some manufacturers are making light bulbs, fans etc. that support Echo and using Echo you can turn them on or off using your voice. It can also schedule power on and off based on a schedule which is handy for many who stay outside due to work at specific periods and have quite a regular routine!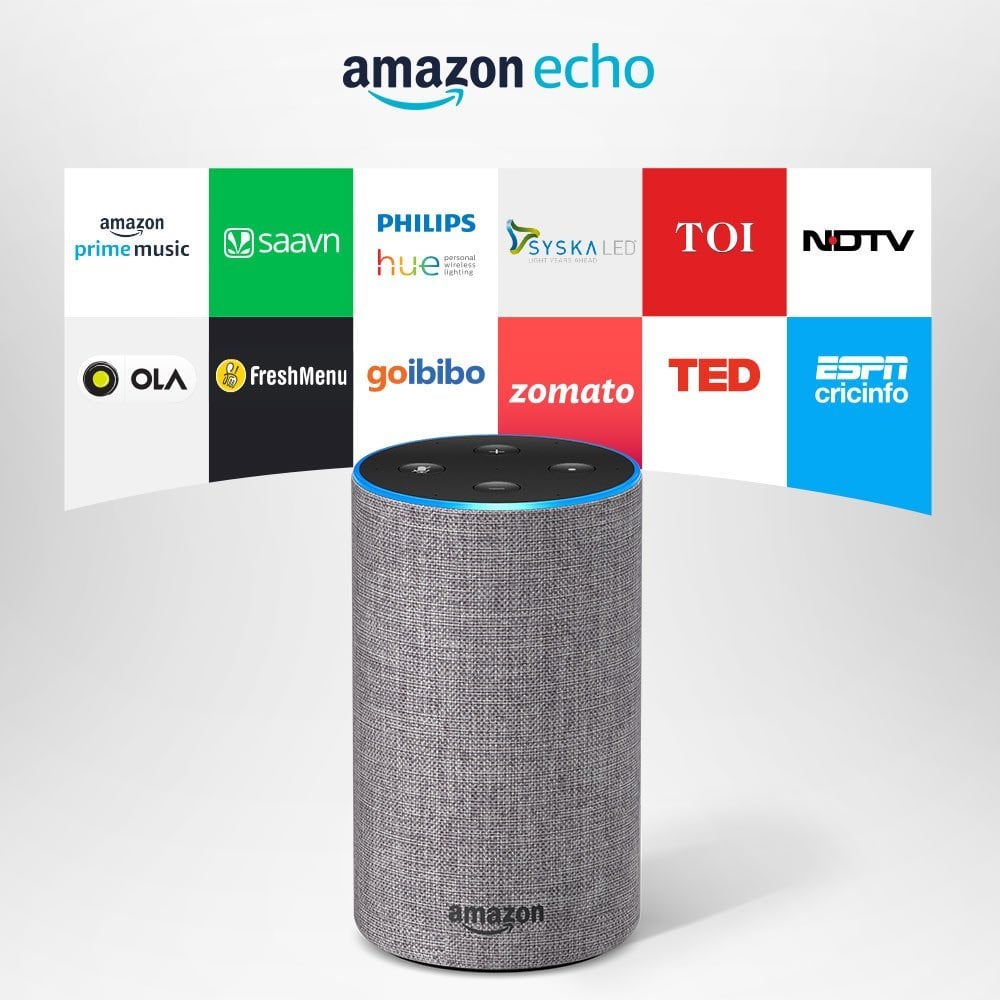 8. Free Calling & Messaging from Echo to Echo Devices
Calling feature is finally available in India too. So now if any friend, relative of yours own any Echo version device i.e Echo Dot, Echo or Echo Plus, you can call & message each other for free using the device. The biggest advantage is handsfree HD quality calling here.
9. It's never too costly!
While products like Google Home or Apple Homepod are priced quite a bit, Echo is relatively dirt cheap! During the introductory offer, it sold for quite a low price tag and even now, if you compare the price of Echo devices with the prices of others, and also consider the feature and cross-platform support, Echo is the best and Apple's Homepod is the worst. This is definitely one of the strongest reasons to buy an Amazon Echo.
10. You can place it anywhere as it's small or can even carry it anywhere you like
Echo devices are not that big or will take a lot of cable work or hassle to set up. Also, Echo has the mobility that makes it perfect for a backyard barbeque or a small house party as you can just carry it anywhere, even in your car. However, for that, you should definitely have a power bank which, I guess everyone has these days!
11. Amazon Echo can help you go to sleep
Studies say that smartphone screens and PC screens are quite bad, and one should avoid them before sleeping! Amazon Echo can emit a beautiful pulse of dim light and can help you sleep while it plays relaxing ambient sounds of Ocean, Birds etc.