Indian markets of bikes doesn't give the much deserved welcome to cruiser bikes since bikers are too much fascinated by big names like Harley Davidson and they are confused whether cruiser bikes made in India are actually gives that comfort of what a real cruiser bike is known for. However big fancy names are still not easily available and are tagged "Only for Rich People". However Indian manufacturers come forward with their versions of cruiser bikes which we can indeed say, "Yes they are what we want" and yes as per comfort of our pocket too.
Review of Bajaj Avenger 220
So, this is the review of BAJAJ AVENGER 220, which had been in market since a long time and is quite performing well too.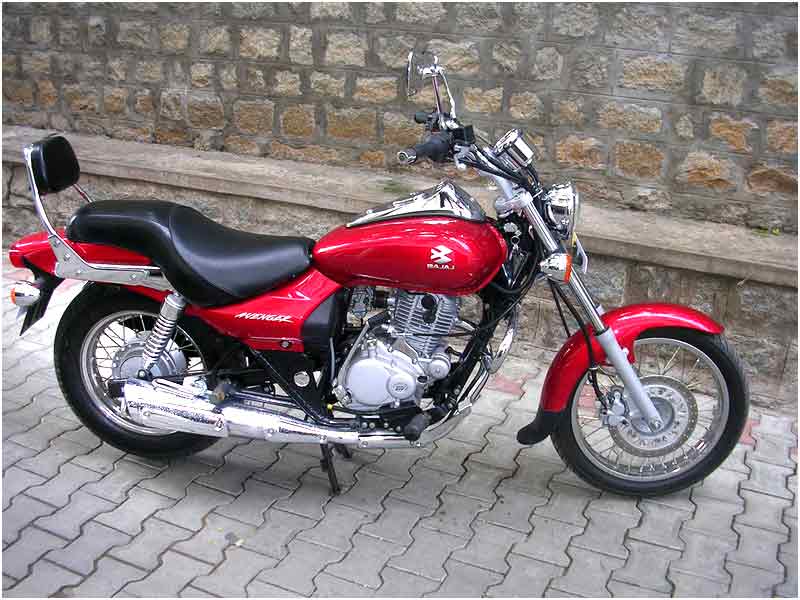 And before going into technical aspects, let me comment about Designof this bike. Design of bike is simply flawless. Low rise seat, forward foot riding posture for driver, low saddle height, broad saddle seat, special backrest for the pillion, wide tyres at front and rear & duel foam density seat are simply nice features of this bike. However we don't like the looks of meter console which looks quite outdated and consists of speedometer, odometer and the trip meter. Bajaj could have equipped this with some stylish DTSI like meters which would be like a bonus for this bike. Here are few technical specs of this Bajaj Avenger 220:
Engine
Type
4-stroke, single cylinder, DTS-i, air cooled with oil-cooler
Displacement (cc)
219.89
Max. Power (Ps @ rpm)
19.03 @ 8400
Max. Torque (Nm @ rpm)
17.5 @ 7000
Starting
Electric
Suspension
Front
Telescopic
Rear
Hydraulic Shock Absorber
Brakes
Front
Disc, Dia. 260 mm
Rear
Drum, Dia. 130 mm
Tyre
Front
Tubetype Unidirectional – 90 / 90 x 17″
Rear
Tubetype Unidirectional – 130 / 90 x 15″
Fuel Tank
Total litres(reserve, usable)
14 liter full (3.4 liter reserve)
Electricals
Battery
12V, 9Ah
Head lamp
60 / 55W
Horn
12V, 30W
Dimensions
Wheelbase
1475 mm
Ground Clearance
169 mm
Kerb Weight
154.5 kg
As per advertised by company, expectations were quite fulfilled not upto 100% but still its worth of it. Talking as per specs:
The Engine which is 4-stroke, single cylinder, DTS-i, air cooled with oil-cooler is quite powerful and the bike has a great pickup. Rides very smooth when we kept speed between 50-70 km/hr. Obviously it is a cruiser bike which are made for long comfortable journeys, so you can't expect from it to perform very well at higher speed too, means if you took bike above speed of 100, it would start giving a feel of vibration and of course it it not advisable to run these bikes on higher speed as well.
Suspension of bike is just good, not best. On straight road, you'll not feel anything even on small potholed roads. But when at higher speed, you'll feel going off from bike whenever you face any speed breaker. But it is on rare cases. Over all you will have a smooth ride on it.
This bike is equipped with 5 speed gear box, which is quite smooth and does not create any hassle during gear shifts.
Talking about breaks, it is indeed effective as required. 260mm dia, Disc brake at front and 130mm dia, drum brake at rear quite accomplish their tasks when required.
One thing here we didn't liked is the locking and unlocking of this bike. First you'll need to bend for unlocking handle on right side and then to left side for igniting the engine. We understand that this could have been made for security reasons but still its a hassle for daily riders. Daily practice only would make them habitual of this.
Tips:
You need to have good shoes/anklets to ride this bike
Glares/Gogles are must to ride this bike as the reflection of the sun rays from the chrome of the petrol tank will turn you blind.
Keep check of the chain and the rear wheel alighment every 300-400 km and tyre pressure.
Price:
This bike is currently priced approx Rs. 69,000 (subject to change with time and you can see variation in prices in different states too.
Final Verdict:
Overall, since this bike has quite many good features to go with and in Indian markets you still not got very good options to choose in cruiser bikes section, Bajaj Avenger 220 is definitely a recommended thing to buy.