Home is the place we seek sanctuary from the rest of the world. It's the place where a family spends time together. It's the place where you feel most comfortable and relaxed. It's the place you customize as per your requirement and convenience. Just as a black sheep can destroy the sanctity of a family, an outdated or inept household appliance can hamper the decorum of the house. Living in an age where the world is becoming hotter year on year, the need of the hour is to reduce carbon emissions by utilizing energy efficiently.
In fact, we have been disappointingly anticipating 2017 to become the hottest year on record for the fourth time on record. The global temperature walk hand in hand as climate change rages on and there seems no way forward to mitigate this effect. All we can do is to look backward or devise ways and means efficiently utilize energy to cool down a warming climate.
Smart IoT technology and other advanced household products help users save energy and money while giving shape to their dream home. LG's latest air conditioners and refrigerators offer customization and control options that can provide an instant upgrade to any home without detracting from its charm and character.
Cooling a warming climate with LG Dual Cool AC
Keeping in mind energy conservation, the Bureau of Energy Efficiency (BEE) introduced new energy efficiency norms for Air Conditioners (AC) called ISEER (Indian seasonality Energy Efficiency Ratio) which is much more stringent than the current EER (Energy Efficiency Ratio). The government is committed to reducing the emissions intensity of India's gross domestic product (GDP) by 33-35%, from 2005 levels, by 2030.Thus, it is planning to make this standard mandatory for all split ACs from January 1, 2018. Currently, this standard is applicable only on inverter ACs on a voluntary basis. According to strict mandates of BEE, all air-conditioners will need energy-saving and intelligent regulation of compressors in place of the conventional thermostat-triggered cut-offs.
An Inverter AC controls the speed of the compressor motor in accordance with the ambient temperature, as against a conventional AC which runs at a fixed speed. LG being the trendsetter in providing user-centric solutions took a step further to upgrade from the Inverter technology to Dual Inverter which will consume much lesser energy than conventional ACs. For instance, a 1.50 Ton Dual Inverter AC will save 834 units with respect to a 5 star Split AC in a year which amounts to approximately Rs. 6000. Moreover, the LG stabilizer free technology will not only help the consumer to save money spent on stabilizer but also enhance the aesthetics of the room. Staying ahead of the competition, LG will also offer a 10-year warranty on the compressor.
Also read: Everything You Need to Know About LG Dual Inverter Technology
Moreover, in India, a peak of summer can witness temperatures crossing the barrier of 48 degree Celsius in some parts. Normally, ACs cool up to 46 degree Celsius but the latest technology will keep one cool even at 52 degree Celsius.
LG introduces the True Fridge of India
This summer, LG Electronics also introduced its premium range of Frost Free and Direct Cool refrigerators that are best equipped to conserve electricity by saving more energy.
LG's New Smart Inverter Compressor is one of the most advanced and energy efficient compressors that save energy up to 48% by adjusting cooling power in response to the amount of food loaded in the refrigerator. Designed to give you unmatched performance, great savings, and super silent operation, the New Smart Inverter Compressor is yet another delightful innovation for your convenience.Moreover, with LG Dual Fridge one can store as much food as required without worrying about the spillage as it helps in converting the freezer into the fridge.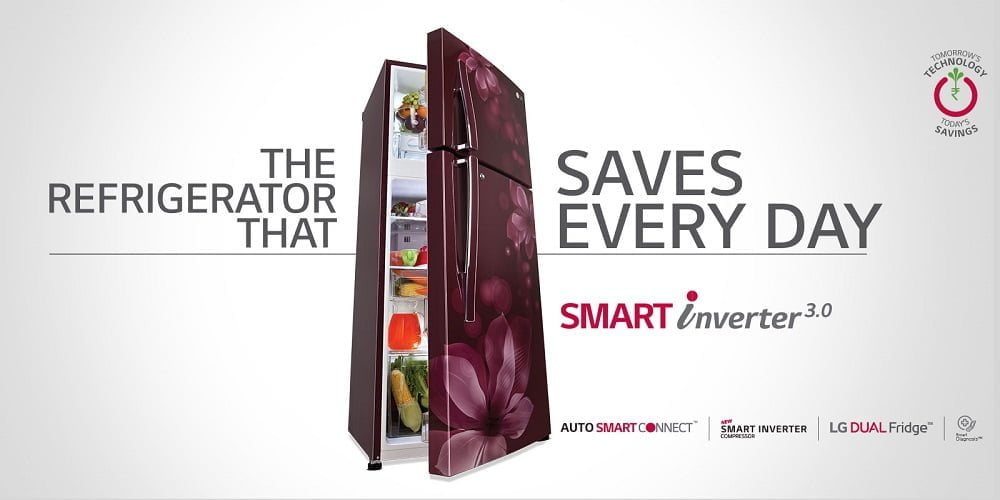 The Auto Smart Connect Technology in the Frost Free refrigerators helps connect your refrigerator to the home inverter. Once the refrigerator is connected to the home inverter, every time power goes off, it automatically takes inverter power to run the refrigerator without any manual. It prevents spoilage of stored food items and thus helps retain freshness.
Keeping in mind the current weather conditions due to climatic changes, there is an urgent need to upgrade our home appliances. In our battle against climate change, it is mandatory to embrace energy efficient and eco-friendly household products. It's time to go green for sustainability as well as for economic gains.