Editor Rating

Rated 4.5 stars

Outstanding
₹600 to ₹2200
---
Reviewed by:

Published on:

Last modified:
---
A few days back I was looking for getting blood tests, said by my doctor, so after searching for some discounts online, I landed on Thyrocare website which offers blood tests at highly competitive rates and offers only pickup service of the blood sample from home. So, the packages provided by Thyrocare included all tests required by my doctor, plus many more test results which I would rather count as a bonus for the scenario I was into. I did a bit of research on Thyrocare and found that they're the India's first fully automatic diagnostic laboratory and do a significant volume of tests on a daily basis and because of volume game, Thyrocare is able to provide a highly competitive pricing on test packages to customers.
Thyrocare Services Review – With List of Tests
So, to avail the service of Thyrocare, all you need to visit their website, click on the big banner on the website, which will take you to a form where you need to enter your details, select package, blood sample pickup date and time. You'll need to verify your mobile number via OTP; this step is done for avoiding fake bookings. Additionally, you can pay immediately online or can pay later when the lab technician comes for taking the blood sample. Upon booking, you'll get a confirmation SMS and email with details of the package you bought along with the details you entered. If required, you can modify your booking too by contacting customer care of Thyrocare. Plus you'll get the technician name and number in booking details, who'll come at your home for taking the blood sample.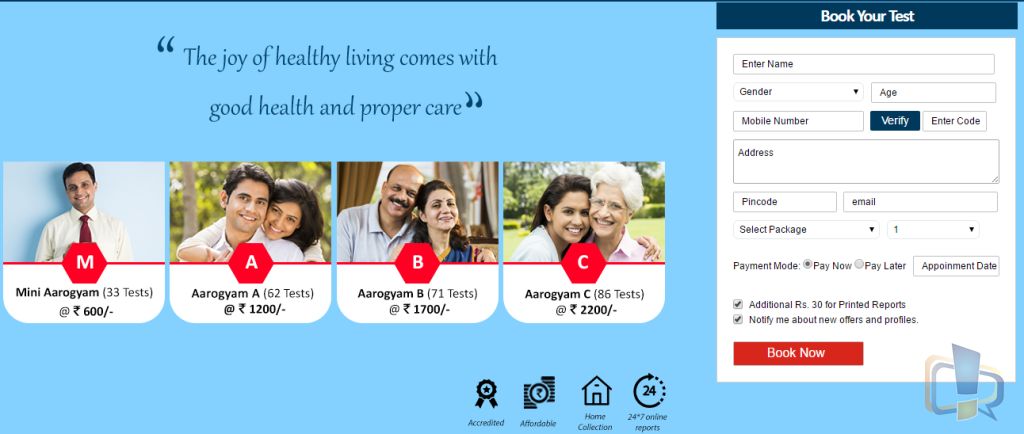 I found Aaroygam B package suitable for my requirement. I paid Rs. 2200 around for that and took two of them, one for my wife and one for me. But it now seems like the prices have reduced. Upon booking, you'll find that the actual booking name of tests package would be "DSA WELLNESS B PROFILE."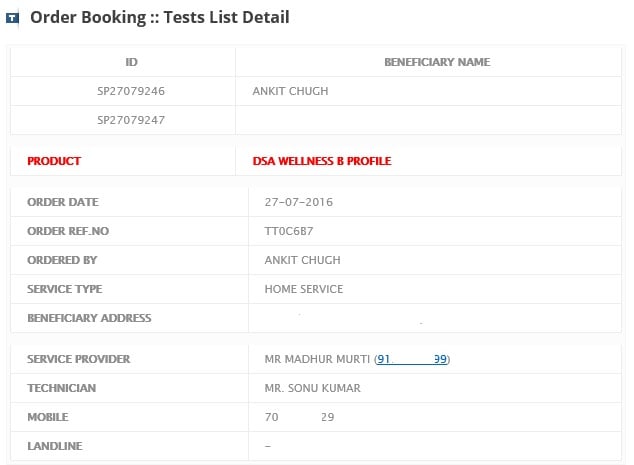 Also, the website shows that there are 62 tests in the concerned package, but in actual, you'll find that there are 69 tests in total. Here's the complete list of test in DSA WELLNESS B PROFILE package:
TOXIC ELEMENTS (9 Tests)

SELENIUM
ARSENIC
BARIUM
CADMIUM
COBALT
CHROMIUM
CAESIUM
MERCURY
LEAD
CARDIAC RISK MARKETS (1 Test)
VITAMIN (2 Tests)

25-OH VITAMIN D (TOTAL)
VITAMIN B-12

LIVER (11 Tests)

GAMMA GLUTAMYL TRANSFERASE (GGT)
SERUM GLOBULIN
ASPARTATE AMINOTRANSFERASE (SGOT )
ALANINE TRANSAMINASE (SGPT)
PROTEIN – TOTAL
ALBUMIN – SERUM
ALKALINE PHOSPHATASE
BILIRUBIN -DIRECT
BILIRUBIN – TOTAL
SERUM ALBUMIN/GLOBULIN RATIO
BILIRUBIN (INDIRECT)

PANCREATIC (2 Tests)

AMYLASE
LIPASE

RENAL (5 Tests)

BLOOD UREA NITROGEN (BUN)
CALCIUM
CREATININE – SERUM
URIC ACID
BUN / SR.CREATININE RATIO

IRON DEFICIENCY (3 Tests)

TOTAL IRON BINDING CAPACITY (TIBC)
IRON
% TRANSFERRIN SATURATION

COMPLETE HEMOGRAM (28 Tests)

TOTAL LEUCOCYTES COUNT
NEUTROPHILS
NEUTROPHILS – ABSOLUTE COUNT
BASOPHILS
EOSINOPHILS
HEMOGLOBIN
IMMATURE GRANULOCYTES(IG)
IMMATURE GRANULOCYTE PERCENTAGE(IG%)
BASOPHILS – ABSOLUTE COUNT
EOSINOPHILS – ABSOLUTE COUNT
LYMPHOCYTES – ABSOLUTE COUNT
MONOCYTES – ABSOLUTE COUNT
NUCLEATED RED BLOOD CELLS
NUCLEATED RED BLOOD CELLS %
PLATELETCRIT (PCT)
HEMATOCRIT (PCV)
PLATELET DISTRIBUTION WIDTH (PDW)
PLATELET TO LARGE CELL RATIO (PLCR)
PLATELET COUNT
TOTAL RBC
RED CELL DISTRIBUTION WIDTH (RDW-CV)
RED CELL DISTRIBUTION WIDTH – SD (RDW-SD)
LYMPHOCYTE PERCENTAGE
MEAN CORPUSCULAR HEMOGLOBIN(MCH)
MEAN CORP.HEMO.CONC (MCHC)
MEAN CORPUSCULAR VOLUME (MCV)
MONOCYTES
MEAN PLATELET VOLUME(MPV)

LIPID (8 Tests)

LDL CHOLESTEROL – DIRECT
TOTAL CHOLESTEROL
HDL CHOLESTEROL – DIRECT
TRIGLYCERIDES
VLDL CHOLESTEROL
LDL / HDL RATIO
NON-HDL CHOLESTEROL
TC/ HDL CHOLESTEROL RATIO

DIABETES (2 Tests)

HbA1c
AVERAGE BLOOD GLUCOSE (ABG)

THYROID (3 Tests)

TOTAL TRIIODOTHYRONINE (T3)
TOTAL THYROXINE (T4)
THYROID STIMULATING HORMONE (TSH)
Service Experience with Thyrocare
Package booking experience with Thyrocare was smooth. The lab technician arrived on time for taking the blood sample, and since my booking time was on the morning of Sunday, so he also called me advance to confirm if I am awake or not. One day before, Thyrocare also gave a reminder call for doing fasting for 12 hours before giving the blood sample as it was required as per tests procedures.
For every person, who needs to give a blood sample, is assigned a new kit consisting of tools and accessories required.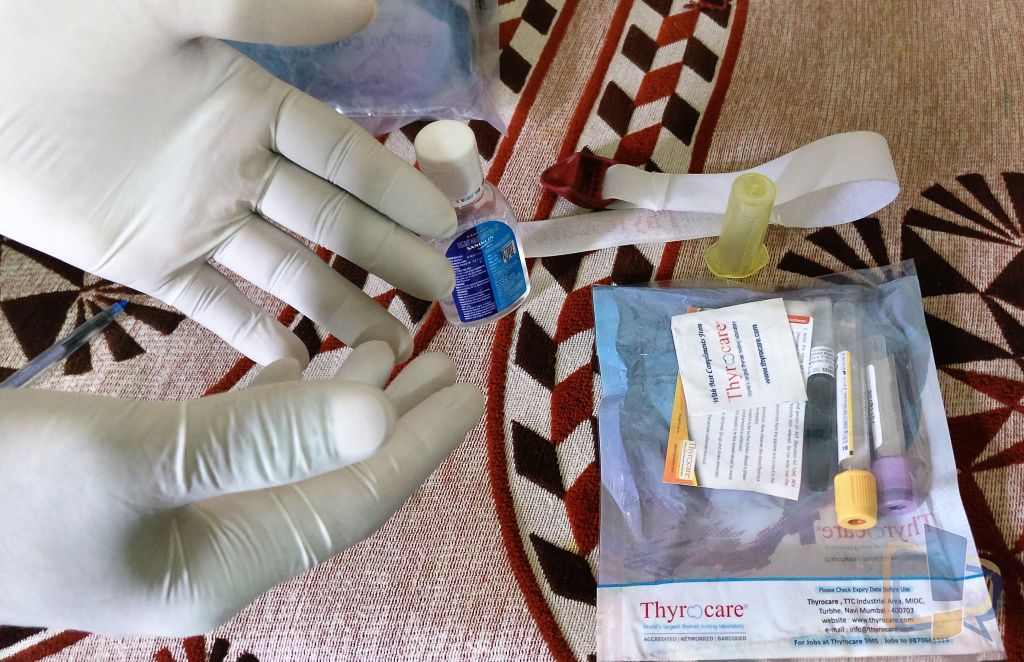 Lab technician also carries a syringe keeper box with him, so as soon as he takes the blood sample, he immediately put it away in that box.
He'll try to give the best experience you may get at a real Lab.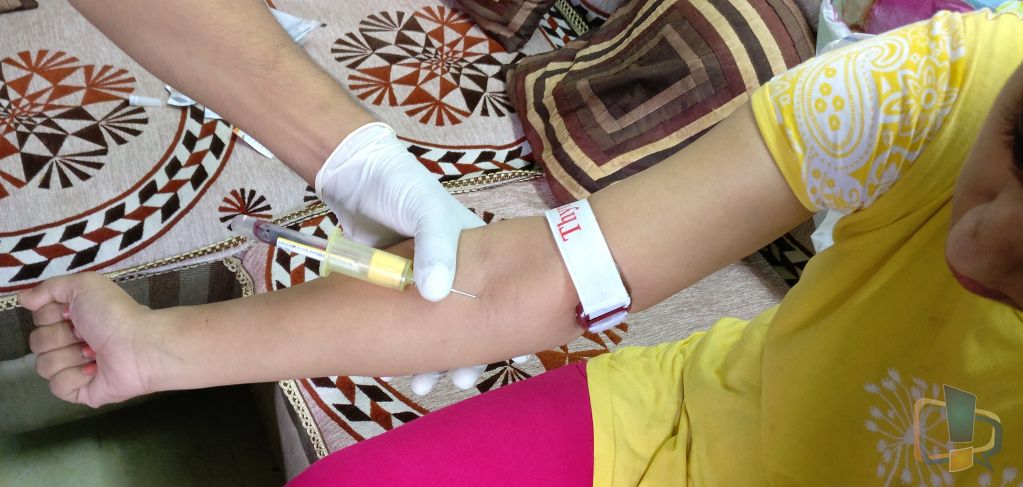 Upon pickup of the blood sample, I got both tests report between 24-30 hours over email and within 2-3 days the physical report was sent to me via priority courier service.
Test report was pretty detailed and is easily understandable as both values are provided i.e. tested value and limits value. Every test samples are sent to an automated lab at Mumbai and processed after that.
Thyrocare Services Review – Final Verdict
Overall, Thyrocare does an excellent work and their turnaround time is good. I don't have any hesitation in recommending their services if anyone asks me. The biggest benefit of Thyrocare is getting testing done right in the comfort of your home. Their availability is all over India and Internationally and because of the volume of tests they do on daily basis, the price is highly competitive plus the customer support is excellent.