LG Electronics India launched a new range of refrigerators that will make your kitchen summer ready this season and will also enhance the consumers' experience. In summer, staying cool accounts for half of our power bills. The effort to keep food fresh for longer, comes at a hefty cost. In line with its motto of "Tomorrow's Technology today's Savings theme The LG refrigerators are encompassed with the latest technological innovation, the inverter linear compressor which not only helps save energy but also helps us save on power tariffs.
LG New Range of Refrigerators in 2016
LG Smart Inverter 3.0 Refrigerator
LG's Smart Inverter 3.0 Refrigerator, that saves every day, encompassed with the Smart Inverter Compressor Technology that helps save energy up to 48%* and reduce noise levels, LG gives a 10-year warranty on the same. This eco-friendly refrigerator emits less carbon and does not harm the Ozone layer and is made with eco-friendly products. The Refrigerator is made with innovative technology and has interesting features. It also have a Feature called JET ICE which makes ice in Less than 90 Minutes.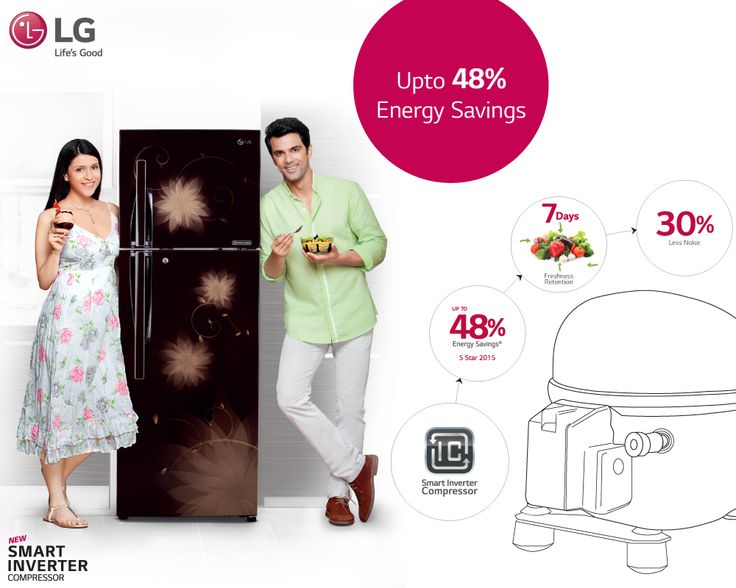 The new Ice Beam Door Cooling System technology ensures even cooling throughout the refrigerator.
NEW AUTO SMART CONNECT FEATURE is available in all 3 & 4 Star rated refrigerator which ensures Refrigerator Runs even on Home inverter at very low power consumption.
Whereas the Smart Diagnosis System feature is designed to support consumers to simplify the after sales service program. This troubleshooting feature which when synced with the Android App on users smartphone will help diagnose and solve any problem of the Refrigerator quickly and correctly.
The Refrigerator comes with a stylish panel on the outside to control its functions. The digital sensors and Door Cooling Technology ensures that the interior temperature remains uniform inside the refrigerator.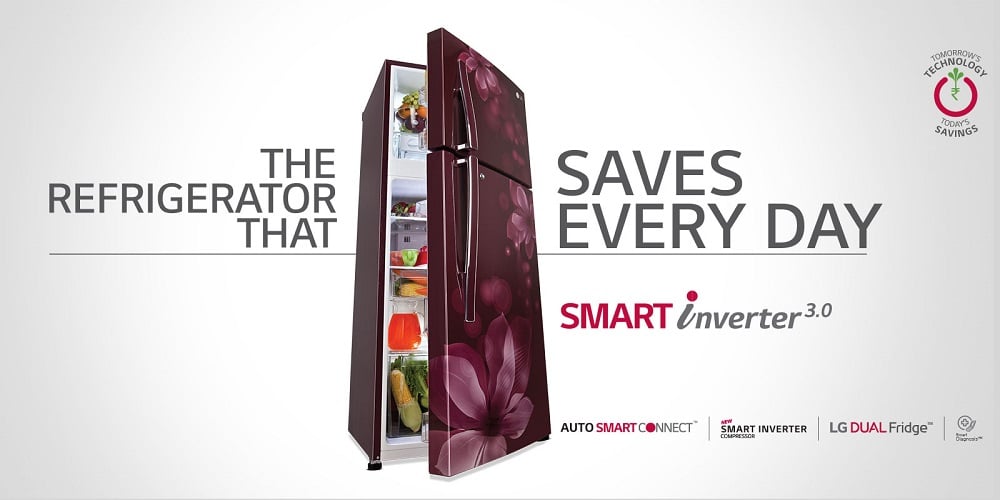 Hygiene Fresh+™ ( Available in 500+L ) this feature eliminates bacteria up to 99.999% and also helps eliminate bad odour. This feature uses a 5 step process for antibacterial deodorization. The Fresh O Zone in the refrigerator maintains temperature around zero degrees and helps you save time on thawing food.
LG Side by Side Refrigerator
LG's Side-by-Side refrigerator with Dual Door-in-Door has a large storage capacity (1,001 liters, more than any other refrigerator in the world) and is ecofriendly. What makes this refrigerator unique is its Dual Door-in-Door feature, offering revolutionary ways of maximizing space for frequently used items. This refrigerator has been developed to maximize storage capacity and reduce the loss of cold air by up to 47% while opening and closing of the refrigerator.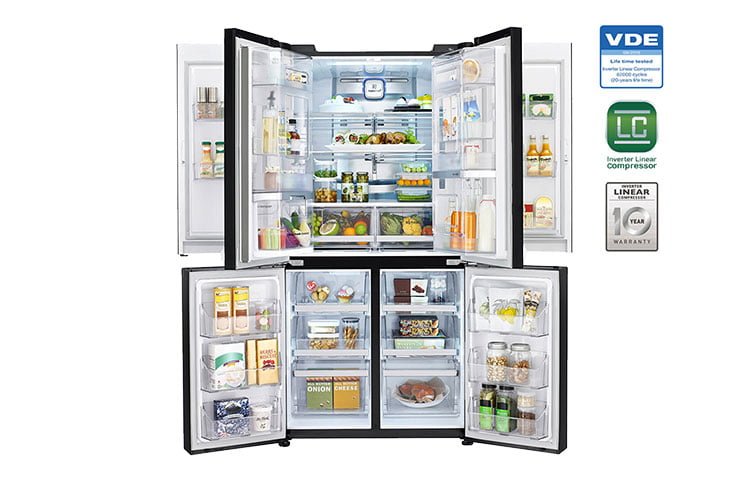 The multiple doors provide plenty of space for everyone in the family to store their favorite food items. Although unseen on the outside, the Inverter Linear Compressor in the Dual Door-in-Door keeps food fresh and consumes far less energy. This advanced feature of LG's Side-by-Side refrigerator makes it effective and ecofriendly, consuming less electricity and keeping the noise level very low. LG's Hygiene Fresh technology applies 5-layers of air filter that eradicates most contaminants like dust and bacteria, keeping food free from air-borne bacteria.
The LG Side-by-Side refrigerator not only has great storage capacity but also has great aesthetic appeal, it encompasses the world's first Curved Glass Door with a premium design and luminous black finish, making it sleek and stylish. LG offers a 10 year warranty for the Side-by-Side refrigerator.
LG Single Door Refrigerator
LG's Single Door Refrigerator, India's first refrigerator with inverter compressor technology in Single Door comes with Most Stylish Design & range of Colors . This refrigerator is specially designed for consumers suffering from expensive power tariffs. This new range of LG refrigerators offers the finest cooling solution for your family.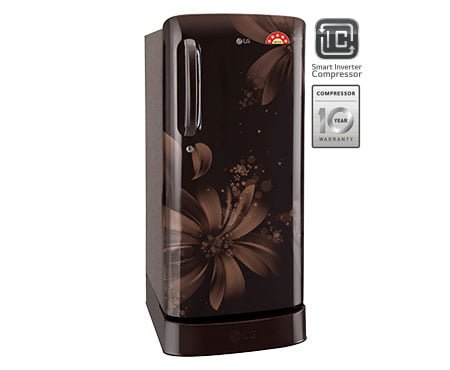 Equipped with Smart Inverter Compressor technology, this range of refrigerator provides optimum cooling with 5 star rated energy conservation which provides savings up to Rs.4400/- over a conventional 5 star rated refrigerator. It has the energy efficient R600a compressor which not only helps save energy but makes the refrigerator eco-friendly at the same time. The Single Door Refrigerator has FASTEST ICE MAKING FEATURE that can make ice within 108 minutes with no additional load on the compressor and it has a stabilizer free reliable operation between 100V – 290V.
Mr. Rajeev Jain, VP & Business Head – Home Appliances, LG Electronics India, said, "Summer accounts for sky rocketing electricity bills especially in a tropical country like India. Our refrigerators are 5 star rated in Direct Cool (single door) & 4 Star Rated in Frost Free (double door) and incorporated with the best insulation and compressors. The energy efficient models meet the energy efficiency standards and are eco-friendly at the same time. Our flagship series for 2016 is LG's Smart Inverter 3.0 Refrigerator, that saves every day, encompassed with the Smart Inverter Compressor Technology that helps save energy up to 48%* and reduce noise levels. This summer LG plans to target double-digit growth in the refrigerator market and further strengthen our market leadership."