Samsung India today showcased India's first Digital Inverter Compressor in Direct Cool Single Door Refrigerator Series. The new range is powered by Digital Inverter Compressor, which delivers efficient energy savings and ease to connect with the home inverter during power cuts. With this launch, Samsung extends it's innovative and unique Digital Inverter Compressor to the direct cool single door refrigerator category which is currently available in its frost-free range of refrigerators only.
Samsung Launched Smart Convertible 5-in-1 and Smart Digital Inverter Refrigerators
The revolutionary 'Smart Convertible 5-in-1' range which caters to the diverse storage needs of Indian consumers was also displayed at the event. The revolutionary Samsung Smart Convertible 5-in-1 Refrigerator is powered by Twin Cooling Plus technology that enables consumers to be flexible with cooling storage depending on their needs. The true independent cooling system allows turning the freezer into a fridge when required.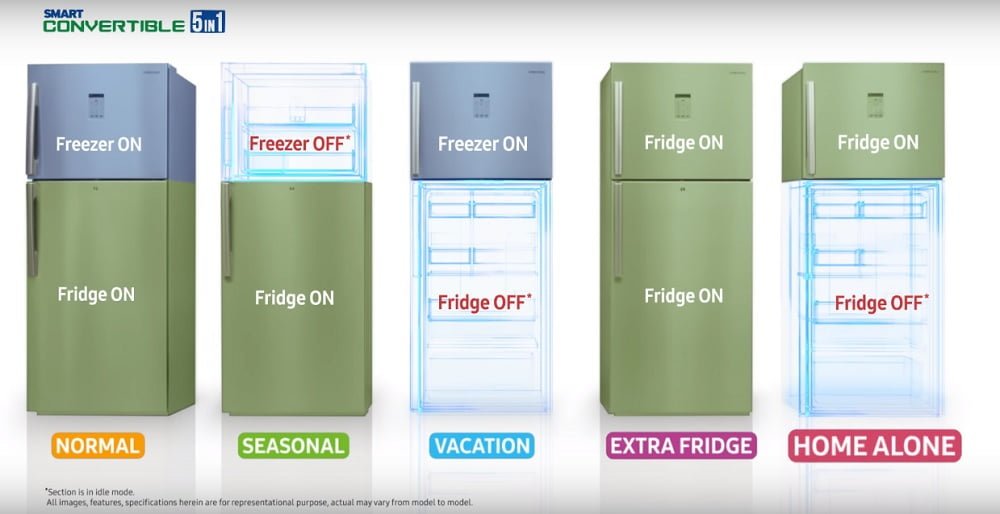 – Freezer to Refrigerator convertibility ensures more convenience and efficiency
– Addresses the unique storage needs of every Indian consumer
– 'Starflower series' in 212L & 230L with new vibrant pattern
"Samsung is committed to address diverse consumer needs and preferences of Indian consumers with meaningful innovation. The largest range of Samsung Smart Convertible 5-in-1 Refrigerator with Smart Digital Compressor is energy efficient and durable, and addresses the unique storage needs of Indian consumers while also offering ultimate convenience," Mr. Rajeev Bhutani, Vice President, Consumer Electronics, Samsung India Electronics, said.

"Our Smart Digital Inverter series is a blend of freshness, energy efficiency, even cooling and durability. It is a perfect solution to provide savings on electricity bills, retain uninterrupted cooling and freshness during power cuts. With these new products, we are confident that we will sustain and further grow our share in the home appliances category," Mr Bhutani added.
SMART CONVERTIBLE 5 IN 1
Five possible conversion modes are Normal, Extra Shopping, Vacation, Seasonal, and Home Alone Mode. the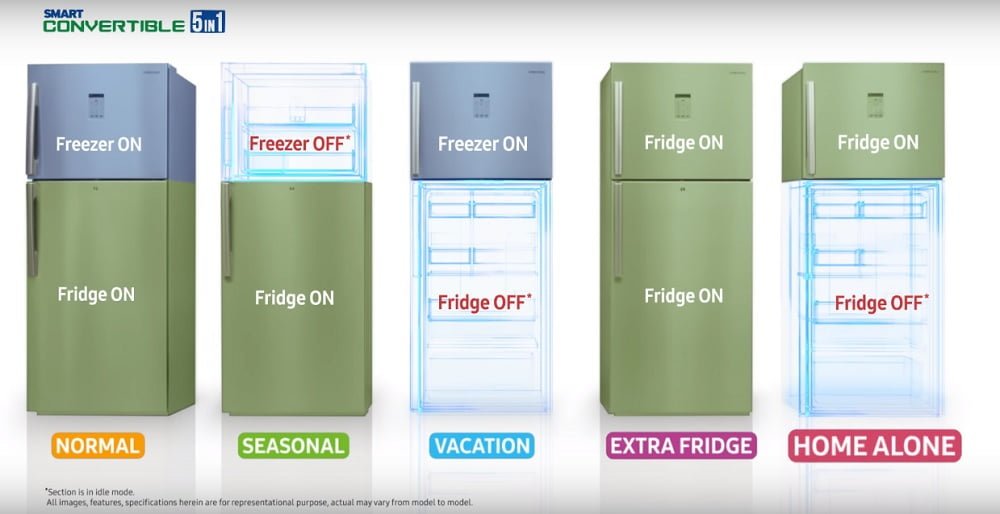 So now if you bring home more bags home just convert your freezer into the fridge with 'Extra Shopping Mode'. If you are going out on vacation & need to store some food in the freezer, simply switch on 'Vacation Mode' and keep only the freezer on & turn off the fridge section. With the change of season just switch to 'Seasonal Mode' keep only the fridge on & switch off the freezer. When alone at home and don't have a lot to store just switch to 'Home Alone' that switches off the fridge and converts freezer section into the fridge.
And not only the 5 conversion modes are the perfect solution to different storage needs but every mode also saves energy giving more savings.
Experience optimum moisture freshness throughout
Smart Convertible 5-in-1 also ensures freshness and taste are maintained. When fruit and vegetables lose their natural moisture in low humidity conditions, the surface becomes dry and wrinkled, and obviously no longer fresh. Optimum levels of moisture within the refrigerator are needed to keep freshness and taste locked in. The Twin Cooling Plus™ independent cooling system ensures that the right temperature and humidity level up to 70% are maintained throughout the fridge, so no matter where food is stored it stays fresh for up to 7 days.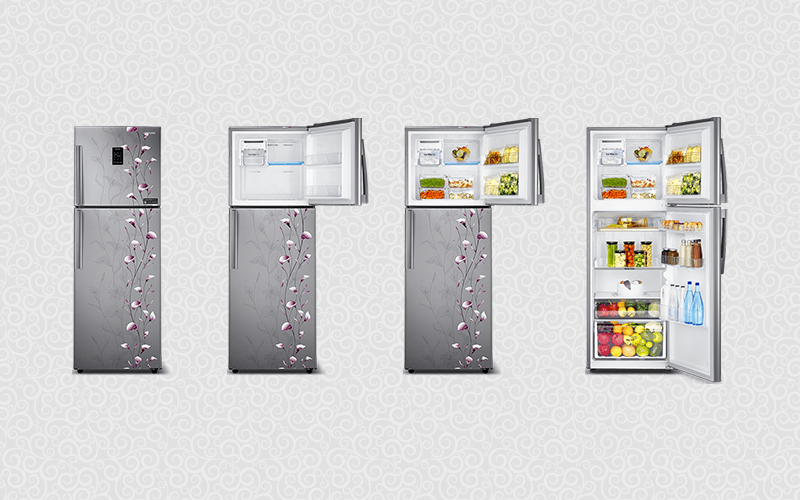 No mixing of Odours
All food odours can change the taste of frozen foods and affect the flavours of finished dishes. Twin Cooling Plus™ is a truly independent cooling system, with separate airflows in both the fridge and freezer. This prevents unpleasant smells from foods moving between the fridge and freezer, ensuring the original flavour of ingredients stored in the freezer is perfectly preserved and odourless.
Samsung Smart Digital Inverter
Samsung Smart Digital Inverter Single door refrigerator is India's first and only refrigerator which offers 5 Star Rating, 10-year warranty on compressor & runs on home inverter during a power cut. It is also India's first Digital inverter compressor and Smart Connect inverter series in the single door category. Smart Digital Inverter Series come with new stylish Grande Door Design & premium Starflower colour pattern – in 212L & 230L capacities.
Digital Inverter Compressor
Samsung Smart Refrigerator has advanced Digital Inverter Technology that automatically adjusts its speed in response to cooling demand, for example reacting to hot weather or frequent opening of the fridge door by rapidly providing cold air. The Smart Digital Inverter Compressor has up to 7 compressor RPM speeds that makes precise adjustments to cooling performance and maximises freshness of food and delivers power savings.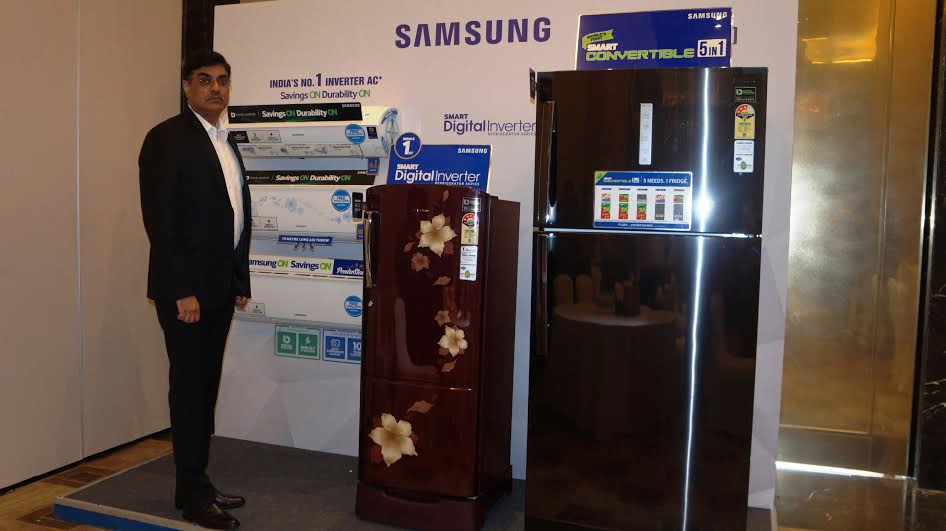 This can also be connected to your home inverter delivering uninterrupted cooling and freshness during power cuts.
Digital Inverter compressor optimises usage by minimising wear and tear and extends the life of the refrigerator by more than 10 years. Digital Inverter Compressor also produces significantly less noise than conventional refrigerators.
Features of Smart Digital Inverter Refrigerator Series
BEE 5 Star Rating – Higher Energy savings up to INR 6900
One of the most energy efficient refrigerators ensuring energy savings up to INR 6900/- .It consumes less power than 2 CFL bulbs (26.9 W) & delivers up to INR 6900/- energy savings. The compressor enhances the cooling performance by controlling the inside temperature & generates very less noise level (40dB → 35dB) as compared to conventional refrigerators.
Smart Connect Inverter
Runs on home inverter during power cuts which give a convenience of uninterrupted power supply to enjoy the freshness & cooling
Stabilizer free Operation
It can handle widest range (100V to 300V) of voltage fluctuations in an industry which help a consumer to run the refrigerator in varied voltage range without any hesitation.
Samsung Refrigerator Price and Availability
The 2016 range of Smart Convertible 5-in-1 refrigerators are available in multiple sizes, starting from 393L and will go up to 670L and will be priced at INR 45,000 up to INR 82500.
The 2016 range of Smart Digital Inverter Compressor will begin from 192 litres to 230 litres and is available across markets in India starting at INR 15,100.