Zebronics, India's leading supplier of IT peripherals, Audio/Video, and Surveillance products, brings in yet another annexation to its widest range of Audio products, with its latest, high decibel – Loud sound – Samba 4.1 Speakers. From explosive action sequences to the pulsing bass beat of your favorite songs, immerse yourself in sound at massive 105Watts RMS. Its Music, Movie, and Masti Unlimited at an affordable price of Rs. 4747/-
Zebronics Introduces its High Decibel 4.1 Speakers 'Samba'
Equipped with advanced acoustical engineering, the multimedia speakers provide a heightened home entertainment experience. It fulfills expectations of consumers with its excellent sound for music, movies, and games. Designed to perfection with attention to detail the 4.1-channel surround Samba is encased in wooden chassis with a glossy black front panel finish and features with LED Display. With its RGB Glow, the speaker not only boasts beauty in its own but enhances the looks of its surroundings. So whether it's a house party or the Oscars Night on TV, the red carpet shall commence spot-on at your place!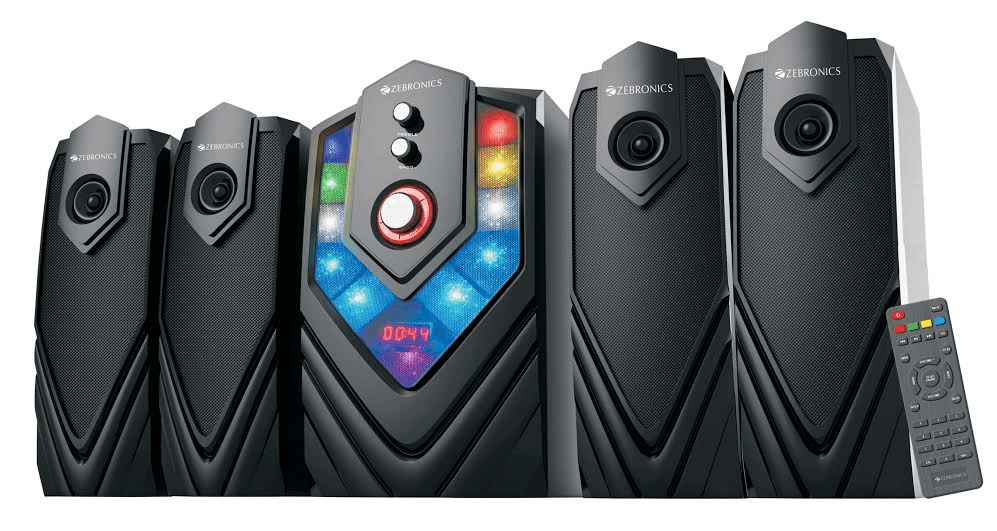 The 4.1 Channel ensures superior sound from all angles with enhanced acoustic performance. It brings in unmatched audio experience with deep bass and lower distortion. The sub-woofer flaunts a wooden cabinet with individual controls. It comes with 16.5cms low-range driver for the subwoofer, and the satellite speakers are powered by 7.6cms full range drivers for high-performance output. With the total output of 105watts RMS and frequency range of 20hz-20khz, the speaker ensures thumping bass lines and clear mid-tones with sharp sounds, which surely packs a punch with best in the class sonic experience!
Key Features of Zebronics Samba:
Bluetooth FunctionLED Display
LED Display
Support USB pendrive &
SD/MMC Cards
Built-in FM
Fully Functional remote control
Individual volume, bass & treble adjustment
Furthermore, the Speaker features connectivity options galore! All-rounder Samba can be easily connected to various media devices with Bluetooth and also supports USB pen drive and Micro SD/MMC Cards. It also comes with built-in FM radio to tune into your favorite FM station. It can also be connected to desktop, laptop, TV, DVD players, media players, etc. with aux-in. Lastly, whatever your music taste is, you are also in full control with Wireless Remote Control!
To ensure the complete peace of mind, the speaker comes with one year of Warranty and is available in leading Retail stores.