When tablets market started showing a slow slump in last few months, that forced manufacturers to come with tablets with more usability and innovations. Lenovo is on the same track by adding some crazy features to tablets, so that the customers can't just ignore buying those. Although Lenovo Yoga Tablets have already gain a traction in market because of it's unique design, they're yet not done with it and keep doing some crazy modifications for maintaining an appeal of their products in market. Lenovo Yoga Tab 3 Pro is one the greatest example to prove my points here, as this tablet comes with an in-built projector. Let's get started with review:
Lenovo Yoga Tab 3 Pro Review
Build and Design
Not to be surprised, as this ain't a new thing at with Lenovo Yoga Tablets. This tablet has an in-built stand, helps you positioning the tablet at various angles, but it doesn't come with a dedicated keyboard. That has to be purchased separately, but i should not mention keyboard here as this tablet price range is way below if compared to Surface Pro pricing, so that won't be fair.
The stand is made of metal, so is complete body. This tablet is sturdy and has premium finish overall. Because of it's metal body, it's durable and tough for extreme conditions. Oh, that stand has a hole too in between, so you hang it somewhere on the wall. Where? That would depend on your usage, like in your kitchen when trying new recipes after following procedures from online videos or websites.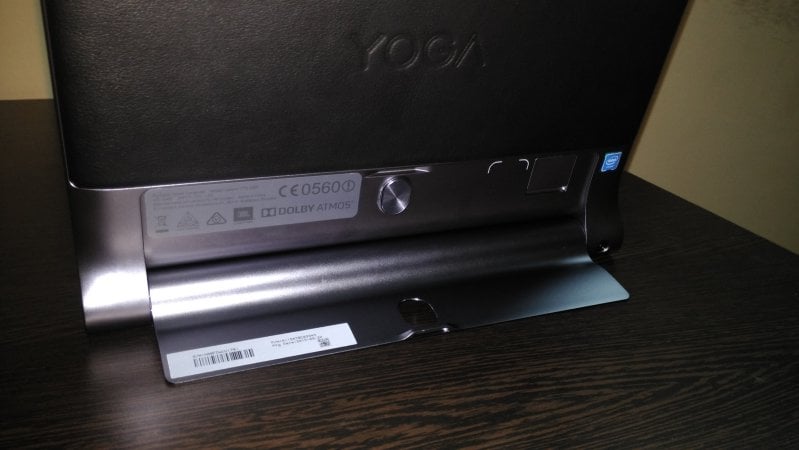 Because of metal body, it weights 665gms and that proves it has a fair amount of metal in the chassis. However at some portion of the back has leather finish, which is soft to the touch and helps with grip of tablet.
However the visual appearance of this tablet is different from a normal tablet, thanks to the tube at the left edge of tablet. This design was taken from Yoga Tablet 2 Pro and offers similar features.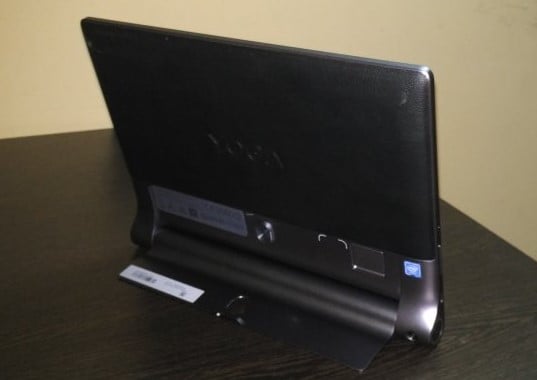 This tube plays the major role in giving uniqueness to the design of this tablet. In-built stand revolves inside this tube opens at a couple of preset spots and helps resting on one edge with a slight raise. This tilt increase the visibility of the content in screen, especially in landscape mode and you'll find type more comfortable in this position than normal.
A Wonderful Projector
The Yoga Tab 3 Pro's integrated Pico-projector is what the USP point of this tablet. While you cannot use the projector in portrait mode, it works pretty well in all other models. This projector can project images upto 70inches across and it's performance is very impressive. It's a 50-lumen brightness is somewhat enough for a dimly-lit rooms during the day light. However if you plan to use it in a brightly lit-office, you'll find projection suffering from washed-out colors. Hence it's more suitable for a dim-lit rooms, doesn't matter much if you use it on day time or night.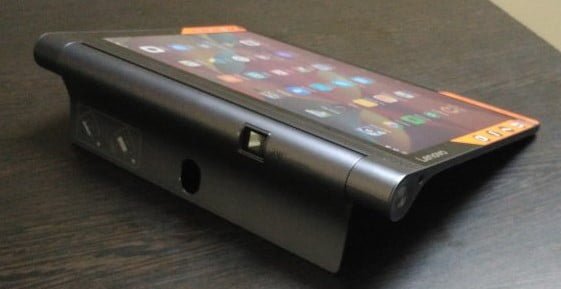 The projector can be turned On & Off by pressing the dedicated projector button provided at the bottom of the tube. Tube's upper end has the power button. Upon activating projector, it gives the option of "Projector Focus", so you may focus the projection every time. Although we found that leaving it to it's default value works best. During a projection session, you can recall the focus option by pressing the projector button.
Above video was shot to show the projection and sound quality of the tablet and was taken from a considerable distance.
Lenovo has also included front-facing JBL speakers with Dolby Atmos which is aimed at the 3-dimensional sound experience and it also supports Dolby Digital Plus which is used for streaming along with Netflix HD content. Sound quality of this tablet is exceptional and i tried those by playing videos on youtube.
Hardware and Specifications
Lenovo Yoga Tab 3 Pro runs of the fuel of quad-core Intel Atom X5-Z8500 clocked at 1.44-2.44GHz with 2 GB of LPDDR3 RAM. It has Quad HD display with a resolution of 2560×1600 pixels (299ppi) and colors are sharp and bright and video content looks great. Screen touch response is good and we have no complaints with that.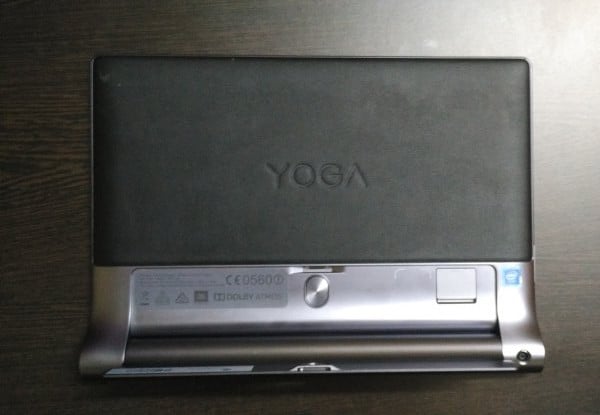 For networking, it supports WiFi via 802.11ac and Bluetooth 4.0 with GPS and there is also a 4G LTE model, which i believe is not available in India yet.
There's also a 13 MP camera rear and a 5 MP front facing camera. I got this 32GB model for review which has 21GB of internal memory available to user. And you can expand the memory via a MicroSD card slot.
Software
On the software part, it's almost stock android 5.1 with addition to few extra augments like software part of Pico-projector, Lenovo eFrame which provides automated music and picture slideshow, Lenovo Sketchpad, which helps you make doodles of whatever content is on the screen and save them eventually (most useful during a presentation), Lenovo SYNCit for cloud backup of contacts, SMS and call logs.
There's also the Smart Side Bar, which upon enabling offers shortcuts to apps and device settings options on a palate and can be called by doing a sweep inwards from outside the right short edge.
Also i observed Lenovo is very aggressive in pushing updates to this tablet. Within my usage of two weeks, i got three system updates to install. Although they don't provide much details in the changelog of updates, but this aggressiveness show that they're serious for providing updates to their customers. And i really hope that someday they would bring Marshmallow update too. That would be a big step as it would bring some useful new features and inbuilt performance improvements.
Performance
Unlike most tablets, this tablet is powered by Intel X5 Atom processor, which is a good thing i believe. I can assume if some developer in future may port Windows in it. With 2GB of RAM, it is going to face some furious competition in market as RAM plays an important factor in decision making.
In real life performance, this tablet performs really well. We streamed videos, music and played games like Riptide GP2, Baldur's Gate Enhanced edition and Shadowrun Returns chug free and there was no lag or jittering.
Battery Life
With a giant 10,200mAh non-removable battery, Lenovo claims a battery back of 18 hours. However in real usage, you might not reach 18 hours with moderate usage and find somewhere getting 15 hours of backup but it's still very impressive considering a 10inch Quad-HD display which must be a power hogger. On video streaming via Youtube or playing any normal full HD video, 9-15% battery got consumed in an hour which is still impressive when other tablets lost 20% of battery minimum with such usage. Same battery usage pattern we observe in gaming too loosing 15-20% of battery per hour which is really not bad.
With moderate usage, battery of Yoga Tab 2 Pro lasted for 2-3 days easily which includes sporadically web surfing, regularly checking emails and social media feeds with a couple hours of gaming and video streaming over web.
Audio
This is where this tablet takes a clear leads as it's packed by 4 integrated front-facing JBL speakers and Dolby Atmos sound tech. Dolby Atmos is designed to create a viral surround of audio which is also being used in many cinemas.
It's own mobile app offers various features like Sound Equalizer that lets you optimize the speakers for different type of audio like gaming, music and movies. This feature is very useful for those people who loves to tweak the sound, while out of the box default quality is also impressive.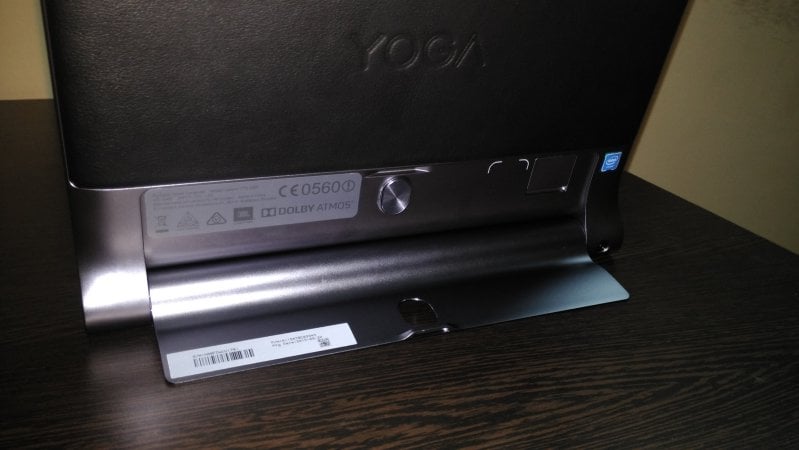 Since, you'll be using it to watch Movies too, hence the speakers volume are loud enough for a room and you can watch movies via projection and enjoy audio even being away from tablet from a good considerable distance.
Final Verdict
Lenovo Yoga Tab 3 Pro is a tablet designed more on the entertainment part and it's innovative stand mechanism, robust design, Pico-projector & JBL speakers make it one of the best tablets for watching movies or for any entertainment purpose. However because of metal body, it's bit on the heavier side and might not please those who prefer a traditional light weight tablets such as iPad or Nexus 9. Yet it's the best entertainment tablet we saw this year.