As soon as a successor of a device comes out, our geek mind starts fiddling's to find the difference from it's Predecessor. This question has been around since it's launched, that what's new now Motorola is offering in Moto G (3rd Gen) from 2nd Gen device. It's normal, because it just stop you from purchasing the old one until you know if the price difference with new one is worth it or not? So, here's the improvements between Moto G 3rd Gen and 2nd Gen:
Display
Even though the display is same in both devices i.e. 5inch sized with 720p resolution, so in every aspect of size and resolution, it's same as of 2nd generation, but 3rd Gen model comes with an additional layer of Corning Gorilla Display which last time company gave it a miss and now this additional layer helps in giving phone a new layer of security and prevents it from scratches. Unlike last year, 3rd gen model display is more bright, produce brilliant colors and has nice viewing angles.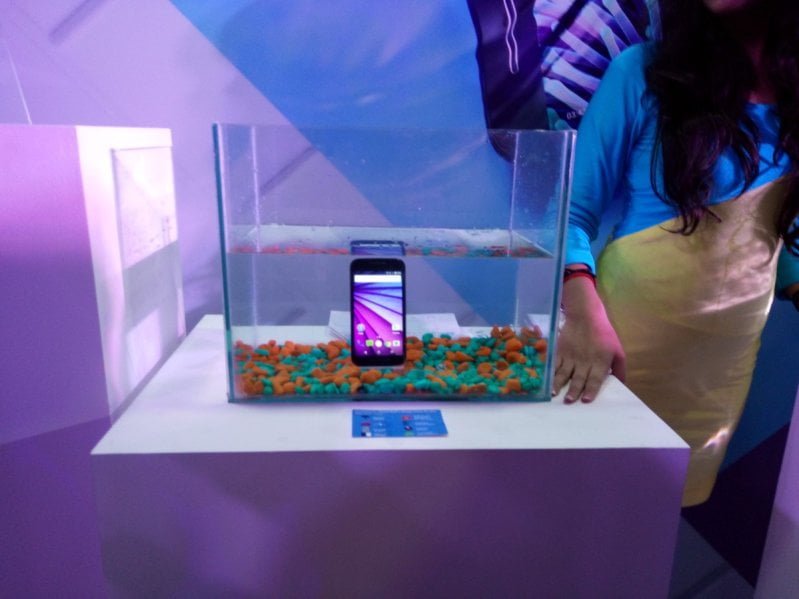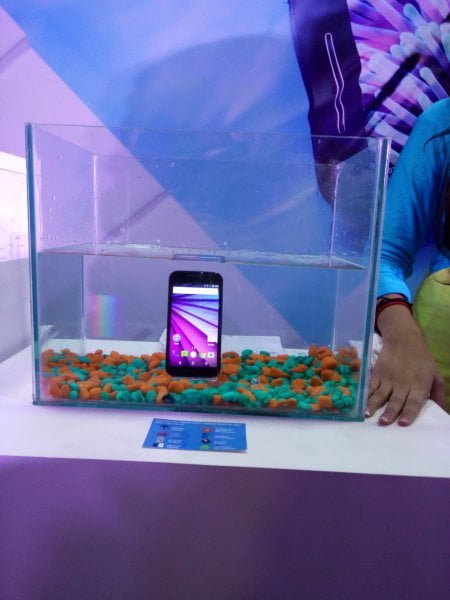 Battery
While 2nd gen Moto G has a battery of 2070 mAh battery, 3rd gen comes with a battery size of 2470 mAh. It's an increase of 20% backup approx and for 3rd Gen, Motorola claims phone to last for at least 24 hours on a single charge because of the optimizations they have done in the OS.
Moto G 3rd Gen Benchmark Scores
Water Resistant
This is a big upgrade to Moto G 2nd Gen as 3rd Gen is almost a waterproof phone. It's not completely waterproof as what Sony Xperia series comes with, rather it can withstand immersion pressure in up to 3 feet of fresh water for up to 30 minutes. It's equipped with IPX7 water resistance protection, hence if by accident your phone falls into a bucket full of water or flush, stay calm as nothing shall happen to your phone.
Design
Although i am not a big fan of design of Moto G design factor, rather my thumps up is for Moto X. However in Moto G 3rd Gen, they have redesigned back and sides and it's a big improvement from 2nd Gen Moto G.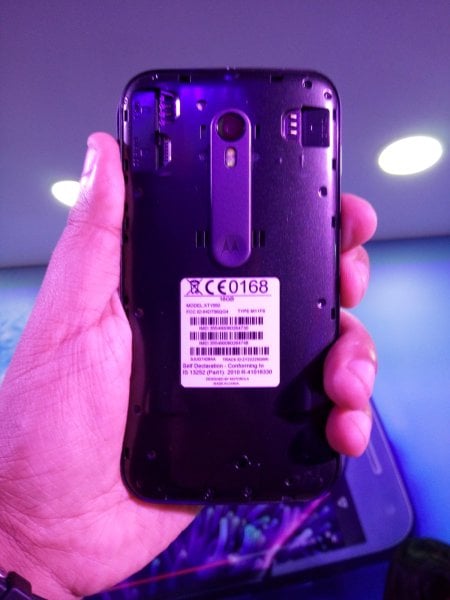 The back cover is removable but the battery inside is sealed for giving it water resistance protection. There's a rigged pattern on the back of Moto G, which we have seen previously in Moto E, gives the back of phone a better look and also helps in giving a superior grip. Not to forget the metallic finish frame around the phone is a big enhancement to the looks of the phone.
Camera
With an increase in Megapixels count on both, front and rear camera, Motorola knows that in this spec driven market, count is what matters, so is the price. Still Motorola is managing to sell a device with 13mp camera at rear and 5mp at front with water resistant protection on a price of Rs. 11999 & 12999 respectively. Rear camera of the phone is accompanied by dual tone LED flash, which company claims that in auto mode, users shall be able to click good natural looking skin tones and consistent vibrant colors. Moto G 2nd Gen however didn't had the dual tone LED flash.
When we tried the phone camera, in good light, it took some great quality pictures. However i didn't got a chance yet to try the camera at low light scenarios. But rear camera did clicked some true-to-life colors in images, however the detailing on images were not as crisp as you may expect, but in the end, how much you can expect to perform from a mid-ranged phone. However, front camera clearly outperformed if we compares images from it's competitors like Xiaomi Mi 4i or Zenfone 2. This can also be said that it's a big improvement from 2nd Gen Moto G.
Storage
Moto G 3rd Gen has 2 variants i.e. 8 GB model and 16 GB model while 2nd Gen Moto G has only a 16GB variant. But the real difference here is, 8GB model of Moto G 3rd Gen comes with 1 GB of RAM and 16GB model comes with 2GB of RAM. So, here's the improvement of additional RAM. Also, there is an option of MicroSD for expanding storage.
Network
Moto G 3rd Gen, which is also a dual SIM phone like it's predecessor, but the real difference now is that both SIM's can access 4G LTE capabilities which is quiet usual now and is like mandatory selling point in Indian market. Not to forget, Moto G 3rd Gen is being offered with Airtel 4G services bundled as bonus.