While Air purifier does only a basic tasks of air purifying, it does have a complex engineering in making of these air purifiers. As we all are aware of dangers from indoor pollution, this issue has now reached higher levels in metro cities like Delhi/NCR or Mumbai especially. Recently in a survey report by Greenpeace foundation, they found these cities to be extremely unhealthy for a living and claimed that particulate matters level which was recorded as 2.5 happens to be four times, the safety limit followed in India and is even 10 of the limit as recommended by World Health Organization (WHO).
Even situation in other cities are no less and air pollution issues are effecting our lives globally. If you keep checking newspapers, survey reports or research report by government, you can easily realize that this situation has gone worsen and then Indoor pollution is another silent termite which is effecting our indoor lives and comfort too.
While looking at some crazy facts, do you ever thought that we consume daily 2 Kg of food, 4 ltrs of water approx, also we actually inhale 13.9 Kg of air daily in about 24000 inhales. If you still ignore taking some steps for combating air pollution and just kept taking care for food and water, it can result in a big mistake. For most of us, we spend our time indoors and we all need an effective measure to get rid of air pollution to a minimal level, so as we could have a healthier breathing.
Philips Air Purifier Review (AC4372)
Talking of purifiers from Philips, they comes with patented Vitashield IPS technolgoy with multilevel filtration system that is meant to filter out harmful gases like formaldehyde, toluene, TVOC etc. and various pollutants like ultrafine particles, allergens, bacteria and virus with a size of >0.02 micron cleaning the air up to 99.97% allergen free.
I had Philips air purifier model AC4372 for review which is ideal for an area of 753 sq feet, which means you can purify area of your living room and lobby with this purifier ideally. This model is also the top variant of air purifier by Philips currently in India and it incorporates some smart features which low end variant might not have.
This unit is designed beautifully considering you might want to keep in your living room more. And since it's of higher capacity, it does takes up some space. Also the build quality is good and plastic body is quiet durable and flexible for accidental compression situations.
Features of Philips Air Purifier AC4372
Vitashield IPS
Vitashield IPS is philips patented multi-level air purification technology which cleans the air up to size of >0.02 microns. Here's the levels of purification this purifier is able to:
Filters out TVOCs: >99%
CADR (cigarette smoke): 341 m3/h
Filters out PM2.5: 99%
Filters out toluene: >99%
Filters out viruses: 99.9%
Filters out bacteria: 99.9%
Filters out formaldehyde: 90 %
Smart Sensors
In-built sensors in this purifier gives feedback in form of color of lights on indoor air quality. Also another sensor alerts the user and warns when to replace the filter. If an user won't change the filter on time, the purifier shall stop running to ensure the delivery of purifier air always. These sensors also helps in measuring and controls the indoor air quality.
Turbo Mode
Turbo mode cleans air with fastest speed when compared with their normal running. To be usually used when you find your room filled with smoke or in similar situation.
Child Lock
Child lock ensures that the brats in your house don't make any unwanted changes in settings of your purifier.
4-Step LED Indicators
Although company claims that it has 4-step LED indicators to show current air quality level, i was able to see either red or blue which means either it's impure or pure air quality level.
Light Sensor
Light sensor automatically turns of lights of air purifier when it detects dark at surroundings like while sleeping at night.
Auto Mode
While we can set the purifier fan speed as per our requirement, but believe me, it's of no use as you won't keep guessing when do you require fast or when low. Best option is to leave the purifier at auto mode, and it'll automatically keep adjusting fan speed as per requirement depending upon purity level of air at surroundings.
Timer
This is a common feature, and it gives option to run the purifier for a specifier time like for 1 or 4 or 8 hours as per preset settings.
Types of Filters in Philips Air Purifier AC4372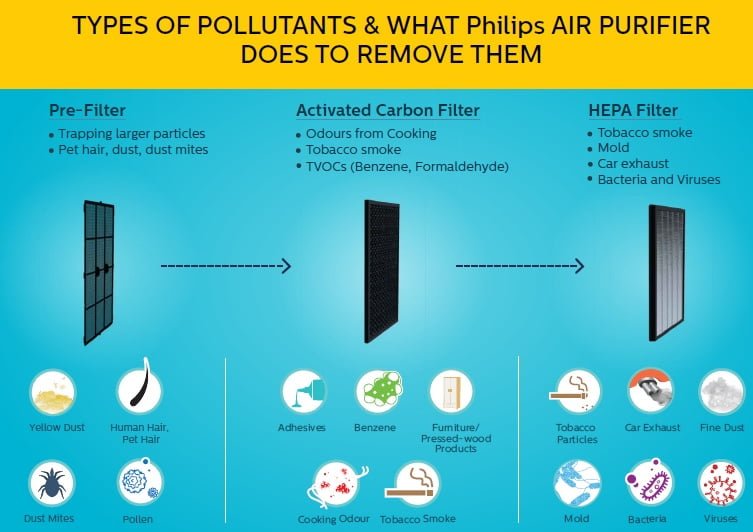 AC filter: AC4153
HEPA filter: AC4154
Multi-care filter: AC4151
Philips Air Purifier Filters Gallery
Performance
This Philips air purifier model AC4372 has a CADR (clean air deliver rate) of 341 m3/h which is quiet a big figure to judge the capability of an air purifier purification level. As i said above, it can filter out dust, pollen, bacteria, formaldehyde, ammonia and benzene averagely over a level of 97%. With a power intake of just 48W, you can keep it running 24×7 without any electricity usage issue as this is just a very nominal figure. Noise level minimum from this purifer is 38 dB(A) which is on higher side as now even split AC's comes with a noise level of 19 dB(A), but it's pretty obvious this purifier is made for bigger area, not for an area of bedroom. If you need air purifier for your bedroom with an average size of 12×12 feet, i would recommend you going for smaller or even starter size are enough which would also have lower noise level.
Final Verdict
Should you really buy this Philips air purifier? Speaking of the advantages it offers, it's definitely on my must have list, but the steep price of Rs. 44,000 approx make me consider the buying decision several times. But yes, we do have lower price versions which are available under a cost of Rs. 15000 approx which i can definitely consider buying. Also if your budget supports, rather buying one big purifier like this model, you can pick 2-3 small purifier for each room for more effective air purification.