This article is about LG Inverter V Air Conditioner (AC) review. Please read it till the end for gaining proper knowledge about this product. Buying an air conditioner hits a big hole in the pocket yet the consumers remains unsure if they are actually buying right product for them. Same was the case with me as i didn't wanted to invest my valuable earnings in a product which may not result in desired cooling level or the performance i may expect from the product.
UPDATE: Check out latest review of LG Dual Inverter Air Conditioner model here – https://www.reviewcenter.in/8837/lg-dual-inverter-air-conditioner-ac-review-features-specifications/
So, unlike everyone i did extensive research on air conditioners, understood working of them, find out what points to look after while buying an air conditioner and which brand is best for this? And finally i resolved such points and ends up buying what was right for me i.e. LG Inverter V air conditioner model no. AS-W186C2U1 which is also Hot and Cold AC. This is 1.5 ton model AC.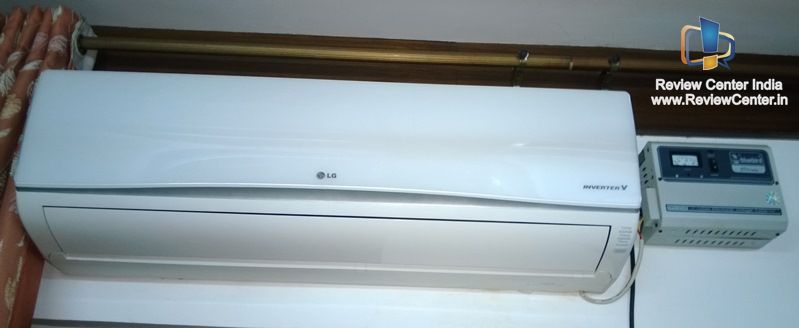 Owning this air conditioner is like a proud thing because its so good looking and super powerful in terms of cooling that even O'General don't have a match for this. And let me clarify, i am not being biased here as i know many fans of O'General too but since i have both at my home, i love LG AC more. And before talking of review, i shall need to clarify few myths.
I heard from many consumers saying to me after hearing from local dealers or from their near ones that Japanese brands are best to choose for air conditioners. Why people had these types of views because they had been influenced by mouth marketing since a very long time from their elders and others who actually never did any technological research or comparisons before buying an air conditioner. Technology with time always takes a big turn-around but people still don't leave their old beliefs they had in their mind for a long time.
For example, Nokia ruled cell phone markets for 14 years but later on Samsung came up with better technology in those and it actually made people realize they are selling latest and better technology in mobiles and people shifted to it. Even if one has to buy a 5K priced phone, they do hell lots of research on it over internet but when they had to buy a 40-50K priced air conditioner, they just believe what other says and never compare or research which company is selling best and latest technology in air conditioners. Because of this, companies like O'General and Hitachi are popular because people think they give great cooling but an average customer never realize that they are still selling old technologies to consumers since years and they are just not doing any update or any major change to give some benefits to customers.
But we are today's generation. We just don't hear & choose but judge the things personally first and then buy it. Even because of mouth marketing i heard from others, i end up buying O'General window air conditioner in 2011 but after using it till now, i am not much satisfied with it, because it's so noisy and most of all it consumes power which is more than expected when compared to technical specifications of that model. The time when i bought that model, there was no specifications given like how much star rated that model is or how much is the power consumption. But later on when i found out, i was quiet disappointed with it.
So, i decided to do proper and extensive research for next air conditioner which i required to install in my drawing room. And after comparing what technologies one must buy and which points should be taken care for, i end up buying LG Inverter V air conditioner and choose model (AS-W186C2U1) which is also hot and cold air conditioner (1.5 Ton). So, before i may start writing review of it, why not compare technologies and other important things first with other few famous brands. I am including in comparison only those brands which i think can be worth buying even though i recommend now only LG to my readers as i feel people must be recommended one thing and no more confusion and i have deep trust on LG for selling best quality products to consumers with confidence.
Comparison of Technologies in Air Conditioners
This is a comparison of 1.5 Ton inverter series air conditioner of various brands. I am comparing here inverter series air conditioners which are also having option of hot and cold feature.
Best value are in bold. O'General and Carrier both don't sell Inverter series air conditioner with Hot and Cold option. Basically this makes them out of the scene here.
Specifications
Brand
LG
Hitachi
Panasonic
Voltas
Diakin
Model
AS-W186C2U1
RAU018ITXAI
CS-YE18PKY
1.5T-18V-DX
FTK(X)S50FVMA
Cooling Capacity (Watts)
Min.

900

1600
1000
1700
Rated
5200
5200
5000
5200
5000
Max.
6000
6000
5300
6000
Heating Capacity (Watts)
Min.

900

1700
900
1700
Rated
6300
6200
5500
5400
5800
Max
9000
8300
6800
7700
Filters
Plasmaster Cyclotron, Anti-Bacteria, Virus & Allergy Safe filter, Triple Filter
Nano Titanium
Only Odour Removing
Anti Dust, Silver Ion
Titanium Apatite Photocatalytic air-purifying
Power Consumption (Watts)
Cooling
1490
1600
1660
1600
1550
Heating

1650

1660
1615

1588

1600
Running Current (Amps)
Cooling
6.6
6.99
7.9
7.6
6.9
Heating
7.3

7.25

7.7
7.5
7.1
COP (W/W) (Performance)
Cooling
3.47
3.25
3.01
3.25
3.23
Heating
3.82
3.73
3.41
3.40
3.63
Air Flow (CFM)
Cooling
689
477
516
453
519
Heating
689
477
540
453
572
Noise Level (dB)
Sleep
29
32
29
40
30
Compressor
Rotary
Rotary
Rotary
Rotary
Rotary
Refrigerant
R410A
R410A
R410A
R410A
COP (coefficient of performance) is calculated as Cooling or Heating Capacity (watts) / Power input (watts) and higher the resultant value, higher the efficiency an air conditioner has. I have not mentioned EER here since i have done all mathematics in watts not btu/hr. You can calculate EER values easily my multiplying COP values with 3.412.
As you can see in above table, LG emerges out as clear winner as no other competitor is able to touch the standards created by LG. All above information has been collected from latest brand catalogs provided online and at offline dealers. Few points which we can make out of this comparison are:
LG model wins at following points:
When running in power saving mode, LG model is consuming least power in both cooling and heating mode.

It also offers maximum nos. of filters plus Plasmaster Cyclotron is the among the best filter when compared to all other models.
Power consumption and running current in cooling mode is least.
It also wins in being most efficient air conditioner by having highest COP values.
And last but not the least, it has highest air flow rate and even wins over a big difference over Diakin and Hitachi seems to be out of league here. And due to such high air flow rate, you can feel the air from a distance upto 30 feet away from the air conditioner.
Further i am not going in more detailing by comparing more basic features like Timer, Power saving, auto restart because these features are available almost in every brand with different names. The features which matters most and must be look after is what i had compared already above.
Benefit of using Inverter V Series Air Conditioners?
Inverter V technology can help you save 66% of electricity charges in your monthly bill yet provides silent and powerful performance. How it works:
Whenever you start your air conditioner with whichever mode whether cooling or heating, the compressor will first operate at maximum capacity to achieve the required temperature quickly. And once the required temperate is achieved, unlike conventional air conditioners that keep switching compressor ON and OFF, Inverter series air conditioners adjust and constantly vary the cooling capacity to maintain the desired temperature with minimum fluctuation, so that your comfort zone may also not get compromised.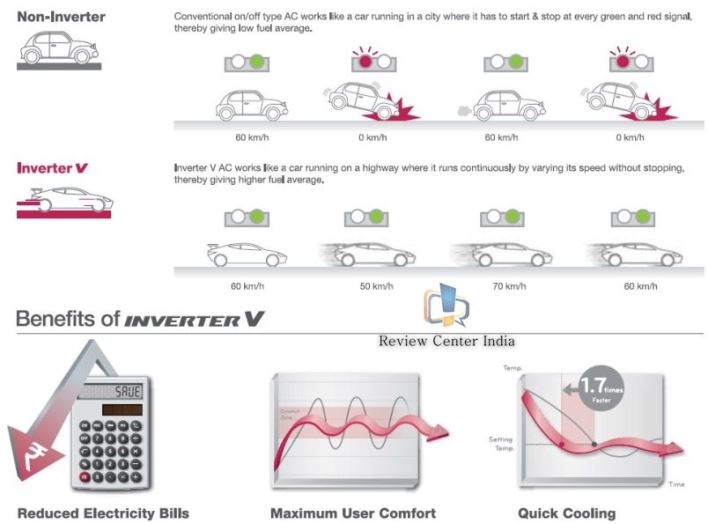 Best thing about Inverter series is both performance and cooling of Inverter V compressor is faster and more powerful, thus they are capable to cool or heat much faster than conventional air conditioners.
LG Inverter V Air Conditioner Review
LG Inverter V Air Conditioner Installation
So, let's start with the review. After ordering the air conditioner from nearby LG showroom, i received the product in 2 boxes i.e. Indoor Unit (IDU) and Outdoor Unit (ODU).
The product costed me nearly Rs. 54,000 however this price varies from state to state.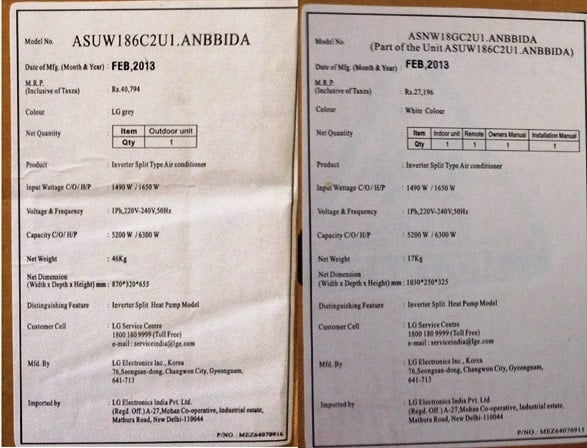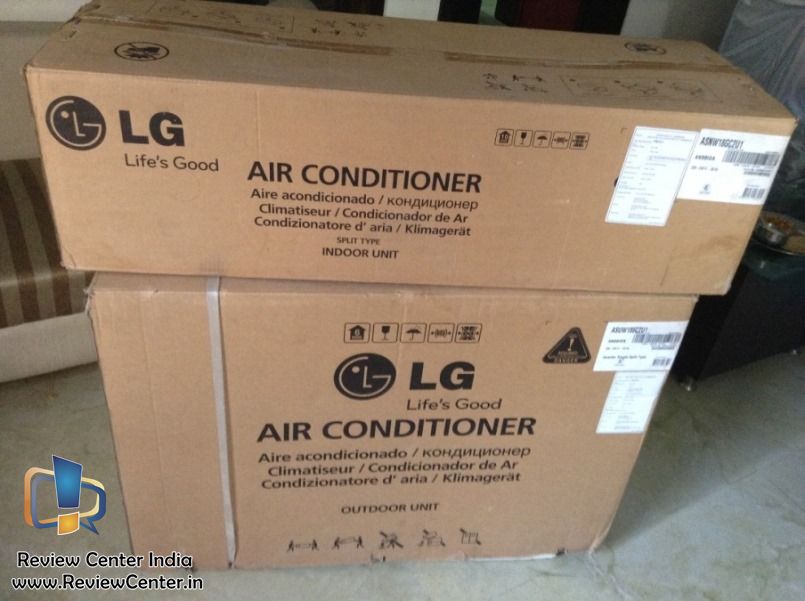 Upon informing customer care on Friday, they sent the person for installation on Saturday, as it is their policy to send the person within 24 hours after calling them. That also means if you call them on Monday and request the person to be sent on Wednesday, they won't register your query and will request you to call on Tuesday again. That's nice!!
Next day, when the person arrived, we start unpacking the air conditioner. Here are few pics of it below of indoor unit (IDU):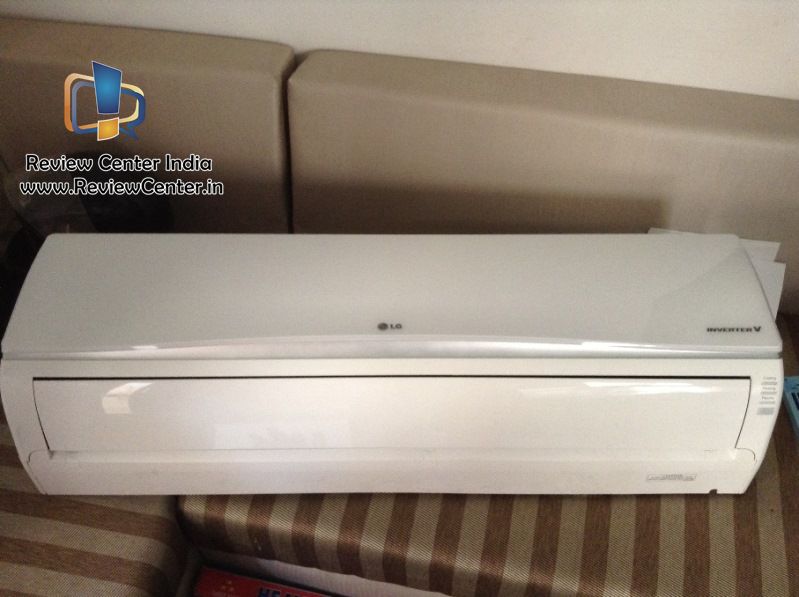 As you can see, air conditioner length is quiet good. Rule is simple here, more wider the AC is, merrier the cooling (i believe so). There is also one more thing to observe if you go to market, 1-2 star rated shall be having shortest width, then a little more wider would be 3 star and finally 5 star shall be widest. That's the also reason why inverter V are among the widest one.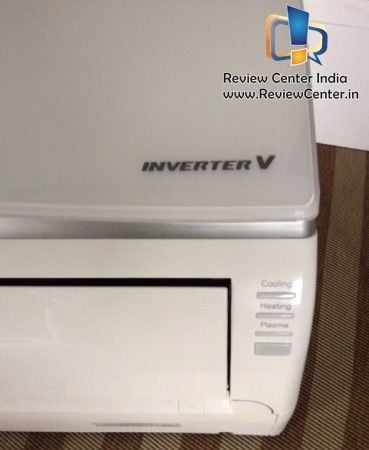 There are nothing much fancy things given on the IDU. Things are simple and sweet here as it just has 3 LED's to indicate cooling, heating and Plasma filter. Although those lights are little bright, LG has given an option in remote control to dim those lights if required at night. Below plasma filter indicator, there is remote controller sensor, not any button which people resemble usually.

If you can understand above provided pic, those 2 blue colored objects are filters. One on the left as per above pic is Plasmaster Cyclotron and other on right is combination of Triple filter and Virus & Allergy filter.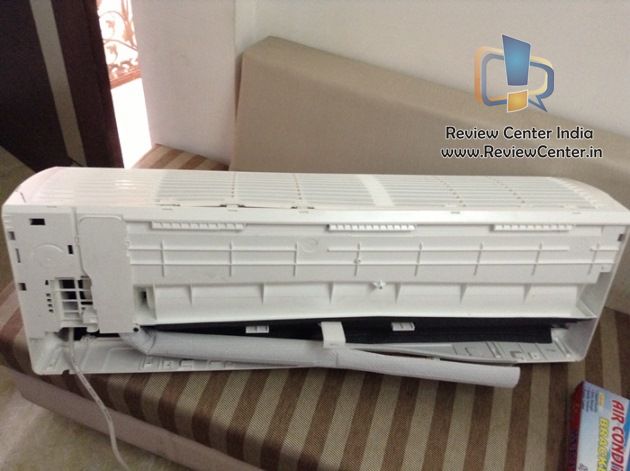 Above pic demonstrate the back view of IDU. The pipe alike thing which is coming out, is used to wrap both copper piping till IDU inlet and outlet.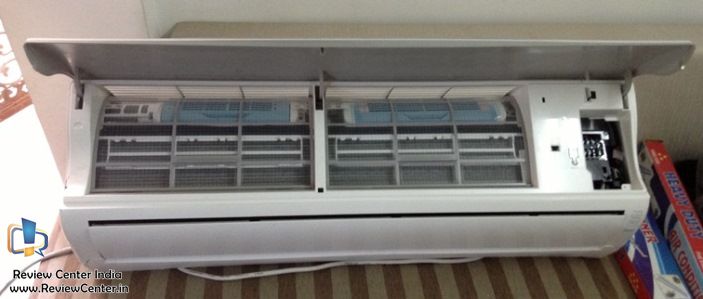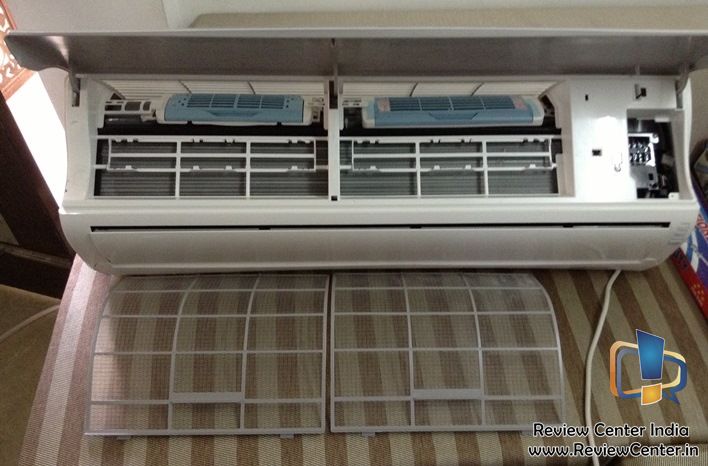 As you can see, there are 2 separate anti dust filter above the whole cooling mechanism. These are easy washable filters which you can clean once in 3 months.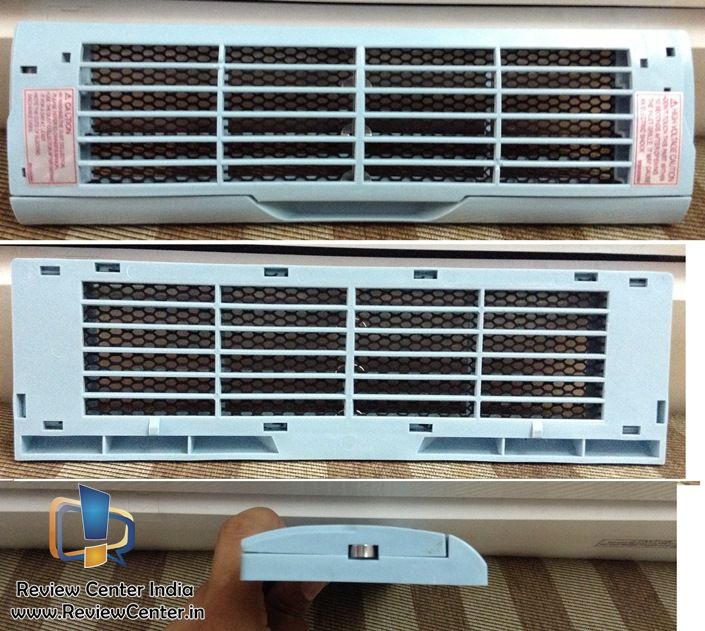 Above pic demonstrate Plasmaster Cyclotron filter which has in-built blades through which electricity passes to purify the air to its best. Other filter i.e. Virus & Allergy filter + Triple filter also looks almost like this, the only difference visually you'll see that it won't be having metallic blades inside it.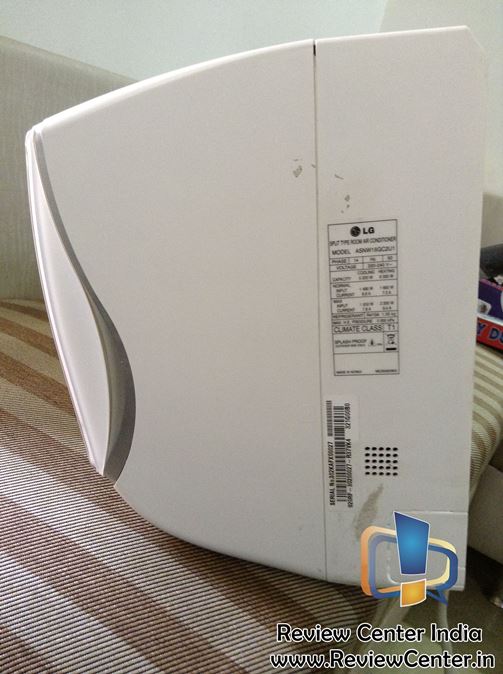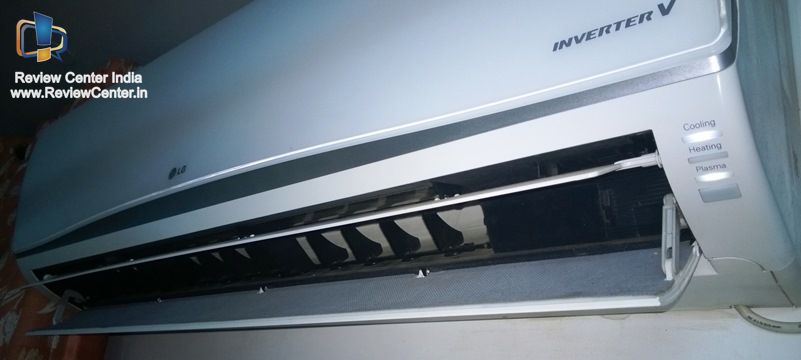 I loved the curves it has when looking from side view and the style statement it makes.
If you look closely at the horizontal louvers inside which controls the direction of air flow, they are quiet bigger in size. There is another important point to be observed here that more bigger the louvers, better the air flow regulation towards the required direction. I observed this point when i was at some random showroom, and observed Voltas air conditioner louvers size (which was quite very small), and realized how ineffective air flow was towards required directions where horizontal louvers were pointed.
Time to Answer Some Myths
Let's start from Outdoor unit, People had been made aware and even i get lots of queries often that all models of LG have aluminum alloy MF condenser but that's not the truth. Even there is no harm in buying an air conditioner with Multi-Flow condenser made of aluminum alloy because it's the same technology and material which is being used in cars for years and now it has been brought to air conditioners so that they could handle similar rough conditions which they usually face in cars. Did you ever see condenser in cars having any issue?
But scenario with Inverter series air conditioners is different and all models of this series from LG has condenser made of copper only. So, next time when you go to local dealer outside, now you know that they won't be able to brainwash you with wrong myths. Have a look at following pics for strong reference: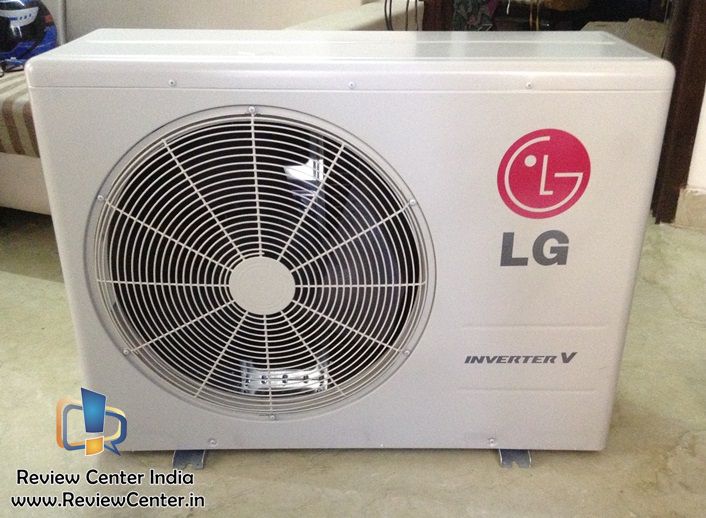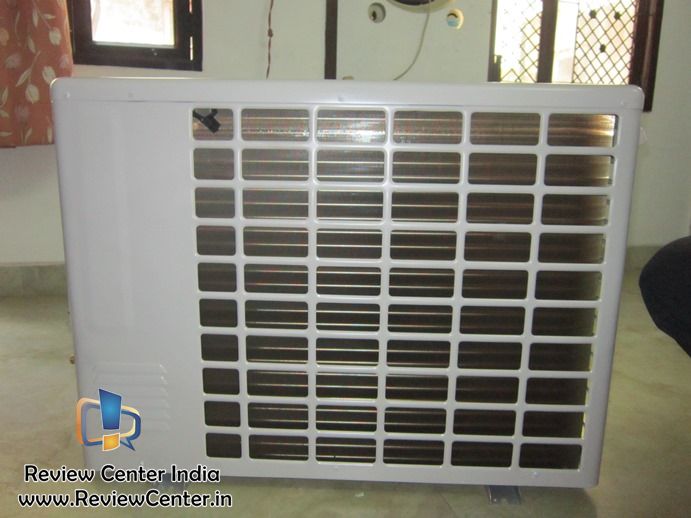 Above 2 pics are of Outdoor Unit front and back view. And if you see the ODU personally, you'll easily spot the copper tubes inside.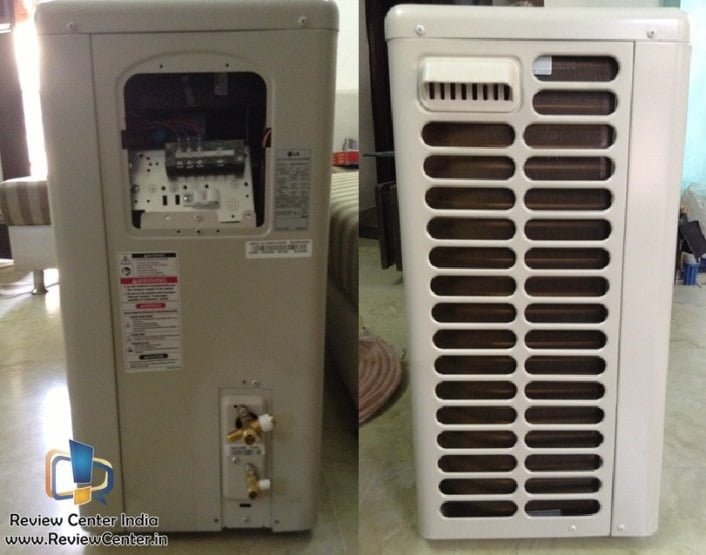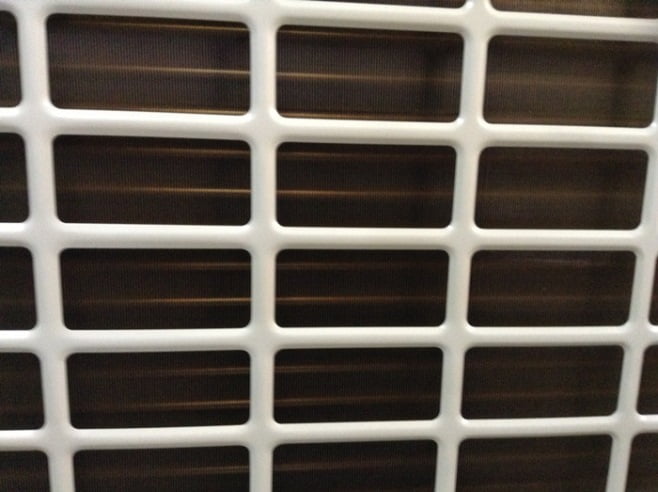 However i have still taken a pic to show it more closely.
Another big myth is, LG used to provide Aluminium alloy kit with all models, but with Inverter V series, LG don't provide any kit at all when you purchase the inverter series air conditioner from any place. Rather, upon purchasing, person from LG service center would bring the kit from company for installation, as Inverter series air conditioners requires the kit to be prepared on-spot as per installation requirements which obviously shall vary from place to place.
And, the kit which the installation guy would bring shall be of purely copper. As i said previously also, inverter series is special, so everything with it is different from usual. And not providing the kit is purely on customer benefit side as the company don't want any kind of installation issues here with consumers.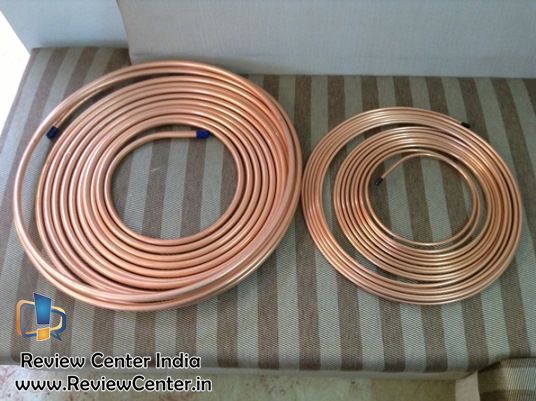 What installation kit basically consists of, is a set of 2 pipes which connects IDU and ODU for operational purpose. Both pipes have different internal diameter as per air conditioner requirements. I am not going much into technical details here for it, as it is not required for review purpose. So, next time don't get shocked if the showroom dealer nearby you don't provide you kit with your Inverter V air conditioner.
Cost of Installation of Air Conditioner
Since, LG don't used to provide installation kit with Inverter V series air conditioners, so those are charged separately by the company. And standard charges applies for the things they brings along required for the installation:
Installation Price in Delhi
Installation: Rs. 1500

Copper Pipe (I required 3 meter): 3 x 550(price/meter with insulation) = Rs. 1650

Brackets: Rs. 750

= 1500 + 1650 + 750 = Rs. 3900
Persons from LG were quiet knowledgeable and cooperative. Even during installation, i made them do few changes and they did those very happily without any hesitation.
Other than above charges, you need to keep in mind electrical charges too.
Electric Wires + 2 pole 32 Amp Switch + Plastic Pipes + MCB = Rs. 1100 and Rs 200 labour charges of electrician.
I wanted to ensure 100% safety for my AC from electrical surges, so i got a separate external MCB installed nearby our electricity meter and then to switch ON air conditioner, used a 32 Amp 2 Pole switch even when single pole switch was also sufficient. I would also like to suggest you to better ask those installer guys from LG and your electrician both for best options as i did the same for mine.
Voltage Stabilizer to be Used
Even though i had a choice between V-Guard, Bluebird and Luminous, i bought Bluebird stabilizer since it was less expensive and i had been using their product with my 15 year old refrigerator since last 4 years and it is still working perfectly without any issue and i had trust over it. One thing to be kept in mind here, no matter whichever brand of stabilizer you may buy (I am not recommending any specific brand here), you need to purchase 4 KVA model for 1.5 Ton AC and 5 KVA model for 2 Ton AC.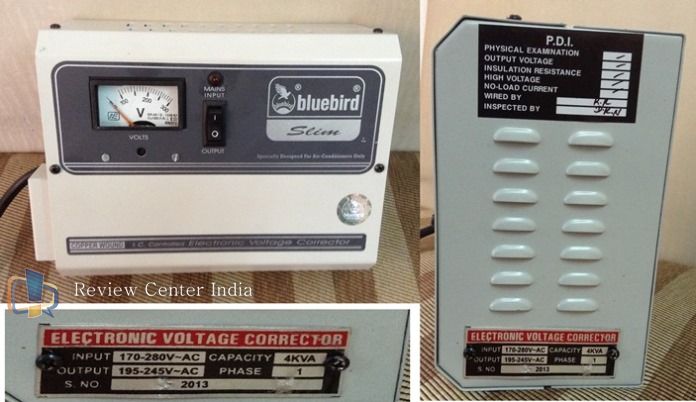 Bluebird used to provide 2 years warranty and V-Guard provides same of 5 years. But there was a cost difference of Rs.1100 as well. You should check your local dealer for prices of these as it varies from state to state. I bought mine for Rs. 2200.
Features worth Wooing
Every one wants lots of features in their devices they bought and now-a-days air conditioners are no less in this league. To provide best user experience, LG has included numerous features in their inverter series air conditioners and even in non-inverters too. But i am listing here features available in inverter series models:
Healthy De-Humidification
As usual almost every hot and cold conditioner has basic features like cooling mode, heating mode, Auto mode, but other than that, there are few features which are included for giving more than what you expect from an air conditioner. So, during this mode, AC after sensing room temperature, will automatically set the room temperature and airflow to the best condition for DE-humidification process.
Why it is called Healthy De-Humidification because during this mode, room temperature set by AC is according to optimization algorithm responding to current room status, so that room condition is kept healthy and comfortable even on days with high humidity.
Auto Clean
Upon activating auto clean mode, moisture left in IDU after cooling mode or DE-humidification operation shall be removed automatically. So, whenever the unit is turned off, the indoor fan would still be running for 30 minutes internally without cooling or DE-humidification operation and this results in drying up of any remains of moisture and cleans the IDU internally.
If you want to cancel the auto clean operation, just press the respective button of auto clean again.
Plasma Purification
Plasma Cyclotron filter is the in-house technology developed by LG to provide remedy to consumers for getting rid of microscopic contaminants in the intake air by generating a plasma of high charge electrons which kills and destroys the contaminants completely to provide clean and hygienic air.
Energy Saving Cooling Mode
Energy saving mode operate AC efficiently by setting body-adaption time according to the change of time and temperature and by adjusting desired temperature automatically and saves energy during cooling operation.
Sleep Mode
Although sleep mode operation looks like basic reverse timer with increments of 1-hour and can be set upto 1 to 7 hours, but the special part about this is it will operate the IDU at super low speed in cooling mode and low speed in heating mode.
During cooling or De-humidification mode with sleep mode, the setting temperature will rise automatically two times by 1 deg C over next consecutive 30 minutes (max 2 deg C) for a comfortable sleep. This shall not left you chilling at middle of the night and ensures a comfortable sleep. This shall also be the final temperature as long as sleep mode is functioning.
Air Flow Control
You can control air flow at 6-steps on Vertical vane and 5-step on Horizontal louver. This justifies the 4-way swing by giving capability to direct air flow in various directions.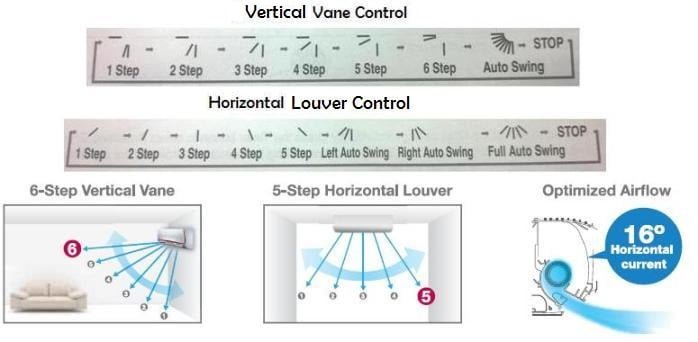 Great Looking Remote Controller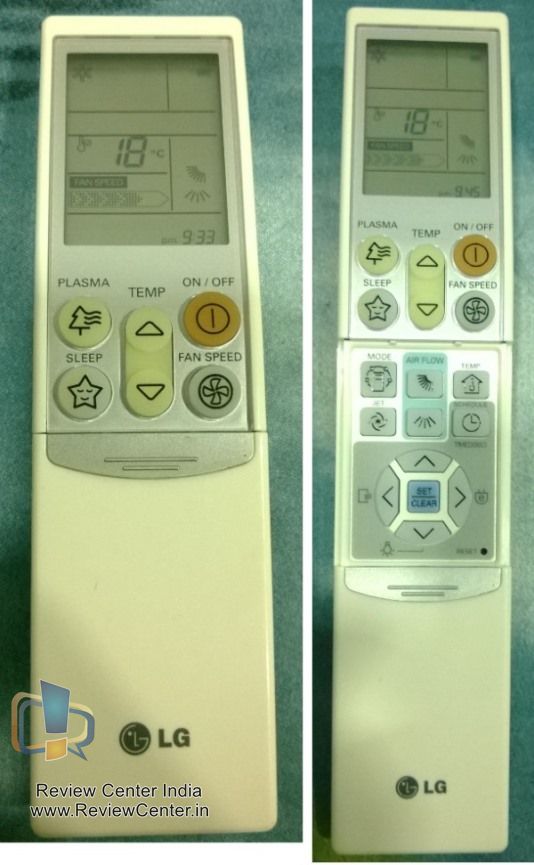 First look of remote controller of this air conditioner will make you fall in love with it. LG has done complete justice by providing a beautiful remote controller and this is the only way to control all features of this air conditioner, since there are no buttons on IDU to control anything. Below picture demonstrate the all the LED symbols and physical buttons it has (taken from product manual):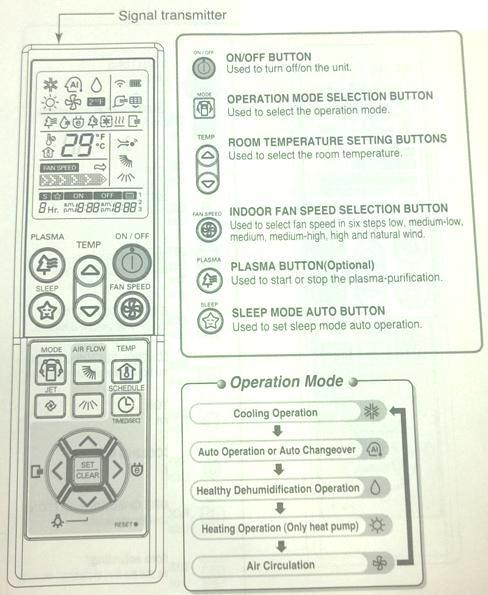 You can know more about all the features it controls in product manual. There is no point currently including those in review as i had already explained all major features above. So, next time upon purchasing your AC, don't just throw away the manual but take out 20-30 min for reading the manual too. Trust me it's totally worth it.
LG Inverter V AC Air Quality and Cooling
This air conditioner is amazing in Cooling or Heating department. With an air flow of 689 CFM, it has the highest air flow rate compared to any air conditioner available in market. You can feel the air flow even when you're 30 feet away from the air conditioner.

And air is so pure because of Plasmaster Cyclotron along with Virus and Allergy filter and Triple filter that if the AC is running from last half n hour and you enter the home after coming from work, you'll suddenly realize the difference of inside and outside air. You'll be amazed by the level of purity of air inside and that is also moisture and odour free.
There are few things worth mentioning here:
Monsoon Comfort
Other than using the AC for cooling purpose during summers or heating during winters, it also fulfill the purpose to provide the user a wonderful experience during high humidity days.
Usually during monsoons, indoor temperature remains lowers than normal season days but humidity gets higher. Even there remains risk of disease risk like Malaria, Cholera and Typhoid. Then usually conventional AC's in De-humidification mode, cool down room temp. too much along with cost of high electricity consumption which doesn't results in a favorable condition for user.
The remedy for this is that LG gives the feature of De-humidification with a difference (available in all models except L-Ultra series). It provides more optimum indoor environment by subdividing temperature control when indoor temperature is below 29 deg C. And optimum indoor environment is determined through various test of variables which affect thermal comfort level.

Thus, the major benefit of monsoon comfort is to provide optimum indoor temperature by maintaining appropriate ratio of temperature and humidity. It also helps in saving energy up to 36%.
Electricity Consumption by Inverter V air conditioner
Electricity consumption is the biggest point because of which buying an inverter series air conditioner is recommended. Hence, lemme tell you my observations on electrical consumption mine AC is consuming.
Since this is an inverter V air conditioner, you cannot calculate exact electricity consumption by this beast. This is the reason why there are no norms of star ratings on inverter series air conditioners.
So, electricity consumption in one month approx shall be:
I am assuming 8 hours normal working hours of air conditioner (1.5 Ton) in a day.

Since in inverter series air conditioner, compressor runs all the time with variable speed for providing better average and less electricity consumption, so here i am assuming that upon running AC for 8 hours, it actually consumed electricity for 70% of its total run. That means compressor full run shall be 70% of 8 hours = 5.6 hours/day.

This 70% value is just approx and can vary between 50-70% as per my observation.

Electricity consumption shall be 1490 watts/hr which means it'll consume (1490/1000) 1.49 Units/hour
Actual Units of electricity consumed per day = (5.6 x 1.49) = 8.35 units
Assuming electricity rate per unit = Rs. 4.5
Electricity consumed per day in price = (8.35 x 4.5) = Rs. 38
Electricity consumed per month = (Rs. 38 x 30 days) = Rs. 1140/-
Hence, this proves that even doing one time investment can save you from big electricity in long run.
LG After Sales Service for AC's
LG after sales service is so much better than other companies that they are years ahead in the map of service networks they had all over India. Also their 211 service is a complete success which constitutes, once you register your complaint, LG service engineer will call you back in 2 hours (hence 2), set up an appointment for the next convenient day for you (hence the first 1), and show up in the promised 1-hour slot (hence the second 1). If the next convenient day for you is the next day, that's great too.
I didn't had a chance yet to call customer care for my AC after installation since it didn't had any problem till now for which i may could raise any complaint, Touchwood :). But even i called them to send the person for installation, they sent the person next very day as per mine convenient time. Even when everything is done, LG customer care will call you once after 1 or 2 days, for taking your feedback that whether the person visited to you on time or not, did he accomplished the assigned task well, how was his behavior and other few small things. This shows how much customer feedback matters to them for improving their service.
LG is very active on social networks as well like on Facebook and Twitter. You can contact them their also anytime if you face any issue with your any LG product.
Also LG was the first company to bring inverter technology in India and thus they know this market very well and takes proper feedback of customer for providing them best after sales service.
Final Verdict
If you had the budget for buying this air conditioner, there is no other choice you need to look at. Buying this air conditioner is like doing one time investment and forget it for years. It actually suits and enhances your luxury lifestyle as well. Owing such AC is to something you would be proud of and take my words, you'll never be disappointed in any manner after owing it.
So, what are your thoughts about this air conditioner and if you own it, how's your experience with it, lemme know in comments?