Dell Inspiron 5520 is the new entry by DELL in medium priced ranged Laptops. They have managed to make an ideal product, keeping in mind an average buyer of the laptop, who thinks that laptops having i3 processor is less and i7 is way too costly for them currently. I really appreciate the work done by DELL here, by offering customized configuration to get a laptop with i5 processor and at the lowest price as well. You can use this laptop for day to day activities and some heavier multimedia processing applications.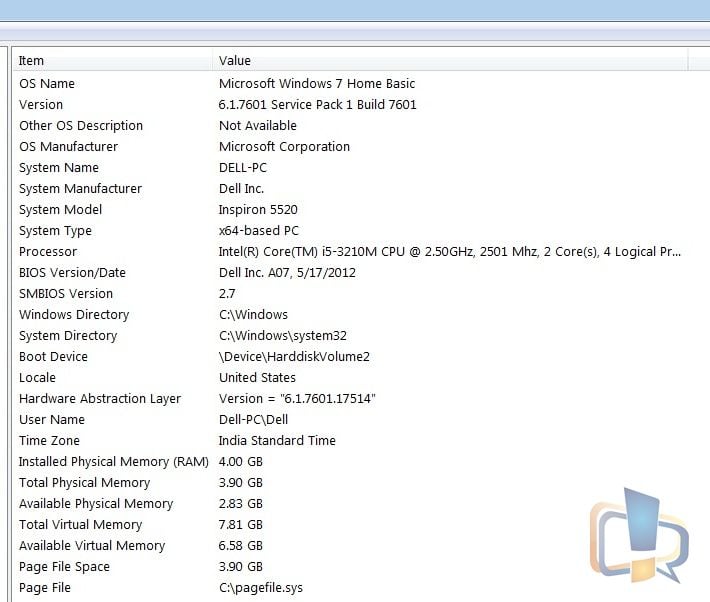 Dell Inspiron 5520 Design
When we showed this laptop to our friends and colleagues, all together we got a mixed response. And the major thing we observed is that boys loved the design but girls didn't prefer much. Although, the major thing about the laptop is the detachable covers. So, if you don't like the current front cover colour, you can change it to the colour you like. There are many options in covers colour available, such as silver, red, blue, white, orange and pink colour. The one which came us for review is the Silver one and this is the only colour available by default. But in case, if you're going to gift this to a female, we would highly recommend changing the cover first to pink or red.
In detail, the laptop has round corners all over. There is nothing edgy which may poke you at any time. The detachable cover doesn't cover the whole front of the laptop, which is a bit of disappointment. But this could be because to include two colours with a strip to make the design unique. When you open the lid, the whole surrounding of silver colour will give a kind of wooden finish looks.
Also, on the top-left of the keyboard, the power button is placed and on top-right, 3 stylish and flashing buttons are given which functions (from left to right) as to activate windows mobility centre, Dell instant launch and the third button you can set to any application you want to run. And talking of keypad, indeed it is a spacious one and keys are distributed in a nice spacious manner. This is the classic keypad of DELL which doesn't have a dedicated numeric keypad, which is also not very important to have on the laptop.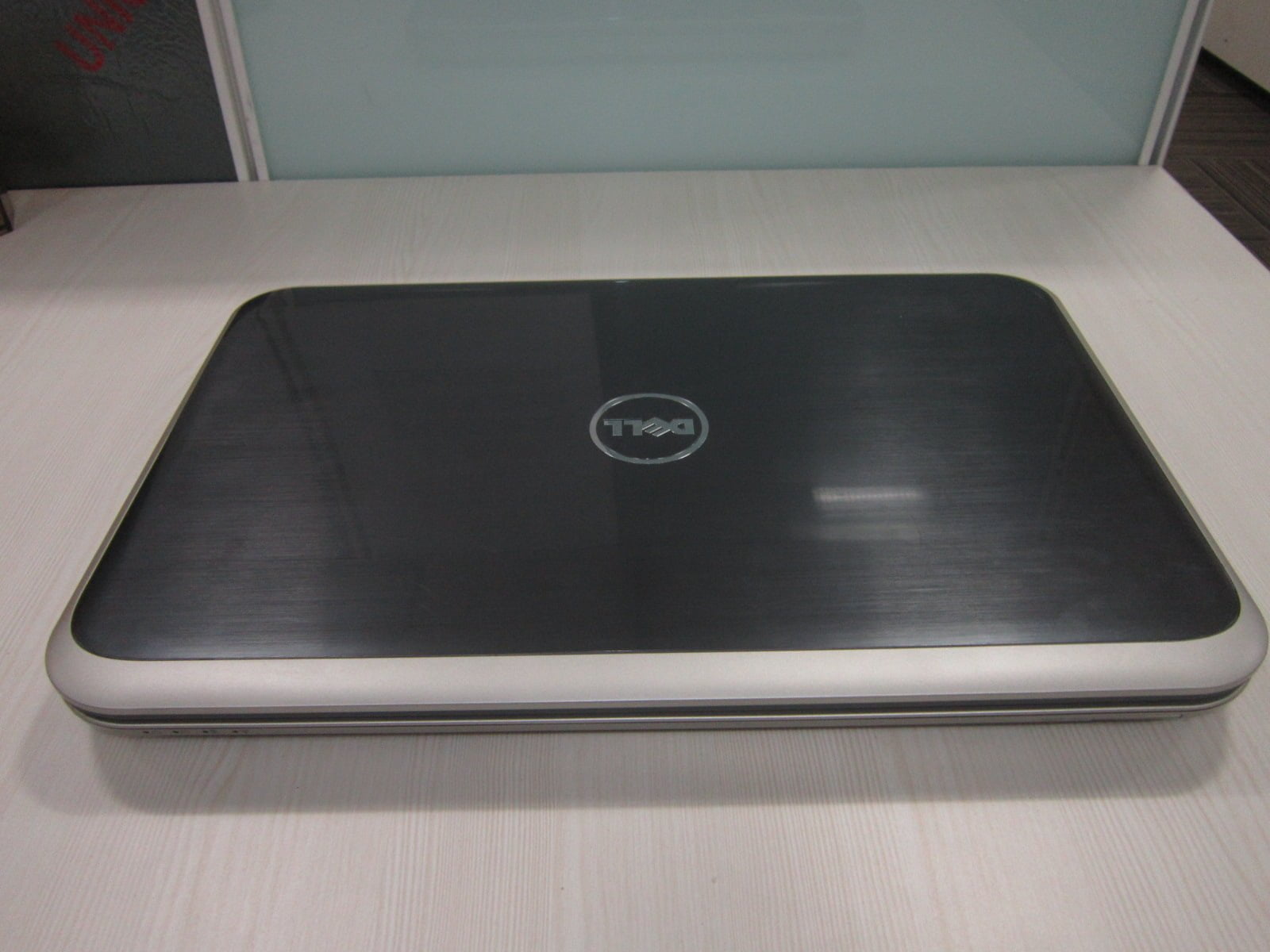 Taking on the sides, we won't say that this laptop comes in the slim category but neither it is in the bulkier one. On the left side, it has a charging jack, D-Sub and HDMI video output, 2 USB ports, 1 mic and 1 headphone jack. On the right side, again it has 2 USB ports, RJ45 connector (for LAN internet), Optical Disk Drive and Kensington lock hole.
Speakers are given at the bottom and have cool looks since there is a speaker at each side with 'W' (Wave) symbol on them. On the rear sides, there is nothing much other than the detachable cover slider for unlocking purpose.
Dell Inspiron 5520 Display
Dell Inspiron 5520 has a display of 1366 x 768. It has a rich colour display and will not disappoint you anywhere. We watched many videos online and even played Blue Ray and HD prints and detailing was rich and good. However, it doesn't have great viewing angles, but have enough much, that you don't feel uncomfortable viewing the screen from sides from some angles.
Also on graphics card side, it has integrated Intel HD 4000 graphics processor that gives a decent performance. Don't expect that this may outperform and you may get very high rich graphics in gaming. But still, for doing the review, we played "World of WarCraft" and it does get played very well with an fps of 56, which is quietly appreciable.
Dell Inspiron 5520 Audio
When we played some random music on the laptop, it created a pleasant experience in our room, as it has speakers on the bottom, hence the audio bounce back and fill the room with good quality music. However, when you'll be keeping laptop while keeping on the lap, it might not perform the same, since the speaker could get covered and it lowers the sound quality as well. Hence, it is always recommended to keep the laptop on a flat surface always.
Dell Inspiron 5520 uses Waves MaxxAudio 3.0 technology for giving out the maximum quality of music. If you think, this is just a name, then you can be wrong. Since, when we turned off MaxxAudio, audio becomes flat and amplification of volume got lowered. Indeed it has four preset audio settings such as Game, Movie, Music and Voice. Trying all these settings, we find settings of Game with the best audio experience.
Dell Inspiron 5520 Webcam
DELL did the right thing here by providing an HD webcam, as they know that doing video chats is so much in fashion today. So, it has 1.0 MP HD webcam which offers video chats (resolution) up to 1280×720 pixels. Videos and images were taken using this was sharp and clear. Dell own webcam software named Dell Webcam central is included with the laptop which you can use for clicking your pictures and for recording videos as well. There are many more features this software provides like image and video editing, but for applying these, you might have to click or record pictures or video on resolution 640×480 or lower.
Dell Inspiron 5520 Performance
This laptop which came to us for review had major configuration consisting of Intel(R) Core(TM) i5-3210M CPU @ 2.50GHz, 2501 Mhz, 2 Core(s), 4 Logical Processor(s), 4GB RAM and 500 GB Harddisk. Windows performance rating given by Windows 7 is 5.0 for this laptop which is nice overall.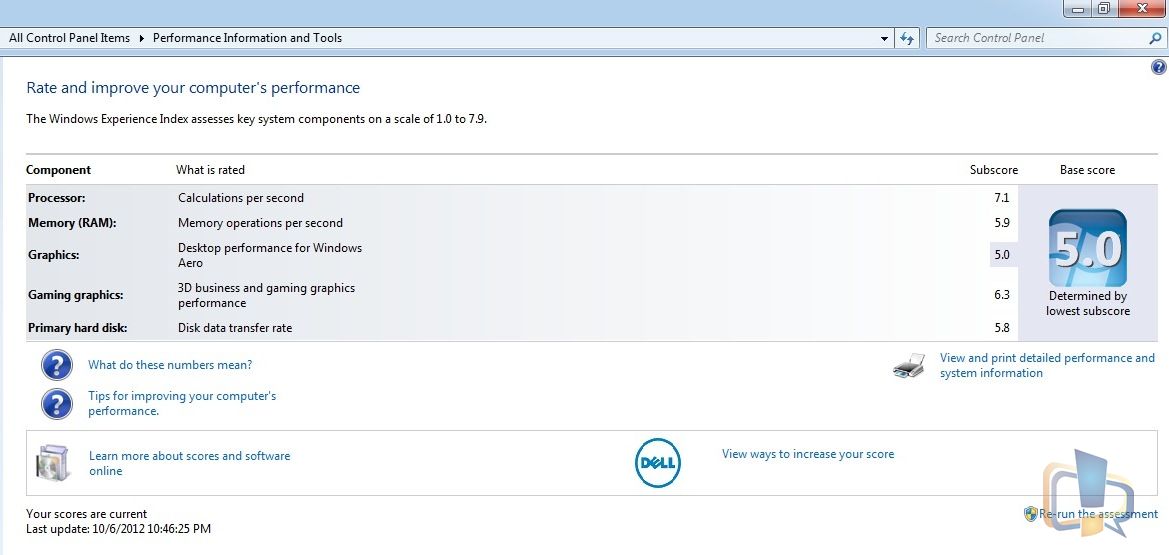 Performance of this laptop is pretty good keeping in mind that software also gets updated these days very often and make themselves heavier in processing. So, this laptop performance is much enough for next 4-5 years depending on how often a software gets updated. Apart from this for doing the review, we installed Microsoft office 2010 trial in it and then opened almost 7-8 tabs in chrome, 7-8 tabs in Firefox then Microsoft Word and Microsoft Excel and even then while browsing folders, we didn't felt any slowness in it.
Also keeping in mind that Windows 8 upgrades will be out very soon, this laptop is more than enough capacity to run Windows 8 as well. So, there is no need, that you may wait for Windows 8 may get launched and then you may buy it.
Dell Inspiron 5520 Battery
With a 6-cell Lithium Ion battery, it has a backup of almost 4.5 hours after a full charge which is quite good.
Final Verdict
Indeed Dell Inspiration 5520 is an attractive laptop considering its looks and price tag it has. It offers a solid computing experience and should not get slowed down at times with heavier software processing until n unless you clutter it with unwanted things. Also, having a third-generation i5 processor is a plus point and changeable covers are good to go. So, this product is definitely a recommended product to buy.