LG Electronics, a renowned provider of advanced and customizable commercial display and digital signage products and solutions, has announced the release of the newest version of LG MAGNIT, a premium Micro LED. LG MAGNIT boasts immersive and striking visuals that will make any viewing experience unforgettable.
The LG MAGNIT features Full Black Coating technology, which delivers a deeper black than traditional package LED signage. This improves color vividness and makes previously hidden details in shadows visible, creating a sense of immersion for viewers.
LG MAGNIT offers a superbly high contrast ratio, which is a crucial aspect of picture quality. It differentiates between dark and light parts, making the content stand out. When paired with its dedicated stand, it provides an unparalleled audio-visual experience.
LG MAGNIT's narrowed wavelength ensures the device displays uniform colors across the screen. It also features enhanced Gamut Transfer technology that supports colors that are true to the original.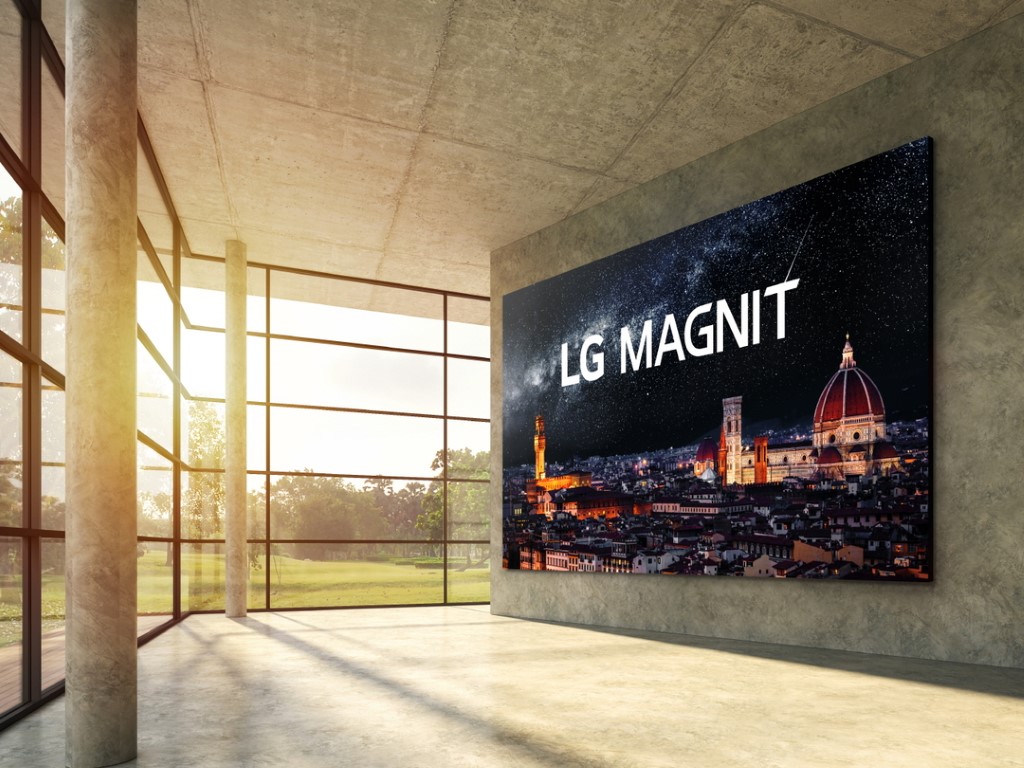 LG MAGNIT utilizes the Alpha 7 Intelligent Processor, borrowed from LG's TV technology, which recognizes and analyzes the original content, resulting in optimized clarity and sharpness. It is equipped with the Alpha 7 Intelligent Processor, adapted from LG's TV technology, which recognizes and analyzes the source material, thus improving the clarity and sharpness of the content displayed.
LG MAGNIT is coated with multiple layers of film, protecting the LED chips from risks such as water droplets, dust, static electricity, or physical impacts. The smooth screen surface of the product also enhances its visual appeal.
LG MAGNIT utilizes wireless broadband transmission technology and does not require a signal cable. A power cable connection is required between cabinets. Only cables for connecting the screen to its system controller and power are necessary. It also features Common Cathode Drive-IC, which supplies the correct voltage to each R, G, and B sub-pixel individually, reducing unnecessary power consumption. The main circuit components inside the LED cabinet go into standby mode, saving additional power and allowing the product to be easily reactivated with remote control.
The user-friendly UI of LG MAGNIT allows users to easily access settings using a remote control rather than a PC. It has been Crestron Connected® certified, ensuring higher compatibility with professional AV controls for seamless integration and automated control, increasing business management efficiency.
LG MAGNIT's wide viewing angle and precise colors make it suitable for home entertainment and visually appealing. Additionally, it consumes less power even when used continuously, making it an ideal choice for Command Control Centers, particularly in Corporate, BFSI, PSU, and Government Establishments.
The LG MAGNIT is available with three pairs of wall mount accessories, and a frame kit is offered as optional. It also works with LG SuperSign CMS, an all-in-one content management solution for editing, scheduling, and distributing content. Maintenance is made simple and quick with the optional ConnectedCare* service, a cloud-based solution provided by LG.