Smart homes are getting more and more common, not just in the most developed nations but also in a growing nation like India. Smart home systems are turning into an integral part of any household and after the COVID-19 outbreak and due to the ongoing pandemic, the adoption of smart home appliances has increased a lot. There has been an acceptance for home appliances or devices that are smart, connected, and energy-efficient.
To make every home smart, LG Electronics introduced LG ThinQ App using which consumers can control their home appliances using just their smartphone. The LG ThinQ App makes it easier for everyone to set routines for home appliances and much more.
LG also introduced its DualCool Inverter ACs in India this year bringing advanced hygiene benefits like UV Nano Sterilization, HD Filter with Anti-Virus Protection. There are various models dedicated to air purification and some of them also have Wi-Fi and can be controlled using voice. LG has also introduced a Super Convertible 5-in-1 range of ACs that reduces the power consumption from 100% to 80% to 60% or 40% and increases the cooling capacity to 110% when faster cooling is required. Again, these ACs can be controlled and everything can be monitored using the ThinQ App.
The new LG ThinQ front-load washing machine with Artificial Intelligent Direct Drive™ (AI DD) motor delivers effective washing and efficiency like never before. LG's new dryer deploys LG's Dual Inverter Technology to ensure excellent clothing care, energy efficiency, and convenience for users.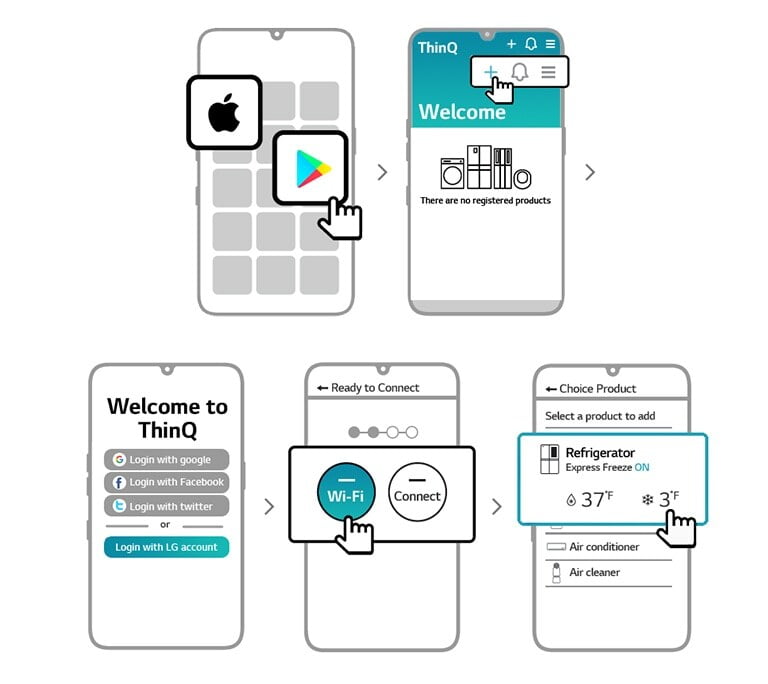 LG's latest refrigerator model of InstaView French Door Refrigerator comes with a sleek mirrored glass panel that illuminates with two quick knocks. Users can peak inside the easy access compartment without even opening the door and it comes with Hygiene Fresh+™ technology that is capable of eliminating 99.999% bacteria and removing bad odor while LG's UVnano™ technology maintains a healthy and germ-free water dispenser tap. The refrigerator can be controlled using the ThinQ App.
LG is developing the ThinQ App and its ecosystem, pushing all limits so that users can use just their smartphone to control home appliances and also monitor the health and hygiene standards around them and it is expected that the company may bring innovations and expand its portfolio of smart home devices in 2022 as well.