With the advancement in technology, wearable devices are not just popular as a fashion trend but rather a necessity for those who want to keep track of their health. Especially since the COVID-19 pandemic started, many around us who aren't really attentive to health are also now getting more conscious, and there is a surge in demand for health management. Health Management refers to the comprehensive
monitoring and analysis of personal health risk factors based on a scientific lifestyle and practical guidance for people to actively and effectively maintain health. Health Management also aims to change passive treatment into active prevention because 'Prevention is better than cure.'
With the growing needs of consumers, wearables are getting smarter while being more affordable. Huawei Band 6 is such a wearable that was launched recently in India. Many people don't fully understand the concept of blood oxygen saturation, simply referred to as SpO2. It is the percentage of the combined volume of oxygen and hemoglobin in the blood to the total hemoglobin volume, that is, the concentration of blood oxygen in the blood. It is one of the critical vital signs. A SpO2 level lower than 90% is considered as low blood oxygen saturation. Low oxygen saturation can lead to fatigue, tiredness, rapid heartbeat, and lack of energy.
In 2019, Huawei applied the SpO2 monitoring feature to wearable devices for the first time. Huawei TruSeenTM 4.0's deeply optimized hardware modules and AI power-saving algorithm, Huawei upgraded the SpO2 monitoring feature to All-Day SpO2 monitoring in 2020. Huawei Band 6 is the first smart band from the brand to support All-Day SpO2 monitoring. It can monitor users' health status around the clock and alerts the user whenever the SpO2 level is low.
Huawei Band 6 sports a 1.47-inch AMOLED FullView Display with a stylish and modern design. With a body weighing just 18g, Huawei Band 6 is exceptionally light. With a two-week battery, the Band 6 is a perfect companion for everyone.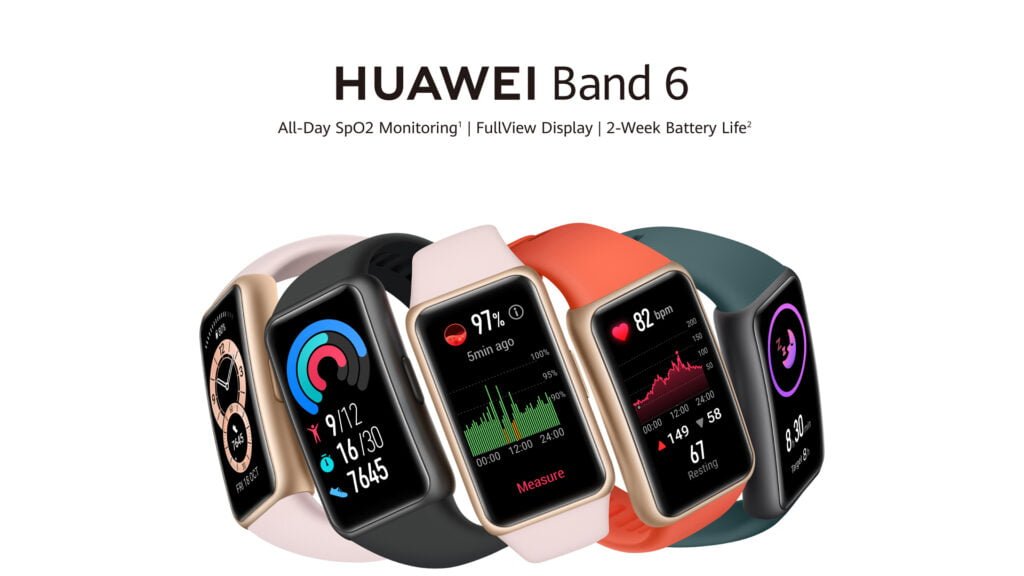 Even today any people wouldn't go for routine health checkups and often visit hospitals only when they feel unwell or sick. Of course, modern medical science can cure many health issues, but a passive treatment may cure the symptoms but not the root cause. That is why active prevention is necessary, and this is why many people rely on real-time monitoring and suggestion from smart wearables.
Huawei Band 6 is priced at just ₹4990, making it affordable to consumers with zero compromise features. Apart from All-Day SpO2 monitoring, the Huwaei TruSleep™ 2.0 scientific sleep monitoring, Huawei TruRelax™ pressure monitoring, and other functions, offering 24×7 active health management.
The Huawei Band 6 also provides 96 workout modes aided by Huawei TruSport™ professional workout algorithm to provide scientific workout records. Huawei Band 6 features the newly upgraded Huawei TruSeen™ 4.0 heart rate monitoring technology, which can accurately provide users heart rate monitoring in real-time. Huawei Band 6 also features Huawei TruSleep™ 2.0 to scientifically monitor sleep quality, helping users to further understand their sleep quality, locate problems, and seek help from professional medical institutions promptly.