South Korean Consumer Electronics giant Samsung has announced expanding its kitchen appliances range by launching the Baker Series microwaves. This all-new microwave series comes with industry-first features such as steaming, grilling, and frying with pro-level convection features. Since people have started to spend more time at home, many love to try their cooking and baking hands. The Baker Series microwaves fulfill the needs of the consumers, helping them discover the inner-chef they have!
Commenting on the launch of the new range of microwaves, Sandeep Singh Arora, Senior Director, Online Business, Consumer Electronics, Samsung India, said, "Besides working from home and studying from home, a new trend that we are seeing is people baking and trying new recipes at home. People across the country, especially millennials, donned their chef's hat as they spent more time at home and restricted eating out. To address consumers' renewed passion for cooking healthy and delicious food at home, we have launched Baker Series Microwaves with industry first Home Desert, Steam Cook and Grill Fry features in the entry level segment."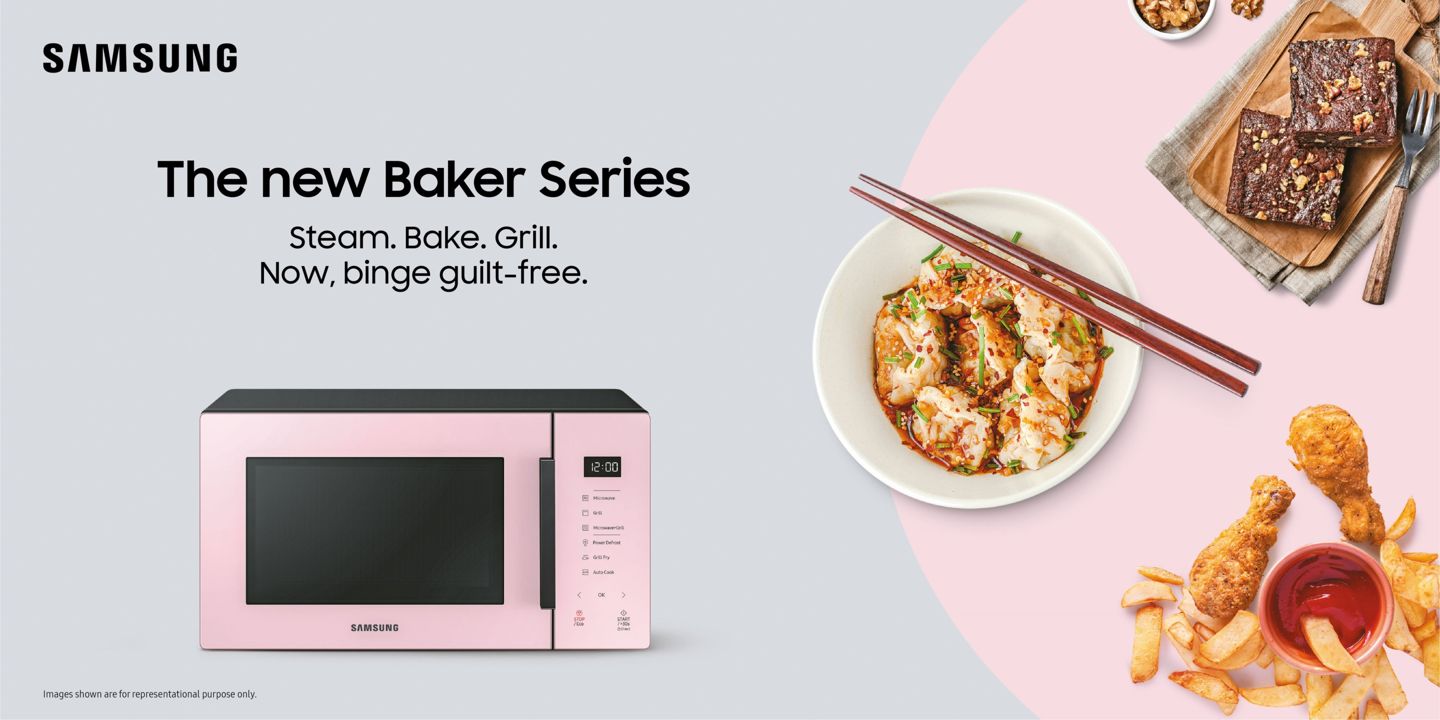 The new range of microwaves comes with a sleek & elegant design, perfect for every kitchen. There are intuitive controls for easy access and operation, while the glass finish body makes them blend perfectly with the modern urban modular kitchen decor. The new microwave range comes with accessories like a glass steam cooker, round rack, and crusty plate.
Making microwave desserts like egg pudding, chocolate mud cake, banana bread, brownies, and much more is possible with the touch of a button on these microwaves. The Grill Fry microwaves come equipped with a Crusty Plate to let fry without oil and enjoy oil-free french fries, chicken nuggets, cheese sticks, chicken wings, potato chips, etc. The Steam Cook microwaves come with a Steam Cooker, and the Auto Steam function allows one to steam vegetables, meat, fruits, eggs, porridge, rice, potatoes, etc.
Cleaning these microwaves is easier than ever as the 99.9% anti-bacterial, smooth and durable Ceramic Enamel is very easy to clean and doesn't discolor over time. While these microwaves help consumers cook different kinds of dishes, they are highly energy-efficient as well. The ECO Mode significantly reduces energy consumption with the industry's lowest standby power. The new microwaves from Samsung come with a Glass Touch control panel with just six essential buttons, and at the touch of a finger, these can be activated.
Samsung has launched five models under the new Baker Series. There are two Grill Fry models and three Steam Cook models that are available in a 23-liter capacity. The range is available on Flipkart, Amazon, and Samsung's official online store Samsung Shop, with prices ranging from ₹10,290 up to ₹11,590. The new range of Samsung Baker series microwaves comes in three color variants- Clean Pink, Pure Black, and Clean Gray.