Korean electronics giant Samsung has launched its 2021 range of air conditioners in India. The new range includes Wind-Free ACs, Convertible 5-in-1 Inverter ACs, and Hot & Cold Inverter AC. The new range takes care of different kinds of needs consumers have. 
Samsung has introduced new 4-star & 5-star Inverter ACs that are highly energy-efficient, while the new Hot and Cold Inverter ACs cater to India's needs. The new range of Inverter ACs comes with Samsung's durability promise of ten years on Digital Inverter compressor, five years on the copper condenser, and five years on PCB, along with 5-year free gas recharge.
Commenting on the launch of the new ACs, Rajeev Bhutani, Senior Vice President, HVAC division, Consumer Electronics Business, Samsung India, said, "AC is no longer seasonality-based products. With people working and studying from home, the need for clean air, durability, and energy efficiency are the primary concerns for consumers today. As consumers are at the core of everything we do, the new range has been designed to keep in mind changes in consumers' lifestyles. Our new ACs with PM 1.0 and Tri-Care filters ensure health and hygiene, while our Convertible 5-in-1 Inverter ACs take care of your energy efficiency needs customizing to each user. The smart and AI features of the new range provide convenience to consumers. We are positive that the new lineup will further help consolidate our position in the Indian AC market."
Equipped with PM 1.0 Filter, the new range of Wi-Fi enabled Wind-Free ACs provides clean and breathable air by sterilizing virus and bacteria present in the air. The PM 1.0 filter is washable and reusable as well. The Wind-Free enables users to control their ACs through voice commands using the Bixby, Alexa, and Google Home through Wi-Fi. The Wind-Free AC allows the user to operate them remotely while the AI auto-cooling automatically optimizes the cooling based on usage and living conditions. The Wind-Free ACs are also equipped with Motion Detect sensors (MDS) and automatically go into an energy-saving mode if it does not detect any human presence for one hour.
The Convertible 5-in-1 models sport Tri-Care Filter too. New modes have been introduced where customers can set various AC performance capacity options such as Party Mode (120%), Normal Mode (100%), Pleasant Mode (80%), Eco Mode (60%), and Home Alone Mode (40%), offering them the optimum room temperature. Along with a Digital Inverter boost, consumers can save energy up to 41% by maintaining the desired temperature without frequently turning the AC off and on. Just like the Wind-Free ACs, these also connect over Wi-Fi and offer AI-optimized cooling. The all-new Convertible 5-in-1 air conditioners from Samsung provide a clean and premium look to match customers' lifestyles. The Geo series come with attractive floral patterns, and the Airise series sport the premium strip design. The bigger fan and wide blade offer faster, broader, and farther cooling, while the slim design and more prominent display make the air conditioners perfectly fit beautiful and modern homes.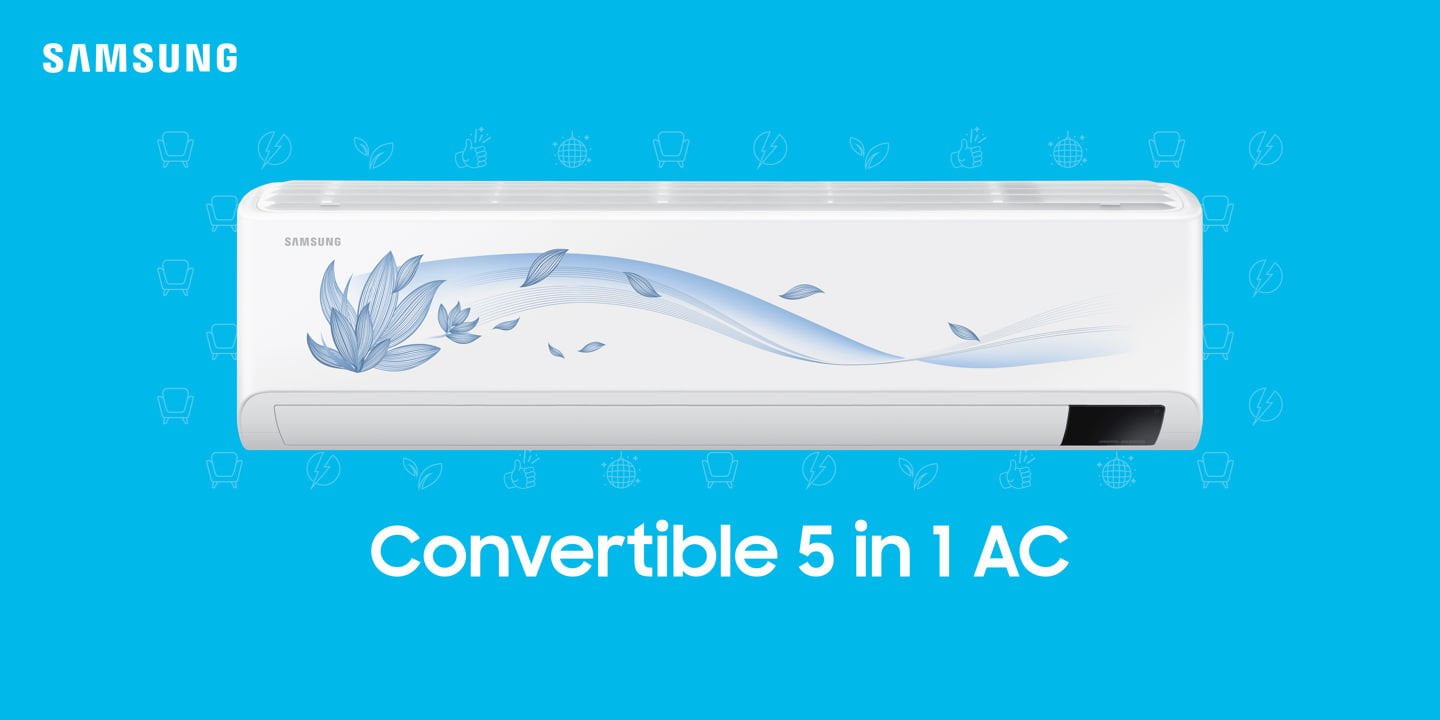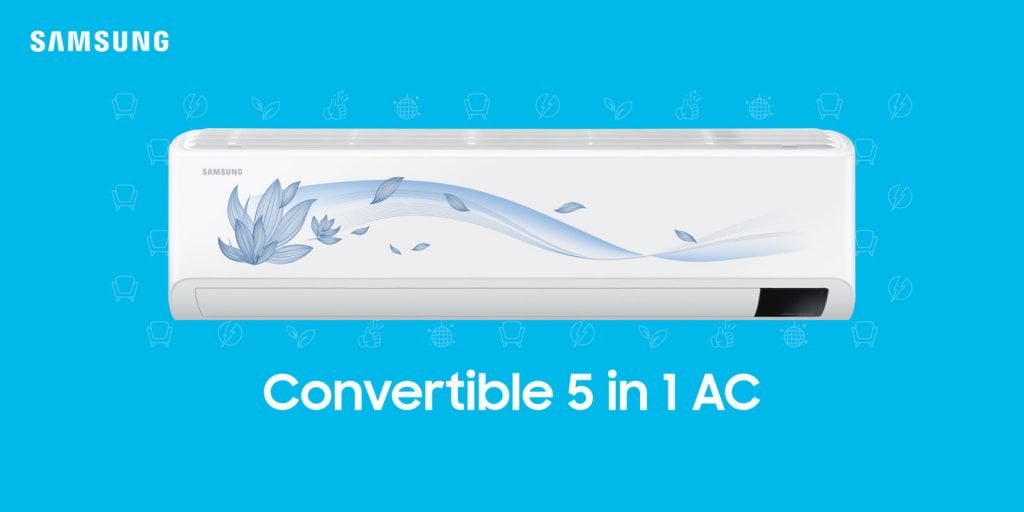 The entire 2021 Inverter AC Range comes with eco-friendly R32 Gas and is equipped with copper condensers. Under the 2021 lineup of ACs, Samsung will offer 14 models in 5-star ACs models as a part of the new lineup instead of 3 5-star AC models last year. Samsung has introduced Easy Filter Plus so that consumers can easily remove the filters and clean them as DIY (Do it yourself). 
While the Hot & Cold ACs provide comfort to consumers in all seasons, the On/Off Series comes with highly efficient and durable 100% copper condensers. Turbo Cooling Mode cools the room quickly and effectively, while the Energy Saving mode helps save up to 20% energy compared to conventional window AC. The ACs come with a de-humidifier and Good Sleep Mode, ensuring that users enjoy a sound sleep at night without feeling too cold by automatically regulating the room temperature.
Samsung's Smart Installation lets users self-diagnose if an AC is appropriately installed. With over 2,000 brand stores and a footprint of 200,000 stores in India, and 3,800 service points, consumers will have all the opportunities to look at the product and know everything about it, or in case of any issues, they can get quick support. Samsung used to provide its Express 4-hour installation service for customers opting for Wind-Free ACs, and now the same will be applicable on more models this year. Samsung's 2021 AC lineup will include 51 ACs across Wind-Free, Convertible 5-in-1, and On/Off ACs. The new AC range will start at ₹36,990, and the price can go up to ₹90,990. There are attractive EMI options with zero down payment, up to 15% cashback, 5-year free gas recharge.