Home & Consumer Electronics giant Haier has today unveiled fourteen new variants of direct cool refrigerators in India. This range of refrigerators is highly energy efficient with a 5-star rating. This new series would be available in 195L capacity with three kinds of look and feel – Glass, Floral & Plain. There are six glass, six floral, and two plain modifications.
Commenting on the launch, Mr. Eric Braganza, President, Haier Appliances India, said, "At Haier India, we are dedicated to providing consumers with not just innovative products powered by cutting-edge technologies but also aesthetically designed appliances that come in a wide range of variants for consumers to choose from. With the launch of our new lineup of Direct Cool refrigerators, we aim to offer value for money refrigerators without compromising on space, style, technology, and energy savings. By adding these 14 variants to our existing range, we are expanding our series of aesthetically designed products that match the evolving needs and requirements of our customers."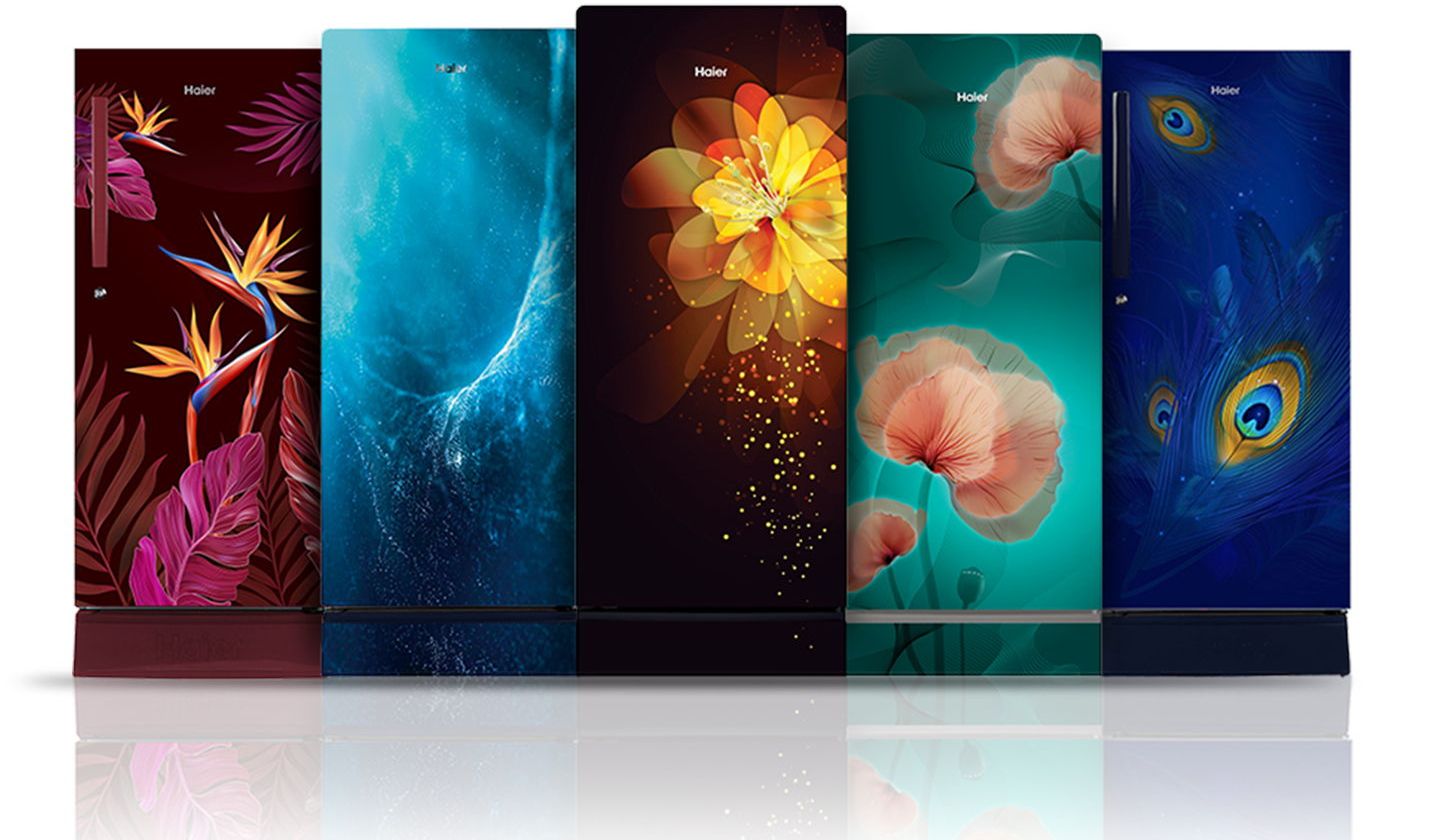 Under the new lineup, the refrigerators come with an inverter compressor that allows excellent energy savings consuming power less than 0.3 units per day. Haier claimed that these power-efficient refrigerators would allow users to save 60% of their bill, which is around is ₹13860 compared with the competitors over ten years.
The new range comes with attractive colorful glass door patterns such as ocean, tide, glory, and mirror with matching base stand glass deco. The floral edition includes unique flower designs in attractive colors like Red Crane, Marine Crane, Marine Monarch, and simple designs like brush-line Silver and Titanium Steel. These new refrigerators have a unique airflow vent inside the freezer that helps in better cooling. The 'Connect Home Inverter' feature lets users automatically set up a connection with the home inverter during power cuts to ensure continuous cooling.
With Haier's flagship one-hour icing technology, these refrigerators are capable of making ice within an hour. The refrigerators are embedded with thick PUF insulation and longer condenser coils for effective cooling while keeping the food fresh and ensuring energy savings.
The new range of refrigerators also comes with a separate fruit box and a base drawer to maintain hygiene levels and keep fruits and vegetables odorless and fresh. The new range starts at ₹24900, and the price can go up to ₹28600 based on an array of factors, including color variant and finish. The new refrigerators are now available in the market with ten years of warranty on the compressor, and the detailed prices are provided below.
Series
Model
Price
Glass Range

HRD-1955POG-E

₹28600

HRD-1955PTG-E

₹28600

HRD-1955PGG-E 

₹28600

HRD-1955PMG-F

₹28400

HRD-1955CGG-E

₹28400

HRD-1955CMG-E

₹27100

Floral Series

HRD-1955PMM-F

₹26500

HRD-1955PRC-E

₹26500

HRD-1955PMC-E

₹26500

HRD-1955CMM-E 

₹24900

HRD-1955CRC-E

₹24900

HRD-1955CMC-E

₹24900

Plain Variants

HRD-1955CTS-E

₹23700

HRD-1955CBS-E

₹22800