Samsung is now a leader when it comes to smartphone's & HDTV manufacturers and has a good reputation too in air conditioners market in India. Samsung has a kind of monopoly now on many product ranges (not air conditioners currently) and have a good market share overall, and like LG, they also have a good reputation among consumers and have emerged as a trust-able brand too. Samsung currently offers a nice range of split air conditioners and this is a review related to every model of Samsung split air conditioner.
Samsung Split Air Conditioner (AC) Review
Samsung split air conditioners are famous for there 'Eco-friendly' air conditioners. Samsung has designed these AC's keeping in mind more air & water conservation, using less power and to produce product parts which can be recycled globally. These air conditioners use R-410a, which is an environment-friendly refrigerant which helps in reducing air pollutants and restrain the use of materials with high global warming potential (GWP). Samsung has also worked hard in reducing power consumption by these AC's and hence it helps not only in saving of money but it also helps in conserving the environment.
And talking of technology, this air conditioner has S-Plasma Ion technology which Samsung advertise it as Samsung Air Conditioner with Virus doctor. The main point behind this technology is S-Plasma ion technology creates hydrogen and oxygen ions which combines with harmful things present in air like OH radical, viruses and bacteria and converts them into harmless water vapour and protects from diseases like H1N1 to provide a healthier environment. This S-Plasma ion covers at-least an area of 19.16 m³ which is a very good point. These ions also eliminate harmful toxins in the air of public places.
Samsung Split Air Conditioner (AC) Cooling Effectiveness
When it comes to cooling, every air conditioner is able to do effective cooling and Samsung Split AC's are capable as well. But for doing instant or strong cooling, it has some features like:
When we enter our home or office after sweltering so much of heat outside, we sometimes want immediate cool relief. And this feature turns ON the air conditioner on Turbo Cooling Mode, which means the compressor fan runs at its maximum speed for 30 minutes to cool down the area quickly. This Turbo mode cools the area 15% faster if compared to normal cooling.

If you see in following distribution table, split ac's Samsung distributes air evenly everywhere in room quickly and it results in more effective cooling.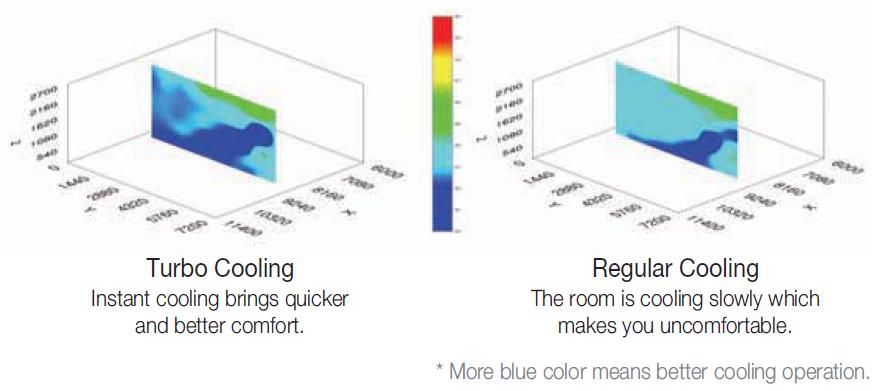 These air conditioners also check the current humidity and temperature present in the air and adjust themselves for providing a pleasant environment. It actually measures the humidity and temperature in the room and calculates what temperature and humidity is needed to reach the comfort level and adjusts the setting automatically until the required comfort level is needed. This option works when you set the air conditioner on automatic mode and these automatic adjustments also help in reducing energy wastage. This feature is also available in Hitachi air conditioners as well.
Samsung Split Air Conditioner (AC) Build Quality
When it comes to build quality, Samsung doesn't seem to be doing any compromise. Samsung is currently selling only Split ACs in air conditioners market. They have stopped manufacturing Window AC's and Tower AC's as well. Now they are focusing only on selling split air conditioners only. And hence when a company decides to eliminate low selling products and focus mainly on products on which they can get large volume sales, they will definitely not compromise in quality as well. And Samsung has now built a good trust among large numbers of consumers and hence losing a consumer trust is definitely a company will not like and want. So, if you see build quality of these air conditioners, they are of good quality with proper finishing and you'll not find any glitch anywhere that you may let you down.
Samsung Split Air Conditioner (AC) Looks
Like LG, Samsung is also offering a huge range of Split ACs. They are offering almost an AC in with every tonnage capacity with respective BEE Star ratings. And when it comes to looks, If you see some high-end models like 5 stars rated air conditioner with 1.5 ton or more capacity, those air conditioners have got some really good looks and have a coloured body (mostly maroon in colour) but models lower than those have standard but nice looks. And still, these are better looking than of Voltas if we compare air conditioners in the same range. Voltas recently launched a series of split air conditioners have some good looks because of same coloured panels but in case of looks, Samsung is better.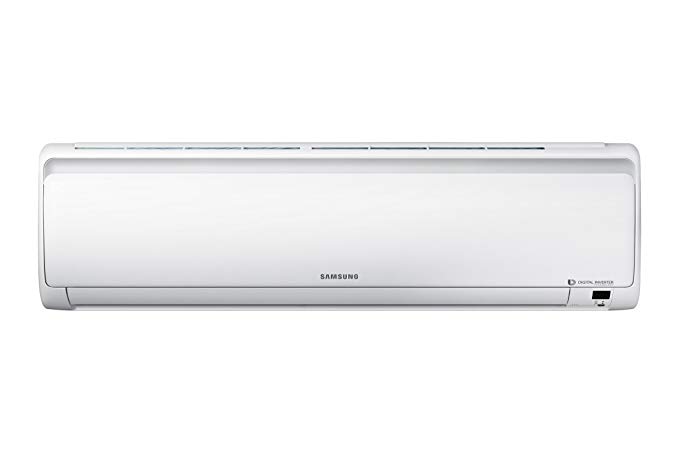 Samsung Split Air Conditioner (AC) Models
Following are the models available in Samsung split air conditioners range.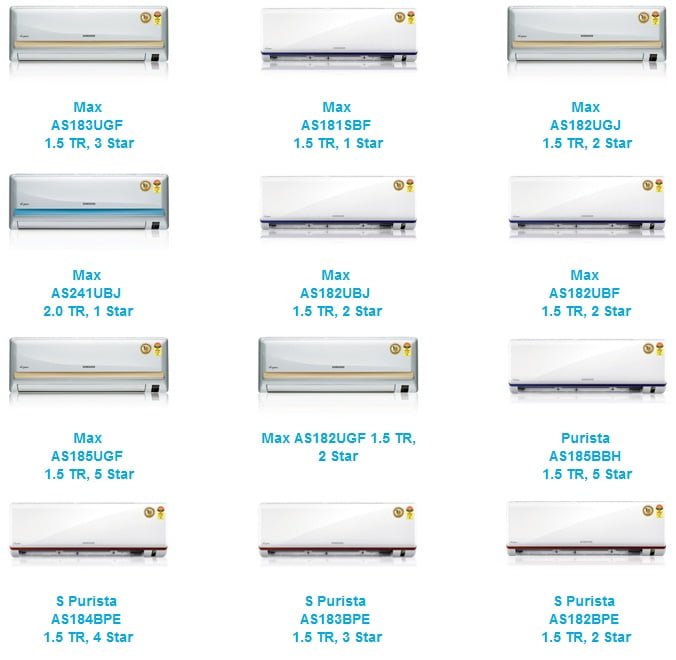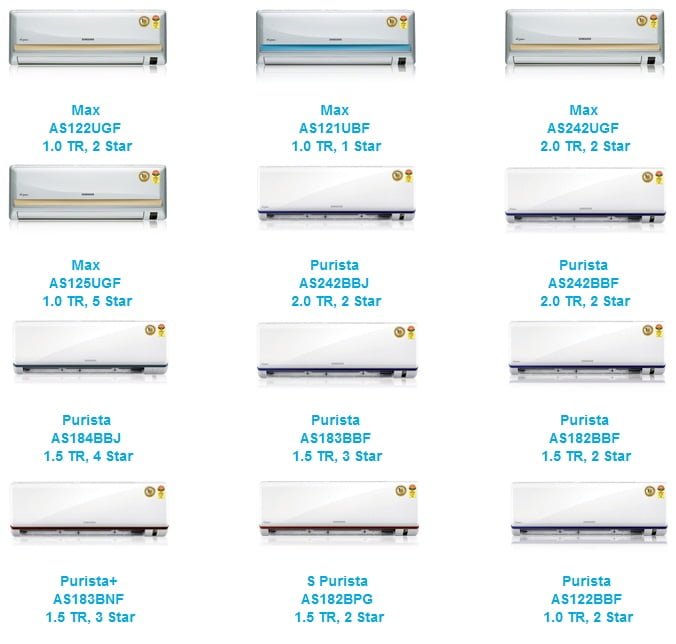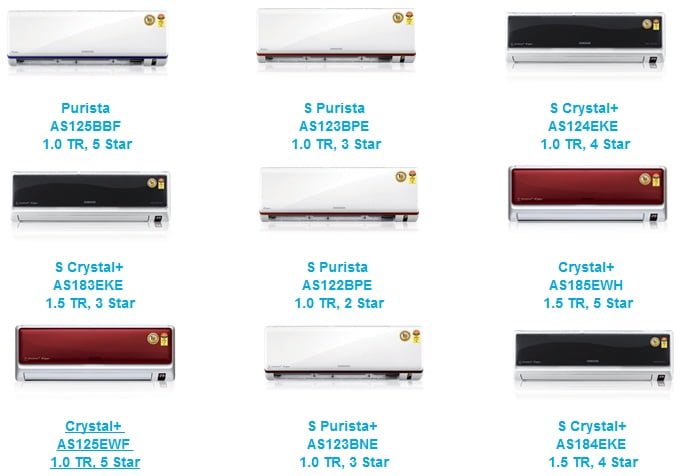 – –
Samsung Split Air Conditioner (AC) Power Consumption
Samsung has become very aggressive to compete with current competitors and to have an edge over other air conditioner manufacturer's, they have made there AC's pretty much power efficient. When we compared power consumption with LG and Hitachi, the values where somewhere nearby only. However, if you run the air conditioner in turbo mode, don't expect less power consumption with any conditioner since, in this mode, the compressor runs on its maximum capacity and cools down space at a higher rate. You can take this point like this – if you run a vehicle most of the time over speeding it, you'll not get good mileage with it, but however, if you run the same vehicle with average recommended speed, you'll get your desired efficiency easily. The same case goes with air conditioners as well. And if your budget allows, buy an air conditioner with highest BEE star ratings. The more ratings the merrier and less would be the power consumption. And you'll be amazed to know that Samsung offers inbuilt Voltage Stabilizer on the air conditioners that they used to sell in EUROPE. So, there won't be any box you need to get fitted nearby it and may ruin the looks of your room. I wish that they may bring the same air conditioners to sell in India as well.
Also, it's worth mentioning that Samsung was awarded First Prize in Manufacturer's of BEE Star labelled appliances (Air Conditioner) Sector during National Energy Conversation Awards 2011. This award is currently instituted and given by Ministry of Power, Government of India.
Samsung Split Air Conditioner (AC) Durability
These air conditioners are equipped with a compressor which has an in-house technology built by Samsung itself called UTR Plus. This technology is trademarked by Samsung now. This compressor is capable of quickly bring down the temperature inside even if you have a severe hot temperature outside. It has a high torque motor inside which starts with increasing torque for low voltage consumption. Also, it's worth mentioning that it doesn't create much noise and internal mechanical parts are highly reliable and have a long life span.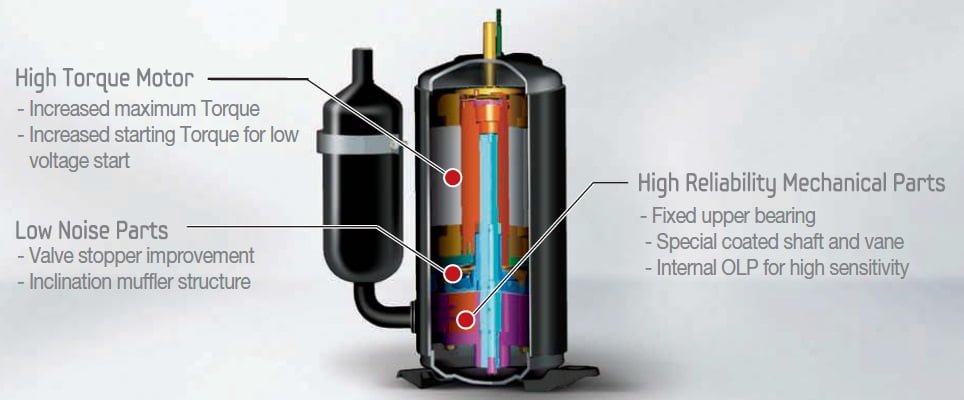 Samsung Split Air Conditioner (AC) Features
This feature ensures the most comfortable temperature for providing us with a sound sleep. This happens in three stages:
Falling Asleep Stage – At this stage, air conditioner drops the temperature by a few degrees.
Sound Sleep Stage – At this stage, it increases the temperature slightly up so that you may not feel chilled overnight.
Wake Up Stage – At this stage, it increases the temperature up by a few degrees so that you may have a comfortable intermittent air and makes you feel refreshed when you woke up in the morning.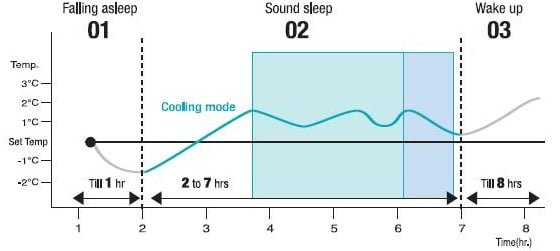 This high-density filter improves filtration by removing even the smallest microscopic dust particles and transforming polluted air into clean energized air. It has a stable structure of the antibacterial coating, the filter that doesn't get affected by water. This ensures that you may breathe a cleaner and fresher air for a longer period of time. Also, this filter is very easy to clean, just take it out and wash it with flowing water to keep it clean and fresh always.
Digital Temperature Display
If has an easy-to-read, oversized numbers beam out in bright, white luminescence for instant temperature recognition. It becomes easier for everyone to read those digits instantly.
Samsung Split Air Conditioner (AC) After Sales Service
This is the point where Samsung still has some scope of improvement. I am not saying it's bad. Not every company can have all employees who work efficiently for the company all the time. When we had a chance to interact with this case, Customer care was quite supportive and understood the problem as well. They even send the concerned person on time whenever required but in actual, this thing doesn't happen really on time. The customer care person task is to forward the complaint to respective areas service managers and this is where the actual delay happens. When it comes to installation, guys always appear on time, but when someone wants them for rectifying any problem, they usually appear with a delay only in many cases (not all cases). I am sure Samsung needs some persons at higher authority who can improve after-sales service in many instances and areas. But this explanation doesn't mean that you may not buy this product. This product is definitely a good product and you can buy it as per your preference.
Samsung Split Air Conditioner (AC) Price List
Model No.

Tonnage Capacity

BEE Star Rating

MRP (in Rs.)

Max AS121UBF

1

1

21,700

Max AS181SBF

1.5

27,700

Max AS241UBJ

2

36,100

Max AS122UGF

1

2

24,100

Purista AS122BBF

24,100

S Purista AS122BPE

25,700

Max AS182UBJ

1.5

2

28,200

Max AS182UBF

28,200

Max AS182UGJ

28,600

Max AS182UGF

28,600

Purista AS182BBF

30,100

S Purista AS182BPG

32,200

S Purista AS182BPE

32,200

Max AS242UGF

2

2

38,600

Purista AS242BBJ

39,100

Purista AS242BBF

39,100

S Purista AS123BPE

1

3

29,400

S Purista+ AS123BNE

29,900

Max AS183UGF

1.5

3

32,200

Purista AS183BBF

32,600

Purista+ AS183BNF

34,900

S Purista AS183BPE

35,300

S Crystal+ AS183EKE

36,500

S Crystal+ AS124EKE

1

4

29,900

Purista AS184BBJ

1.5

4

34,400

S Purista AS184BPE

36,500

S Crystal+ AS184EKE

38,300

Max AS125UGF

1

5

29,400

Purista AS125BBF

30,400

Crystal+ AS125EWF

32,200

Max AS185UGF

1.5

5

37,600

Purista AS185BBH

38,800

Crystal+ AS185EWH

41,500
Final Verdict
This air conditioner has got good looks, a very competitive price if you see above table, some good and must feature and an OK after sales service and for this price range, this product is definitely a good buy.