Consumer electronics giant LG has come up with quite an interesting offer for consumers in India. LG will now offer a 12-month Health Insurance for COVID-19 and other Vector-Borne diseases like Malaria and Dengue, bundled with the purchase of its products.
Consumers who purchase select LG home appliances can get insurance worth up to ₹ 70,000. This offer is valid for all Indian Citizens aged between 3 months and 65 years. This offer will be applicable to only those who make their purchases between July 29 and August 31, 2020.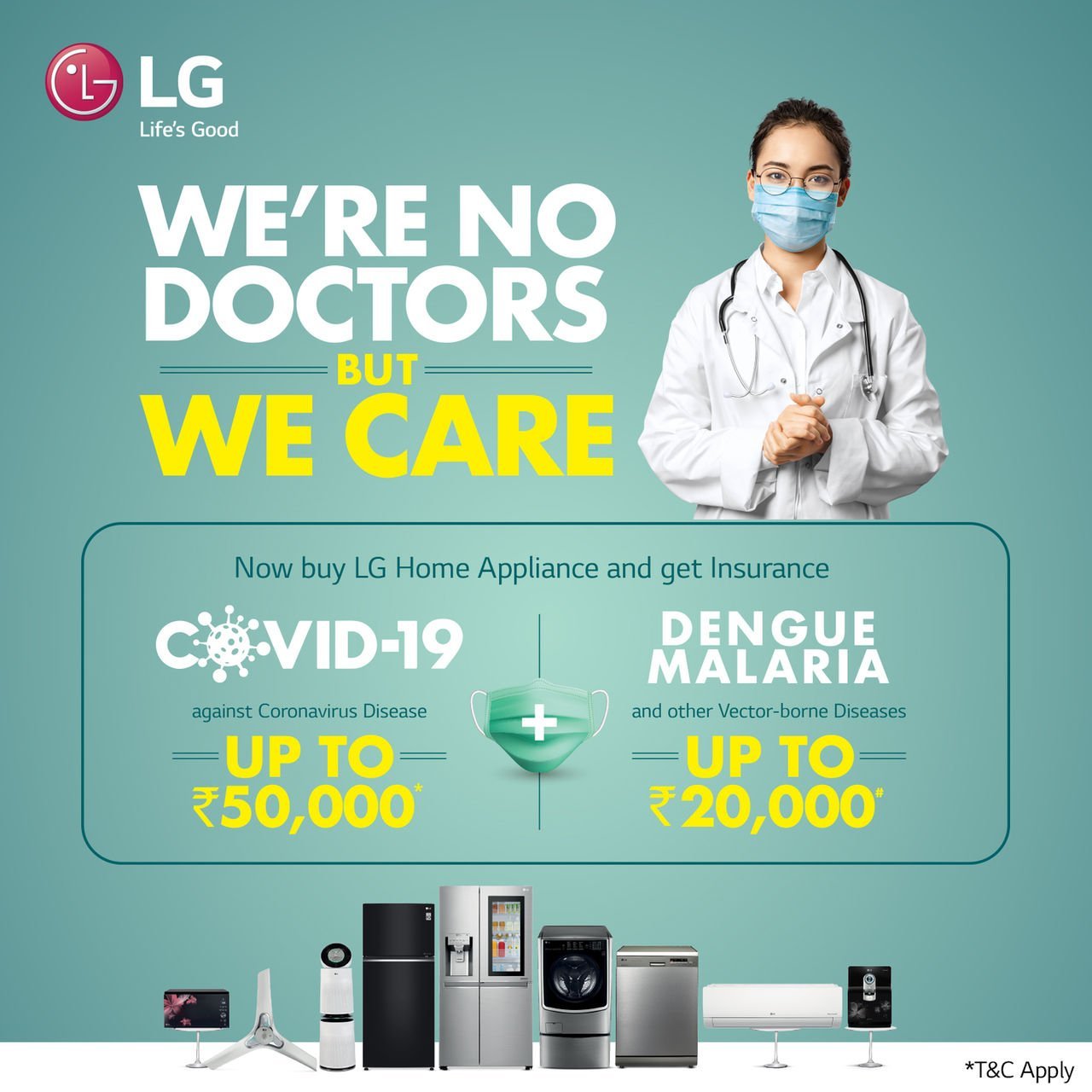 Commenting on the initiative, Vijay Babu – VP-Home Appliances, LG Electronics India said "As a brand, LG Electronics has always taken Health & Hygiene as a priority. Our innovative technologies in Home Appliances range offer various features that help to keep products fresh and maintain a healthy life. By offering Health insurance for Covid-19 as well as Vector-borne diseases through the purchase of our Home Appliance products, we aim to provide a meaningful integration to consumers."
On purchase of products like Side-By-Side and Frost Free Refrigerators (Double door above 335 Litres), Front-Load and Top-Load Washing Machines, 5, and 4 Star Split AC, Microwave Ovens, Dishwashers, Ceiling Fans, and Air purifiers, consumers can avail both COVID-19 and Vector-borne disease insurance. Consumers purchasing Direct Cool Refrigerators, Frost Free Refrigerators (Double door below 335 Litres), Semi-Automatic Washing Machines, 3 Star Split ACs, Window ACs, and Water purifiers can avail insurance on Vector-Borne diseases only.
When a customer makes a purchase of any of the products mentioned above, he is entitled to insurance. The customer needs to register on LG's website or at outlets after making the purchase to claim the offer. After that, he can avail of the benefits bundled with the offer. As per LG, this offer is a part of the efforts being put by LG to fight against the COVID-19 pandemic. The insurance is valid upon the issuance of an invoice in the name of the customer. Customers can visit this dedicated page on LG's website to know more.