China's Digital accessory brand Baseus has announced its entry into the India market with its entire range of accessories. The company has made an exclusive strategic partnership with Telecare Network India Pvt. Ltd. as its distribution and marketing partner in India. With its entry, the company has launched the TWS Earpods, Smart 2-in-1 Dual Wireless Charger, Digital Display 3000mAh Power station and Alexa enabled S17 Pro Wireless Sports Earphones.
Speaking at the launch in India, Ms. Vivian Wang, General Manager, Baseus said "India is an important market for Baseus and we are looking at it aggressively.  While we focus on online and offline channels, we aim to disrupt the market and set new benchmarks with our designs and value for money accessories range. Baseus products are driven by aesthetics, design and quality. Our TG which includes all genres including travellers, tech geeks, fitness freaks etc will identify us as a brand which appeals to their own sense of style and fashion. We are confident our exclusive partner, Teleecare Network India will help further our objectives in this market."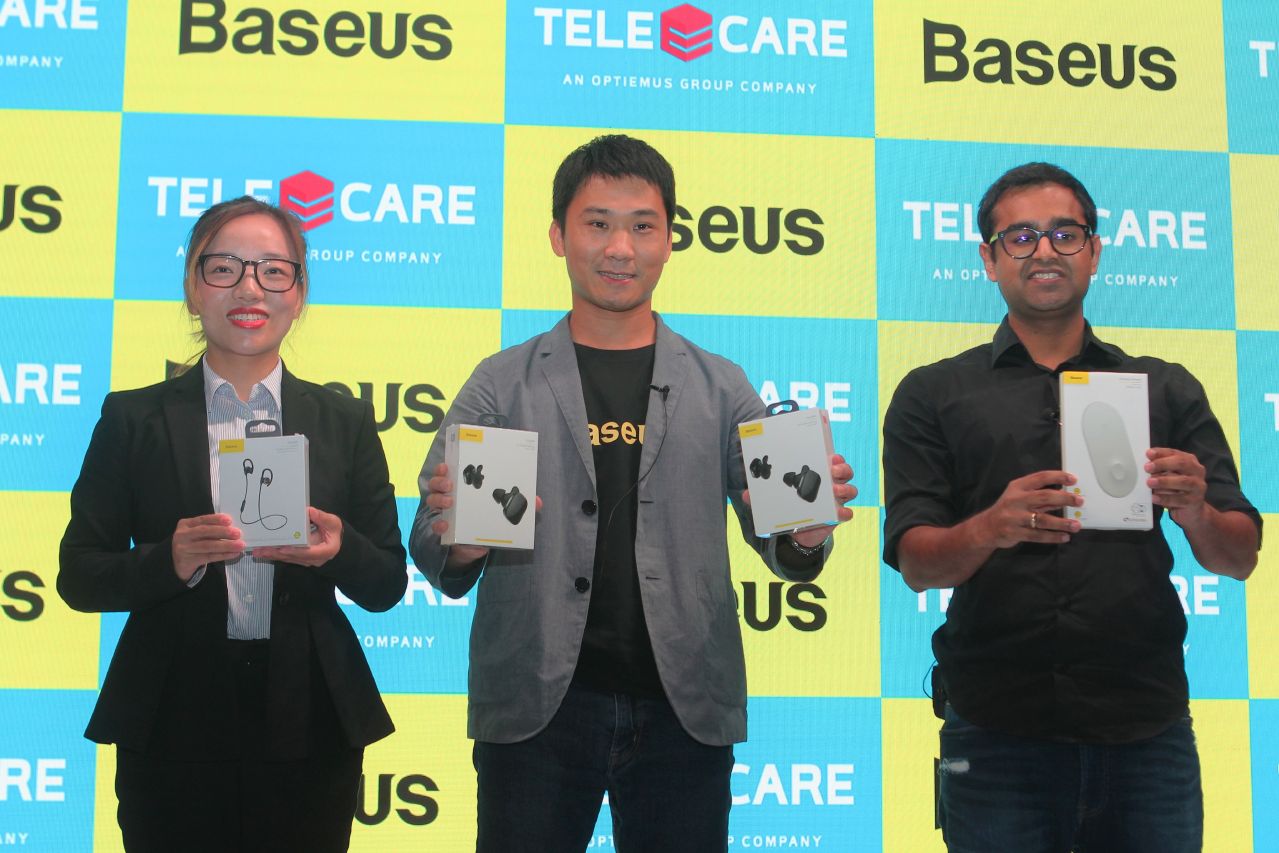 Now, in terms of flagship products Baseus has launched the TWS EarPods. The Baseus TWT Earpods are priced at just Rs. 4499. These earpods are IPX4 splash and sweatproof. There are features like noise cancellation and a comfortable fit. It has got intelligent touch controls and can connect two phones at once. The Baseus TWT Earpods offer up to 6 hours of music playback and 120 hours of standby time. Baseus launched another very innovative product – Dual Wireless Flash Charger. It lets a phone and apple watch charge wirelessly at the same time. Any QI compliant device can be charged wirelessly with this device. Priced at just Rs. 5499, this charging dock is a must-have gadget for tech enthusiasts because as soon as you place your Apple watch on the dock, it starts charging within 0.1 seconds and the magnetic surface makes sure that the watch is held in its place.
Baseus Digital Display Power Station is like the Swiss Army Knife of power banks. It has a capacity of 30000mAH, which may not seem very impressive to many considering that it is priced at Rs. 6999. But, it is much more than a power bank. It can charge any laptop or smartphone or any other gadget. There are 3 input ports (1 x Lightning Port, 1 x USB Type-C, 1 x Micro USB) and 5 output ports (4 x USB, 1 x USB Type-C). It has got an LED display that provides various kinds of information like the output and input voltage, charging speed, power delivery, and the remaining battery percentage.
Baseus has also launched an Alexa enabled Wireless Sports Earphones – Encok S17 Pro. The Alexa enabled Wireless Sports Earphones is equipped with special silicon ear-hook for a more comfortable wearing experience. The company claims that it has achieved such a design that it will fit 99.99% of the users and won't hurt even after 7 hours of continuous wear. It comes with over 200 hours of standby time and 7 hours of continuous music playback time. It can connect to devices using Bluetooth 5.0 and it is IPX5 certified, meaning that it is water-resistant so that listening to music while exercising won't be an issue. With Alexa, users will be able to do things using their voice. The Encok S17 Alexa enabled wireless sports earphones are priced at Rs. 3999 only.
https://twitter.com/luckyankit/status/1151040638558883840
The company plans to capture at least 5-7% of the Indian market by 2020. Apart from the flagship products, the company has also introduced home and car accessories, like smart hubs, docking stations, travel chargers, mounted phone chargers, car air purifiers, and smart home lamps among others.