Today, Fossil Group has unveiled its Next Generation of Smartwatches in India. The new range includes Fossil Gen 4 Smartwatch Venture HR and Explorist HR for Fossil; Skagen Falster 2 for Skagen; Michael Kors Access Runway for Michael Kors; Emporio Armani Connected for Emporio Armani; A|X Armani Exchange Connected for Armani Exchange and Diesel Full Guard for Diesel. Fossil is a well-established brand when it comes to fashionable watches, packed with tech. With these new smartwatches, the company hopes that customers would now have a wider range of choices, as per their convenience.
Commenting on the launch, Johnson Verghese, Managing Director of Fossil said, "At Fossil, it is our endeavour to provide our customers with the best of both, fashion and technology. With the launch of Next Generation of smartwatches, we have amplified the technological features on the wrist while maintaining our aesthetically fashioned designs, creating an experience individual to each consumer. We are certain they will enjoy it," while Gautam Sharma, Vice President Brand Strategy – APAC says, "We are in the game and here to stay! Fossil Group offers consumers a diverse breath of designs with features they care about the most. Since our entry into the smartwatch market three years ago, it has been Fossil's mission to meld technology and design. 2018 has been our biggest leap so far: by adding significant features in terms of technology, without compromising our design ethos, Fossil's new generation of smartwatches provides consumers with one device for all their lifestyle needs. We are excited to finally launch the fourth generation of our Fossil Group products into India. This new collection comes with several new features, including heart rate monitor, GPS and swimproof With wellness being such a strong part of our daily lives, we know that our fans will fall in love with our new lines."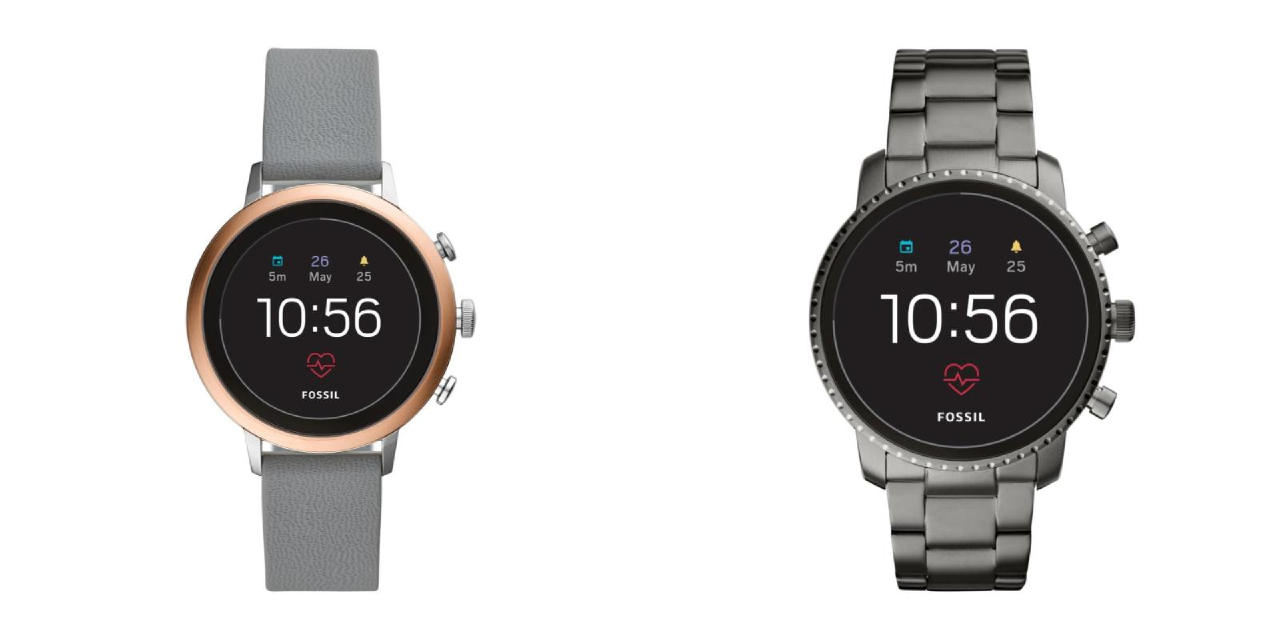 Fossil Group, with its Generation 4 watches provide customization from strap to dial, exclusive dials ranging from fashion-forward to novelty and lots of customization options. Third party apps can be installed as well, to improve the user experience, and the company also claims that now users can charge the watches under one hour and the watches will last all day. Powered with Wear OS by Google and the Qualcomm Snapdragon Wear 2100 Platform, the new watches offer enhancements at every level, offering hardware-level support for Heart-Rate Tracking, Untethered GPS, Swimproof Functionality and much more.
For a consumer, Heart-Rate Tracking is of the important features, when they look for a smartwatch. The new watches from Fossil let users automatically track the heart rate during logged exercises with Google Fit. There is also a provision for taking the heart rate reading manually as well as automatic tracking using Google Fit. Heart rate graphs generated show progress throughout a large variety of workouts and improve workout tracking experience. Also, Fossil's unique touch makes the user experience better by integrating dials designs with the heart rate data, showing users their beats per minute on their watch face at a quick glance. Also, the new generation of watches from Fossil has Untethered GPS capabilities that allow the users to track walks, and runs, hikes, bike rides, and more via Google Fit and third-party fitness apps. The new range of watches is Swim proof so that users can now also track swim workouts, hanging poolside or hop in the shower without risk of damaging their smartwatch. These smartwatches are also capable of downloading music from third-party apps onto it. Some of the unique features of this new lineup of smartwatches from Fossil are-
Stainless steel case (Venture HR: 40mm / Explorist HR: 45mm)
Stunning touchscreen digital display
24+ hours battery life (based on usage)
Interchangeable straps and bracelets (Venture HR: 18mm / Explorist HR: 22mm)
Connect via Bluetooth® technology
Wireless syncing + magnetic charging
Compatible with iOS 9.3+ and Android 4.4+ (excluding Go edition)
Sensors: Heart Rate, GPS, Altimeter, Accelerometer, Gyroscope, Ambient Light, Microphone
Powered with Wear OS by Google
Qualcomm Snapdragon Wear 2100 Platform
The new product line starts at a price of Rs. 19,995 and is available for sale in India.