If there is any brand in India which is bringing the latest features first in the market, and is improving them day and night, its Vivo. Remember Vivo Nex? It was probably the owing to its features, and now, Vivo has launched the V11 Pro. The phone comes with In-Display Fingerprint Scanner, Infrared Face Unlock, Dual-Lens Camera backed by Dual-Pixel Technology, and a lot more. Let's get into details with this review:
Vivo V11 Pro Review
Vivo V11 Pro is a great premium-looking device from the brand, with the focus being the camera, display, and build quality. Unlike other brands, Vivo always offers something new and unique in their smartphones. This time the Face Unlock feature has been upgraded to the Infrared Face unlock. And if you've never been a fan of the notch, then the good news is that this model has the smallest notch possible, leaving a more real estate for the display. Also, the 4th generation In-Display Fingerprint technology is a lot faster than before.
Display
When comparing, most people miss out the real detail when it comes to phone display. The V11 Pro offers a Full HD, Super AMOLED display which offers better black levels, and per-pixel powering. The overall image quality is also significantly better. The Vivo V11 Pro delivers a vibrant and an ultra-vivid viewing experience.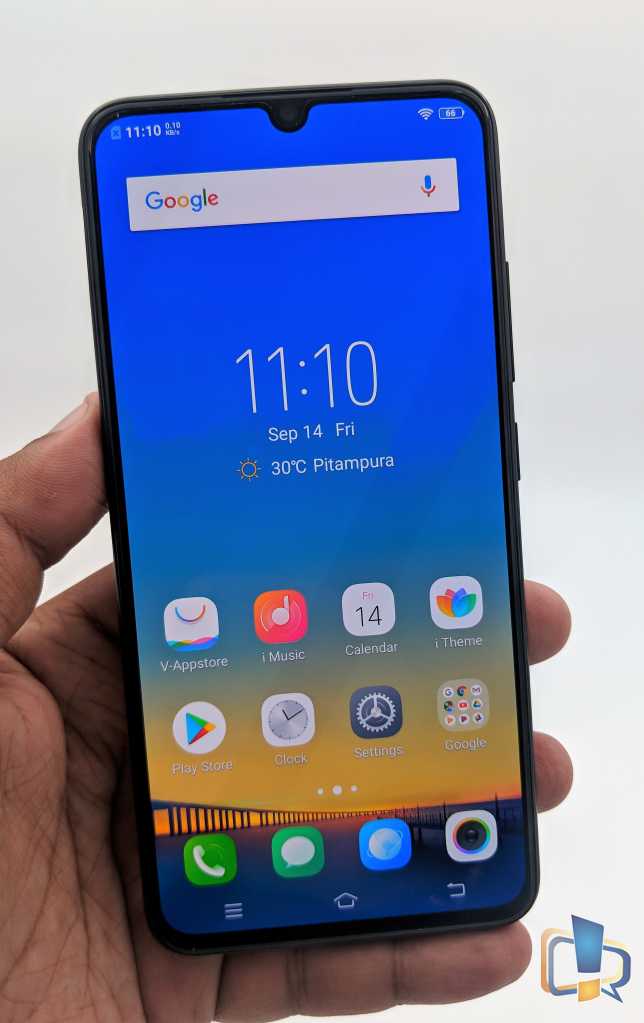 The 6.41-inch display has a 19.5:9 aspect ratio and the chin at the bottom is almost negligible to observe. The bezels around are incredibly slim, i.e. just 1.76 mm on the side and 3.8 mm at the bottom. The screen to body ratio is around 91% making the viewing experience on this super-compact body a breeze for binge-watching your favourite movies and TV series.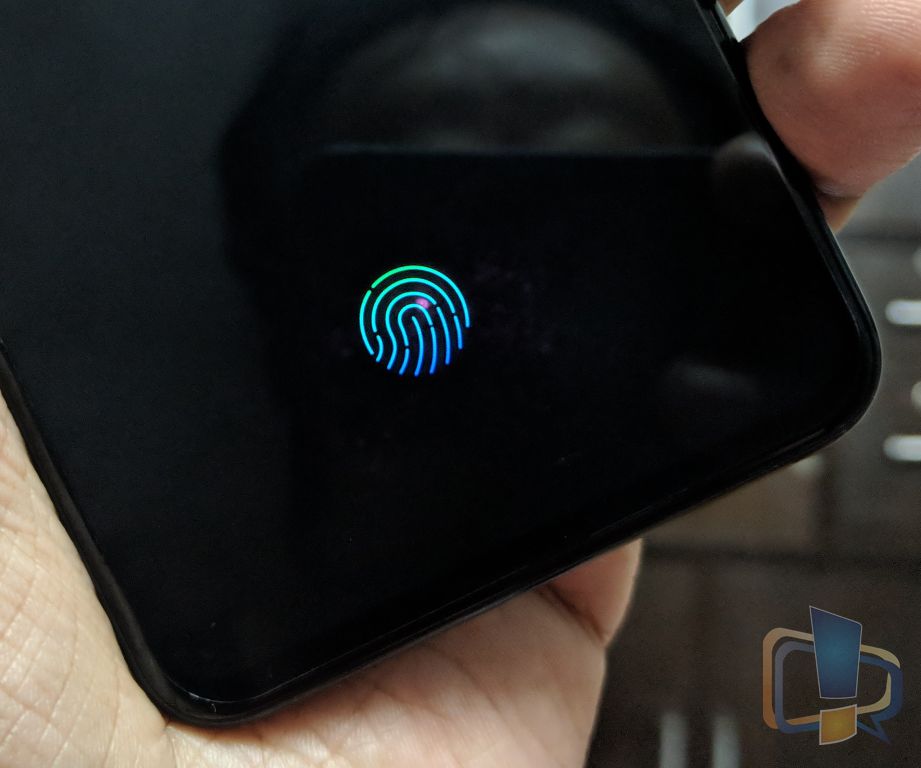 In-Display Fingerprint Sensor
This is the first time, that the In-Display Fingerprint Sensor technology is available in a mid-budget smartphone. The 4th gen fingerprint display is quite faster than before, is a reliable security feature and gives a futuristic feel while unlocking.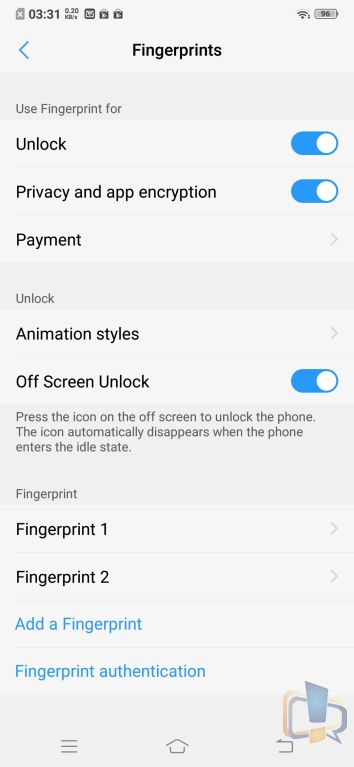 Also, since there's no need of a fingerprint pad anymore, the back of the phone gets a beautiful seamless design from top to bottom. You can also select what kind of animation you need while unlocking the phone. The In-Display Fingerprint Scanner auto-activates at the mid-bottom of the display whenever you pick up the device. So, you just keep your thumb/finger on the fingerprint symbol, and it unlocks.
Infrared (IR) Face Unlock
Face Unlock feature in V11 Pro has got a major upgrade, i.e. now it uses IR sensor to analyse your face. IR Face Unlock feature accurately scans 1024 facial feature dimensions to unlock your phone, instantly, and even in the dark.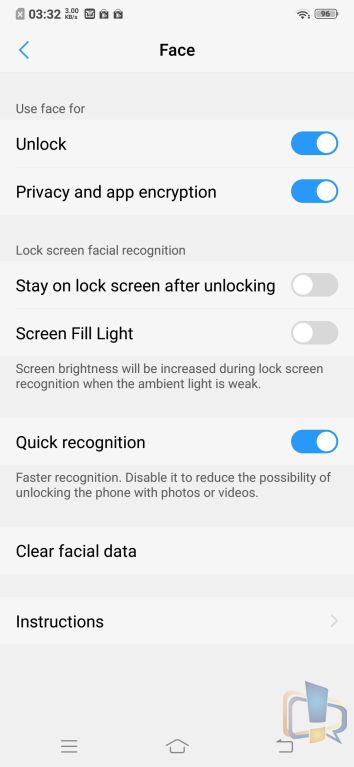 And upon testing, I can confidently say that Vivo V11 has the fastest face unlock compared to any phone till now, and is way secure too.
Design
First, of its kind, Vivo V11 Pro 'Starry Night' edition (which we have reviewed here) is a looker.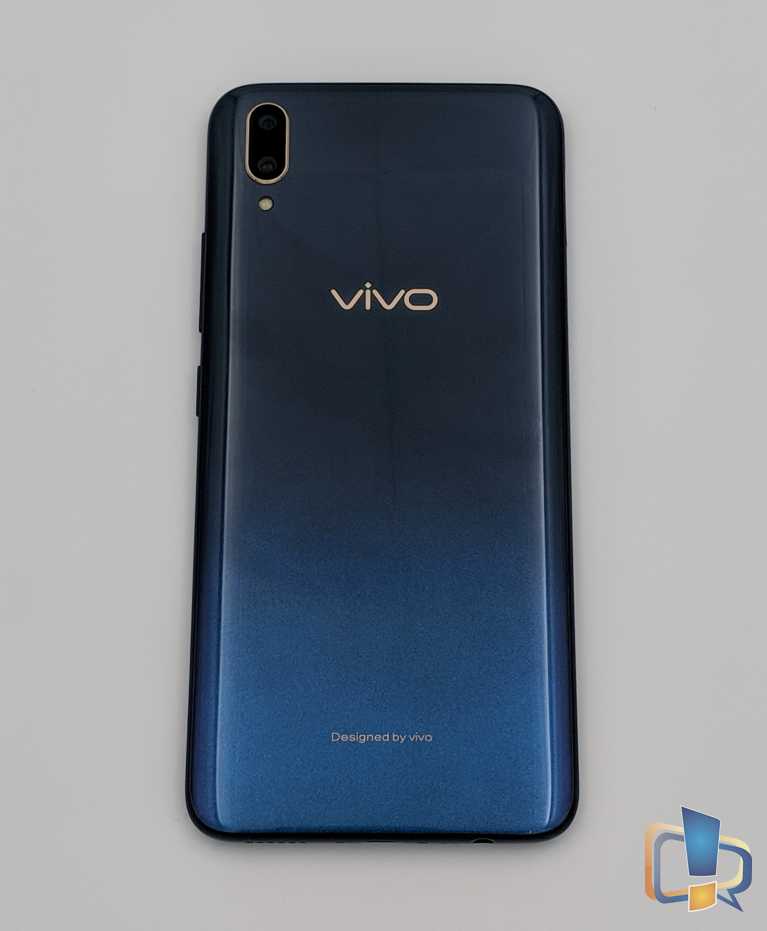 I couldn't help but notice how beautiful the back of the phone is. The mysterious black and striking blue blend together perfectly, representing the far-flung corners of the universe, depicting class, premium quality, and style. The curves at the edges seamlessly disappear into the display to create a flawless and smooth experience.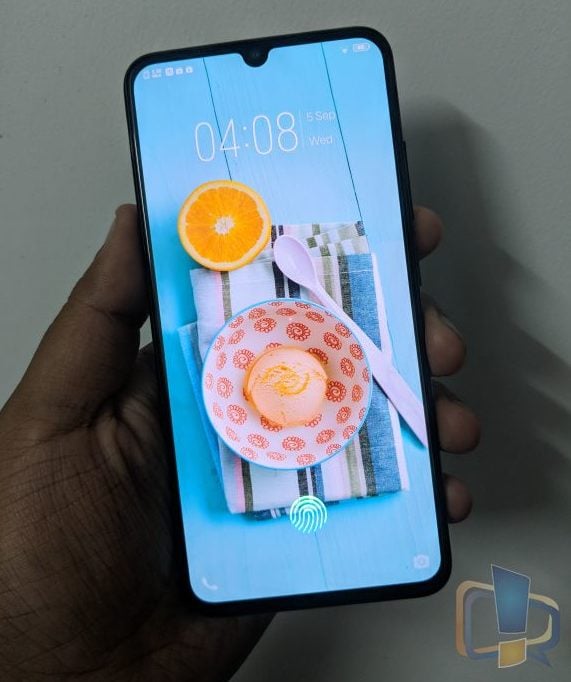 Coming to the front, there's a Halo FullViewTM Display 3.0 with only a negligible chin around. There's a speaker grill at the top which is so perfectly placed that you might not even notice it. Below that, there's a front camera notch, and Vivo designed the phone as such that the notch could be as small as possible. Infrared and ambiance sensors are beside the speaker grill but are not visible. You would only notice the red blink from IR sensor at the right top when unlocking the phone in the dark using face unlock.
At the bottom, there's 3.5 mm jack, micro-USB port for charging/data transfer and speaker grill. At the right edge, there's the volume rocker and power buttons with a nice tactile feedback.
Performance
Powered by a powerful chipset, i.e. Snapdragon 660AIE octa-core processor from Qualcomm along with 6 GB of RAM & 64 GB of inbuilt memory, this phone is a beast in the budget smartphone range. Snapdragon 660AIE is quite a powerful processor combined with the AI engine. It can handle any kind of gaming smoothly, and can multitask with different apps in a breeze. With a 14 nm design of the processor, this CPU is highly energy efficient, and would easily last a day without compromising on performance.
For budget flagship devices, 4 GB RAM is now a thing of the past, as it doesn't feel enough for a multitasker. This is where extra RAM helps in delivering a smooth performance. Vivo V11 Pro easily handles multiple large apps and doesn't slow down.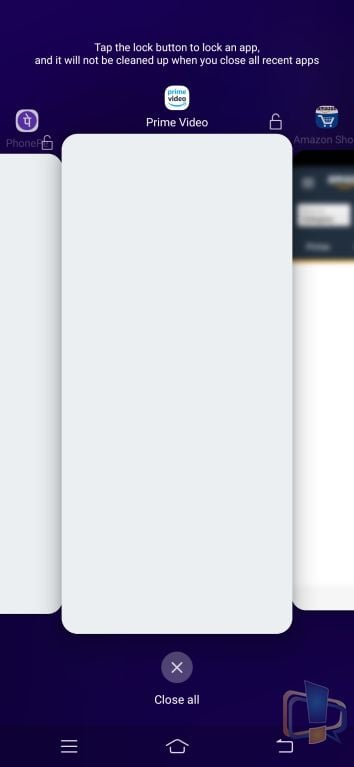 You won't get any issue playing those heavy games like PUBG, Clash of Clans, Marvel, Asphalt etc. either performance wise or experience wise, as the inbuilt AI Game mode can block floating call alerts, and background calls, as per the user's preference.
Camera
Vivo is a pioneer brand when it comes to the quality of the camera. Every time Vivo launches a device, we get to see a number of features added along with better image quality. Vivo V11 Pro has a 12 MP + 5 MP Dual-Lens rear camera which sports a large f/1.8 aperture and 1.28μm pixels.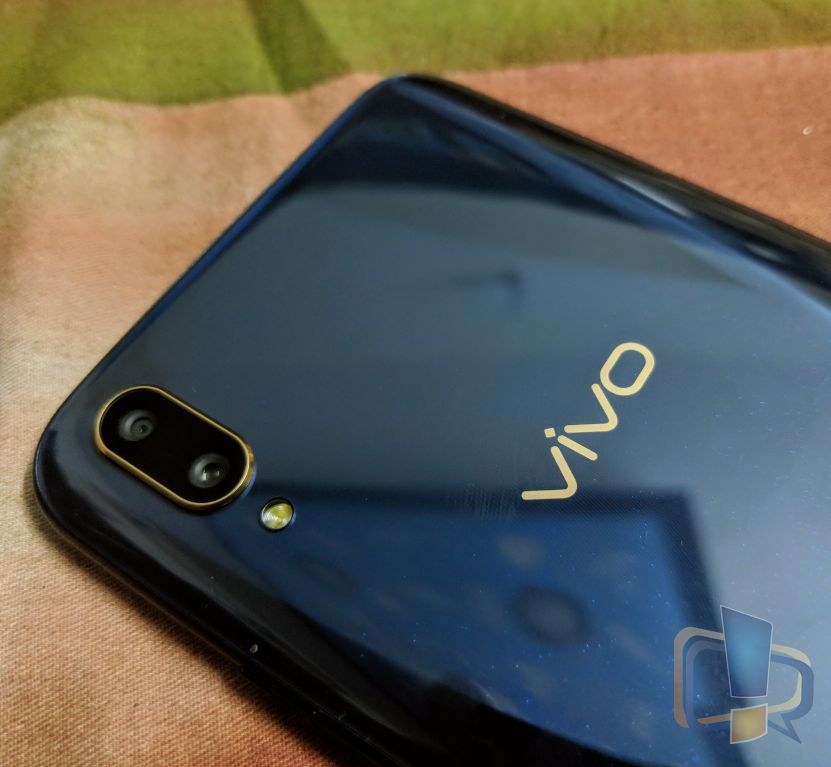 In V11 Pro, Vivo is offering 2DP camera means dual-pixel camera sensors, especially used to enhance low-light images. In such a camera sensor, each pixel of the camera is configured as a photodiode which receives light, reduces the noise and finally takes the pictures with vibrant colours. As a result, Vivo V11 Pro accepts a lot of light in the dark, thereby delivery low-light images with more clarity. Here are some camera samples: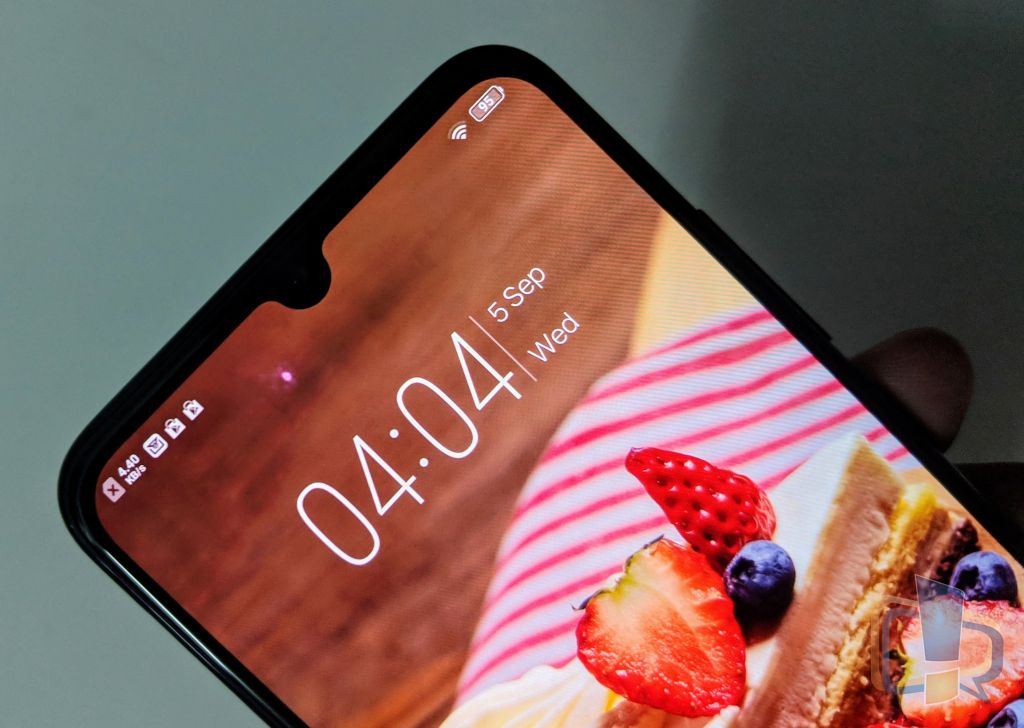 Coming to the front, it has a 25 MP high-resolution sensor, and the camera app is equipped with many interesting features to enhance the user facial features, capture clear selfies without modifying the user's natural style. See these camera samples for more understanding:
Other Camera features include:
AI Backlight HDR, which solves the problems of shooting in backlight, via AI algorithm which captures multiple frames, correct uneven exposure, and combines them to create a well-backlit image.
AI Low Light Mode, this one takes multiple frames at different exposures, combining them, and thereby enhancing the brightness in low-light conditions, while retaining rich details.
AI Scene Recognition, uses the AI capabilities to analyse objects, elements, and scenes being clicked such as 'night', 'portrait', 'food' or 'flowers', while also quickly and automatically enhancing the images clicked.
AI Selfie Lighting, which offers more lighting effects to the selfies by analysing how your face interacts with light in 3D and then add artistic lighting effects to deliver a better selfie experience compared to a standard shot.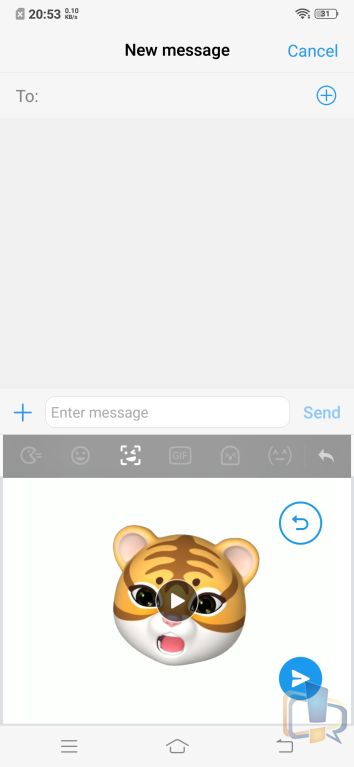 Funmoji – Integrated with TouchPal, Funmoji allows you to create and send a small video of yourself as an animated character in the messenger apps or on social networks, easily.
Software and Features
If you're not a fan of stock android, you're not alone. There's a majority of people who want features in their phone and because of that reason, they don't opt for smartphones with pure stock android. Vivo FunTouch OS (Version 4.5) is based on Android 8.1 Oreo which offers many useful features to enhance the user experience. Features include:
Notification Panel – Showing network-speed and data consumed, on the notification bar – a feature which is quite useful.
Motorbike Mode – this feature can auto reject calls for you while driving or can SMS the person who's calling automatically with a pre-defined message. Also, all notifications get muted too.
Flashlight Notifications – The flashlight flashes to notify the users about incoming calls, messages, and event alerts, even when the screen is off.
Face Beauty for Video calls – Works with Whatsapp, Zalo, Viber, Line, Facebook Messenger, and BBM.
Privacy and App encryption (App Lock) – Unlock selected apps using fingerprint, face unlock or pin code. This feature not only allows you to lock apps, but also encrypts them so that no one can access the data of those apps via the file manager.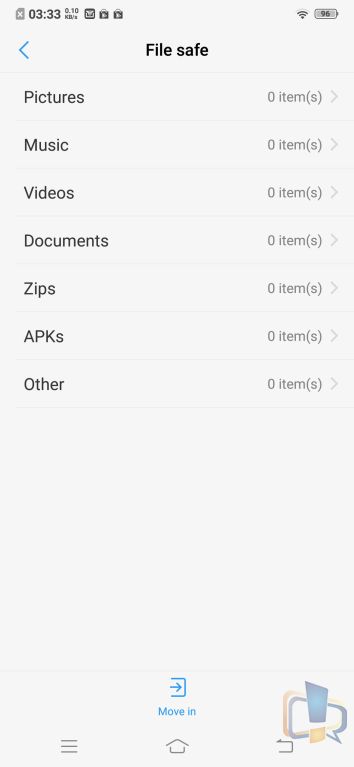 FileBox – Want to keep any picture, video, music, document, zips, APKs or any other thing a secret? Push those files in the FileBox (File safe). You can only access those files in the secured zone and can push them out later for normal access.
Smart Motion – This feature offers Air Operation, Smart turn on/off Screen, Smart Calls, Smart Low-Volume and many more.
Smart Split – This feature offers message screen splitting, manual screen-split, and picture-in-picture modes.
App clone – This feature allows you to clone and run twin apps like WhatsApp, Facebook and a few more.
Smart Click – This feature helps to configure actions when long-pressing the volume button, such as opening the camera, flashlight or more.
Disable Toast Notifications – You can choose to have to disable the floating notification preview which appears at the top while using the phone.
Battery Backup
Since fast charging is a necessity now, Vivo has equipped V11 Pro with a Dual-Engine Fast-Charging technology. To keep the charging circuit secure, both charging chips are used in parallel connection along with nine-different safeguarding features to ensure the utmost safety. The phone has a battery capacity of 3400 mAh which gets charged between 1 to 1.3 hours from zero to max. In our moderate usage, the phone battery easily lasted a day and a half, and with heavy usage, it lasted a day without any issues.
Final Verdict
Vivo V11 Pro overall is an impressive package with a stylistic design and futuristic features in a mid-range budget. Vivo has reached a stage where the brand offers more features at a competitive price. Nonetheless, Vivo after-sales service is good and the product quality is excellent. Vivo V11 Pro's unique features like In-Display Fingerprint Sensor, Dual Cameras, Dual-Engine Charging Chip, IR Face Unlock etc., makes it a great choice for consumers.