Digibank, which is a part of DBS, a leading financial services group based in Singapore has launched India's first "Digital Only Bank" where you never need to visit a bank even once for having a bank account. But that's not it's USP. This is the bank account you need today because of the services and advantages it offers compared to competitive banks like PayTM or Airtel Payments Bank. Digibank offers the services of both, an e-wallet and a bank account integrated into one.
Advantages of Digibank over Other Payments Bank
You can create an e-wallet followed by Digibank savings account in minutes and for eKYC verification, you can book an agent for free of cost, who'll come to your premises for verification purpose. Or you visit your nearby bank branch or nearby cafe coffee day for same. These facilities are available in selected cities only, which includes most metro cities of India.

Offers 7% Interest rate on savings account till 1 Lakh amount, although Airtel offers 7.25% and PayTM offers 4%.
There is no limit on keeping maximum balance compared to 1 Lakh limit on Paytm or Airtel payments bank.
There is also no limit on minimum balance, as it's a zero minimum balance account.
Offers a physical VISA debit card with Paywave which is better than RuPay debit card offered by PayTM and Airtel doesn't offer any physical debit card.
This is my favorite – Free unlimited ATM withdrawals from any ATM in India, which no other bank in India offers. You can also withdraw money abroad since it's a VISA card.
Offers 24 hours available AI based virtual assistant to help you get information for the queries you have.
Using e-wallet of Digibank, you can get discounts and cashback on many deals which are updated regularly here.
Features offered by Digibank Account/e-wallet via App:

You can block your debit card temporarily or permanently by yourself using the App.
UPI is integrated with the e-wallet/account, so you can send/receive money from almost anyone in India, as Digibank supports creating virtual payment address i.e. yourname@dbs.
You can pay for stuff in Bharat QR enabled websites and offline stores, as Digibank supports pay using QR code.
No need to wait for customer care agent during chat support, as Digibank offers virtual assistant powered by AI which can answer more than 10,000 bank-related questions.
There is an inbuilt budget optimizer in the app which lets you budget, track expenses, analyze purchasing patterns and even provides actionable advice by understanding your behavior and preferences.
No hassle of OTP via SMS when you use Digibank wallet during transactions, as they use an embedded soft token for security and verification purpose. This method works via two-factor authentication (2FA), which uses a combination of your password and unique OTP that is auto-generated real-time, hence protecting the user from malicious external parties.
It's worth mentioning that Digibank has won Global Finance's "Safest Bank in Asia" accolade for seven consecutive years, from 2009 to 2015.
The app also supports linking your account to goal based recurring deposits. Comes handy when you want to target an amount of saving for yourself every month to achieve a goal of savings.
Some more info on Digisavings accounts you should know:
Difference between Digibank e-wallet and Digisavings: When you sign up on Digibank app and create an account, an e-wallet is what you get which comes with a virtual debit card, funds transfers, budgeting and expense tracking.
To open a Digibank e-wallet, all you need to provide your name, date of birth, email ID, phone number and current city.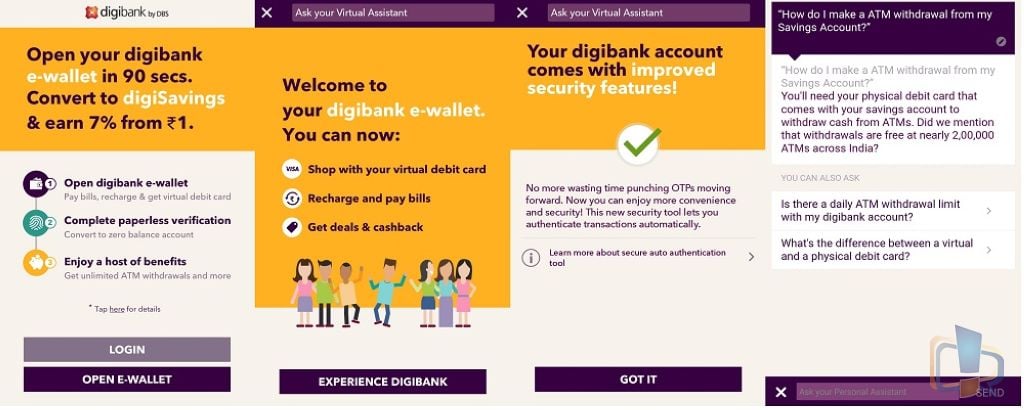 To upgrade to Digisavings account, you need to provide your fingerprint for biometric authentication, your Aadhaar number, and your PAN.
Opening a fully operational Digibank e-wallet takes only a few minutes and the further same account can be upgraded to Digisavings account by verifying biometric authentication at specified places, as I discussed that above.
You can add funds to your account using Netbanking, debit card, or by NEFT/IMPS.
To open a Fixed deposit account, having Digisavings account is mandatory and a fixed deposit account can be opened with a minimum principal amount of Rs 10,000 or minimum Rs 100 in the case of recurring deposits.
All Digibank accounts are insured up to Rs 100,0000 (1 lakh) under the Deposit Insurance and Credit Guarantee Corporation (DICGC), a subsidiary of the Reserve Bank of India.