Editor Rating

Rated 4 stars

Excellent
₹725
---
Reviewed by:

Published on:

Last modified:
---
Alere is one of the world's biggest POCT (point-of-care) diagnostic firms. The company is based out of Waltham, Massachusetts, US. Alere offers one of the largest suites of world-class technologies in POCT diagnostics. They also own the World's 3 largest diagnostic manufacturing facilities. In India, the company has recently inaugurated its manufacturing unit, which is envisioned to be South Asia's first WHO pre-qualified and US FDA standard facility. Alere is a respected name in the field of diagnostics and is the only company in India that offers a. full line diabetes-related tests such as HbA1c, lipids, kidney & heart profiles, glucose tests etc
Alere G1 is one of Alere India's imported products for home blood glucose testing. It has many commendable features which you'll get to know in this review.
Alere G1 Blood Glucose Monitor Review
Alere G1 Glucometer is a blood glucose monitoring device for quantitative blood glucose testing using fresh blood withdrawn from the fingertips. This product is mainly intended to use by people with diabetes for self-testing and monitoring of their blood glucose level.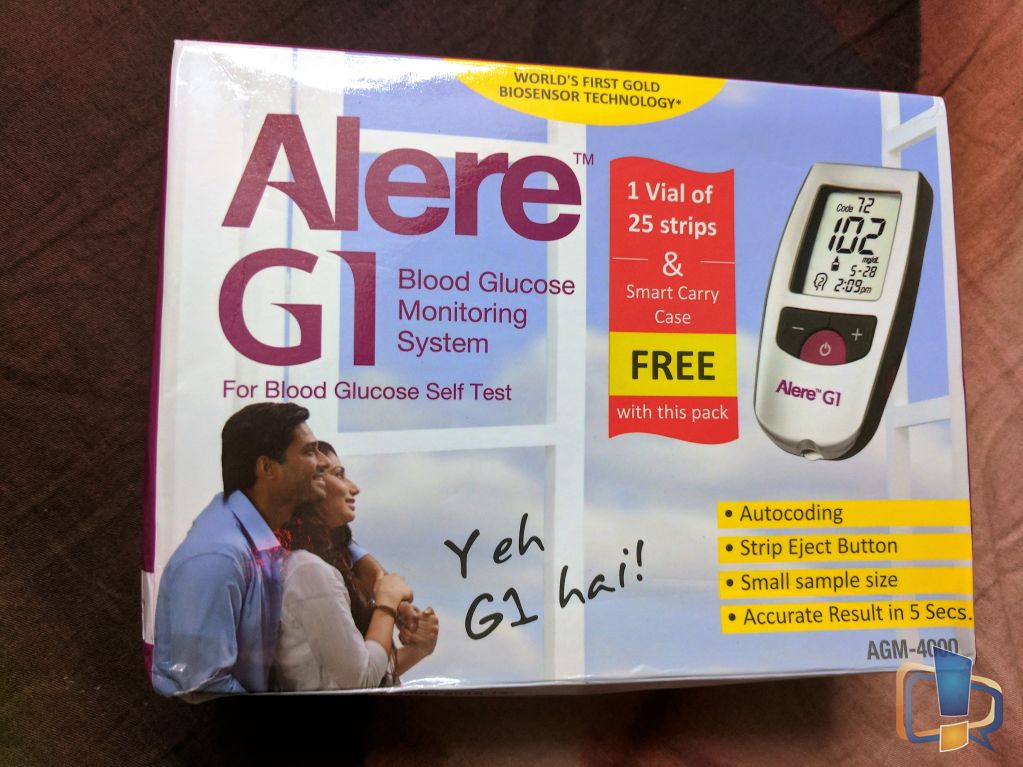 This device, like any other electrochemistry based glucometer, measures the glucose level by measurement of electrical currents caused by the reaction of glucose with the reagents on the gold electrodes of the test strip. The electric current produced is proportional to the glucose concentration in the blood and converted to the equivalent values programmed in the device. Alere G1 employs 99.9% pure gold in test strips. Since Gold is the best conductor of electricity, Alere G1 is able to provide lab-like accuracy in every test. Most other brands that employ a biosensor technology use a carbon electrode.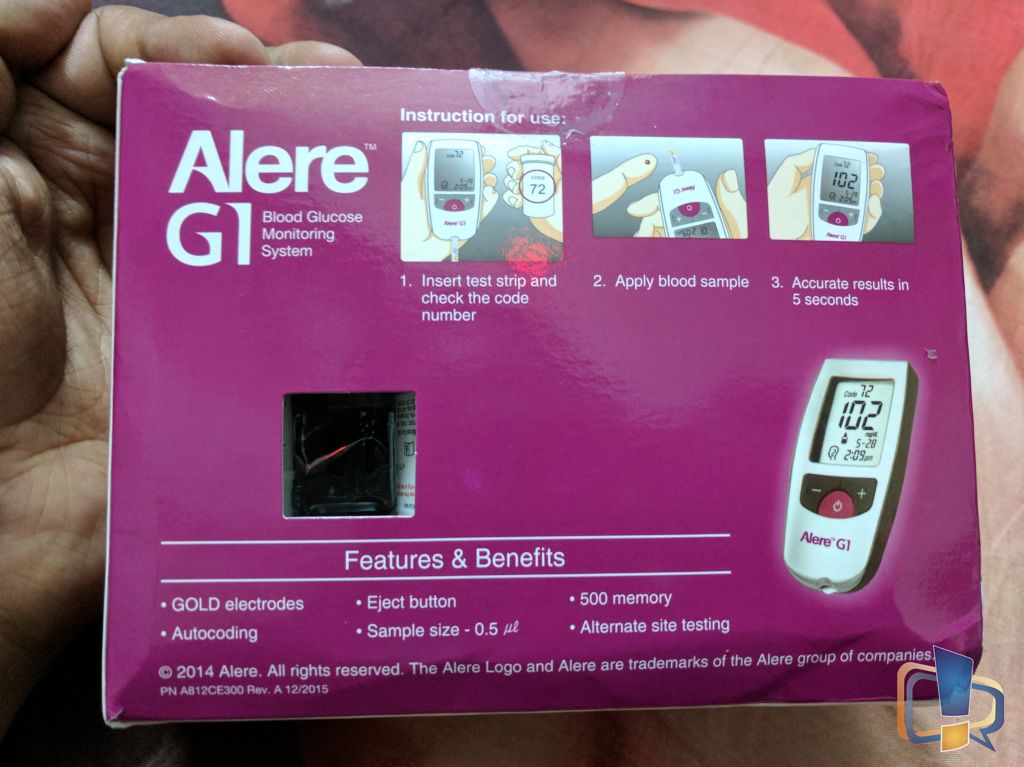 Alere G1 Glucometer Features
99.9% pure gold electrodes for superior accuracy (as explained above)
Already coded as per tests requirements – Super convenient, especially for elderly patients
Strip ejector button, eliminating the manual withdrawal of used test strip. Strip ejector, therefore, ensures hygiene and prevents infections.
500 test memory – so that you can record your tests in the device even when on a holiday! No need to carry your logs
Highest measuring range (10-900mg/dL)
Supports storing values of 5 unique patient records – This means more than one users can use the same glucometer and can recall independent patient data for themselves! This is very useful for families such as my friend's who's both parents are diabetic.
Requires very small blood sample size – 0.5µl
Alarm reminders so that you don't forget to test on time.
Alere G1 Glucometer Box-Contents
1 Alere G1 Blood Glucose Monitor
1 User Manual
1 Carrying case
1 Lancing Device
25 Test Strips
10 Lancets
1 Battery (for device)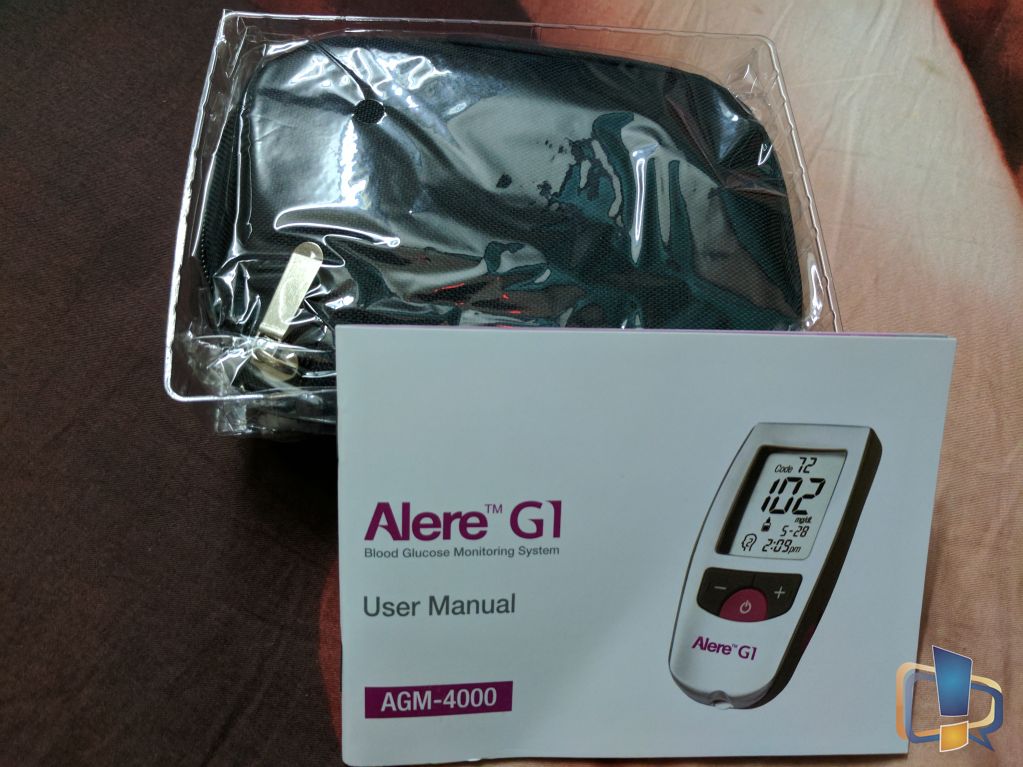 Alere G1 Glucometer – How to Use
Testing the glucose level using this device is very simple. Just turn ON the device, by clicking on the cranberry/red button.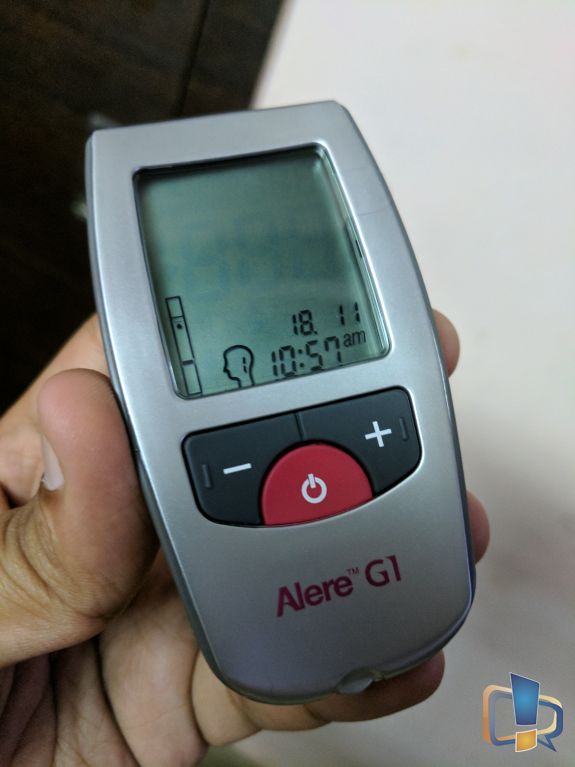 Insert the test strip in the device such that the brand name on the test strip is facing you.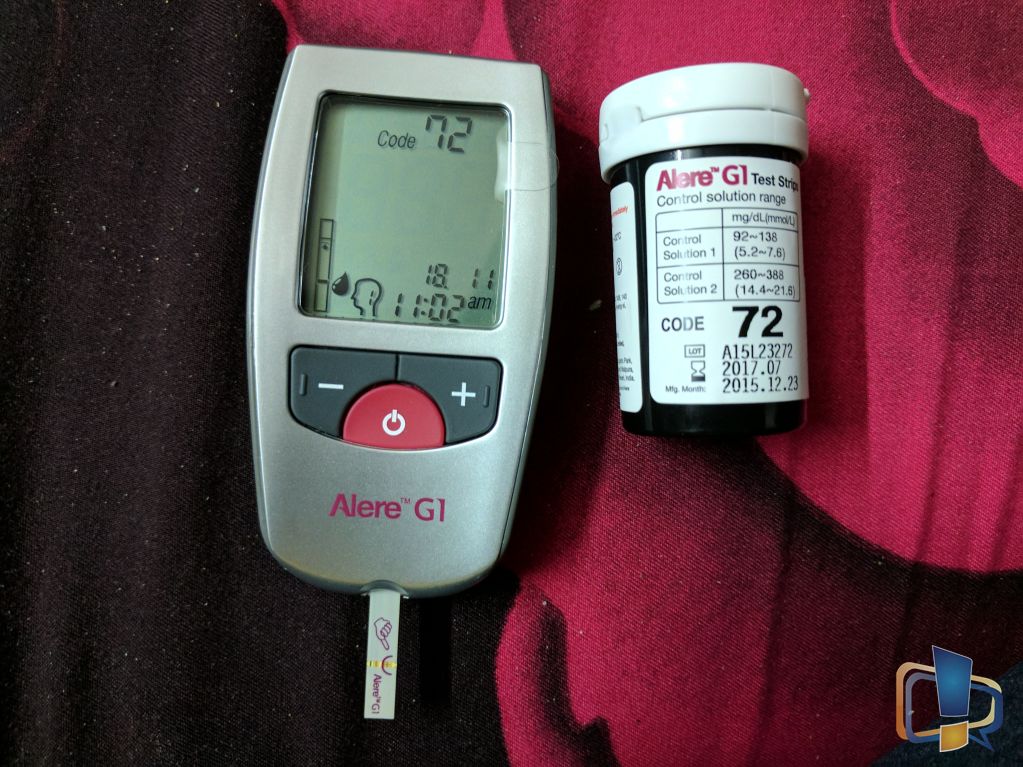 Since Alere G1 is auto-coded, the code will now flash on the monitor screen. Match this code with that on the vial.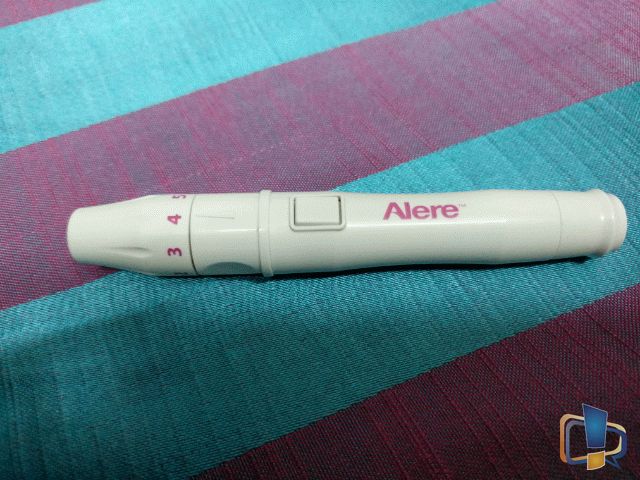 Now, before you lancing your finger for testing, please ensure that you have washed your hands with soap and warm water. Dry your hands. You can either massage your finger to stimulate blood flow or shake your hands softly at the sides. Then, use the lancing device to prick your finger. Press your finger gently so that a small blood droplet is formed. All you need is 0.5µl.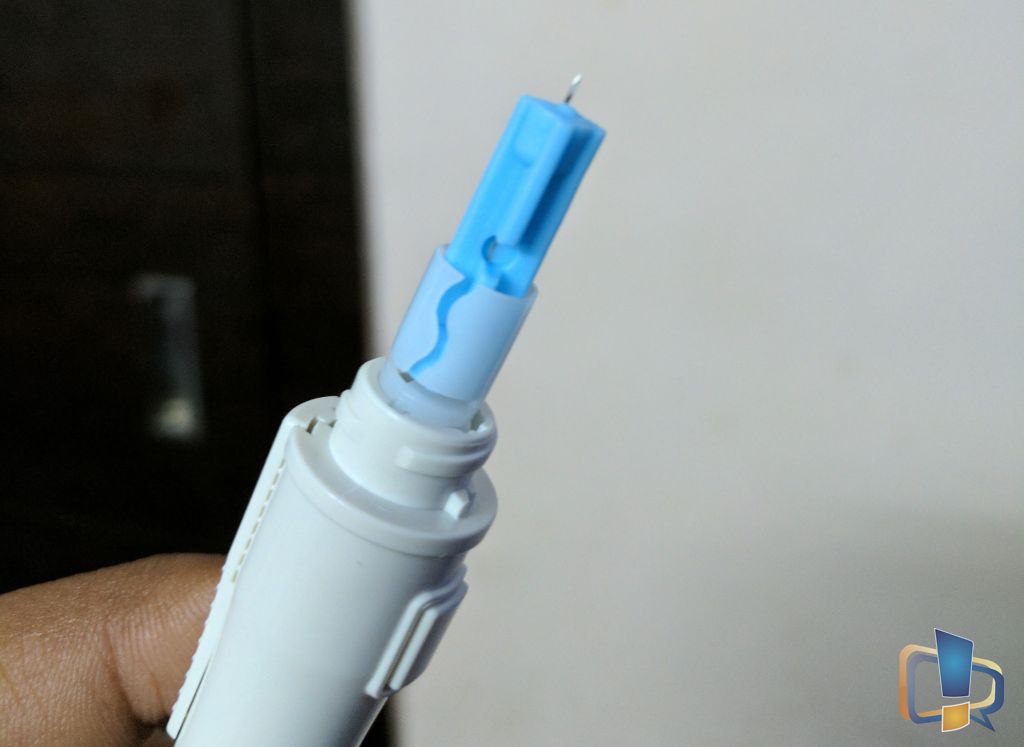 Don't forget to add lancet to Lancing device first.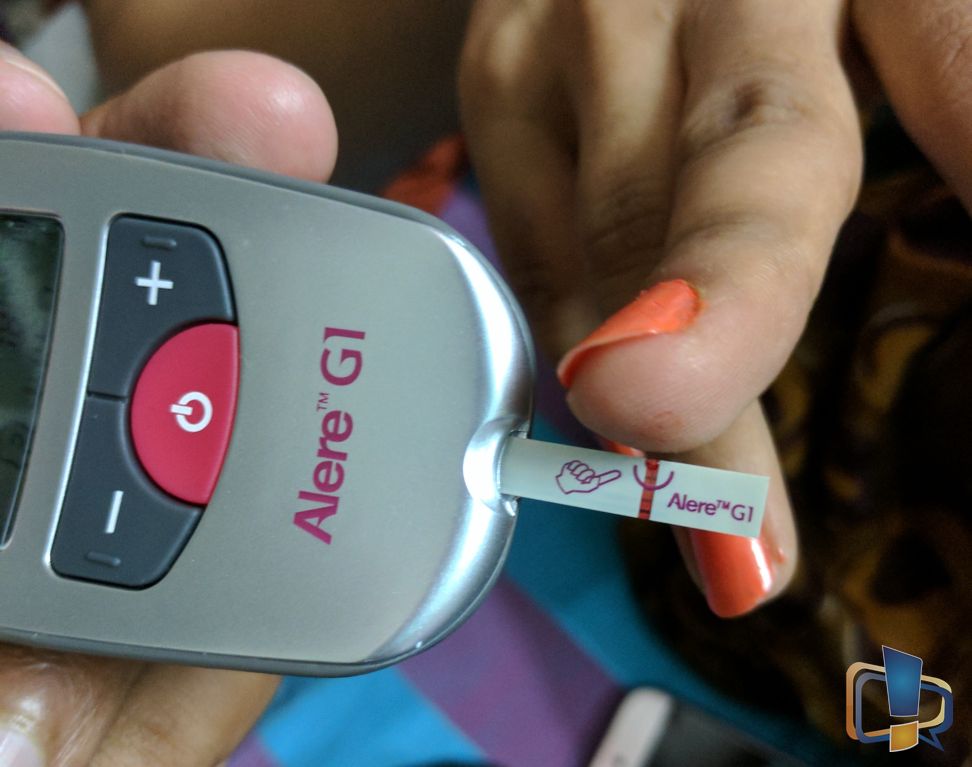 Touch the blood sample on the edge of the gold window of the test strip. The capillary action ensures the blood is absorbed.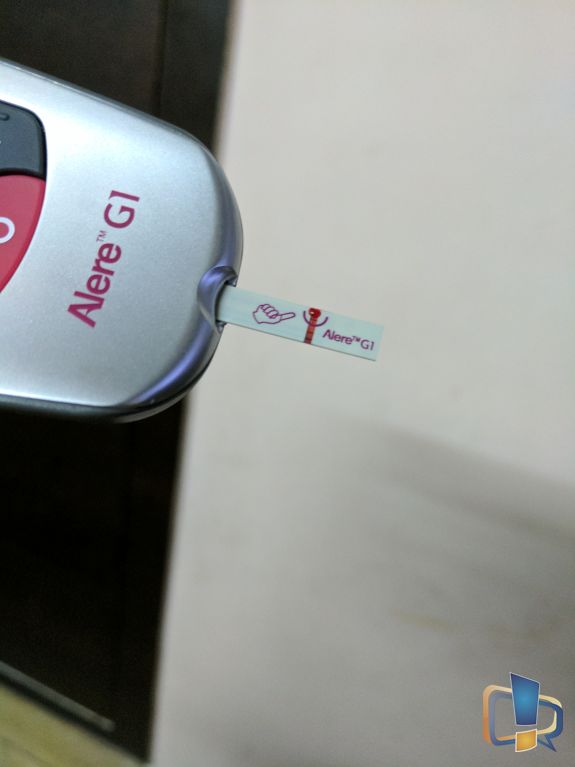 Immediately you'll see the reverse countdown of 5 seconds in the device upon sufficient blood detection, and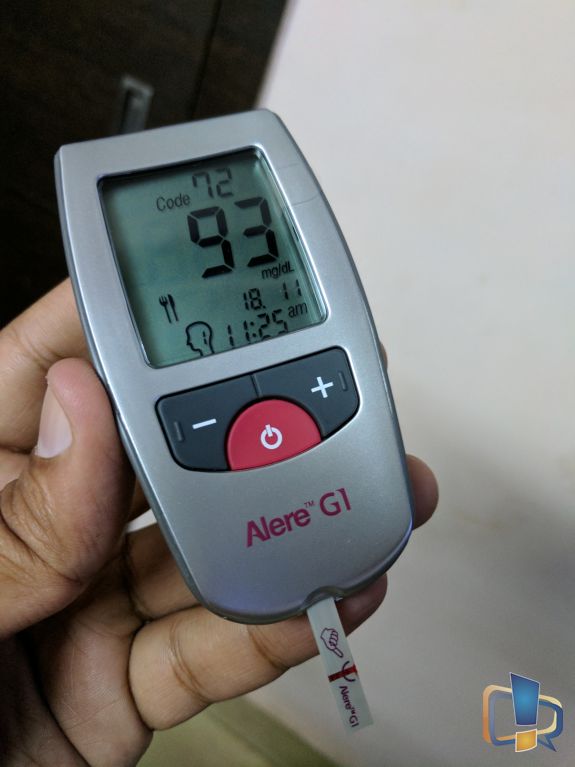 then you'll get to see your glucose level in blood. That's it.
P.S: If blood is applied on the other side of the test strip, the monitor will show Error 9. To avoid wasting your test strips, note the finger pointing to the edge of the window where blood is to be applied.

Further, if there's insufficient blood as indicated in the confirmation window, it may result in the inaccurate result or an Error 8. Discard strip and start afresh.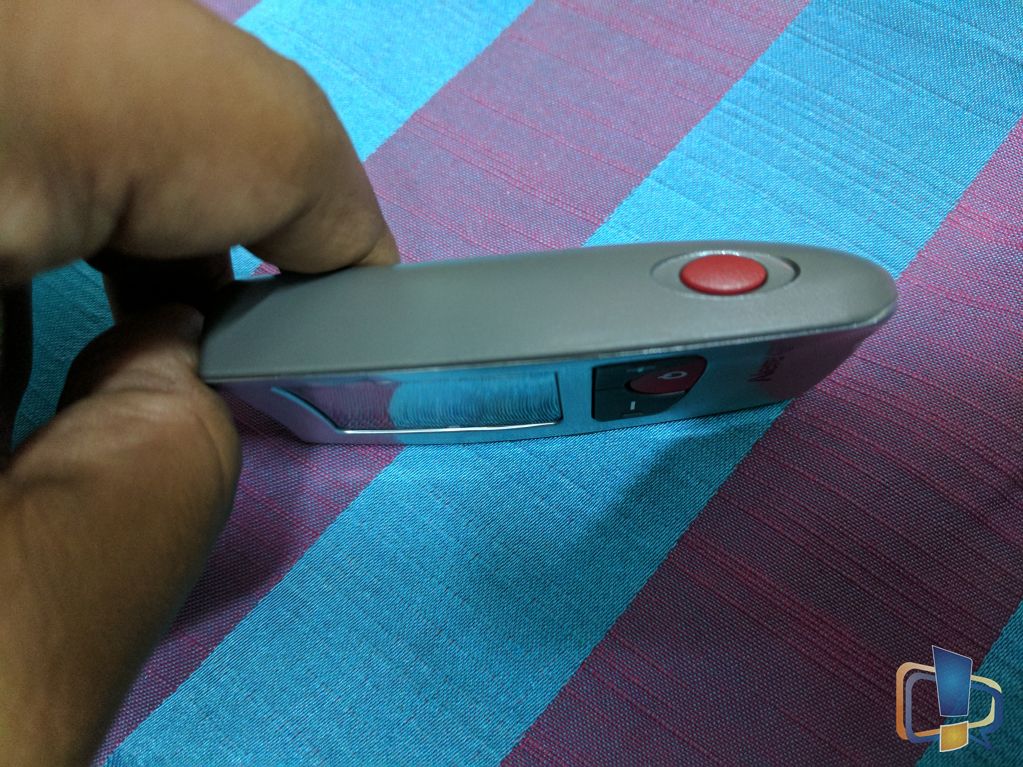 Alere G1 has a special strip ejector button, which I haven't seen on any other glucometer in the market. Point the strip into the dustbin and eject the strip straight into it without touching it.
Alere G1 Glucometer Measurements Accuracy
To test the accuracy of the results, I tried testing the Glucose level of 3 persons including me 2 times each. And the test results were approximately similar in both tests of each. Suppose, in the case of mine; 1st test result was 93 and the 2nd result count was 97. Yeah, I know my sugar level is on a lower side.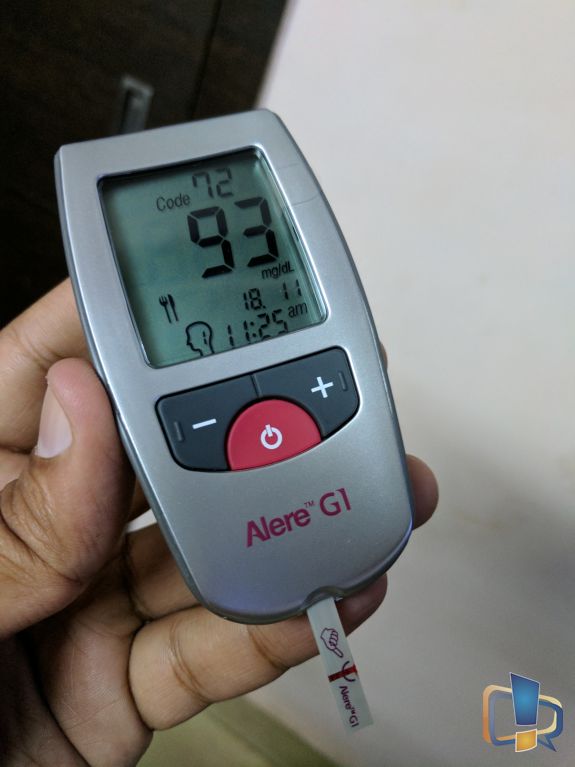 My dad sugar level results were 165 both times (coincidently, as the test was done same time within a minute gap of time) and yes, he has diabetes.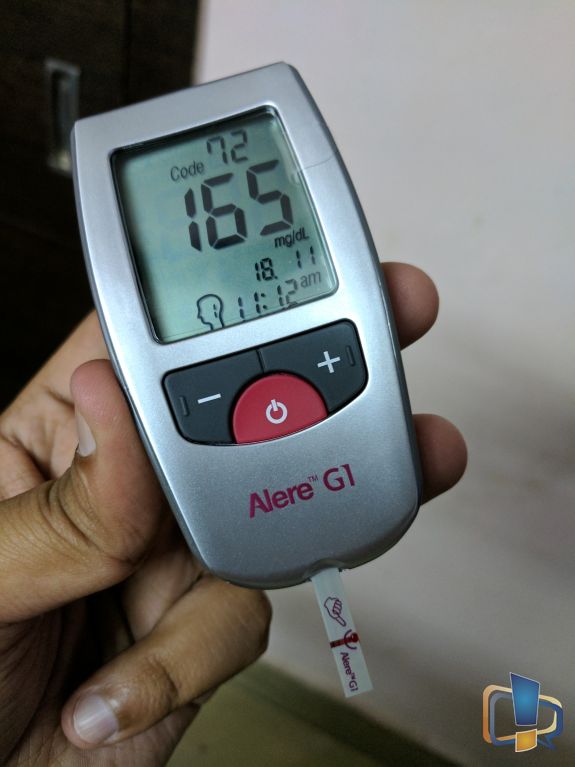 My mom sugar count results were 113 and 104, but in the case of her, I withdrew the sample from different fingers.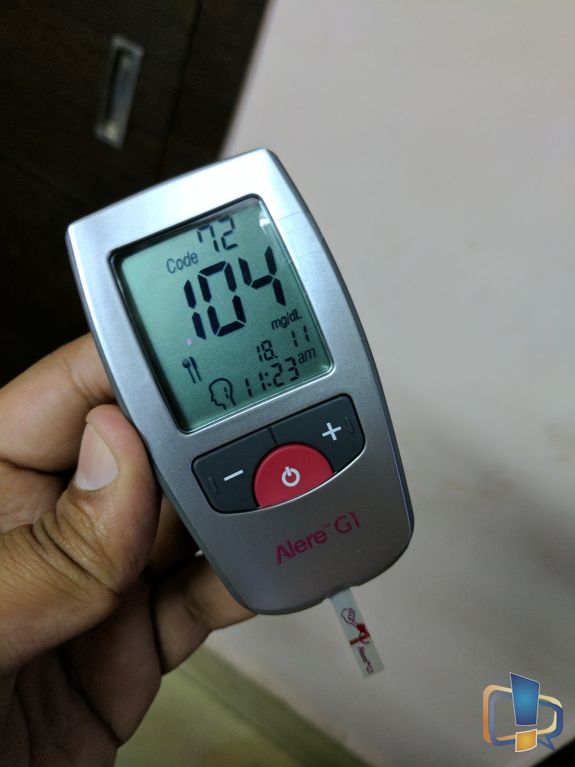 Compared to the results using Accucheck Glucometer and the results were similar. All tests were done at the same time.
Alere G1 Glucometer Usage
While trying it for the first time, it does confuse me once (because of not reading the manual), how to apply the blood sample on a stripe at a specified spot. It might take 1-2 tries for any new user to get versed with it, but eventually, you'll find that this way of touching test stripe from edges for transferring blood sample is very easier than dropping a blood drop over a stripe. Because of this procedure, you'll require less quantity of blood sample compared to others.
Things which needs to be taken care of while or before testing:
When you insert the test strip, do not hard push it.
Upon inserting the test strip, it'll show a code, e.g., Code 72 which you need to match with the code given on Vial of test strips.
There is no specified time limit for the test to be done after inserting the test strip in the device; however, I would recommend completing the process within 5 minutes.
If you removed the test strip from the device without using, it can be used for later on.
DO NOT KEEP YOUR VIAL (BOTTLE OF STRIPS) OPEN & EXPOSED TO AIR. This causes oxidation and it may spoil the remaining strips. Open the bottle only when you need to draw a strip and close the lid immediately.
Do set the time and date on the device before doing any tests, as these would be helpful for you for a longer period. Setting date and time is a one-time procedure and won't be required to do again till battery lasts. The procedure for that is provided in the manual in detail.
If you're using the glucometer very the first time, do read the manual first.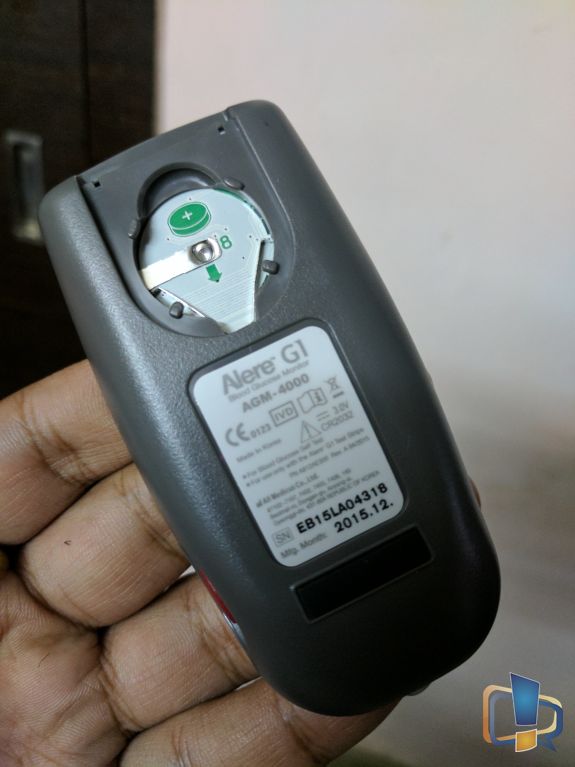 The battery is enough for 1000 tests, after that you should replace the battery even if it can perform a test.
Do not even try to re-use the test strip.
Comparison of Alere G1 Glucometer with Other Brands
Product Features

Alere G1

Accu-Check

OneTouch

Auto-Coding
Yes
No
Yes
Measuring Range
10- 900 Mg/dl
10-600 Mg/dl
20-500 Mg/dl
Strip Eject Button
Yes
No
No
Memory
500 Memory
with Date & Time
500
No Memory
Blood Sample Volume
0.5 µL
1 -2 µL
0.5 µL
Profiles
5 Different Profiles
No Profiles
No Profiles
Average (of Results)
7 , 14 , 21 , 28 , 60 , 90 Days Average
7,14 days average
No
US FDA Cleared
Yes
Yes
Yes
MRP 25 Strip Pack
450 /-
Over 650
Over 600
MRP 50 Strip Pack
650 /-
Over 850
Over 1000
MRP 100 Strip Pack
1295 /-
Over 1400
No
Free Strips with New Meter
25 Stripes
10 Strips
10 Strips
Final Verdict
Alere G1 glucometer is a value for money and easy to use the device for measuring sugar level regularly. Measurements done by the device are fairly accurate and it does the task very well. The price of the test strips is much lower than other brands. If you are diabetic, you know that the repeated cost of test strip purchase is what adds up and eventually starts to pinch. I recommend trying Alere G1, especially if you test regularly and need high accuracy as well as budget management.