Editor Rating

Rated 4.5 stars

Outstanding
₹53500
---
Reviewed by:

Published on:

Last modified:
---
As we are progressing towards modernization, we've seen a sudden surge of increased usage of Tech for simplifying our daily tasks. And the Kitchen is nowhere behind when we have smartphone-controlled water purifiers, smart microwaves and much more. And for such lifestyle, we work hard day and night and don't get much time for doing tasks which bring no value additions in lifelike cleaning utensils. For such tasks, we hire maids who are no more a reliable option to stay dependent on and is an expensive affair. This is why we need a Dishwasher so badly because a modern man or woman can't waste his time doing dishes. If you don't have much idea about the effectiveness or the ease a dishwasher brings along, you should read this Siemens Dishwasher Review:
Siemens Dishwasher Review (SN25L882EU)
Siemens is one of the best choices when it comes to a dishwasher. Products of Siemens are counted in the premium segments in the industry and in most modern kitchens in India, you'll find them only. I am reviewing model ID SN25L882EU which is a free standing dishwasher.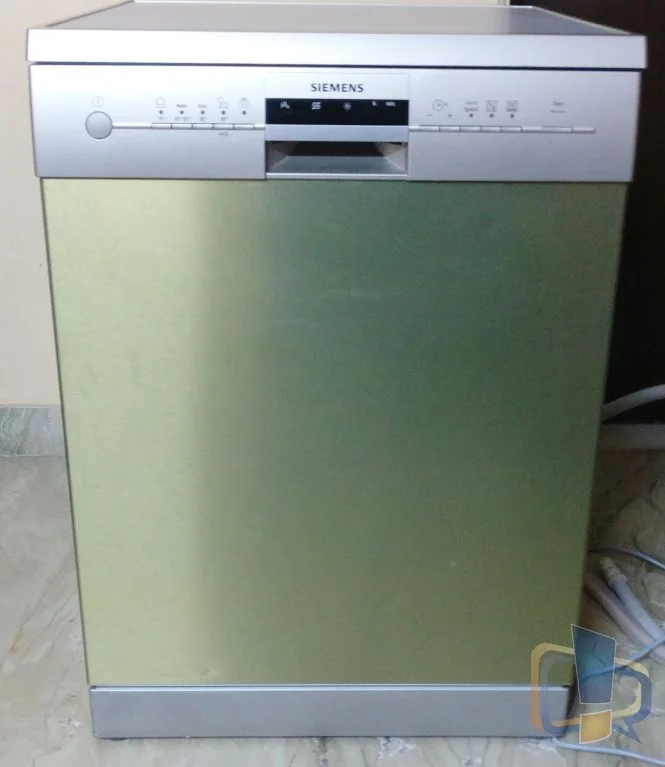 It comes with various unique & useful features like varioSpeed, iQdrive, varioFlex basket, varioDrawer, rackMatic, drying option and much more. Siemens dishwashers are equipped with Siemens own iQdrive induction motor which does not make any sound at all and is also energy efficient. The permanent magnet inside the motor removes all friction, ensuring less wear, less noise, and less energy loss.
Features of Siemens Dishwasher
iQdrive Induction motor
As I explained above, Siemens iQdrive drive is like a quieter aircraft and ensures greater energy efficiency. The permanent magnet inside the motor removes all friction, ensuring less wear, less noise, and less energy loss.
aquaStop water protection system with Guarantee
The aquaStop feature prevents water damage (leaks from the inlet hose or in the machine). Siemens assures that this security system will never fail throughout the life of the dishwasher.
Automatic Programs
Whenever you select an automatic program for dishes cleaning, some information is gathered by the AquaSensor as well as by other sensors and the data is directly transmitted to the iSensoric control unit. Accordingly, the dishwasher automatically adjusts the wash cycle to the soil on the dishes.
Efficient Detergent Distribution
Siemens dishwasher ensures cleaning the wafer slides directly into the compartment through the dispensing assistant. High-pressure clear water jet precisely dissolves the detergent in water and then the cleaner uniformly spreads the water uniformly throughout the machine.
RACKMATIC and Touchpoints System
rackMatic – this helps in adjusting the height of the upper basket. It can adjust the height up to 3 levels.
Touch points – indicates the flexibility or foldability option of the tines. This helps in loading & placing variety of utensils.
varioFlex Plus basket
varioFlex Plus baskets offer high flexibility. The upper basket has 3 shelves folding and separable, and 2 rows of folding barbs and the lower rack has 4 rows of folding barbs. Adjusting as per requirements offers more space for storage. These baskets are also equipped with handles for easy handling.
varioSpeed
varioSpeed feature helps in reducing the cleaning time of utensils by 20% to 50% automatically depending on the selected rinse program. The cleaning effectiveness is same, and you won't find any difference in regular cleaning or in varioSpeed cleaning. The change in the running time is indicated on the digital display. Maybe you'll use this feature most of the time, if you buy one.
Half-load
If you've only a few items to wash like glasses, plates, cups, etc.requires, then you can switch to "half-load". This feature will reduce the cleaning time and will save you water, energy and time. It is recommended to put a little less detergent in the detergent dispenser than for a full-load.
Intensive Zone
This mode is for those utensils requiring intensive cleaning. This mode should be used for very soiled pots and pans (to be kept in the lower basket together) with normally soiled utensils in the upper basket. The intensive program also increases the pressure in the lower basket and the rinsing temperature is increased slightly. Do not use utensils made of glass in this mode, as those can break inside due to temperature.
Extra Drying
Extra drying feature increases the temperature of the final rinse and an extended drying phase. This ensures that even plastic parts dry better. This feature will consume slightly more energy.
List of Programs in Siemens Dishwasher
Type of utensils
Type of soiling
Programme
Possible
additional
options
Programme sequence
pots and pans,
non-sensitive
utensils
and cutlery
very adhesive burned-in or dried-on food remnants containing starch or protein
Intensive 70°
all
Prerinse
Clean 70°
Intermediate rinse
Final rinse 65°
Drying
Auto 45° – 65°
all
Is optimized according
to the soiling with the aid of sensors
mixed utensils
and cutlery
part dried, common
household food
remnants
Auto 45° – 65°
all
Is optimised according
to the soiling with the aid of sensors.
Eco 50°
all
Prerinse
Clean 50°
Intermediate rinse
Final rinse 65°
Drying
sensitive utensils, cutlery, temperature-sensitive plastic and glasses
slightly adhesive, fresh food remnants
Gentle 40°
IntensivZone
Express Wash/
Speed Perfect
(VarioSpeed)
Half load
Extra drying
Prerinse
Clean 40°
Intermediate rinse
Final rinse 55°
Drying
Quick 45°
Extra drying
Clean 45°
Intermediate rinse
Final rinse 55°
all types
of utensils
cold rinsing,
intermediate cleaning
Prerinse
none
Prerinse
Experience with Siemens Dish Washer
Installation
For the installation part, you'll need to connect the water inlet pipe with a regular line of water, as the dishwasher during the complete washing cycle, requires the intake of water 3-5 times depending on the program type you selected. Also, a 15A plug is needed for powering the dishwasher. Input energy source and other specifications detail you can find at the end of this review. So, for the installation part, just connect the inlet to the regular water source, direct drain pipe to drain and put the plug-in power source. That's it.
Before installation of Siemens dishwasher, Siemens home appliances' service engineer would come at your premises, inspect and let you know the best way to connect the inlet pipe in your kitchen. He'll also give you an idea of the space required by the dishwasher and where it would be best to keep it forever. Like in my case, I needed some customization for adding a source for inlet pipe, so service engineer gave me complete BOM (bill of material) required for doing that customization. Overall, it was a pleasant experience even before I had received the product.
Upon receipt of product, I got the call from service person same day automatically, asking when he could come for the installation. Upon his arrival, he brought along the detergents and liquid required by the dishwasher, 1 box/bottle each which should be enough for 15-30 days and these are not chargeable for the first time. For regular requirements, you can buy these from hypermarkets like Big Bazaar, More Store, etc. Here're the details of detergents/liquid he came along:
1. Fortune Dishwasher Detergent
The detergent you'll have to regularly add for every utensil wash cycle. That's why it is recommended to wash utensils at least when you have half filled it and ready to run on half-load or varioSpeed.
2. Fortune Dishwasher Salt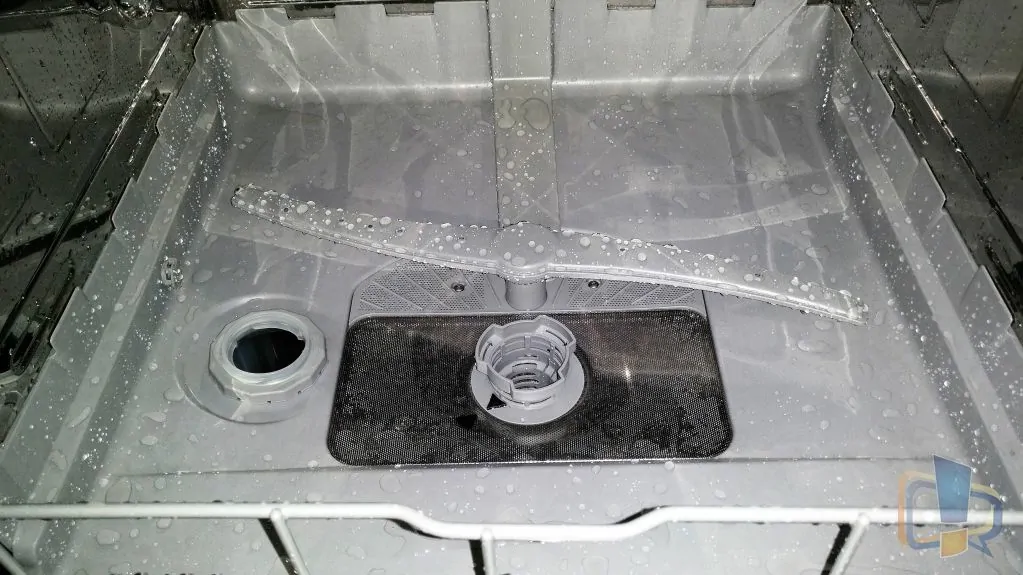 This one is emptied in one go inside the dishwasher bottom. There is an opening provided for that at the bottom of the dishwasher. This is used to protect the dishwasher against LimeScale deposition and helps to avoid corrosion in the rinsing tank.
3. Fortune Rinse Aid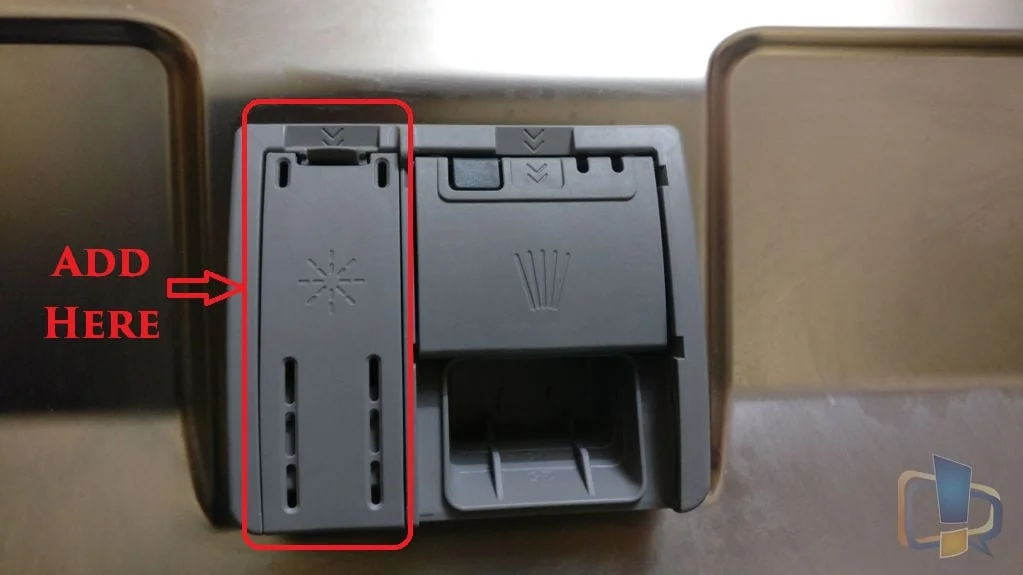 This one is used for bringing shining on the utensils, prevents calcium deposits on them and improves drying performance.
If you want to read more details on detergent, then read this article. Siemens officially recommend to use 'Finish' company products for cleaning, but 'Fortune' is also equally good and would cost less and is easily available in hypermarkets.
Usability of Siemens Dishwasher
Although I was sceptical on the washing quality of the dishwasher and or believing if they're really effective on cleaning stubbornly stuck leftovers, yes this one is really effective. Dishwashers are slowly taking a permanent place in modern kitchens of India when finding maids are like moving mountains. At the start, adding utensils on the racks would be a bit of challenge, but with time, you'll learn easily to keep those in a manner that all may fit in your dishwasher in one go. This is where foldable racks, shelves play an important role. You can customize the racks as per your ease and get used to it is very easy.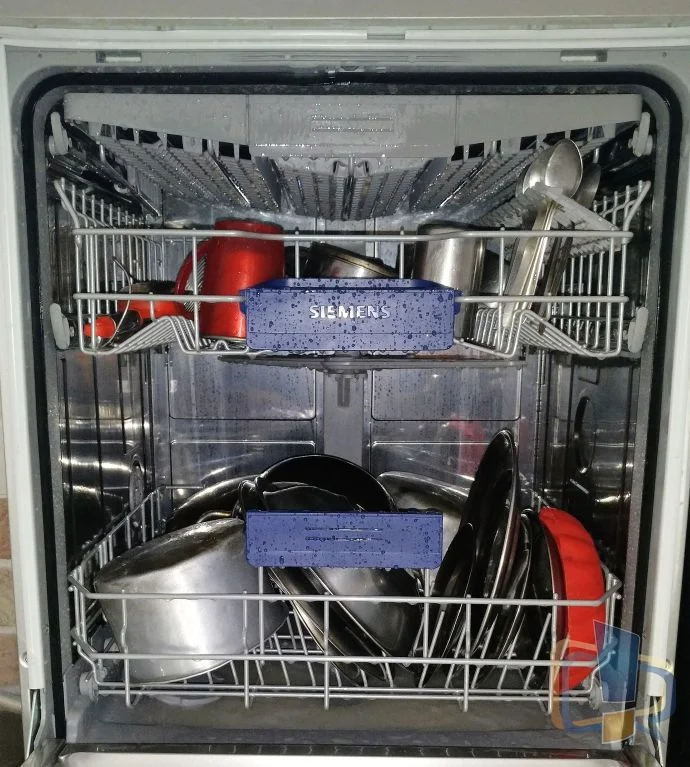 I won't be surprised if you'll get into the habit of leaving the utensils inside the dishwasher after cleaning as they get completely dried inside. You'll find 90-95% of utensils or even 100% (if you leave them inside for longer period) completely dry after the wash cycle as this dishwasher dries the utensils too. All utensils get washed at the same place where you keep them, so you don't need to hunt for any smaller one after the wash cycle. Maybe at the start, you'll find the loading time of utensils inside high at the start, but that time gets compensated while unloading.
For loading utensils, Siemens offers 3 racks in this model of dishwasher i.e. Cutlery drawer, Upper Basket, and bottom basket.
A user should remove large food remnants, while it's not necessary to pre-rinse utensils under running water. While loading utensils, one must keep the utensils in a secure way, so they cannot tip over, and all utensils need to keep face down with their openings. And last, don't overfill the machine with utensils, to avoid the obstruction of rotation of two spray arms inside the dishwasher.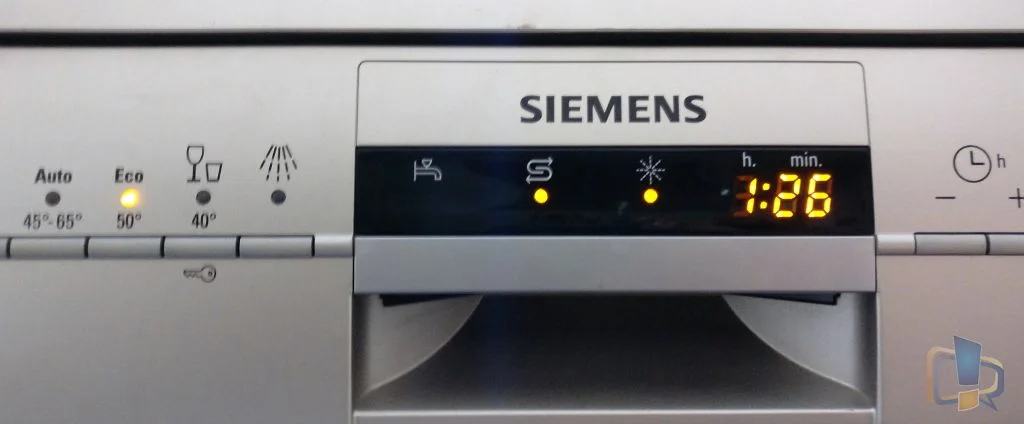 Coming to wash cycles, on half load and auto temperature mode (45°-65°), you'll find the wash cycle to be of 1.2-1.4 hours around, while at full load, that will be 1.5-1.8 hours. If you don't have that much time, use varioSpeed mode, which reduces the wash cycle by around 30-50%, so on half-load, you'll find wash cycle time around 0.6-0.8 hours while on full-load it'll be around 1 – 1.2 hours. By default dishwasher is set to pick Eco mode (50°) always, so on normal modes, you'll find wash cycle time on the higher side, as those are more economical to run and use less power and water.
Effectiveness of Siemens Dishwasher
In my review period, I tried the dishwasher 10-12 times and every time the outcome was impressive. Utensils even with sticky leftover got removed by the dishwasher, and I learned quickly to keep the utensils right way inside the dishwasher to accumulate more utensils in one go.
Most of the time, I ran dishwasher on an automatic rinse program with half-load. If you want to see, how much clean and dry the utensils were, see below-given images. The utensils were completely dry, and there was no oily/greasy feel on them.
On daily usage, for a family of more than 4, you might not find one wash cycle enough for the day. So, in order to save time and energy both, you can wash greasy utensils like milk vessels, kadais in auto programme mode, while other frequently used utensils like glasses, teacups, plates, spoons and other non-greasy utensils can be cleaned in automatic or varioSpeed wash mode. I recommend using Intensive Zone programme to clean highly soiled utensils.
Please note, not every type of utensils can be washed in the dishwasher. You cannot wash the following types of utensils:
Cutlery and utensils made of wood.
Delicate decorative glasses, craft and antique utensils. These decors are not dishwasher-proof.
Plastic parts are not resistant to heat.
Copper and tin utensils.
Utensils which are soiled with ash, wax, lubricating grease or ink
Aluminium and silver parts have a tendency to discolour and fade during the wash cycle. So, you need to make sure that the one you're using are dishwasher safe. And use only glasses and porcelain which the manufacturer designates as dishwasher-proof.
Quick List of Features of Siemens Dishwasher
13 Place Settings
Energy Efficiency Class: A++
Energy consumption in program Eco 50: 262 kWh per year, based on 280 standard cleaning cycles using cold water fill and the consumption of the low-power modes. Actual energy consumption will depend on how the appliance is used.
Energy consumption in programme Eco 50: 0.92 kwh
Power consumption off-mode / left-on mode: 0.1 W / 0.1 W
Water consumption in programme Eco 50: 2660 litres per year, based on 280 standard cleaning cycles.
Water consumption in program Eco 50: 9.5 litres
A-rated performance for washing and A for drying
The information relates to the program Eco 50. This program is suitable to clean normally soiled tableware and is the most efficient program in terms of combined energy and water consumption.
Programme time in program Eco 50: 210 min
Duration of the left-on mode: 0 min
Noise level: 46 dB
5 programs:
Intensive zone 70 °C, Auto 45-65 °C, Eco 50 °C, Delicate 40 °C, Pre Rinse
2 special options: halfLoad, varioSpeed
5 temperatures cleaning temperatures
speedMatic hydraulic system
Child safety – Childproof door lock
iQ Drive
AquaSensor, LoadSensor
Automatic detergent detection
hydroDry hygienic and efficient drying
Regeneration electronics
vario baskets
Inner Tub: Stainless steel/polinox interior
Programme remaining time indicator
aquaStop with guarantee
Time delay: 1-24 hours
LED salt refill indicator
LED rinse aid refill indicator
antiFingerprint surface coating
rackMatic
varioDrawer
Adjustable top basket: Rackmatic 3-stage
2 foldable plate racks & 2 cup shelves in top basket
4 folding plate racks
vario basket system
aquaStop water protection system with guarantee
Child safety – Tamperproof controls
Door latch
HydroMix glass care protection technology
Siemens Dishwasher Technical Specifications (SN25L882EU)
Cleaning performance
A
Water consumption (l)
9.5
Built-in / Free-standing
Freestanding
Removable top
Yes
Door panel options
Not possible
Height of removable worktop (mm)
815
Height of the product (mm)
845
Adjustable feet
Yes – front only
Maximum adjustability feet (mm)
20
Net weight (kg)
51.0
Gross weight (kg)
52.0
Connection Rating (W)
2400
Current (A)
10
Voltage (V)
220 – 240
Frequency (Hz)
50; 60
Length electrical supply cord (cm)
175
Plug type
Gardy plug w/ earthing
Length inlet hose (cm)
165
Length outlet hose (cm)
190
Hidden heating element
Yes
Water protection system description
Triple water protection 24h
: Button suspension
Water softener (kWh)
Yes
Top basket type
mid
Adjustable upper basket
Rackmatic 3-stage
Upper rack cup shelf
0
Bottom basket type
mid
3rd Rack
Yes
Silverware Basket
Standard
Included accessories
No
Number of place settings
13
Color / Material panel
Stainless steel color, lacqu.
Color / Material body
silver inox
Color / Material top
Stainless steel color, lacqu.
Brand
Siemens
Product name / Commercial code
SN25L882EU
Number of place settings
13
Energy efficiency class (2010/30/EC)
A++
Energy consumption annual (kWh/annum) – NEW (2010/30/EC)
262
Energy consumption (kWh)
0.92
Power consumption in left-on mode (W) – NEW (2010/30/EC)
0.10
Power consumption in off-mode (W) – NEW (2010/30/EC)
0.10
Water consumption annual (l/annum) – NEW (2010/30/EC)
2660
Drying performance
A
Reference programme
Eco
Total cycle time of reference programme (min)
210
Duration of the left-on mode – NEW (2012/30/EC) (min)
0
Noise level (dB)
46
Installation typology
Build-under
Panel ready
No
Connection Rating (W)
2400
Current (A)
10
Voltage (V)
220-240
Frequency (Hz)
50; 60
Energy Star Qualified
No
NSF certified
No
Siemens Dishwasher Review: Final Verdict
Siemens dishwasher is an excellent choice. The product runs completely silent, does not vibrate at all, is highly effective in cleaning dishes and have the extra dry feature as well. Plus, Siemens appliances made with German technology result in the premium and quality product range, which is meant to last for years, giving a long-term ROI to the customer.