Samsung Electronics today launched their most innovative phone yet in India i.e. Samsung Galaxy S7 and Galaxy S7 Edge. These phones are meant to offer consumers the ultimate experience in camera and GUI that will set the new benchmarks for global mobile space with unique design and extraordinary performance. Like HTC, Samsung also introduced Dual-pixel technology in both phones, which are capable of delivering brighter & sharper images, especially in low lights where we saw this phone clicking way better images than even iPhone 6S Plus. Along with the launch of the phone, Samsung also introduced their new after sales service platform i.e. Samsung Concierge, it's a unique consumer engagement platform which will offer valuable services to Galaxy phone customers like My Assistant, Phone pick up and drop, Fast Track service and Live chat. Both smartphones are powered with LTE Cat 9 connectivity.
What's New in Samsung Galaxy S7 And Galaxy S7 Edge
Samsung Galaxy S7 & S7 Edge: Camera
The most photographic moments of your lives happen when there's not enough light. Like in marriages, parties at night or some other occasion, where even iPhone can ditch you by clicking horrible images in low light. That's where dual-pixel technology comes into play, that enables faster autofocus, so you can take crisp and clear pictures even in low light on Galaxy S7 & S7 Edge.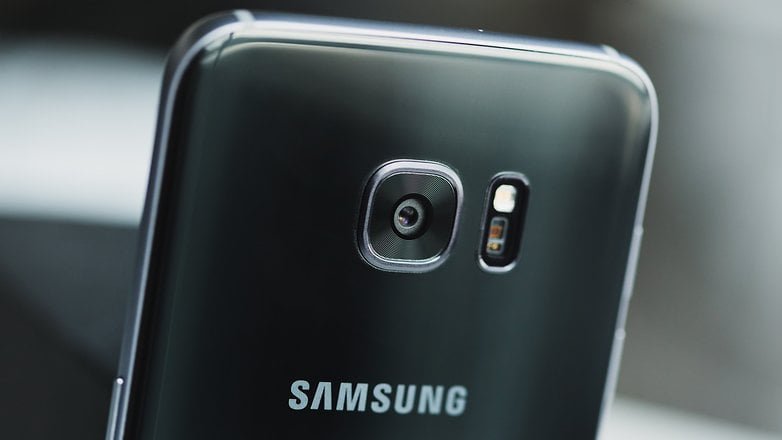 Each and every pixel on the image sensor has two photodiodes; this means the professional-grade Dual Pixel Sensor can focus as quickly and as accurately as with your own eyes. The brighter F1.7 lens and larger 1.4µm pixels on the image sensor capture more lights, so your photos came out sharp and detailed. Like the rear camera, the front camera too has a brighter lens (F1.7) and turns the screen as a flash to help you take selfies in the dark.
With Motion Panorama, you can take panoramic photos which capture the live scenery, and Hyperlapse mode lets you make a fun, fast-motion video quickly.
Dual Pixel – Faster Auto Focus
Tho Galaxy S7 and S7 edge camera incorporate the Dual Pixel, a cutting edge dual photodiodes technology used by professional cameras. It has been adopted for the first-time ever in smartphones.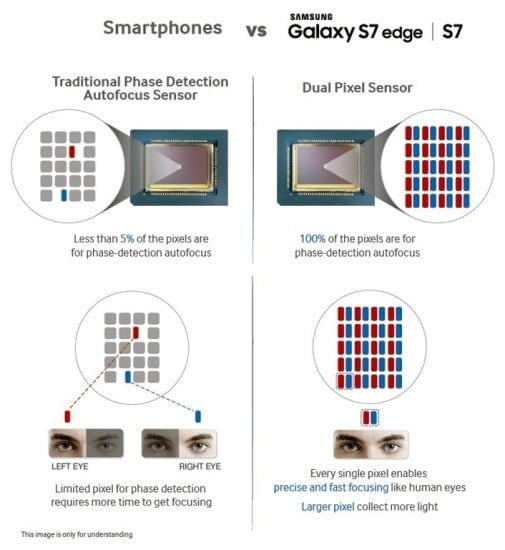 Thanks to Dual Pixel, Galaxy S7, and S7 edge use every single pixel on the Dual Pixel Sensor phase detection. This enables autofocus that's so incredibly fast and seamless that even the most sudden movements are caught in the act, even when the light starts to fade. This is just as good a Smartphone camera get!
Brighter Even in Low Light
Both rear and front camera of Galaxy S7 & S7 edge have a brighter lens (F1.7) that helps you take brighter and clearer pictures even in low light conditions. Below image was taken in a dark room when the device was showcased to us at India launch event. Galaxy S7 managed to take way better low light images when compared with an iPhone 6S Plus.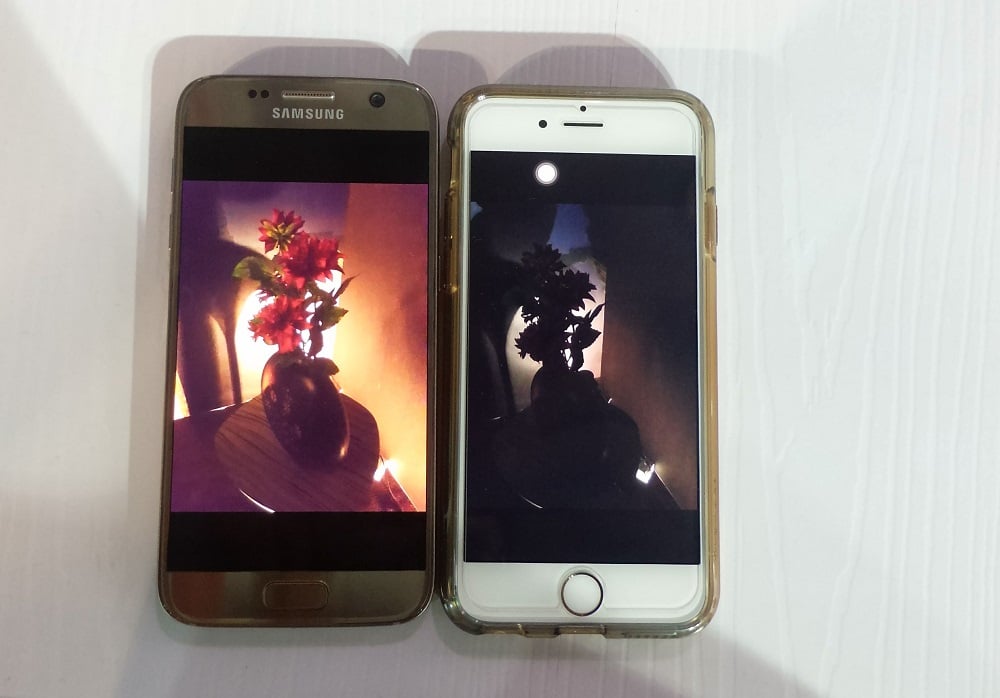 In addition, the front camera providing additional lighting when taking selfies in the dark. The beauty-mode from previous Galaxy models has also been further developed with Spotlight feature, which can highlight your face with an effect of natural light.
More Fun with Panoramas
For the first time, you can capture sweeping movements in panoramas with motion. The newly introduced Motion Panorama, which helps you, capture not only beautiful sceneries but also the movements happening while you take a panoramic picture.
The Hyperlapse in Galaxy S7 and Galaxy S7 Edge lets you make a time-compressed video. The Hyperlapse automatically select stabilized frames by analyzing the recorded video (Frame Selection) and change the video speed according to the movement of the scene (Auto Variable).
Samsung Galaxy S7 and S7 Edge: Design
The refined metal and glass body design with 3D curved glass has been crafted to perfection. The curved metal alloy has been created with an exquisitely seamless and strong unibody. The dual-curve backs on the Galaxy S7 and S7 Edge are the reason, why they feel so comfortable when you hold them. Everything about the design, from the naturally flowing lines to the form factor, come together to deliver a grip that's so satisfying, you won't want to let go.

Samsung Galaxy S7 and S7 Edge comes with Hybrid Dual SIM. Hence, you get to choose more storage or an SIM card as per your requirement. Means either you can insert a microSD card up to 200 GB in the second SIM slot, or if you need separate lines for work and personal use, the same slot can be used to hold second Nano SIM card. And there's no need to turn off your phone when switching cards. It also comes with bigger batteries letting you watch your favorite TV shows and listen to music for hours on end.
Moreover, Galaxy S7 and S7 Edge are water and dust resistant with a new cap-less design. So, now you don't have to worry about spills or an accidental drop in water. Everything about this phone is absolutely worry-free.
Expandable Storage
Samsung and many other manufacturers has always been cautious in providing external storage in their flagship phones or if it has to be a dual-SIM phone? This leads to the invention of Hybrid-SIM Tray, which gives you the option to extend storage capacity as you need up to 200GB.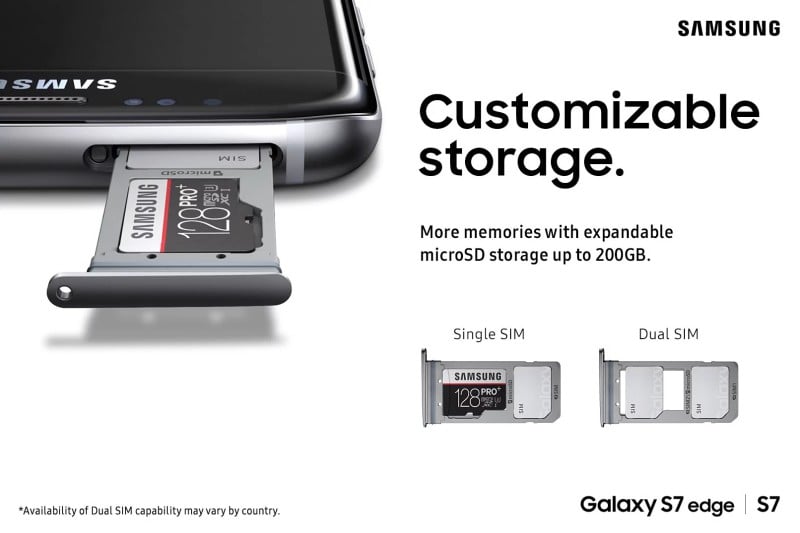 This Hybrid SIM Tray has a slot for microSD card which can also be used to use another Nano SIM card. Hence, either you can use Galaxy S7 & S7 Edge has a dual-SIM phone or a phone with expandable memory slot.
Water and Dust Resistant
Although, being an almost waterproof phone, no company claims these their phone as fully waterproof. That's also true, as you cannot take the phone to deep water with higher ATM pressure. There are limits to pressure ratings as per IP67 or IP68, but with previous experience of companies like Sony, where people went extreme in assuming their phone as 100% waterproof and damaged them by taking those in deep levels. Indeed, they were waterproof, but at a limit which people must adhere too.
Both Galaxy S7 and S7 Edge phone are IP68 certified. Hence, you don't need to worry about putting your phone on wet surfaces. You can carry on using it even after dropping in water. Both smartphones are dust tight and protected against 30 minutes immersion in water up to 1.5m. The capless water and dust resistant design were achieved by rubber sealing to the USB port, SIM tray, and headset jack. It's an entirely new method to make a phone water and dust resistant and is being used first time in S7 series, and that's why Galaxy S6 was not waterproof.
Samsung Galaxy S7 and S7 Edge: Gaming
Galaxy S7 and S7 Edge, both are optimized for multimedia, in particular for games. Game Launcher and Game Tools let you focus on the game by turning off call and message alerts and play games longer with lower battery consumption. You can easily recording your game, take screenshots, and share them with your friends or online.
Furthermore, Galaxy S7 and S7 Edge offers next-generation graphics performance. Thanks to the Vulkan API, which is used for the first time in the mobile industry, you can enjoy even faster and more detailed graphics in maximized performance.
Samsung Galaxy S7 and S7 Edge: Offer New Experiences via Accessories
Samsung is renowned not only for its Smartphones but also for being a technology leader that builds products and services, providing meaningful innovation in our lives. Galaxy S7 is a gateway to a world of devices, such as Gear VR, Gear 360 and Gear S2, which offers new experiences to consumers. With the full field of view from the realistic 360 degrees camera of Gear VR, you can have a breathtaking experience.
With the full field of view from the realistic 360 degrees camera of Gear VR, you can have a breathtaking experience.
With Gear 360, you can change the way memories are captured and experienced. Your memories will become even richer than what you see and remember with your own eyes. Gear S2 with its circular UX will definitely up your Style Quotient. Also, there are lots of stylish cases of Galaxy S7 available in the market for these devices, that you couldn't resist buying one for your phone.
Samsung Galaxy S7 and S7 Edge: Technical Specifications
Samsung Galaxy S7
Samsung Galaxy S7 Edge
Color
Black Onyx, Gold Platinum, White Pearl, Silver Titanium
Dimensions
142.4 x 69.6 x 7.9mm, 152g
2.5D Glass (Front) /
3D Glass Rear
150.9 x 72.6 x 7.7mm, 157g
Dual Edge Curved Glass (Front) /
3D Glass (Rear)
Camera
Dual Pixel 12MP OIS (F1.7) + 5MP (F1.7)
AP
2.3Ghz x 4 + 1.6Ghz x 4 Octa Core (Global including Indian Variant)
2.15Ghz x 2 + 1.6Ghz x 2 Quad Core (USA, China and Japan Variant)
64bit, 14nm process
OS
Android 6.0.1 (Marshmallow)
Memory
RAM: 4GB LPDDR4
Internal Storage: 32 GB (UFS 2.0)
External Storage: microSD up to 200 GB (Hybrid SIM Tray)
Battery
3,000 mAh
3,600 mAh
Charging
Fast charging both on wired and wireless.
Wireless charging compatible with WPC and PMA
Network
LTE Cat 9 (450/50Mbps), 3CA
Connectivity
WiFi 802.11 a/b/g/n/ac (2.4/5Ghz), MU-MIMO,
Bluetooth v 4.2 LE, ANT+, USB 2.0, NFC, Location
Water Resistance
Capless Water & Dust Resistant (IP68)
Game
Next generation of graphic API (Vulkan), Game Launcher, Game Tools
Sensors
Accelerometer, Proximity, RGB Light, Geo-magnetic, Gyro, Fingerprint, Barometer, Hall, HRM
Payment
Samsung Pay (MST, NFC)
Audio Codecs Supported
MP3, M4A, 3GA, AAC, OGG, OGA, WAV, WMA, AMR, AWB, FLAC, MID, MIDI, XMF, MXMF, IMY, RTTTL, RTX, OTA
Video Codecs Supported
MP4, M4V, 3GP, 3G2, WMV, ASF, AVI, FLV, MKV, WEBM
Security
Samsung Knox activated (Secure/Trust Boot, Rollback Prevention, TIMA, DM-Verify), Find My Mobile, Smart Manager
Migration
Smart Switch