Auto Expo 2016 has been a great success for showcasing cars and bikes. But this year, it was not just about cars, it also included a majority of car services like hiring self-driven car which is becoming a trend recently. And the surprising part was, you can get access to these car models or can even rent out your dream car any day. With a big fleet of cars like Audi, BMW, Mercedes, Toyota and many more, companies like Myles or Carzonrent are becoming consumer first choice for renting out a self-driven car.
And with aggressive pricing and discounts on various occasions, people rent out Merc or Audi for a long drive or roaming places in style. That's why self-driven car usage increased from 2% in 2014 to 17% now. And that also includes carpooling of rented car. Also, at Auto Expo 2016, we enjoyed some biggest car launch of this year, including the showcase of few supercars too. We have covered for you the first glimpse of these super-luxury cars and also found the way to get them on rent. Do check out complete post and the method at the end:
1 – 2016 BMW X1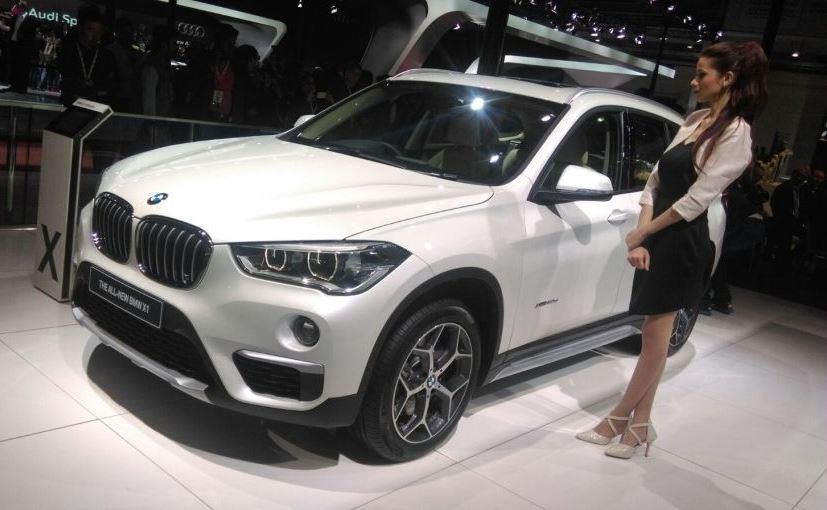 This BMW X1 was launched at Auto Expo 2016 and is the second generation model by BMW priced between INR 29.9 to INR 39.9 lakhs, ex-showroom, New Delhi. It is available in 4 variants and is locally assembled at BMW's factory in Chennai. Changes from previous models of this car include a larger pair of kidney grills, LED headlamps, revised front bumper, redesigned alloys and rear bumper.
2. BMW i8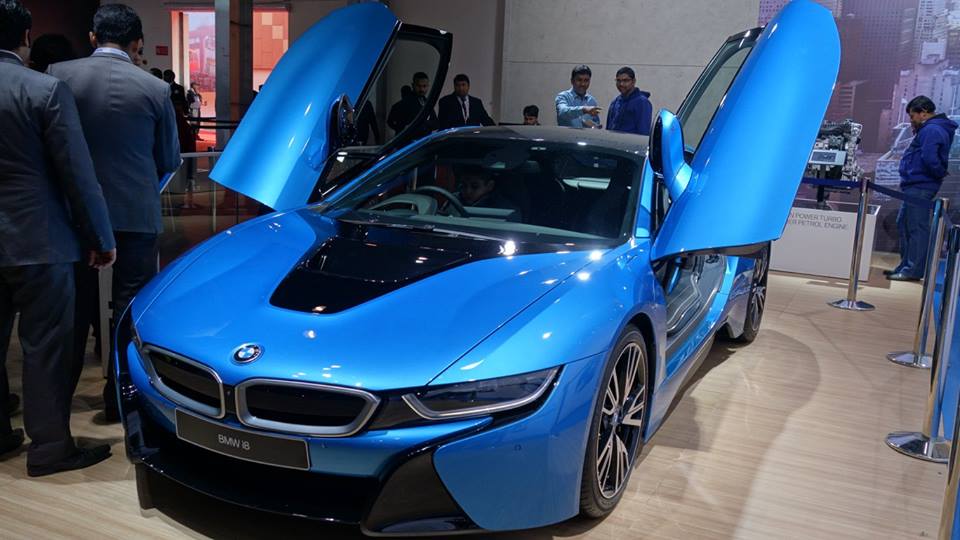 BMW i8 – another hybrid electrical vehicle, but sporting a dynamic styling and is aimed at sports enthusiasts. This car is a hybrid vehicle means it runs on both petrol and electric unit. The electronic unit generates a power of 131 bhp and drives the front wheels, whereas the petrol engine is capable of producing 231 bhp of power. BMW i8 is capable of speeding from 0 to 100kmph in just 4.4 seconds. This car costs 2.4 crores in India, and the official launch date is still unknown.
3. Audi SQ5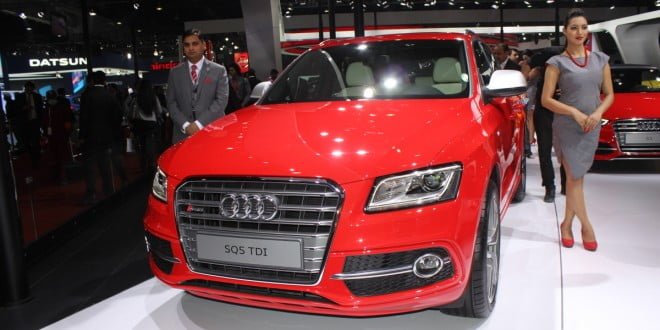 As per the information we have, Audi India would launch SQ5 TDI as a niche performance SUV, powered by 3.0 LTR TDI twin-turbo V6 engine running on diesel. The engine of this model would develop 326 PS of power and 650 Nm of Torque. As the name suggests, it comes only in diesel variant and has 8-speed Tiptronic transmission. SQ5 is the only variant from Audi, which is included in the S range of performance variants. Also, this model sits lower due to sports suspension. Hence, performance on Indian roads is highly unpredictable.
4. Audi R8 V10 Plus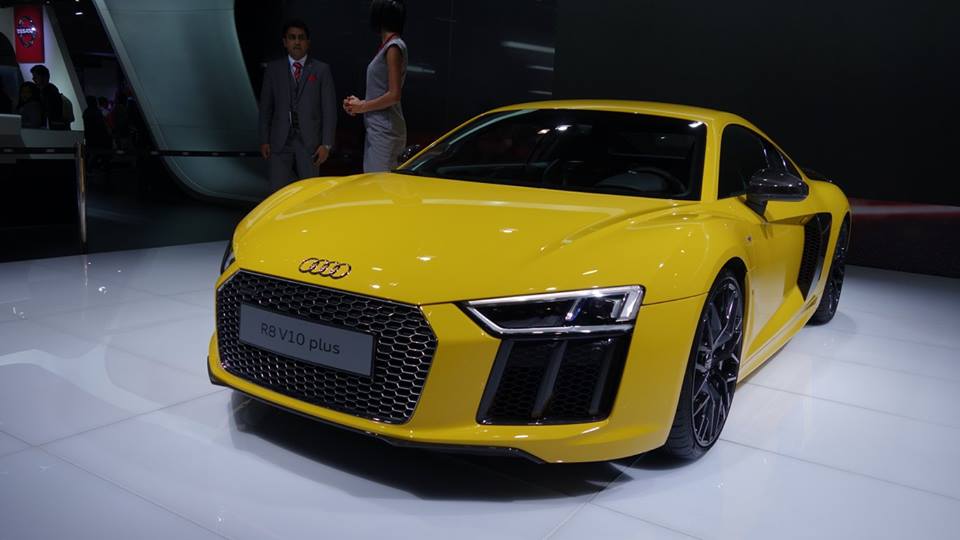 Audi R8 V10 Plus was launched at Auto Expo 2016 at a price of Rs. 2.47 Crore Ex-showroom, Delhi price. Cricketer Virat Kohli and Bollywood star Alia Bhat did the unveiling of this sports car in India while it was first unveiled globally at the 2015 Geneva Motor Show.
5. Audi A6 Allroad Quattro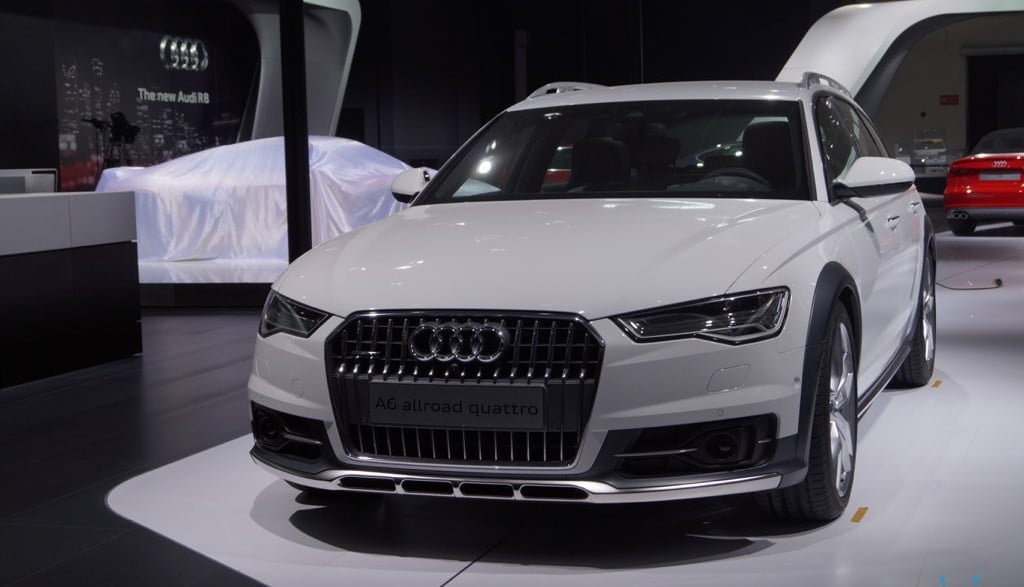 Audi A6 Allroad Quattro is a performance version of the A6 estate model (which would be launched later in this year) came with a distinguishing body style and powered by a 4.0-litre bi-turbo V8 RS7 engine which develops 560 hp of power and 700 Nm of torque. This model would be modified to suit Indian road condition like high ground clearance and all-wheel drive system.
6. BMW X5 xDrive30d M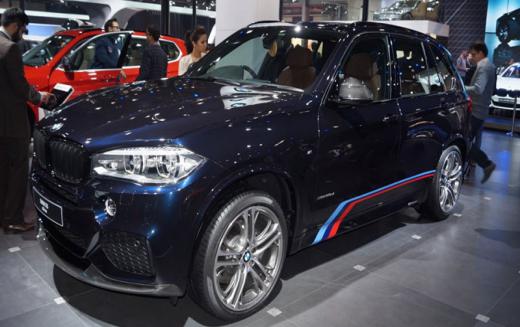 BMW showcased their next M sports variant at Auto Expo 2016 i.e. the BMW X5. This car pricing starts from INR 75,90,000 (ex-showroom, Delhi), BMW X5 xDrive30d M Sport shortens the gap between the regular and sports models of BMW. This car also gives tough competition in terms of exterior and interior styling.
7. Datsun Go-Cross Concept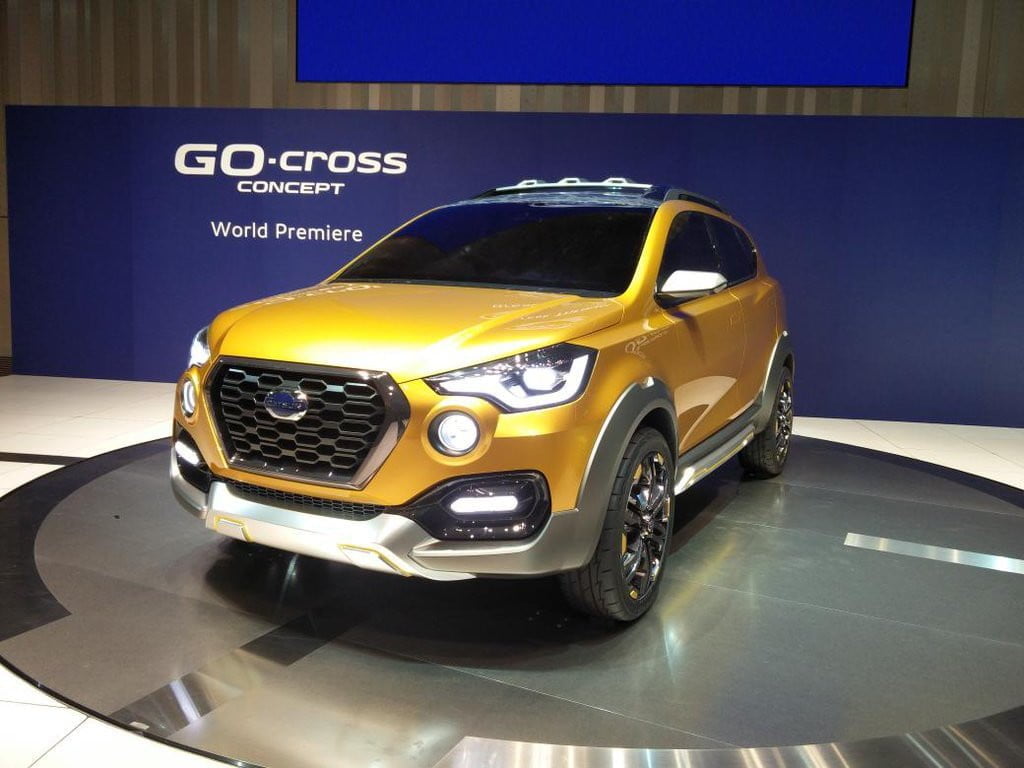 Datsun Go-Cross Concept is designed, and the base platform is kept the same as that of Datsun Go+ hatchback. This car is meant to change the economic vehicles manufacturer tag from Datsun and this will be the flagship model of them. The Go-Cross represents the future offerings from the company and what innovations they're capable of.
8. Mahindra XUV Aero Concept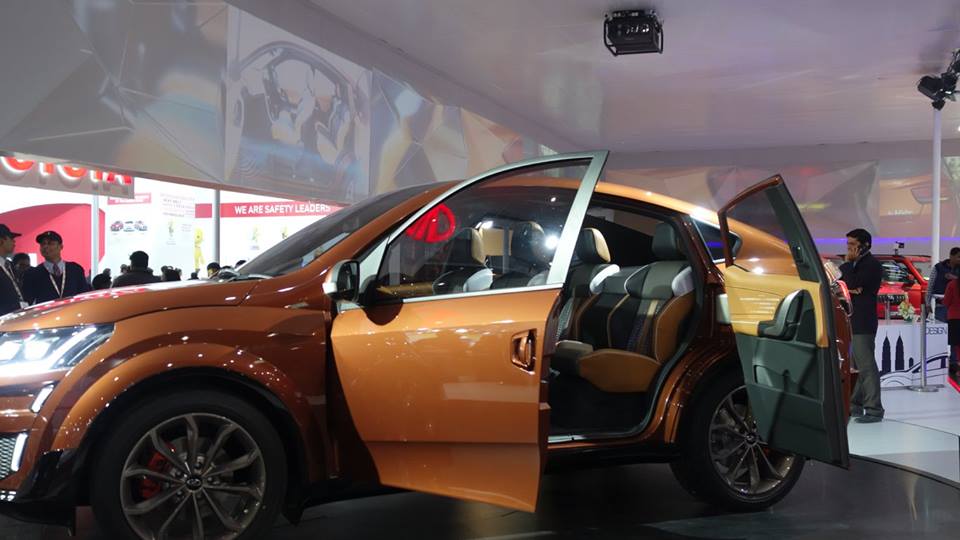 Mahindra called their model XUV Aero Concept as the show-stopper at Auto Expo 2016. This model is capable of accelerating from 0-100 km/h in 6 seconds. The unique thing about this model is the way the doors or car opens and some design modifications are unforgettable. Powered by 210hp mHawk diesel engine, XUV Aero would only if it gets enough customer interest and demand justified volumes.
9. Renault Eolab Concept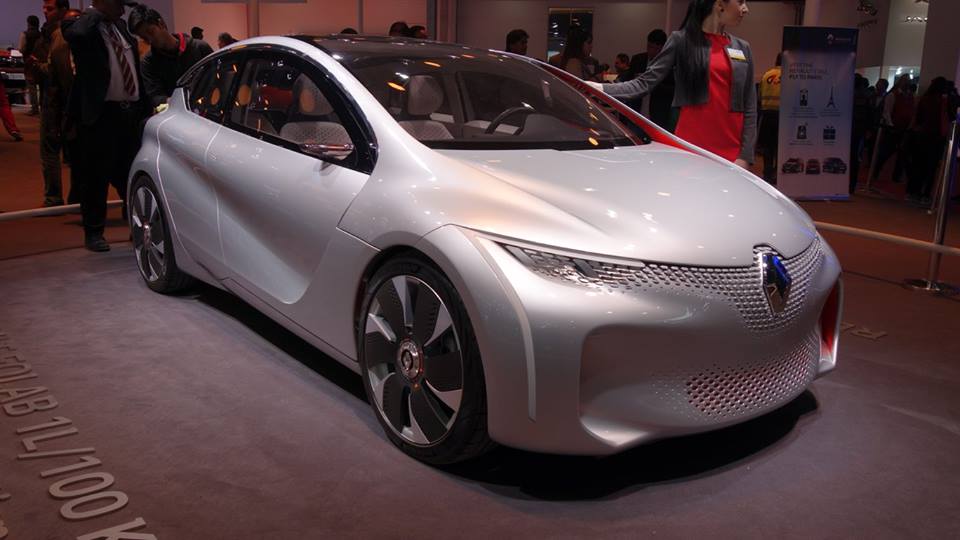 Renault Eolab is the first step by the company towards manufacturing eco-friendly cars yet it's a concept model only with no signs of manufacturing coming years. Eolab is a plug-in hybrid hatchback which can run close to 100km with 1ltr of fuel. This concept car is a B-segment vehicle platform which integrates technology to achieve extremely low fuel consumption.
10. Fiat Avventura Urban Cross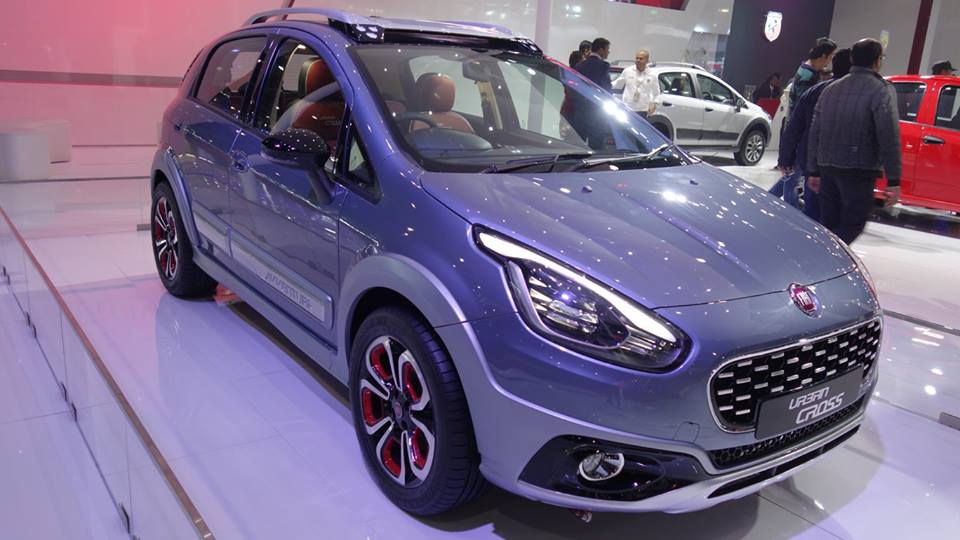 Fiat only did an unveiling of Avventura Urban Cross at Auto Expo 2016. They have not mentioned when they'll be launching it officially. About the car, it comes with a 1.4 LTR T-Jet petrol engine producing a max power of 138bhp and 210Nm of torque and five-speed manual transmission. It'll come with features like LED optical guide taillights, 17-inch alloy wheels and indicators on the outside rearview mirrors.
11. Ford Mustang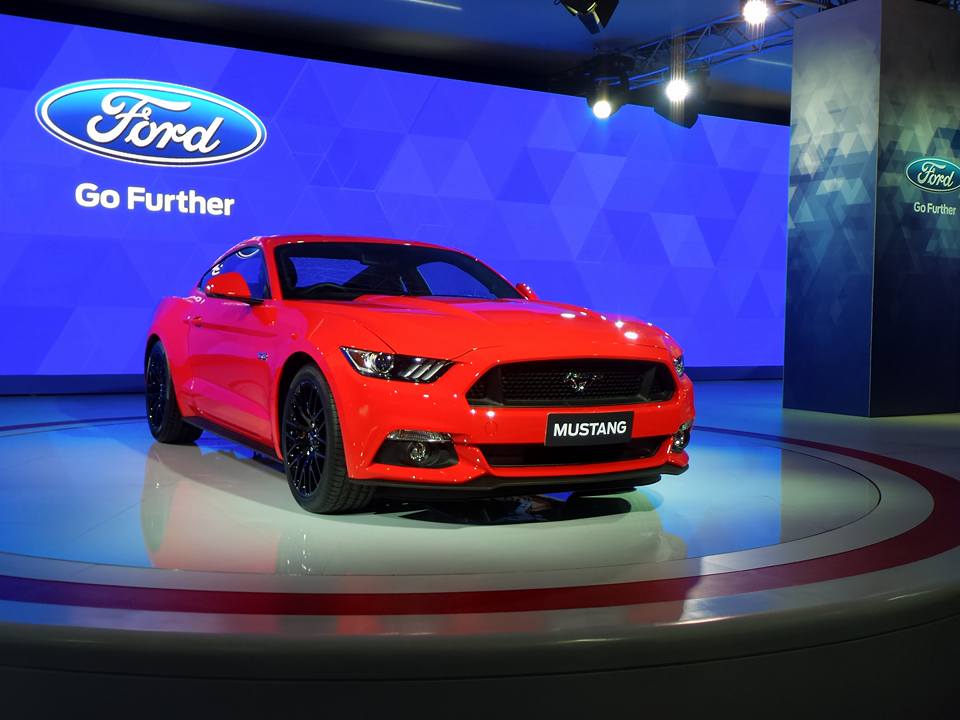 Ford took the very right time of bringing the Mustang to India at Auto Expo 2016 as it stole the press coverage from others and pulled it to Mustang. This fabulous looking car has a sporty and aggressive look with the front fascia showing off a power bulge on the bonnet. The rear consists of tri-slat LED tail lights, twin tailpipes and a twin-fin diffuser. This car would be launched in the 2nd quarter of 2016.
12. Chevrolet Beat Activ Concept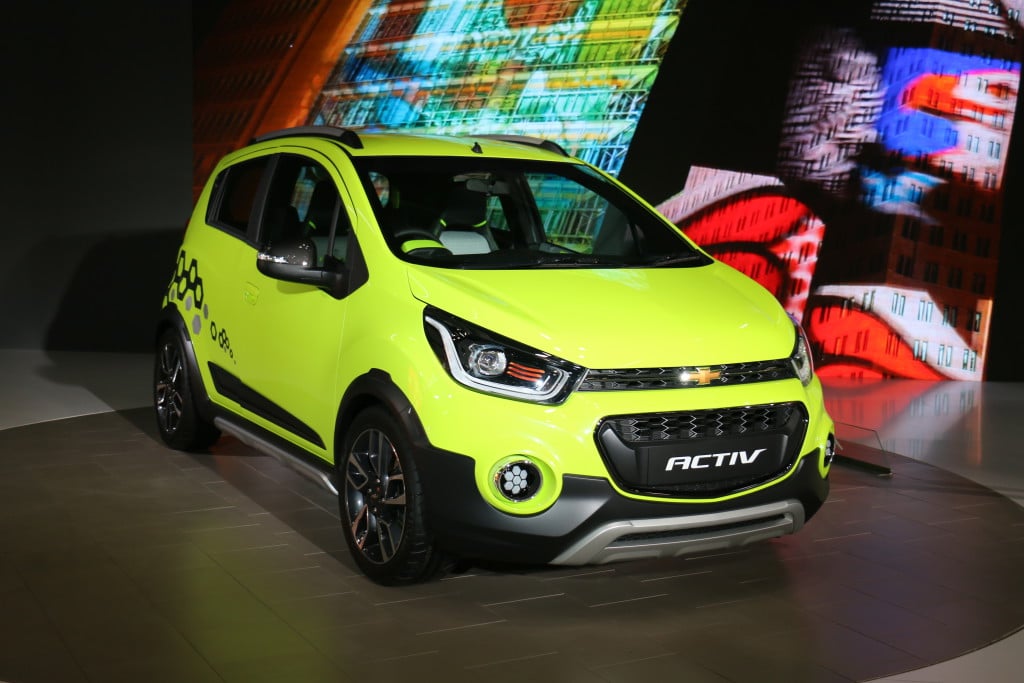 General Motors has unveiled its new concept i.e. Beat Activ at Auto Expo 2016. This car is a pseudo-crossover based on their upcoming model in 2017 i.e. Beat Hatchback. However, this model defines a new design language for GM. Significant changes in the design include LED lighting in the headlamps and fog lamps, two-tier grille, black plastic cladding on the bumper and skid plate.
13. Jaguar F-Pace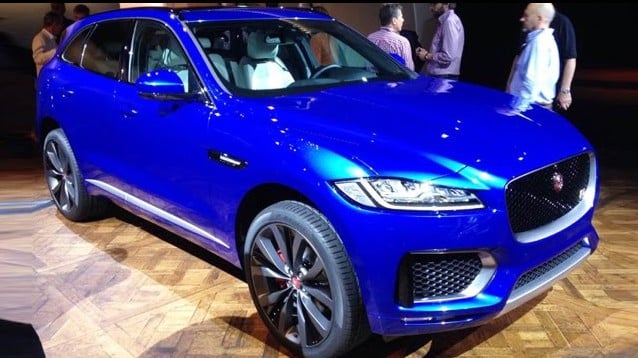 Jaguar Land Rover India also unrelieved their new model Jaguar F-Pace at Auto Expo 2016. This sports car model would rival Porsche Macan in India. This model is specially made of all new iQ aluminium intensive platform which makes it better than it's previous models i.e. Jaguar XE and 2016 Jaguar XF. Hence, this car is lighter in weight and offers better handling and fuel efficiency.
14. Chevrolet Corvette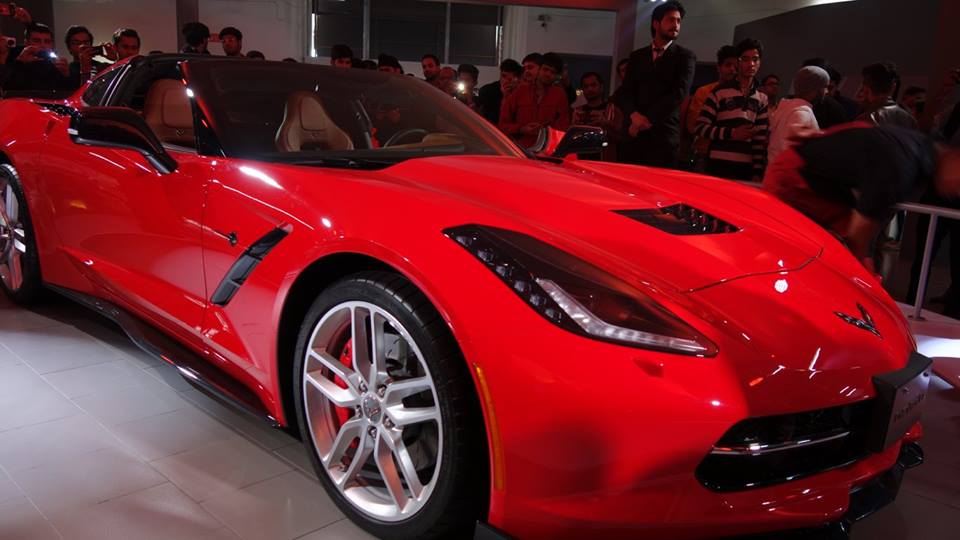 To show the company's design capabilities, GM also showcased their American flagship performer car Chevrolet Corvette. This car is powered by GM's 6.2 LTR LT1 V8 engine SAE-certified at 455 hp (339 kW) and 460 lb.-ft. (624 Nm). This car just looks fabulous in design and has the fifth generation small Block engine with a 7-speed manual transmission with Active Rev Match or a paddle-shift 8-speed automatic transmission. Corvette can hit the speed of 0-60 mph (0-97 km/h) in just 4 seconds. It also offers 5 driving modes to select from – Weather, Eco, Tour, Track and Sport.
15. Toyota Mirai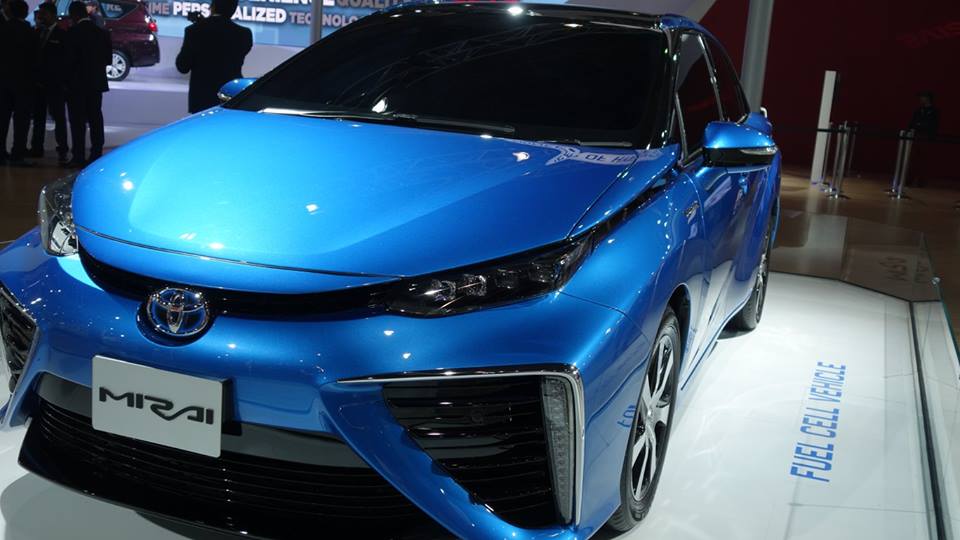 Toyota Mirai is another entry by Japanese manufacturer's Toyota, which is driven by the hydrogen fuel cell. This car is not getting launched in India anytime soon because of its cost. The first unveiling of this car happened in 2014 in Japan and, later on, made its appearance at Geneva Motor show in 2015. Powered by a stack of hydrogen fuel cells which produce a max power of 153 hp with an output density of 3.1 kW/l, this car design is completely futuristic and impressive.
How to Get Such Premium Cars on Rent?
Mylescars.com is one of the best company I know who provides affordable Self-driven cars on rent. Myles is a simple self-driving solution company which connects a car to users through telematics technology and booking goes through mobile and web-based applications. Once booked, the car for the booked time slot is fixed for the user and any car can be booked for a minimum of 2 hours and max of 3 months in one booking depending on one's need. Myles has over 250+ locations in 21 cities to pick your booked car. At metro cities, like in Delhi, you can easily find a location of the metro station to pick a car.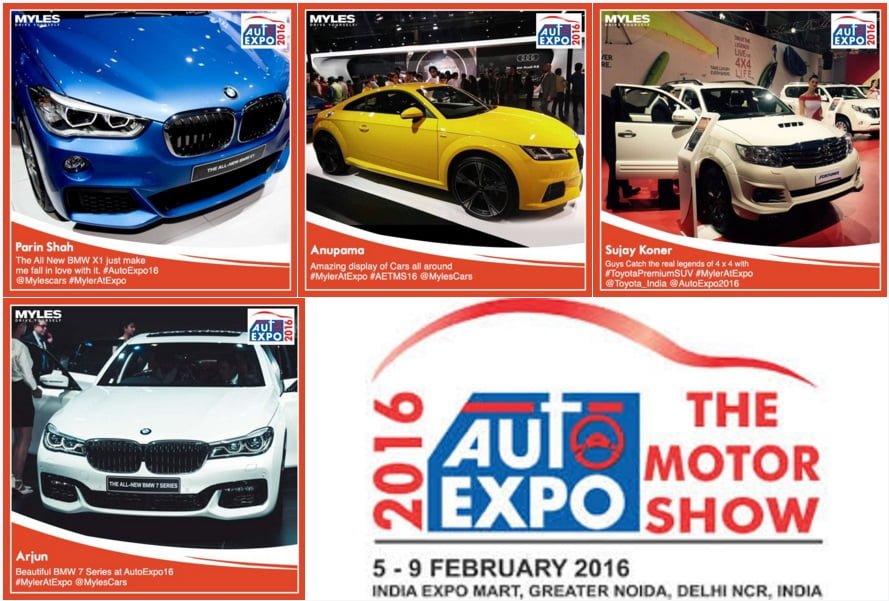 Myles also has the biggest fleet of cars to choose from. Most car models are diesel cars, and for hourly booking, fuel charges are included. Their fleet of cars includes many super luxury cars like Audi, Mercedes, BMW, Toyota and also include daily Hatchbacks like Swift, Figo, Beat, i20 and many more. There are in total 38 cars to choose from and rent starts from 100rs/hr for Swift, which is very reasonable and includes the cost of fuel too.