LG India, the leading manufacturer in air conditioners, recently launched a new series of air conditioners with new features like Himalaya cooling, Monsoon comfort and a unique technology named Mosquito Away Technology that keeps mosquito's away effectively from user. This season LG has strive to bring new features to air conditioners to provide more valuable features which ultimately increase the overall value of money of the product.
Mosquito Away Technology
Now-a-days, mosquitoes are a big threat to family health and the conventional mosquito repellant are not much effective to keep mosquitoes away from users and even sometimes those prove harmful to users by leaving various side-effects. and here, LG has promised to give a highly effective way to keep yourself comfortable in summers by superior cooling of air conditioner as well as helping in keeping mosquitoes away by providing a better protection.

This technology has been developed after extensive research in which they identified an optimal ultrasonic wave range which mosquitoes are unable to understand. This sound wave is emitted at a frequency which is non-detectable by human ear but it does drives mosquitoes away. And since, there are no chemical used in this process, hence it's odor-free as well.
How Mosquito Away Technology Works
Switch on the power and activate Mosquito Away feature with the dedicated key on remote control. Mosquito Away feature can work when the power is ON, even if the air conditioner is not running.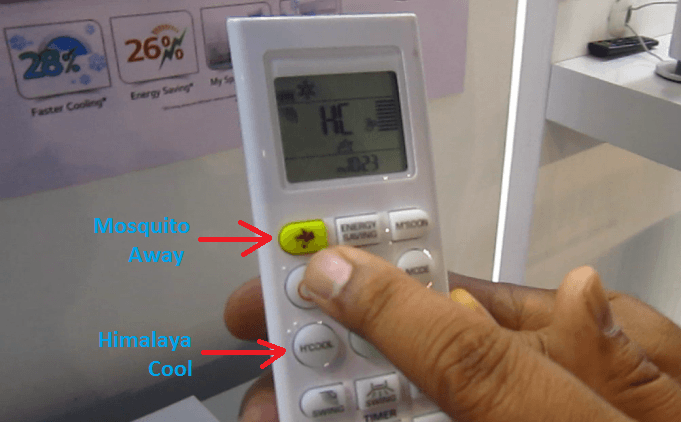 Ultrasonic sound waves are emitted at a frequency that affects the mosquito. The Mosquito Away technology reduces the mosquito's ability to detect the Carbon dioxide (CO2) and hence they also gets unable to detect human presence.
This process results in mosquitoes getting inactive and then they go away or say, just get repelled.
Benefits of Mosquito Away Feature
Totally safe for humans and bad for mosquitoes, and hence better protection again mosquito-borne diseases.
Totally free from chemicals and hence odor-free.
Ultrasonic sound waves are safe for humans.
Since, no liquid repellent is used in this technology, hence there is no expenditure on frequent refillings.
Mosquito Away technology is certified by world renowned product testing and certification labs such as llBAT, lntertek & TUV NORD.
Himalaya Cool Technology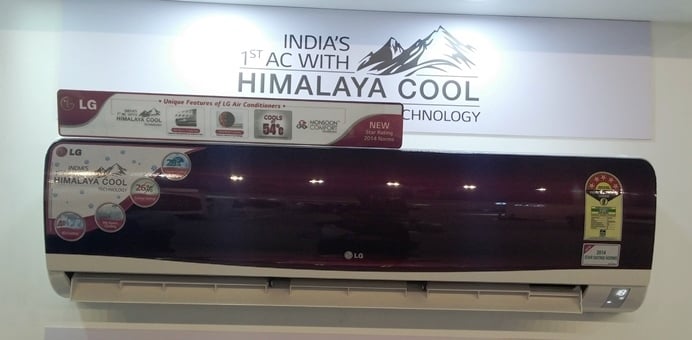 Himalaya cool technology is developed keeping one point in mind to provide consumers cooling as soon as possible, as they switch ON the air conditioner. In a similar manner of mosquito away button on remote, there is a dedicated button of Himalaya cool too. The Himalaya cool technology provides instant cooling to user by focusing on cooling the living space through smart airflow & 2 times faster vertical air swing.
How Himalaya Cool Technology Works
This technology works by creating a virtual air shield and spread the cool air with faster vertical swings.
Air Shield Explained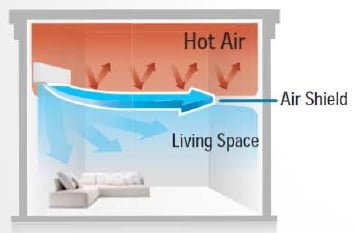 The air conditioner delivers cool air to the living area by creating a virtual air shield and separate the ceiling area and living space. Hence, it blocks the hot air in the ceiling area from entering the living space, resulting in providing an effective cooling.
Faster Vertical Swing Explained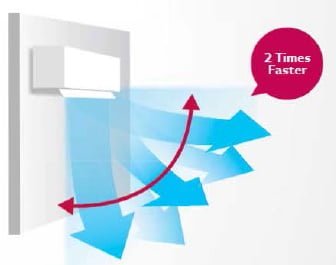 Air conditioners with Himalaya cool feature houses powerful fan speed and with 2 times faster louver speed, it helps dispersing cool air in a faster mode for providing instant cooling and maximum comfort to the user. In short, the flow of cool air is directed at the living space at high speeds and cooling gets faster.
Benefits of Himalaya Cool Technology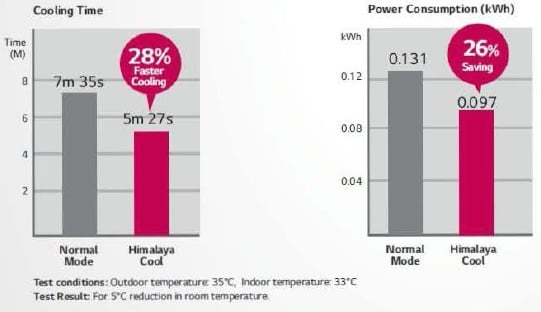 Living space gets 28% faster cooling (if compared with other conventional non-inverter air conditioners)
You save money in electricity bills by saving up to 26% of electricity usage. Hence, more power savings.
My space cooling – which cools the living space quicker for maximum comfort.
Monsoon Comfort Technology
During monsoon season, if you're not having an air conditioner with De-humidification Mode, running that will make the room uncomfortably cold and will also consume more energy. Here, LG air conditioners gets an edge by providing comfortable cooling and greater energy savings using monsoon comfort technology. This technology helps in maintaining the right level of temperature and moisture level for providing ultimate comfort. There is a dedicated button too for this feature on remote control.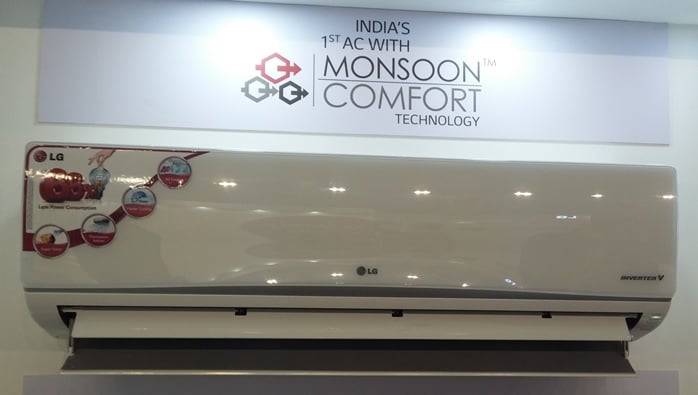 When you activate this feature via remote control, the 7 level temperature control system in air conditioner will automatically adjust the indoor temperature of the living area. And since it adjusts the temperature according to the surrounding temperature, there is no chance that the indoor temperature may get uncomfortably low. And similarly, this also helps in energy savings up to 36%.
How Monsoon Comfort Technology Works

By using inbuilt Subdivided Temperature Control matrix, the air conditioner will automatically sense the ambient temperature and optimally adjust the indoor temperature accordingly while reducing the power consumption. During Monsoons, as the temperature in the room varies between 29-32° Celsius, the Monsoon Comfort technology creates a comfortable indoor environment and eliminates the need for manual adjustment.
Benefits and Comparison of Monsoon Comfort Technology from LG with Conventional Air Conditioner Humidity Mode

All 3 features stated above are available only in L-terminator series of LG Split air conditioners currently, which also include 4D-cooling feature too. Air conditioner in this series are available in 2, 3, 5 star for 1 ton to 1.5 ton and 2, 3 star in 2 ton model. And not to forget, these air conditioners are up to date for 2014 norms too.