Honda continued to keep its presence in the 250cc segment by CBR 250 since 1986 till 1996 then the CBR 250 was forgotten by the company but not by the enthusiasts, the absence of Honda and deficiency of Japanese bikes in this segment, in turn, maintained the supremacy of the Kawasaki Ninja 250.
HONDA CBR250R ABS 2012 REVIEW
The models produced during the period of 1986 to 1996 were high revving screamers with in-line four-cylinder configuration giving out the max output of 33 kW of raw power. The sounds on these machines might have been echoing in the minds of the R&D guys in HONDA. That's why Honda percieved a re-entry in the quarter-litre segment but with a completely different approach, The tagline selected was "Sports Quarter for One World". This time Honda had two very prime objectives to achieve.
1. It should be optimized for every class of riders (Read in terms of Size, Power and Handling)
2. It should merge the two segments of riding (Read in terms of Acceleration and nimbleness)
Honda did a great job and rolled out the CBR250R in 2011 for the riders in the world, which was fresh from the oven product with a complete newly designed body and heart, the bike came with C – ABS which was a unique feature to any 250 cc bike globally.
Especially in India, this product came in VFM tag because the closest contender Baby Ninja was way too pricey than the CBR. Initial deliveries began and the good and bad started rolling in, Many said this is a doomed product and will not sell because of the power and the quality issues but time moved on and the product continually generated sales in decent numbers and Honda eventually addressed all the issues based on research and consumer feedback.
On one eventful day of March 2012, I got my hands on a sparkling new Honda CBR250R ABS variant. Even though the buying experience consists of two months of rigorous search and comparison between the CBR250R vs R15 V 2.0 and Duke 200 even though all these are as different as chalk and cheese but the MONEY factor was hovering around a similar price band. I initially intended to go for an HRC colour scheme which was to be launched but the availability and bookings with the dealers were way off the charts and waiting around two months or so, Hence I settled for an Asteroid Black metallic colour option.
Experience till date has been very pleasant and I anticipate the future journeys to be much more comfortable and confident as I get the feel of the machine and learn all the attributes, qualities and demerits of the bike.
Honda CBR250R Variants Available
CBR250R 2012 is available in two variants;
CBR 250 R: Standard Honda CBR 250R with Bybre brakes and without combined ABS.

CBR 250RAB: Honda CBR250R WIth Combined ABS and Nissin brakes.
Honda CBR250R Looks
The appearance of the bike is superb and the front end looks similar to the VFR league and the side stand is a direct lift from the Fireblades, The bike is BIG but it feels a little smaller and can be zipped around, given the rider is of a hefty built. Looks will be described more in upcoming Ownership review of it.
Honda CBR250R Engine
The moment you crank the engine you start feeling the sweet sound of a four-stroke engine humming, Initially, the RPM indicates 2000 which gradually settles down to 1500 due to in-built choke mechanism in the FI system for ensuring the correct temperature of operation for the engine. The transmission is butter smooth and precise, one can simply count the gears and really feel the shifting as you cruise along. Clutch is ultra soft and it takes some time to get accustomed to. The exhaust note is pleasant but can be improved if one wants a louder engine note, Many accessory shops are now importing and retailing accessories for CBR and are in the affordable range.
Honda CBR250R Technical Specifications:
Sales name

CBR250R

Model type

Honda MC41

Overall length × Overall width × Overall height (m)

2.035 × 0.720 × 1.125

Wheelbase (m)

1.370

Ground clearance (m)

0.145

Seat height (m)

0.780

Curb weight (kg)

161 (STD) 165 (ABS)

Riding capacity (No. of people)

2

Minimum turning radius (m)

2.5

Engine type

CS250RE, liquid-cooled 4-stroke DOHC single cylinder

Displacement (cm³)

249

Bore × Stroke (mm)

76.0 × 55.0

Compression ratio

10.7

Fuel supply system

Programmed fuel injection system (PGM-FI)

Starter type

Self-starter

Ignition type

Full-transistor battery ignition

Lubricating type

Wet sump

Fuel tank capacity (L)

13

Clutch type

Wet multiplate with coil springs

Transmission type

Constant mesh 6-speed return

Transmission gear ratio

1-speed

3.333

2-speed

2.118

3-speed

1.571

4-speed

1.304

5-speed

1.115

6-speed

0.963

Reduction gear ratio (primary, secondary)

2.808 / 2.714

Caster angle/Trail (mm)

25º00´/ 95

Tire size

Front

110/70-17M/C

Rear

140/70-17M/C

Brake type

Front

Hydraulic disk

Rear

Hydraulic disk

Suspension type

Front

Telescopic

Rear

Swing arm (Pro-link suspension system)

Frame type

Diamond
Honda CBR250R Color Options
Both variants of CBR 250 R are available in Three colour schemes;
Candy Ruby Red X Accurate Silver Metallic

Pearl Heron Blue (Tri-Color)

Asteroid Black Metallic X Accurate Silver Metallic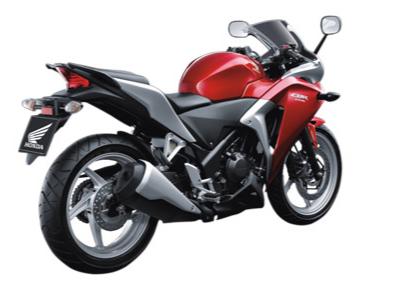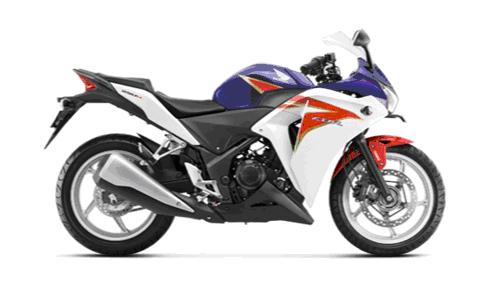 Honda CBR250R Brakes
On the standard variant, both wheels receive Disc brakes from BYBRE are pretty decent and serve the purpose well, most importantly it gives the rider complete control for the braking of the bike.
The C-ABS variant though pricey but has created quite a stir among the tourers and is considered VFM even the price has been declared as exorbitant by many. C-ABS is considered to be an unessential aspect in this bike by many but the feature is very helpful under stressful and impromptu braking conditions. Though the price difference is substantial but it is worth opting for. The C-ABS system uses NISSIN Brakes and is at par to the standard variant.
Honda CBR250R Options Available
This motorcycle comes with a standard warranty of two years which is extendable to five years on payment.
HMSI also provides Roadside assistance on a very menial amount. It is a very useful option and is handy.
The insurance plan also provides an option for 0% depreciation plan which includes even the plastic parts of the bike under the insurance cover.
Honda CBR250R Mileage
The most important and prominent question every automobile faces in this Country " KITNA DETI HAI". Well if you are well within the specified speed limits directed by authorities (i.e. less than 70 kmph) then you can get around 40 kmpl, in case you are speed freak and try to extend the bike to the limits than the mileage will be restricted to 30 – 32 kmpl. Many have claimed to get 40+ kmpl mileage when cruising on Highways at 100-110 kmph.
Honda CBR250R Price
City

Model

Ex-Showroom

On-Road

Delhi

CBR 250R STD

148112

* 162549

CBR 250R ABS

173829

* 190618

CBR 250R STD TRICOLOR

149131

* 163660

CBR 250R ABS TRICOLOR

174848

* 191730

Mumbai

CBR 250R STD

156427

* 170108

CBR 250R ABS

183365

* 199243

CBR 250R STD TRICOLOR

157482

* 171249

CBR 250R ABS TRICOLOR

184433

* 200397

Chennai

CBR 250R STD

152880

* 167802

CBR 250R ABS

179054

* 196371

CBR 250R STD TRICOLOR

153917

* 168934

CBR 250R ABS TRICOLOR

157285

* 197503

Kolkata

CBR 250R STD

152451

* 159783

CBR 250R ABS

178644

* 186276

CBR 250R STD TRICOLOR

153489

* 160832

CBR 250R ABS TRICOLOR

179681

* 187325
*On road price does not include optional items like – Accessories, Extended warranty, AMC…
Tricolour variants are costlier by a menial amount and worth for if you wanna have that true racing color schemes.
Disclaimer: The author is not associated with HMSI in any manner and the opinions thus expressed are sole of the author based on his experience and rides.