Samsung India has announced the new IntensiveWash Dishwasher range in India. The new lineup of dishwashers is explicitly designed for Indian cooking. It is designed to remove grease, leftover oil, burnt stains, and baked-on food from cookware, dishes, and utensils. The new lineup comes with Samsung's IntensiveWash™ program, which helps clean heavily soiled pots, pans, kadhai, and cookers.
While commenting on the launch, Raju Pullan, Senior Vice President, Consumer Electronics Business, Samsung India, said, "Maintaining high standards of hygiene, especially in the kitchen is very important for every Indian household. Our new range of Dishwashers for India have been designed to offer ultimate hygiene, while also being energy and water efficient. We are confident that our new range will help consumers to upgrade their lifestyles and bring in a new level of convenience, especially in these times when many of them are working from home."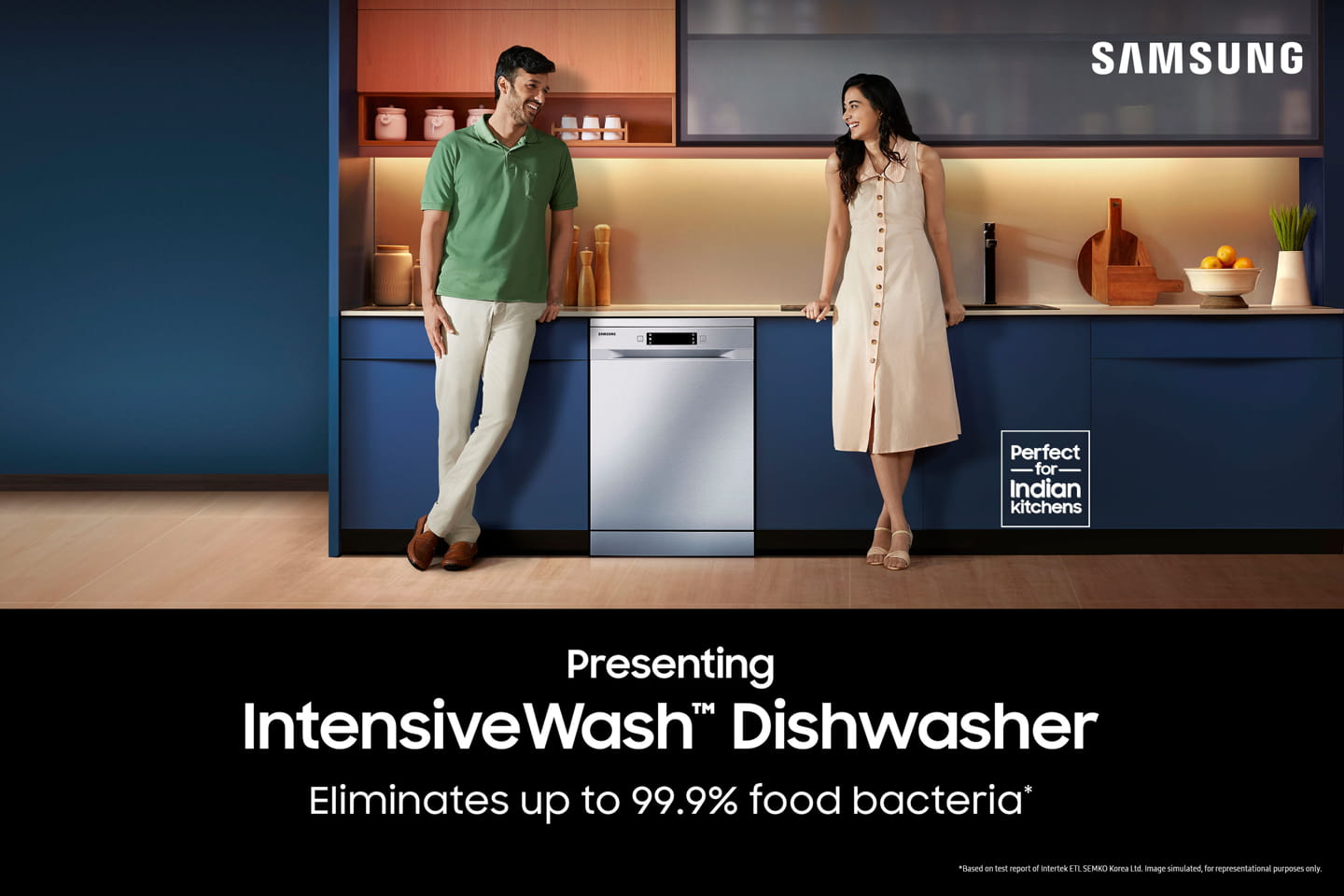 The new dishwashers wash utensils at a temperature of 70°C with its Triple Rinse feature, which Samsung claims can kill 99.99% of bacteria. The AutoRelease Door automatically opens at the end of a cycle to circulate air and dries dishes faster. When the rinse and dry is complete, the door automatically opens 10cm to allow steam to escape.
 The new dishwashers come with a stainless steel tub, which is not just more durable but quieter and stays clean. The dishwashers come with a fingerprint-resistant finish and a large and wide LED display that is easy to read. Users can quickly check the status, settings, remaining time, and cycle progress at a glance.
The new Samsung dishwashers come with an intelligent leakage sensor that protects from any water leaks. If the sensor detects any leakage, it immediately stops the cycle, drains the water, and shows an error message. The height of the new Samsung dishwashers can also be adjusted to make it easier to put large size utensils in Dishwasher. Users can easily adjust the upper rack up & down so that they can keep large cooking utensils.
Samsung's new range of Dishwashers comes in Stainless Steel Silver, and White color options and will be available in four models on Samsung's official online store starting October 07. The new lineup starts at ₹39,500, along with attractive EMIs and cashback offers.