Airtel, the 2nd biggest network in India, which is unfortunate for such a good network company, built good networks, spent heavily on advertisements, and yet are losing customers to JIO most on a daily basis, followed by Vodafone-Idea. But what could be the reason for that? First thing, not investing much on the existing network set up to make it better and running after newer things which have almost no reach nor the requirement. Rather than working on improving the 4G coverage, they are advertising heavily on gimmicks, which they ultimately fail to deliver. JIO network coverage is like okay, it works anywhere I go, it's not if A+, it's not even a deal-breaker. Even Airtel network fails to reach my bedroom; hence I moved to JIO a few months back after waiting for at least six months with Airtel, in the hope that they might fix the network coverage issues. But nopes, they didn't.
Another biggest issue is making false promises to customers. Airtel first lures customers by promising, for example, bundled OTT services and later on revoking them without giving any explanation to the customer. The most prominent example of such blunder done recently by Airtel is revoking the access of the OTT platforms for the Airtel Thanks users. Already these customers are paying a premium amount monthly for which they were promised by Airtel with the access of the OTT platforms, but recently Airtel silently removed them from Airtel Thanks benefits.

Airtel didn't even bother to update the Airtel Thanks app description or still keeping this false text (shown above) intentionally to get more downloads on the play store. There used to be Netflix 3 months' access too a year back, which was quite popular at that time, and later Airtel stopped that as well.
Airtel here fails to understand that consumer is smart; the reaction to such false practices is hurting Airtel in the longer run. Promising platinum customers recently that they'll have access to a faster network and better coverage is like putting a nail on a coffin thing because those platinum customers regularly complain on Twitter that they didn't saw any improvement at all for network coverage or even better speeds.
No wonder such things have costed Airtel in losing subscribers literally in Millions to JIO and Vodafone-Idea. Many Airtel customers often claim that Airtel is costlier than most other carriers because of better service and speeds. But Jio is now expanding at a much faster pace, and in many parts of the nation, Jio actually provided better speeds.
Let's compare the OTT plans provided by the major telecom network nowadays. And here, even BSNL understands the importance of bundling OTT services in their plan. Even though at present, BSNL provides only Amazon Prime, carriers like Vodafone-Idea and Jio offer Disney+Hotstar, Zee5, along with their proprietary streaming services that let customers watch live TV as well as movies.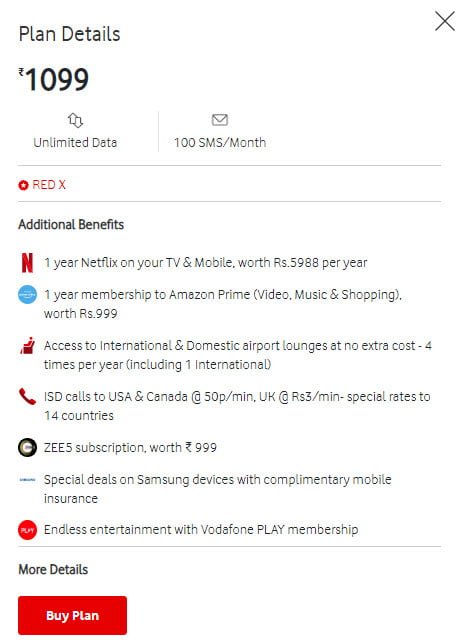 Vodafone, with its RedX Plan worth ₹1099, provides a one-year subscription to Netflix (₹499 Plan), Amazon Prime & Zee5. Now, in that plan, Vodafone users get unlimited data and calling within India. There are many other benefits, as well.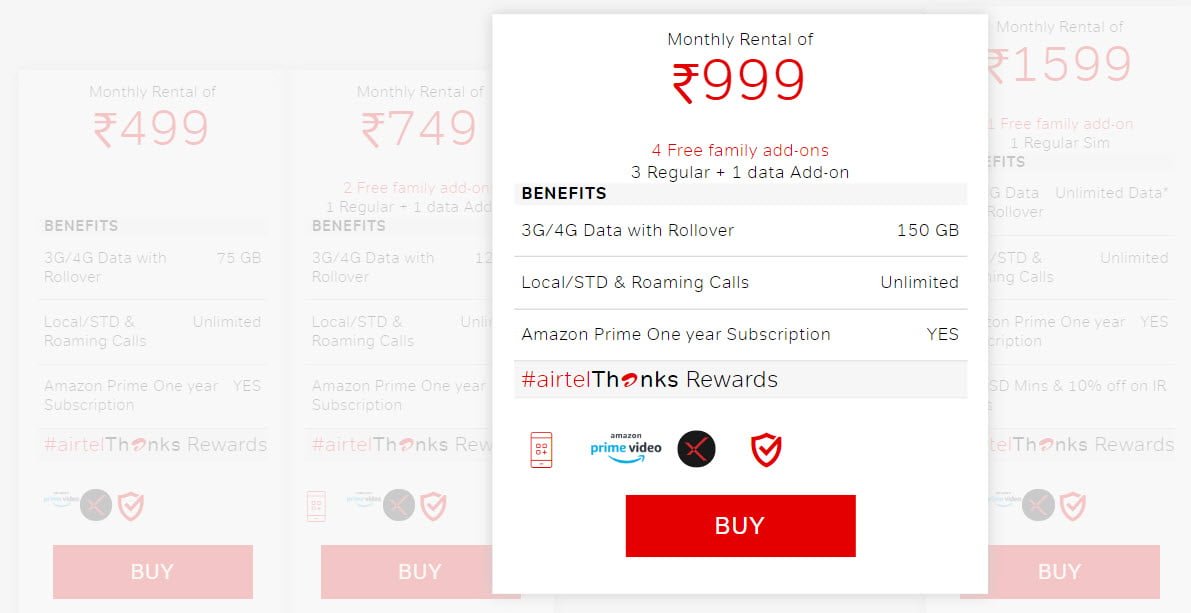 In contrast, Airtel, with its plan worth ₹999, provided just 150GB data per month and unlimited calling within India. Also, in terms of bundled OTT services, there is only Amazon Prime and Airtel XStream.
| | | | | | |
| --- | --- | --- | --- | --- | --- |
| Service Provider | Type of plan | Price in INR | Plan Validity | Data Offered | Services Bundled |
| Vodafone | Prepaid | 249 | 28 Days | 45 GB | Vodafone Play, ZEE5 |
| Airtel | Prepaid | 299 | 28 Days | 45 GB | Aitel Xsream, ZEE5 |
| Jio | Prepaid | 401 | 28 Days | 90 GB | Disney+Hotstar VIP, Jio TV, Jio Cinema |
| Vodafone | Postpaid | 499 | 1 Month | 75 GB | Amazon Prime, ZEE5, Vodafone Play |
| Airtel | Prepaid | 599 | 54 Days | 112 GB | Disney+Hostar VIP, Airtel Xstream |
| Jio | Prepaid | 599 | 84 Days | 168 GB | Jio TV, Jio Cinema |
| Vodafone | Postpaid | 749 | 1 Month | 120 GB | Amazon Prime, ZEE5, Vodafone Play |
| Airtel | Postpaid | 999 | 1 Month | 150GB | Amazon Prime, Airtel XStream |
| Vodafone | Postpaid | 1099 | 1Month | Unlimited Data | Netflix (499 Plan), Amazon Prime, ZEE5, Vodafone Play |
In terms of broadband, Jio Fiber provides a plethora of services, including Netflix, Amazon Prime, Display+Hotstar, ZEE5 as well as SonyLIV & more. Now, here also, due to the abundance of regional content on such streaming services and the ability to log in using one ID, JIO Fiber is more user friendly and offers great value for money. If we look at the overall offerings, Jio Fiber seems to be more balanced for most users.
| | | | | |
| --- | --- | --- | --- | --- |
| Service Provider | Price in INR | Data Offered | Speed | Services Bundled |
| Jio Fiber | 849 | 600GB | 100 Mbps | Disney+Hotstar, Zee5, Sony LIV, Voot, Alt Balaji, Hoi Choi, Jio Cinema, Jio Saavn & more |
| Airtel | 999 | 300GB | 200 Mbps | Amazon Prime, Airtel XStream |
It is quite evident that withdrawing freebies and cutting down OTT services subscriptions will not benefit Airtel at all, but in the longer run, it will hurt its user base for sure. Airtel needs to understand the importance of bundling multiple OTT services in their plans. They need to bring back their old plans, which they initially offered to the consumers.
The content streaming choices we have in India are in abundant. The biggest ones include Netflix, Amazon Prime, Disney+Hotstar, ZEE5, and SonyLIV. Now imagine I want access to all, even if I may not have the time to watch from all, but it all depends on the TV series or movie I want to watch from these services; however, I am also not interested in paying for each service yearly or monthly. This is why the OTT bundling started in the first place. Jio Fiber is the perfect example for a glimpse of what we might see in the future in mobile plans too bundled with OTT services with one common login.
The above tweet is the perfect example that people notice; they are annoyed with Airtel making decisions like a Nazi. Airtel literally makes things complicated for consumers to understand. They use too many flashy and juicy marketing terms that just offer a sense of premium membership, but in the end, it is all but just a facade. And in this crazy jungle of wildly named plans, apps, and services, users are getting lost and sometimes not even realizing that they already paid for something which has been revoked by Airtel.