People think that most people who love tech, live tech and breathe tech mostly just sit in a room, gulp news and updates related to tech, play games in a closed chamber where no one will ever be able to disturb them, and they will live forever in an isolation from most. But, in reality, no matter how much you brag about being a #Foodie #Traveler in your Instagram bio, it's a fact that everyone loves to travel to awesome places and enjoy great food. This is not anything new that it's a part of the human nature that we enjoy some things up to a greater extent like good food, awesome places, and the company of some amazing people. And if I had to travel around the world to a few very unique and also little known, these seven would be my top destinations. Planned trips are nice and organized, but unplanned ones are the craziest and wild ones, and I mostly like being well organized and travel in comfort, and for an international trip, Lufthansa would probably serve that well.
The numbers are infinite, so does travel destinations, where I explore the uncharted territories like a video game character, searching for adventure, treasure, memories and much more. A wise man once said that travelling broadens your mind and that's completely true. The more I travel, explore and meet new people, the more I learn and this is an endless process. Bucket List is something that I just shared, but #TheBlindList is at the next level where I would know very few things in reality about that particular place but will be able to know about it and enjoy the experience. The fun and the awesomeness of #BlindList truly lies in the exploration of corners of the world, places that you had never imagined to have existed. And that's why people have such answers when they were asked, "Why do they love the world?"
What's a Bucket List if it just holds the usual travel destinations, that quite a few people have visited? Probably I would stick to the blend of both unique places along with some of the popular travel destinations, around some of the most tourists gazed nations around the world. So, let's start with that.
1. Moscow
The capital of Russia is beautiful, and a blend of both the thousand-year-old history of the country along with the modern lifestyle, which reflects through the overall look of the city. There are great places that I guess everyone would love to visit including the Red Square, Ostankino Tower, the State Historical Museum and many more. There are no reasons why I wouldn't like to visit such a huge city rather than spending time in some remote places. And Russian architecture is so beautiful, and unique to itself that many people travel there just to witness that with their own eyes and I'm not an exception.
2. Cliffs of Moher
Cliffs of Moher is interesting due to the uniqueness of the place itself as the sea cliffs stretch up to 14 kilometres in length and are 120 meters high from the Atlantic Ocean, where there is an abundance of greenery, a view of the ocean and nearby islands.
3. Seljalandsfoss
Straight out of some sort of MagicaL Adventure, Seljalandsfoss is a waterfall located in South Iceland where I can just sit down, and stare at the Northern Lights. The Northern Lights are beautiful, mystical, as unique it is to nature, so does it related itself to science. This phenomenon has been surprising me for years, even though videos and photos, and in real life, I can assure that maybe I will just do something wild if I really get there. As photogenic, it can be, the place is perfect for me to capture a wonder of nature, setting my camera up right when I reach there and take some shots so that someday, I can just describe the beauty of nature to a pair of young curious eyes when he asks about Northern Lights.
4. Antelope Canyon
This majestic sandstone canyon located in the Southwest of America is one of its kind with an impression of fiery red and glowing orange look. It is a place that has no replacements and a must visit for anyone who is looking forward to #SayYesToTheWorld.
5. Iguazu Falls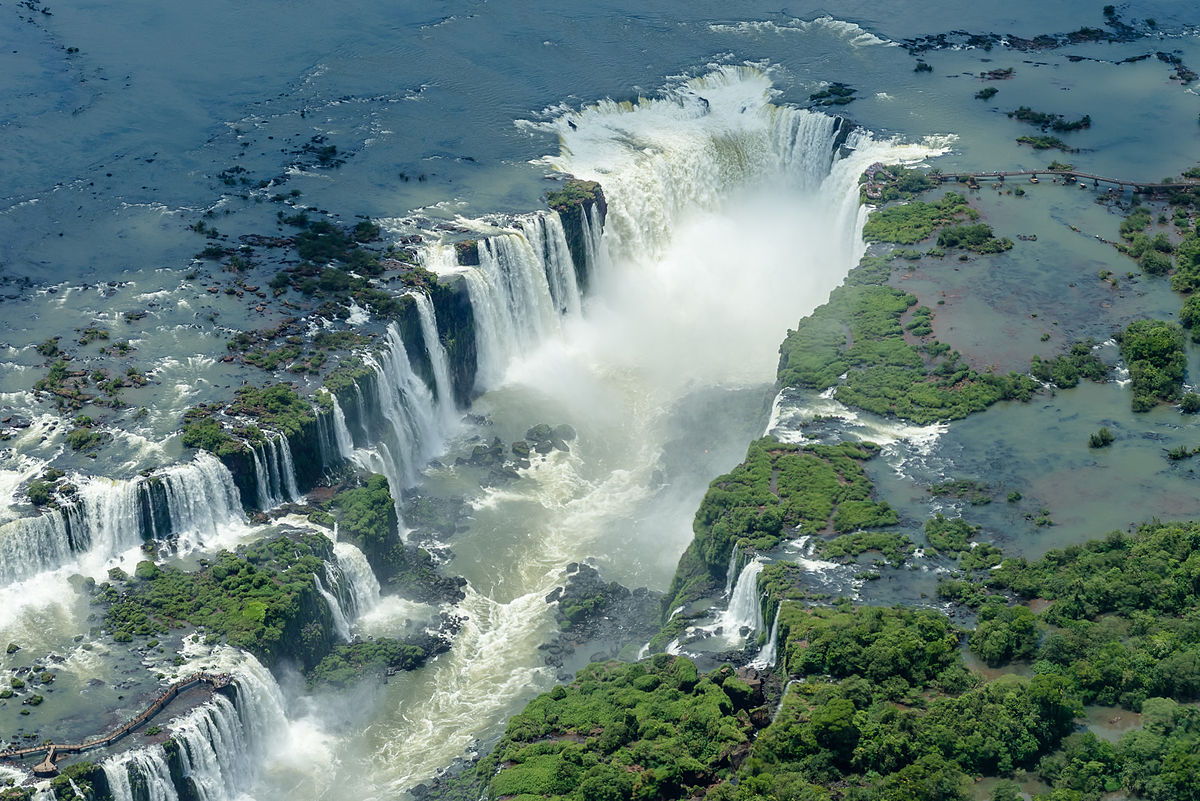 Located at the border of Brazil and Argentina, it is one of the modern natural wonders of the world where a chain of mini waterfalls is probably one of the most dramatic views of nature spread across nearly 3 kilometres. Also, the waterfalls are split between Brazil and Argentina, but there is no way to distinguish the man-drawn-border there.
6. Capilano Suspension Bridge
The Capilano Suspension Bridge is a unique suspension bridge on the Capilano River, located in Vancouver, British Columbia, Canada. It is 70 meters above the river and is 140 meters in length. It is a unique experience for those who want a little thrill, but not anything too scary or too hard to overcome over the fears.
7. Cherrapunji & Mawsynram
Mawsynram is located in the Northeastern part of India, in Meghalaya the state named as the 'Abode of Clouds', literally, and is also the wettest place on Earth. And Cherapunji was formerly the wettest place on Earth. But no matter how much is the rainfall, the natural beauty here is unparallel to anything you would find remotely close to European Mountain terrains. The natural beauty and scene are beautiful with where you are at a height where you can gaze below to look at the rainforests and can almost feel the clouds, whispering into your ears, while you feel the moist it carries.
These seven places are those which I want to visit someday, but the world has got much more beyond that and there are endless possibilities over the clouds, across the oceans and continents, defying man-made boundaries, crossing borders, defeating the language barriers. The world is calling for an exciting date at some very exotic and exciting places and it's my time to #SayYesToTheWorld.