As the size of smartphone is decreasing day per say, same way we are seeing decreasing size of projectors as well. Even we have seen now smartphones with projection capabilities as well, but they are really not worth buying as they completely destroy the real definition of a projector. The project here we are talking about is Dell M110 which a mid-entry projector with some extra-ordinary capabilities. This is one of the most compact projector we ever got for review.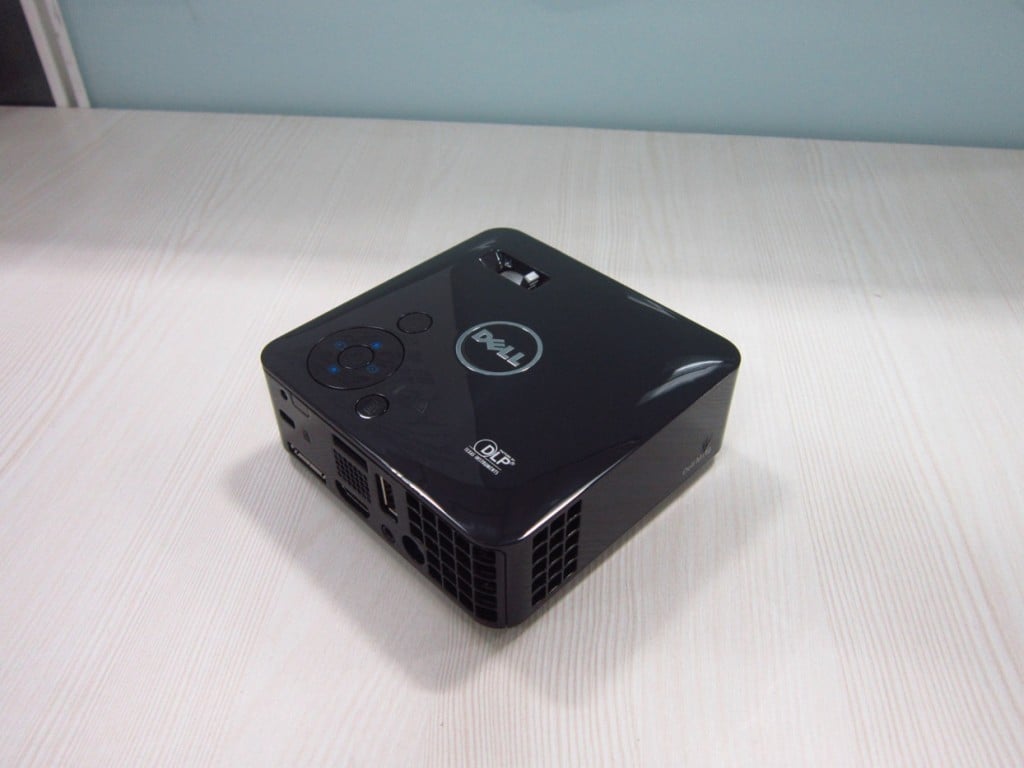 Dell M110 Review
Dell M110 is one of the most compact projector available in market. Even being compact, we don't see any compromise in performance by it. This projector is not even strictly for those, who wants portability for projections but you can use for a low cost projector option too. One of the key factor about this projector is its 300 lumen brightness in a palmtop size. Also it's very light in weight i.e. 0.36kg.
Dell M110 Design
Taking about design, lamp is as obvious given on the front, with a vent on its side and a fan is fitted inside it which is almost visible when we try to observe it in detail. There is no button or something given on left or right side other than vents. Left side has a smaller vent covering half of the area and on the right side, vent is covering the most space of it. Looking at top, it has a glossy finish which is prone to finger prints but it does make the projector looks great. At bottom, device information is given.
All the functions buttons and lens focus dial is given on top. Functions buttons has inbuilt blue LED backlighting which is highly visible in light as well. This comes helpful when we switch off the lights of Hall or Room and it becomes easy to find buttons on it. To the right of function buttons, there is a Temperature LED given, which warns if there is there is any overheating issue in the projector. However while doing review, we didn't observed any over heating, however the projector do get heated up and it becomes difficult to decide sometimes whether it's really overheated or not. Hence, it has inbuilt two fans, one at front and one at back to maintain inside temperature.
All connectivity ports are given on back side of the projector including power source too. The ports includes Power, HDMI, USB, microSD, Universal I/O, A/V in. For security purpose, there is a Kensington Lock which find it's space at back only.
https://www.facebook.com/media/set/?set=a.430429517014923.99677.228734290517781&type=1
Overall build quality of the project is excellent and you won't ever feel any plasticity things from any side. There are NO rough or sharp edges and handling of the projector is quiet easy because of the small size. Overall dimensions of the Dell M110 projector is 4.14″ x 4.09″ x 1.43″. The carrying case it includes is however just fits the things in, however still the size of it doesn't satisfy when we keep all accessories in it, hence having a little bigger case could have given proper space to accommodate all cables which comes with it. However, there is no lens cover included in standard accessories, which is a little disappointment.
Dell M110 Accessories Includes:
Power Cord
AC Adapter
Universal 24-pin to VGA
Carrying case
User Guide (CD / HTML format)
Quick Setup Guide
Product Information Guide
Dell M110 Performance
Dell M110 is a projector with DLP engine technology and offer a clear WXGA display with a resolution of 1200×800 and a continuous light source of RGB (red, green and blue) LED with a whooping 20,000 hours life. This hours count is a pretty much big, so you can expect that lamp shall work till the end of life of projector. This also lowers down the overall cost of projector as you might not need to get the lamp replaced ever in projector working life.
For doing review, we tested the projector which almost every option we could have done with. When we connected it with HDMI source attaching the projector to laptop, the display was really fine and there was no picture noise at all when ran at 720p or 1080p options. Viewing pictures with 300 lumens brightness was perfectly fine and great for presentations.
Again, when we attached it with VGA, it didn't made any much noticeable difference, however the things were not as much in HD as they were when it was connected with HDMI source. The pictures which we have taken and uploaded here is of when the projector was running with VGA port. You can clearly judge the quality of display there.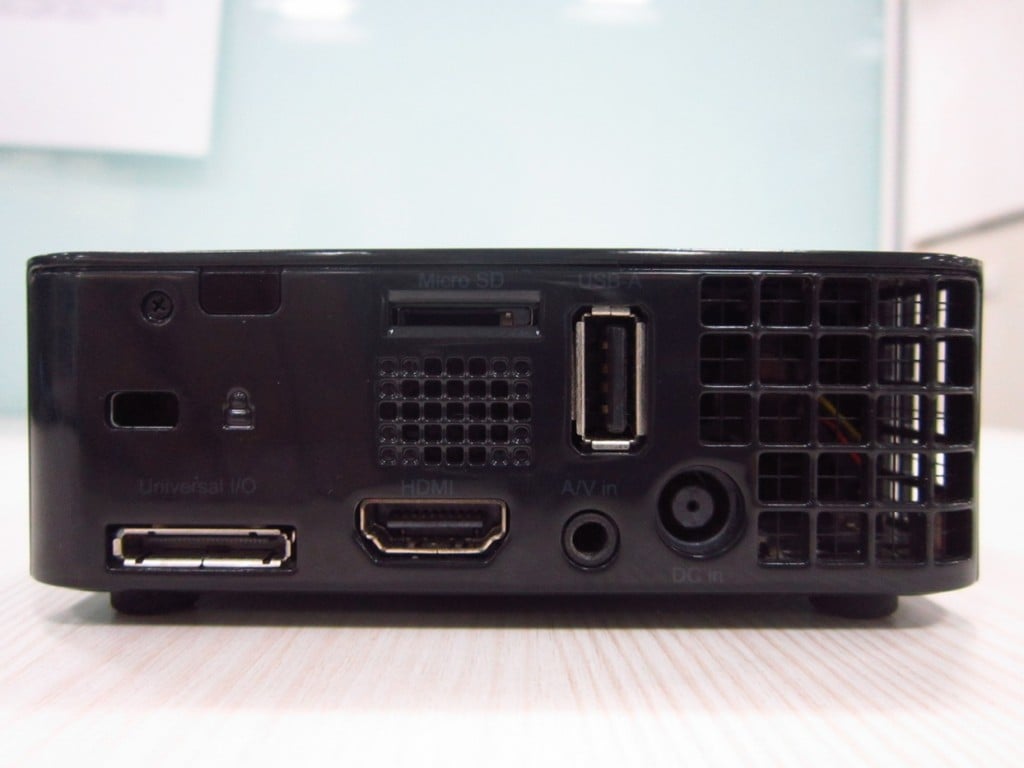 Playing videos were little much better than watching images on it. This projector did a great work in maintaining black shadow details and was good at job with skin tones too. There were some rainbow artifacts at some moments, but is not much really noticeable and not everyone can realize or find it.
Coming to USB part, Dell M110 doesn't support NTFS drives hence you cannot connect your external hard disk to it. Connecting a FAT32 USB drive was immediately detected by it. The supported formats of videos are AVI and MP4. However it didn't played MKV well, hence we don't recommend playing that format. The nice thing here is that projector will scan the USB drive or microSD card automatically in few seconds and will divide the files into movies, music and pictures and you navigate to them easily by using inbuilt menu.
Note: When you need to run things from USB, before attaching any external media like USB or microSD, please make video adjustments first like adjusting the top and bottom width with distance and then attach the external media, since those function buttons acts to browse and play things after we external drives to it.
However, inbuilt speakers are a bit disappointment here. It has 1 internal speaker of 1W which is not enough even for playing movies for a standard 10×12 ft room. Hence, you'll need to attach an external set of speakers with it.
Final Verdict
For a current price tag of Rs. 33000 approx, this projector is really worth the money. Overall the projector performance keeps you satisfied. However don't expect a HD display when playing things from external drives but overall its a good product to have, keeping in mind it's compact size and portability.