Editor Rating

Rated 5 stars

Spectacular
₹15000 to ₹27000
---
LG Water Purifier WW180EP

Reviewed by:

Published on:

Last modified:
---
The search for an Ideal water purifier is very easy if you know what kind of product you need or you should buy. There are few basic things you need to take care of while buying a water purifier and the LG water purifier we reviewed here matches every requirement I had with a water purifier, in fact, it offered extra than expected. Recently LG water purifiers were also certified by the Heart Care Foundation of India as the Water Purifier which meets the criteria for health-friendly drinkable water.
LG Water Purifier Review
LG water purifier WW180EP we have reviewed here is the most advanced machine available in the market compared to any water purifier in India, yet it's the simplest machine to use. Plus the trust of LG with their excellent product quality and great after sales service all over India compels consumers to choose their products. LG strongly emphasised over the health part while designing their purifiers as their all models contain the steel tank for storage and majority of the models have mineral booster filter to add essential minerals back to the water. This review can also be considered applicable to these models:
| | | | |
| --- | --- | --- | --- |
| WW170EP | WW160EP | WW121EP | WW120EP |
| WW163EP | WW123EP | WW140NP | WW130NP |
Design of LG Water Purifier WWxxxEP Series
If I have to award a water purifier for the design, LG water purifiers will take an easy win from me. When in person, it looks so stunning, especially the red one of WW170EP or this black one of WW180EP, it simply cannot go unnoticed.
The LED dial at the front centre which indicates the modes of the purifier looks fantastic. The touch lever adds more to the aesthetics depicting the premium quality of the product. It can be pushed back or pulled up to take the water continuously. You can take out the water purifier even if it's turned OFF.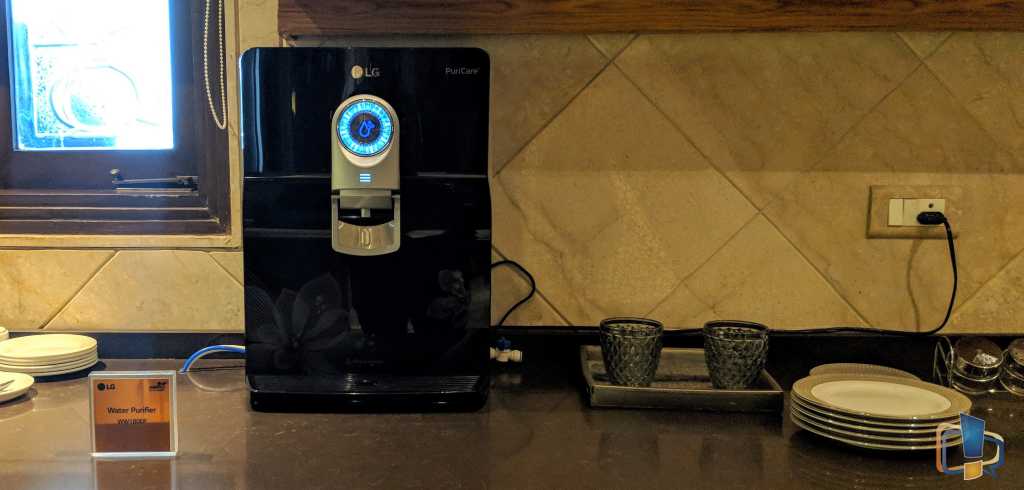 All WWxxxEP series models can be wall mounted or kept on a Countertop. There's also a bottom tray included, which is optional to use as it can be pulled out whenever required. To change the filters, you can easily take out front cover, or for occasional cleaning of the water tank, you can open the top cover easily to access the water tank. The tank lid has some additional locks to stop anything from outside to enter in it.
The steel tank inside impresses a lot in its quality and the impression it gives, that it is never going to rust no matter for how much time the water stays in it. I was told, that there is an anti-bacterial coating inside the tank which makes it looks shiny and water easily slips out without any friction.
Tip: Although it's not advertised/recommended by the company, it is quite easy to change the water filters yourself. So, I found out that I can buy the filters by myself from LG service centres and then can change it easily myself. LG service centres can also deliver the water filters at your home at no extra cost. It only takes a minute to figure out how to remove the filters and then it's easy peasy. That way you can save the service cost you would need to pay to the service engineers for changing the filters when the purifier is out of warranty. Upon changing filters, there is a button inside which you need to press for resetting the filters light.
Features of LG Water Purifier
Multi-Stage Filtration
Speaking of water purity, LG water purifiers are capable of removing contaminants as minute as 0.0001 micrometers in size. Multi-stage filtration inside eliminates any kind of bacteria, viruses & heavy metals, giving absolute peace to the consumer that they're drinking health-friendly water only.
All models of LG water purifiers follows a 5-stage RO Filtration system:

Pre-Filter > Sediment Filter > Pre-Carbon Filter > RO Membrane > Mineral Booster or Post-Carbon (Model Specific) > UV LED Lamp on Tank Lid (available in WW180EP & WW170EP models).
And the quality of the filters is excellent, the max your money can buy. UF Filter which is available in WW180EP & WW163EP model is not used in drinkable water filtration stages.
Role of Each Filter:
| | |
| --- | --- |
| Pre-Filter (Out-Sediment Filter) | Removes big particles, rust stains, mud etc. |
| Sediment filter | Removes unseen dregs and other contamination. |
| Pre-carbon filter | Removes invisible fine particles, residual chlorine, VOC(Volatile Organic Compounds) etc. |
| RO membrane filter | Removes dissolved impurities and removes heavy metals, bacteria, viruses, VOC etc. from the water. |
| Mineral booster filter | Add minerals in the purified water without mixing impure water. |
| UV LED Lamp | Kills viruses and bacteria in the storage tank |
| UF membrane filter | Removes only bacteria and fine particle substance. |
The Steel Tank
All LG water purifiers model comes with a steel storage tank which is more hygienic than a conventional plastic tank. This tank has some kind of coating which reduces the growth of bacteria and algae.
As tested in the labs, LG stainless steel water storage tanks have 94.4% less E.Coil growth in 24hrs when compared to plastic tanks. There are multiple measures taken at the lid of the storage tank like a gasket around the sides of the lid and multiple locks above the lid which LG calls it – Dual protection Seal which keeps the water safe for drinking even if you leave the water inside for long.
Automatic UV Cycles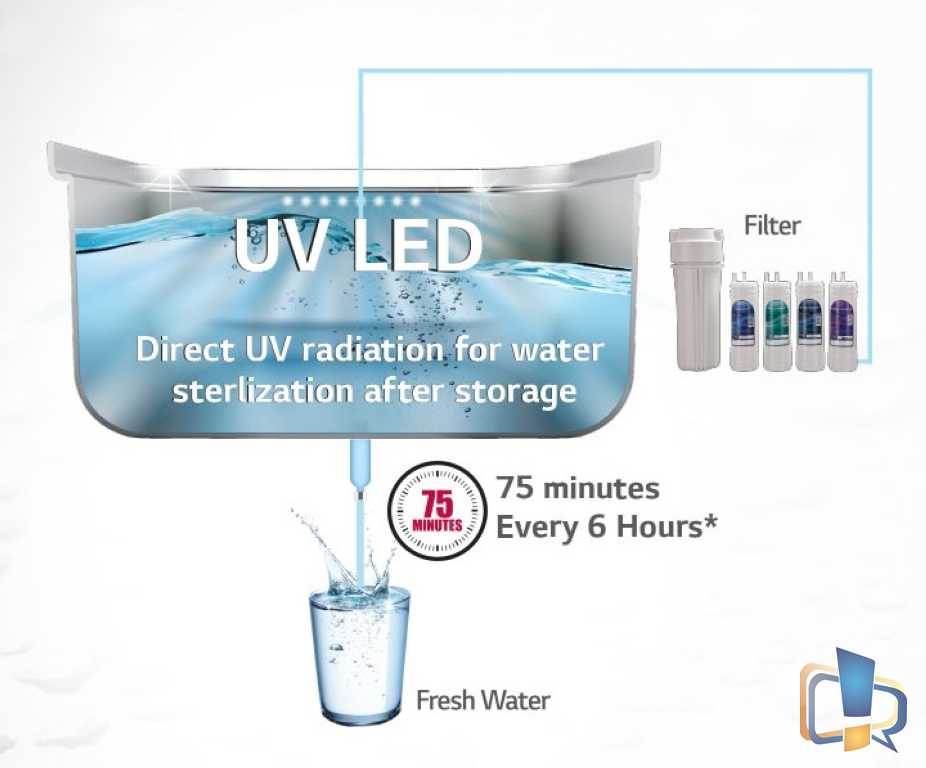 Since the RO filters remove the viruses and bacteria from the water, the need of UV filter becomes less significant, but if you leave the water inside the tank for long, which is still 100% safe and clean water to drink, still LG water purifier automatically recycles the stored water via UV every 6 hours for 75 minutes to purify it again, which LG calls it the Preservation Stage. This kind of feature is only provided by LG.
Add Essential Minerals Back
Since the RO stips the water of most kind of salts and metals, that also means that the purified water doesn't contain most of the essential minerals provided by the water anymore. Hence, the last filtration stage is of Mineral Booster (which is a combined Post Carbon + Mineral Booster) filter.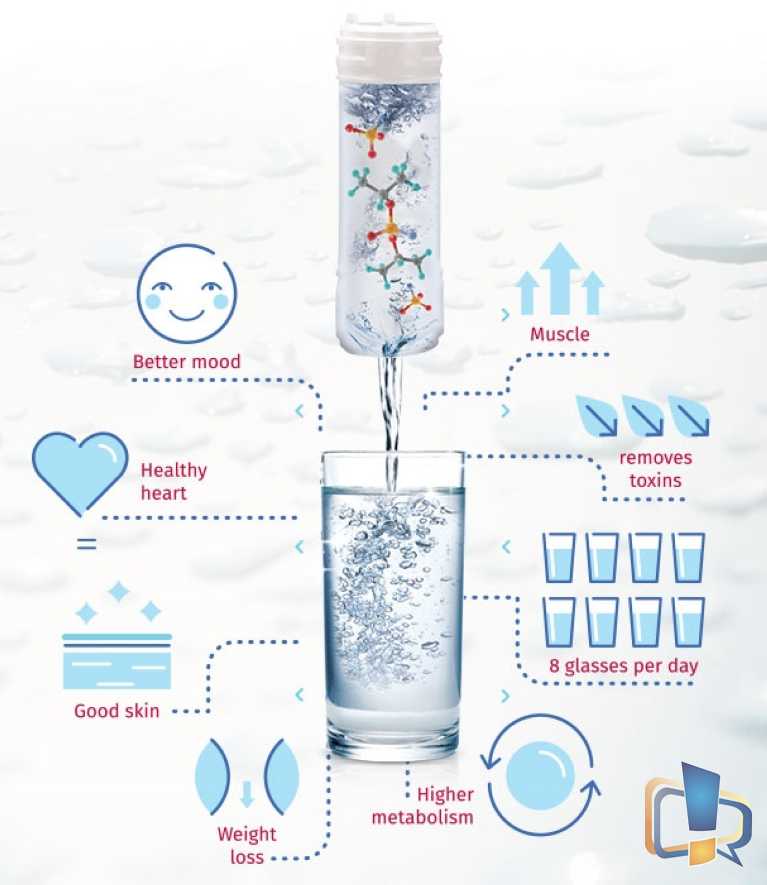 This filter adds back the essential minerals or in another way to say, increase the alkaline level of the water which has multiple health benefits in the long run as shown in the image above.
Smart Enough to Free You!
The way LG water purifier works should be called as smart; as I can leave this purifier ON 24×7 and because of the way it works, it fills the water tank automatically for you whenever it detects the water supply availability. Not everyone has a 24×7 water supply, like in most metro cities, we have a water supply of 2 hours in the morning and then the same in the evening. And if using a conventional water purifier, you have to run the water purifier at those specific times to fill the purifier tank.
You won't face this inconvenience with LG water purifier as you can leave this ON all the time and its motor works only when it detects water supply, and as soon as you cut OFF the water supply, the motor turns OFF automatically. Most of the water purifiers in the Indian market doesn't work this way as their motor keep running without any cut-off or due input water pressure issues, service guys cut off the LPS switch in other brands. While some of them do work that way, their service guys itself doesn't recommend leaving the purifier ON 24×7 for unknown reasons.
2-in-1 Care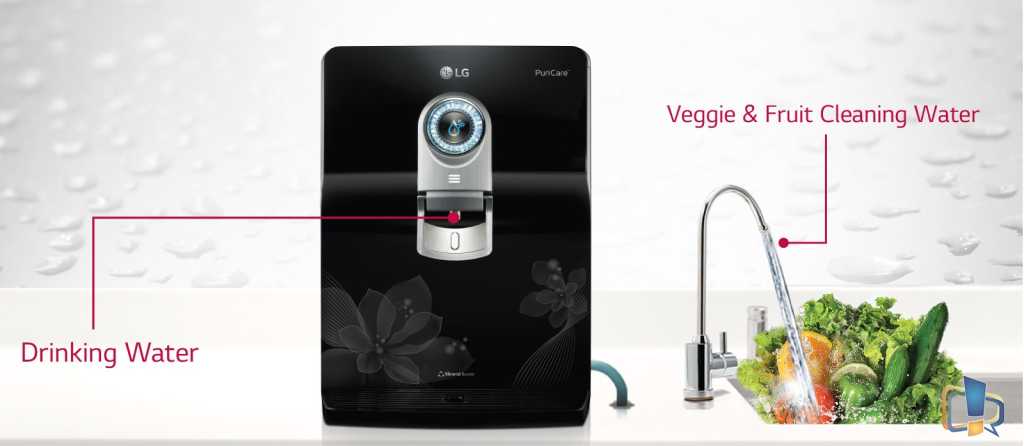 LG water purifier WW180EP & WW163EP models also have the UF (Ultra Filtration) filter which is used to provide water suitable for washing fruits and vegetables. This model has a secondary outlet via a pipe from the right side which can be attached to another tap (Using Tap is optional & is not provided by LG), which you can use for washing raw food items like fruits & vegetables.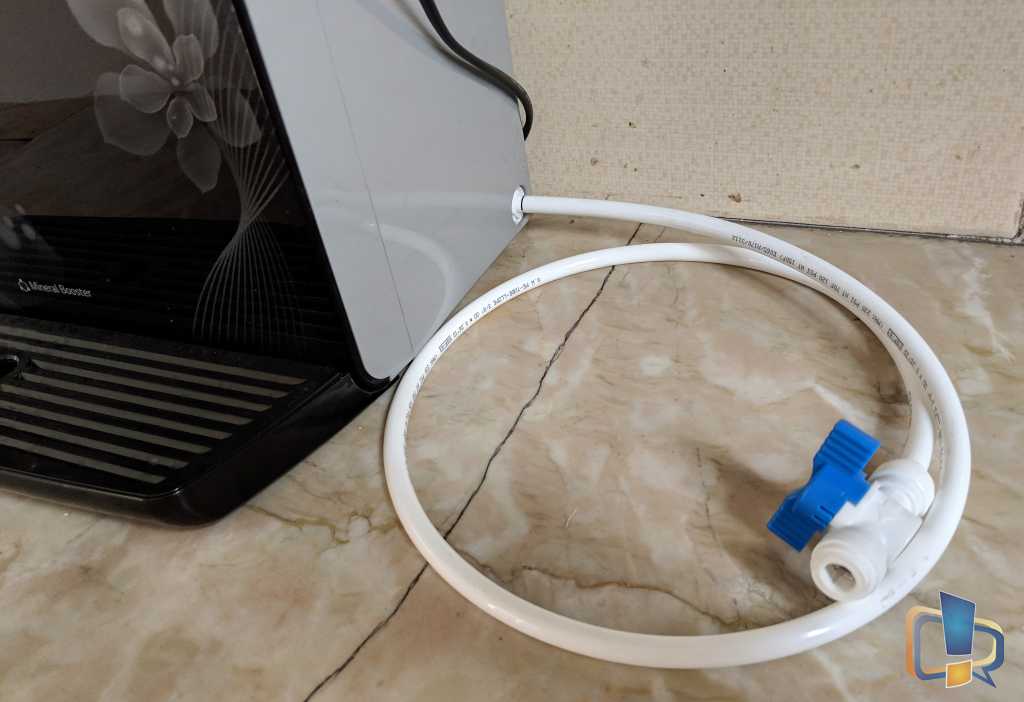 This outlet doesn't use the RO filtered watered stored in the tank; rather it's another 3-stage filtration system which follows this path: Pre-Filter > Sediment Filter > Ultra Filtration (UF) filter.
Why is UF filter not used in Drinking Water Filtration Stage?
Up to my experience and knowledge, the UF filter has no role in the drinkable water filtration system. There are so many brands which sell water purifiers with a very small sized UF filter and add it as the last water filtration stage, just because they want to market their product with the maximum number of filtration stages, however, after passing the water through an RO, UF filter has no role thereof. It's like passing the water from a fine filter (RO) and then from a coarse filter (UF) which is completely useless. So, having a UF after RO is just a marketing gimmick, nothing more.
Smart Display
It's super easy to understand what mode the purifier is running on via the lights on the circular display. Blue light indicates that the purifier is running the drinkable water filtration stages or doing UV sterilization or both. White coloured light means it's on standby, when either the tank is full or no water input supply. Amber light means it's time for the preventive purifier maintenance.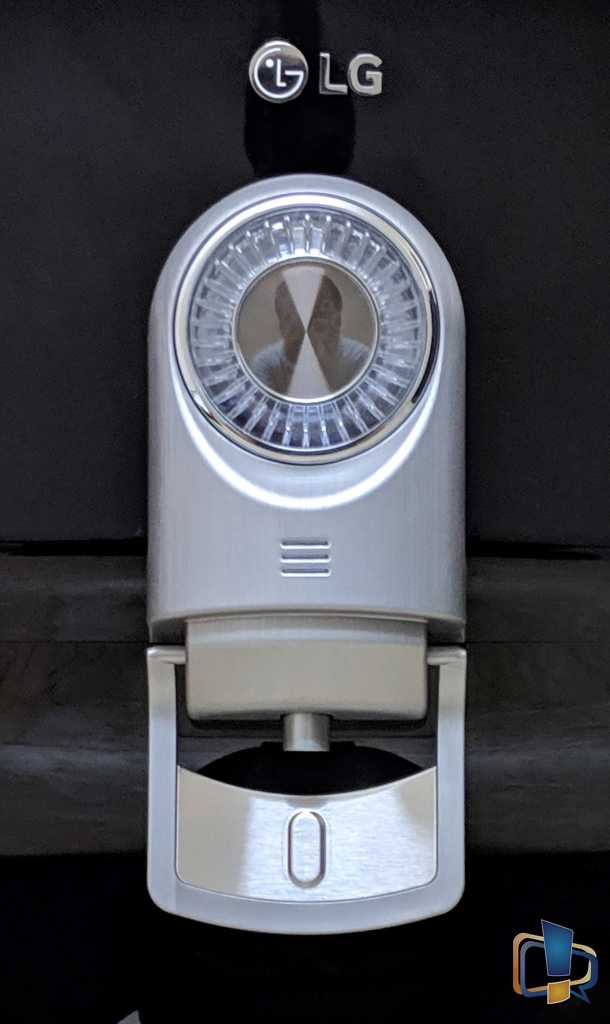 The display also has a water level indicator. Because of the lights, it is easier to understand the purifier modes and water tank level even from a distance or at night.
Chemical Free Maintenance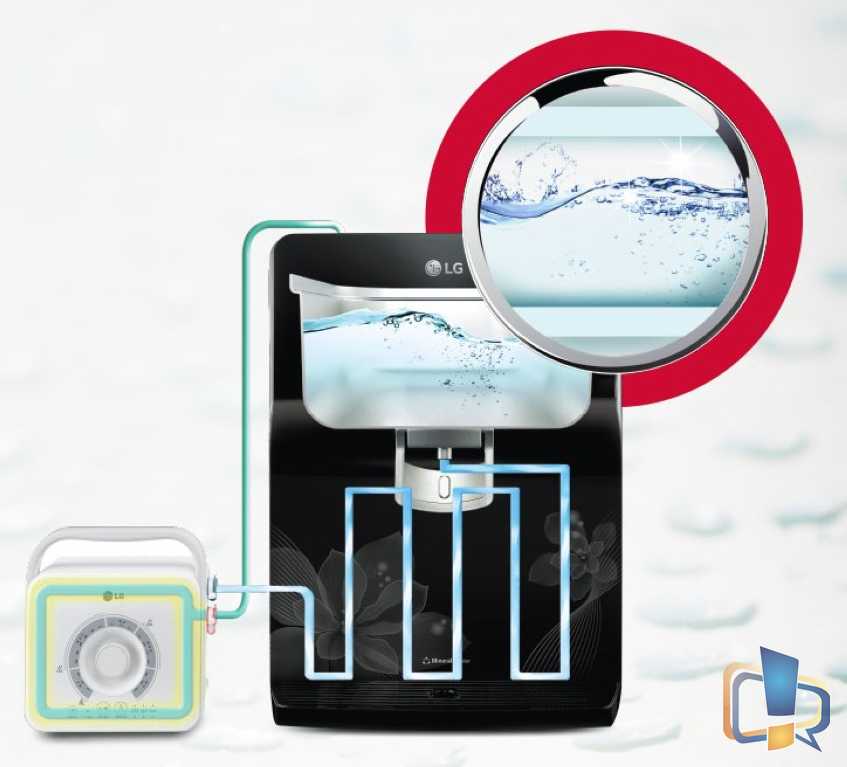 LG has their special sterilising kit for the maintenance of the water purifier. Their Digital Sterilizing Care kit sterilises the entire water path, Faucet and the tank without using any harmful chemicals.
Water Quality
Checking before and after TDS level is the usual norm of checking the water quality of any water purifier. With LG purifier, I have an input source with 140 TDS level, and output was of around 20-30 which is perfect as the purifier is adding minerals back which are probably getting counted in the TDS meter. Had it shown me a value below 10, that would have made me worry rather wondering if the mineral booster is working or not.
There are two big advantages you get with LG water purifiers compared with few other brands:
Many brands in India market provides a bypass to add unfiltered water back to the purifier water to raise the TDS level and for adding minerals back. This is a very wrong practice being followed by those brands and beats the purpose of using a water purifier. LG provides no such bypass rather it adds back minerals using Mineral Booster which is exactly how a water purifier should work.
Usually, with many purifiers, they don't work at many places because of the water pressure issue, in those cases, the service guys of other brands disable or cuts off the Low-Pressure Switch (LPS) which forces the water motor to work all the time, and that's when you have to run the water purifier only when you want to fill the storage tank. But with LG, I found it working with normal water supply pressure even on the 3rd floor. Although I still cannot guarantee if it is going to work at every place as input water pressure source can vary from place to place, I am still quite confident that it will work. If you'll connect the water purifier input source via a tank placed at a good height, you got nothing to worry about with any brand water purifier.
About the Installation
When you purchase any LG water purifier, it comes with almost everything required for the product installation within the box including even the screws required for mounting.
If you are going to connect the input source behind your tap, you most probably don't need anything from outside, but if you have a separate connection especially for the purifier, you most probably would need a 0.75″ female end cap from outside. Few more things if you plan to connect the secondary outlet to a tap, for which your plumber could tell better.
Final Verdict
LG is an excellent brand when it comes to water purifiers. Their product quality is outstanding, water purity is at best and tastes ok. While there are many choice to choose from in LG, I would recommend buying the one at least UV or mineral booster or both. I personally prefer the model having UV & mineral booster both as both are an essential part of a water purifier for me, essential but not mandatory.
Speaking of the pricing, usually till now, LG purifiers prices have been on the expensive side, but since last few months, I have seen the prices getting lower down, especially when I checked on the Paytm, WW180EP model after cashback price was around Rs 22-23K, WW170EP after cashback price was around Rs 20K, which is an excellent pricing. Pricing of all five filters of WW180EP in total costs around Rs 4.5K every 1.5 years which is also great if you change the filters yourself. If you prefer to take AMC, then it's per year pricing differs from model to model. If there is not much difference in pricing of all filters compared to AMC, it makes more sense buying an AMC of the product.
Features Comparison of Different LG Water Purifiers Models:
| | | | | | | |
| --- | --- | --- | --- | --- | --- | --- |
| Model | Mineral Booster | EverFresh UV Plus | Capacity | Steel Tank | 2-in-1 Care – UF Filter | Wall Mount / Counter Top |
| WW180EP | ✓ | ✓ | 8L | ✓ | ✓ | Both |
| WW170EP | ✓ | ✓ | 8L | ✓ | ✕ | Both |
| WW163EP | ✓ | ✕ | 8L | ✓ | ✓ | Both |
| WW160EP | ✓ | ✕ | 8L | ✓ | ✕ | Both |
| WW140NP (New) | ✓ | ✕ | 8L | ✓ | ✕ | Wall Mount |
| WW130NP (New) | ✕ | ✕ | 8L | ✓ | ✕ | Wall Mount |
| WW123EP (New) | ✕ | ✕ | 8L | ✓ | ✕ | Both |
| WW121EP | ✕ | ✕ | 8L | ✓ | ✕ | Wall Mount |
| WW120EP | ✕ | ✕ | 8L | ✓ | ✕ | Both |
| WAW33RW2RP | ✕ | ✕ | 8L | ✓ | ✕ | Both |
| WAW35RW2RP | ✕ | ✕ | 8L | ✓ | ✕ | Wall Mount |