ASUSTOR Inc. has launched their latest AS-T10G 10G Base-T ethernet expansion card in India. It is an ethernet expansion card that will let users upgrade their devices to its fastest speeds. The AS-T10G supports 10 GBE speed and is compatible with 5 GBE, 2.5 GBE, 1 GBE and 100 MBE speed via RJ-45 port. It supports ASUSTOR ADM, Windows, Linux, Mac OS, and VMware ESXi which makes it easier for customers to install the ethernet card easily using any platform.
The new ethernet expansion card from ASUSTOR is pre-installed with full-height bracket and comes with a half-height bracket for easy installation in thin computers. For AS7008T and AS7010T, the ASUSTOR NAS bracket can be purchased separately to upgrade to 10 GBE speeds. ASUSTOR also offers several types of 10 GBE NAS, which include AS4002T, AS4004T, AS7008T, AS7010T, AS7009RDX and AS7012RDX. The NAS allows workstations and ASUSTOR NAS devices to communicate at high speeds.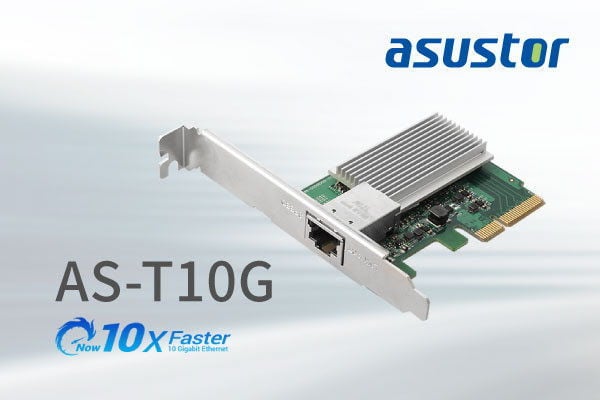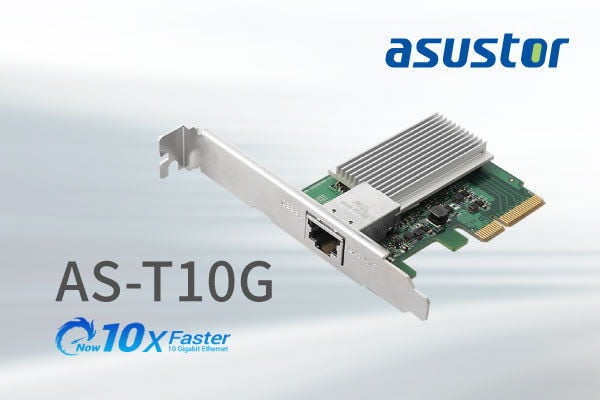 For the AS-T10G, ASUSTOR will offer one year of warranty and the products are available at ASUSTOR distributor or ASUSTOR accessories store.
ASUSTOR AS-T10G Specifications
Supports

16KB Frames

IEEE 802.3x Ethernet Flow Control

IP, TCP, UDP checksum offloading

Supports 100MbE, 1GbE, 2.5GbE, 5Gb/s and 10GbE speeds

802.1Q Virtual LAN (VLAN) tagging

Supported standards

IEEE 802.3ae: 10-Gigabit Ethernet

IEEE 802.3x: Ethernet Flow Contro

IEEE 802.2ad: Link Aggregation

IEEE 802.1Q VLAN

RFC2819 RMON MIB

Maximum speed

10 Gbps

Duplex Mode

Full Duplex

Interface

PCIe 2.0 x4

Operating Systems Supported

Windows 7 and above (32/64-bit)

Windows Server 2012 and above (32/64-bit)

Linux 2.6.x and above (32/64-bit)

MacOS 10.10 and above

VMware ESXi 5.1 and above, Microsoft Hyper-V, Linux KVM, Oracle VirtualBox

Size

82 x 62 x 13 mm