Editor Rating

Rated 4.5 stars

Outstanding
₹35000 to ₹45000
---
Reviewed by:

Published on:

Last modified:
---
A dishwasher is one of the appliances which is slowly and steadily making its presence in Indian households, especially in the kitchens of the working couples. Urban lifestyle which includes putting in extra hours at work, daily fitness regime and travelling for business and leisure, makes it difficult to find time for daily chores like washing utensils. And isn't that the hardest part while managing a household? That's when having a dishwasher becomes a necessity. Like any other modern device, we looked for one with a smart quotient and Whirlpool PowerClean Pro came across as the best option. Whirlpool's Europe-made dishwasher range can sense the amount of dirt on dishes. It cleans and dries in 1 hour1 and the cleaning performance is immaculate.
Whirlpool PowerClean Pro Dishwasher Review
It's a smart addition to an urban household. In-depth evaluation below:
Removing the hardest of oil and butter residue – PowerClean Pro Technology
Indian cooking involves a relatively higher usage of butter, oil and spices. Residues from such ingredients are the hardest ones to remove. Vigorous hand-scrubbing while cleaning often damages the non-stick coating on your utensils.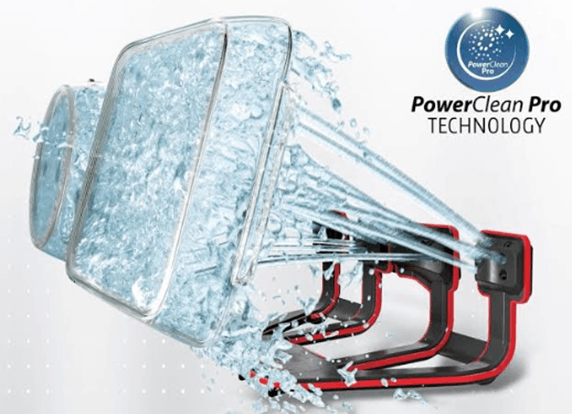 What's impressive about Whirlpool PowerClean Pro range is that it mimics the vigorous scrubbing action and cleans the harshest of residuals without damaging the utensils. The water nozzles are designed to ensure maximum coverage allowing thorough cleaning.
Watch a short snippet of this feature here:
Your dishes come out clean and dry too – Power Cleaning + Drying in just 1 Hour1
The usual course of action after cleaning the dishes is putting them aside for drying. The stacking happens once they are done drying. Even after that, there is always some water which remains in the bowls, cups or mugs and keeps dripping from the stacked utensils. Another key USP, which we believe is one of the biggest utility features for busy urban households is the Power Cleaning + Drying in just 1 Hour. So, for a fully-loaded cycle, Whirlpool PowerClean pro takes just an hour to clean and dry the dishes. All you need to do is stack them.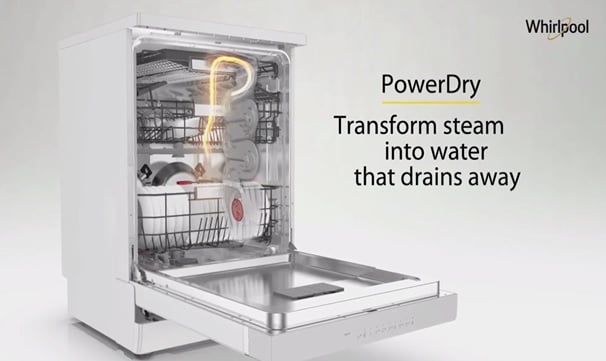 How does the drying happen?
Watch a short snippet here:
The appliance uses a very smart and safe way to dry the dishes. The closed loop system of drying is unique to Whirlpool dishwashers, it facilitates steam absorption inside a cavity which turns it into water and drains it away. This helps avoid any kind of damage to your kitchen furniture as there is no humidity emission.
This feature is for those who don't want to be bothered with setting different programs for different utensils. It is the most suitable for non-dry and freshly-soiled utensils, like when you're just finished with dinner. You can put the utensils directly in the dishwasher and set it on 1 hour Wash + Dry mode. That's it!
Optimum utilization of resources – 6th Sense Technology
This is another feature that makes people say – "Can it really do that?" Whirlpool 6th Sense technology in dishwashers automatically detects the soil level on the dishes upon activation and accordingly programs the cleaning. So, it saves both time and water up to 50%*, delivering perfect cleaning.
This feature is most suitable for utensils soiled with dried food residues. Upon activation, the sensor inside detects the level of soiling on the dishes and adjusts the program accordingly.
Space is not a constraint – Up to 30% Extra Space & 14 Place Settings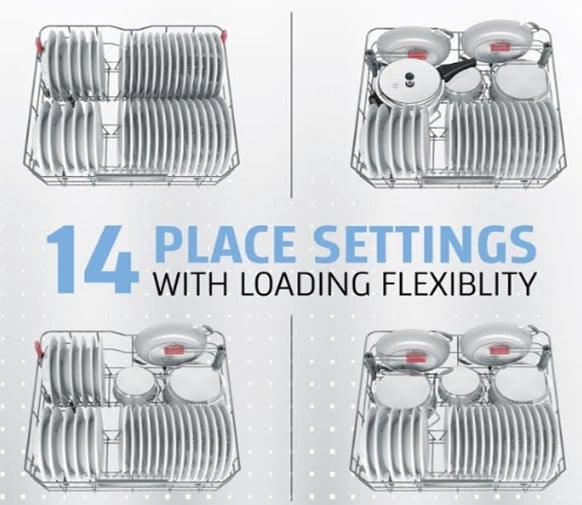 Compared to a conventional dishwasher, PowerClean Pro dishwashers by Whirlpool offers up to 30%2 extra space and also offers various loading options to clean all your utensils at once using four foldable racks.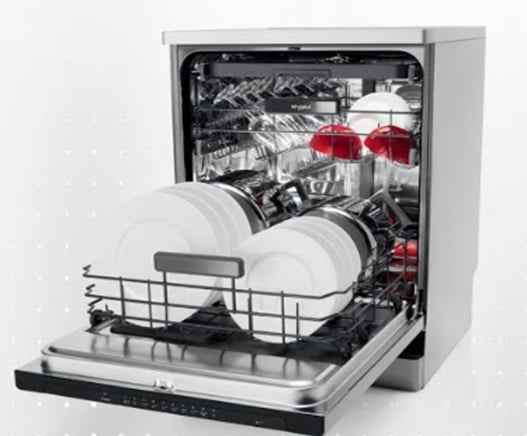 There's also an upper rack along with a cutlery basket, which adapts to everybody's needs, so that all your utensils can be washed with ease.
Flexible Space management view:
If you saw the video above, you can see how flexible this dishwasher is from inside. It offers great usage flexibility, customised loading and a modular third basket with up to 14 place settings so that you could place taller and wider items like a large pressure cooker inside.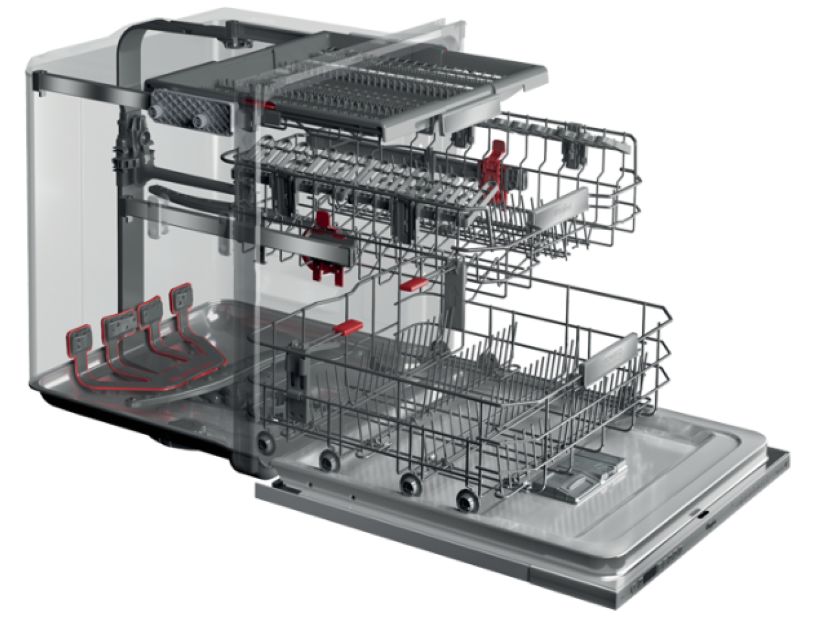 For Everyday Cleaning of Smaller Loads:
Multizone Mode
In a scenario where you don't have a load of utensils to fill the dishwasher's racks, you can simply activate the Multizone feature to program the dishwasher for half-loading or it could even select any particular rack for cleaning. This way you can save lots of water, electricity, detergent and time. The Multizone feature can also be combined with the 6th sense, 1 Hour Wash + Dry and intensive cleaning programs. There are other useful modes as well, like turbo, delay start, rapid 30 and sanitizing – which lets you customize for cleaning type, time and schedule.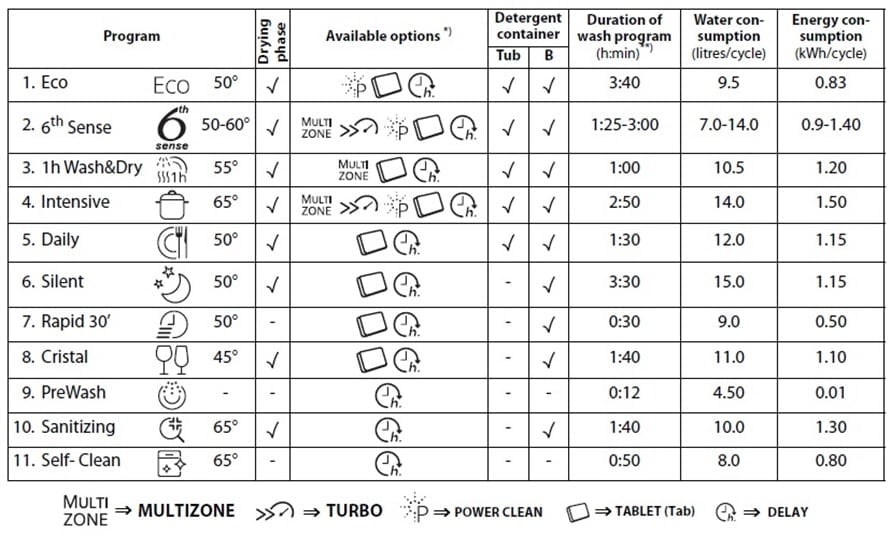 *) Not all options can be used simultaneously.
**) The duration of the program shown on the display or in the booklet is an estimate calculated on standard conditions. The actual time may vary depending on many factors such as temperature and pressure of the incoming water, room temperature, amount of detergent, quantity and type of load, load balancing, additional selected options and sensor calibration. The sensor calibration can increase program duration up to 20 min.
Standby consumption: Left-on mode consumption: 5 W – Off mode consumption: 0.5 W
Ultra-Quiet Performance
Whirlpool dishwashers are one of the very few silent models you could find in the market. The max noise level it could make is as low as 43db3. Hence, it doesn't create any noise disturbance and you won't even notice it during the night.
Keylock (Child Lock)
You can lock the control panel of the dishwasher to avoid accidental presses by kids or pets, so that no one would be able to disrupt the cleaning process even by mistake.
Should You Buy It?
Absolutely. If you're reading this article, you probably have made up your mind to buy one, and this series offers all the features you would desire in a dishwasher must. The one thing which we didn't mention about this series is its simplicity, feasibility and user-friendly as compared to many other models. The product also offers a 2-year comprehensive warranty#.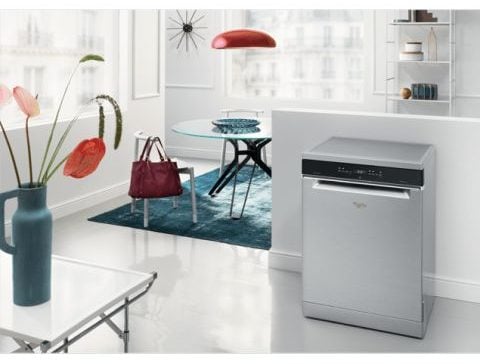 There are two variants of the Whirlpool PowerClean Pro series available in the market:
PowerClean – Costs around Rs. 35K
PowerClean Pro – Costs around Rs. 45K
Here's a quick comparison of both models:
| | | |
| --- | --- | --- |
| Product Name | PowerClean Pro | PowerClean |
| Colour of Product | Inox | White |
| Type of Control | Electronic | Electronic |
| Place setting | 14 | 14 |
| Automatic Wash Programs | 11 | 8 |
| Drying System | PowerDry | Static |
| 6TH SENSE® / Sensors – Dynamic Intelligence | Yes, 6TH SENSE® PowerClean | Yes, 6TH SENSE® PowerClean |
| Dimensions HxWxD (cm) | 91x65x67.5 | 91x65x67.5 |

1- Result based on tests comparing the performance of the1-hour program of the A+++ comparable models. Models in A++ or less may have different results.
2- *Percentage calculated vs. the loading space on models of the same Whirlpool range without power clean solution.
3- Results shown are based on internal lab testing done on select models under standard conditions and may vary depending on testing conditions.
*- Result based on tests comparing the performance of the 1-hour program of the A+++ comparable models. Models in A++ or less may have different results.
# – Terms and conditions apply