As air pollution is growing day by day and already, big cities like Delhi are suffering a lot, LG Electronics has decided to launch its Air Purifiers range, called the LG PuriCare. Under the LG PuriCare range, the modern, state-of-the-art Air Purifiers will offer powerful filtration, reducing harmful particles present in the air.
Commenting on the launch, Kim-Ki-Wan, MD, LG Electronics India said, "Our driving principle is to ensure that products are introduced basis key consumer insights. Health and hygiene are key concerns of consumers and they are looking for solutions to improve the same. Air quality has been of pressing concern for consumers, based on this insight we have developed the latest LG air purifiers, with PM 1.0 Sensor. This distinctive feature purifies even super-ultra dust particles from the air."
The purifiers are equipped with unique 360-degree purification. It helps in purifying the air in every corner of the living space. Its Axial-Centrifugal fan and Guide vane with Chevron Nozzle makes it 20% extra powerful, compared to conventional air purifiers, as LG said in a press statement.
The LG PuriCare Air Purifiers also comes with Powerful Clean Booster which helps in maintaining a clear flow up to 7.5 m away by creating a circulating air stream. It helps to distribute all of the clean air with the rotation of clean booster throughout an entire room.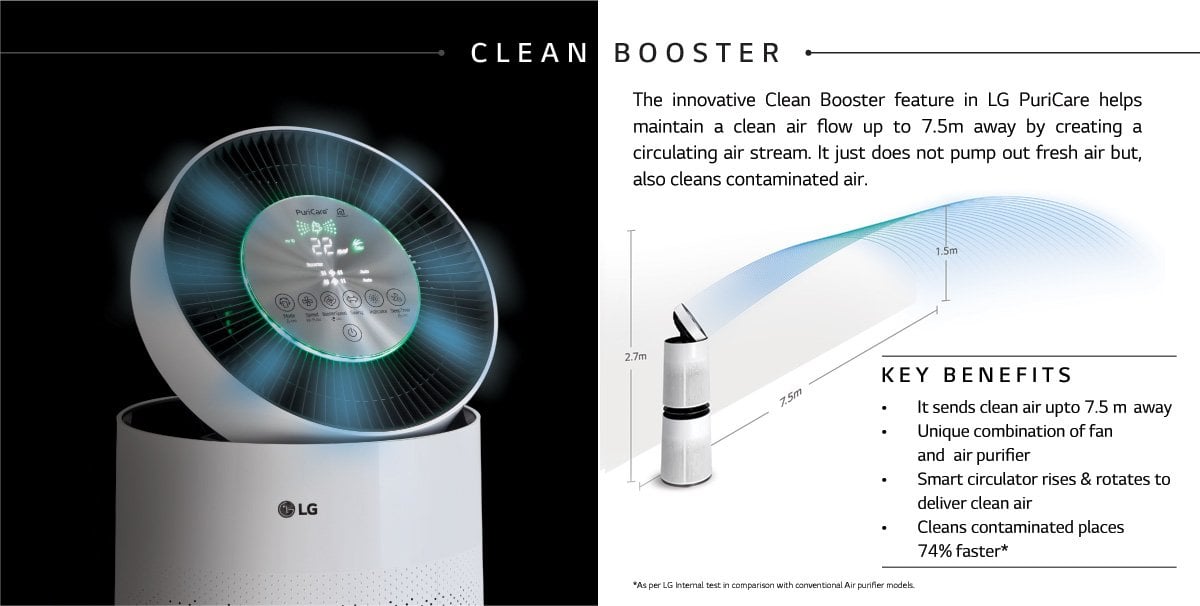 The air purifiers have powerful filtration, with the help of 360° filters as these filters get rid of microparticles, harmful gases, and odors effectively. The inflow air goes through the filtration system which has 6 step filter that eliminates various kinds of dust and harmful gases.
LG Air Purifiers also provide a real-time reading of indoor smell and ultra-fine dust with its smart PM 1.0 and gas sensor that automatically sets the air flow and operation cycle. The Smart Display is the lighting system which shows different colors based on the pollution level.
There is also a Baby Care Mode, which is exclusive for babies so that they are always able to enjoy the clean and fresh air. The Smart ThinQ helps to check pollution level and control the air purifier from anywhere. This feature also enables the users to check filter lifespan of your Air purifier.
LG PuriCare Purifiers are quiet and operates with a noise no higher than 20dB. The LG PuriCare is available on 3 models – LG PuriCare AS40GWWKO, LG PuriCare AS60GDWTO, and LG PuriCare AS95GDWTO. All these models will be made available soon via LG dealers, across the nation and consumers can also opt for 15 easy EMI terms, with the benefit of zero down payment and cash back on HDFC card.