Since Vi came out with a fresh look after the merger of Vodafone & Idea, two major carriers in India, the new brand is now focusing more and more on the needs of consumers. In the competitive market of India, most carriers are now bundling OTT subscriptions with mobile plans. But Vi has got a special offer for its subscribers. When customers now opt for a plan worth ₹405 or some other selected plans, they will be provided ZEE5 subscriptions for a year, for free.
A yearly ZEE5 subscription costs ₹999, but Vi is providing the same for free with its selected plans. This is in addition to the telco benefits. For example, with the plan of ₹405, customers also get unlimited calling across India along with 90GB data for 28 days. Even when the validity of the plan is over, customers can continue using the ZEE5 subscription to enjoy movies, TV shows, and more. However, they should continue to be on Vi to access ZEE5 Premium.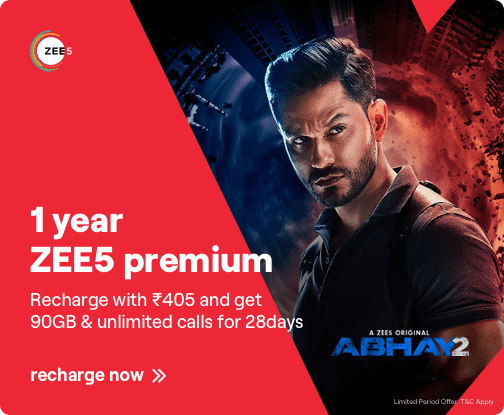 ZEE5 is home to more than 4500 movies, around 120 ZEE5 originals, and more than 90 live channels that consumers can watch anytime, anywhere. The other main highlights of ZEE5 includes:
Video content dubbed in 7 languages
11 display languages & 12 content languages
Latest & Breaking News Updates
Catch up feature for popular LIVE TV channels
To get this offer, Vi customers need to recharge with plans worth ₹355, ₹405, ₹595, ₹795, or ₹2595. Once they recharge their phone number, they will get a text message from Vi with an activation link to avail benefits of the offer. On the Activation Page, customers need to click on 'Activate Now,' and when asked for the mobile number, they must enter it and receive the OTP. Then they need to enter the OTP. Once the OTP is verified, the offer will be activated. Vi customers will receive another text message which will have the login credentials, using which they can log into ZEE5.
Here is the video with the steps:
You'll also be able to use the same ZEE5 login on other such as FireTV stick or Mi Box or even the ZEE5 android app. The process to activate the same subscription on each app is straightforward, like the app on Fire TV will generate a TV code that you need to enter in ZEE5 login, and it'll get activated. So you'll able to enjoy this subscription anytime, anywhere.
If any Vi user hasn't received the login credentials via text message but has activated the offer, they can open the ZEE5 app and reset the password by requesting an OTP to the same number for which the respective plan was bought. Customers can also access ZEE5 on their TV. Customers who have Amazon's Fire Stick or Mi Box can generate TV code from the mobile app and access ZEE5 Premium content on their TV as well.

As of now, this offer applies to Vi customers across India. However, this offer is only applicable to existing and new prepaid customers. You can also switch to Vi with your existing phone number or get a new Vi number, and get this offer by recharging with ₹405, ₹455 (Not applicable for Punjab, Delhi, Rajasthan, Tamil Nadu & Kerala), ₹595, ₹795. This is an offer exclusive to Vi subscribers only; customers porting out to other carriers won't be able to use the ZEE5 subscription as soon as they switch to a different carrier. Interested customers can visit this page to know more about the ZEE5 offer from Vi.
In terms of the offer bundled with different plans, the plan worth ₹405 offers 90 GB of data and unlimited calling for a month, whereas the plans worth ₹595 & ₹795 offer 2GB data per day and unlimited calls for 56 days and 84 days. The plan worth ₹2595 also provides free calls and 2GB data per day, but the validity of 365 days so that customers can recharge once and enjoy uninterrupted service for a year. All these plans will offer a ZEE5 Premium subscription, valid for one full year. This offer is applicable once for all customers, that means after a year, even if they recharge with the said plans, they won't get a ZEE5 Premium subscription for free. This offer from Vi is valid till March 31, 2021; however, as mentioned earlier, it's a limited time offer, and Vi holds the right to withdraw the offer before the mentioned date.