Readers Rating

Rated 4 stars




4

/ 5 (

Reviewers

)

Excellent
₹54999
---
While LG G5 was quite an innovative phone, it couldn't get that much sales LG could have expected. And there were reasons like high cost combined with modules and more, but with LG V20, seems like LG overcame all that lacked in G5 plus improved a lot with consumer feedback. Surely, LG flagship phones have great cameras whether it was of G4 or G5, with V20, they adopted a new feature in their cameras i.e. wide angle camera at both front and back. Not just that, they changed the build structure of the phone by adopting a light aluminum body and this 5.7inch display phone still feels so light in weight.
LG V20 Build Quality
LG V20 is structured with a minimalist metal body with a thin bezel design that delivers good looks and a convenient grip.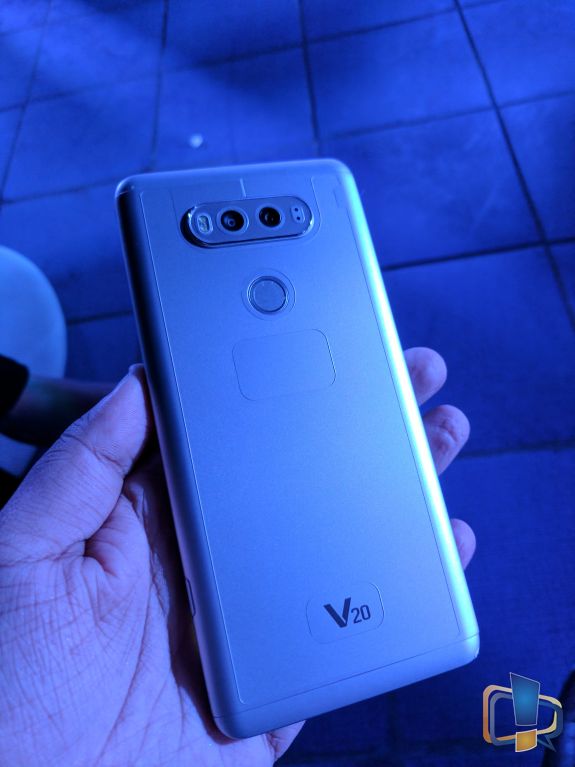 The sleek metal body is equipped with aircraft grade aluminum. Si-PC, a great shock-absorbing material, protects the top and bottom edges of V20, while the flat display and rear PET cover protect the front and back. In fact, the phone is compliant with the U.S. military standard test.
LG V20 Audio Quality
Usually, this is an ignored factor in the phone reviews, but when the company decides to go way beyond with audio capabilities, it becomes a must to mention about it.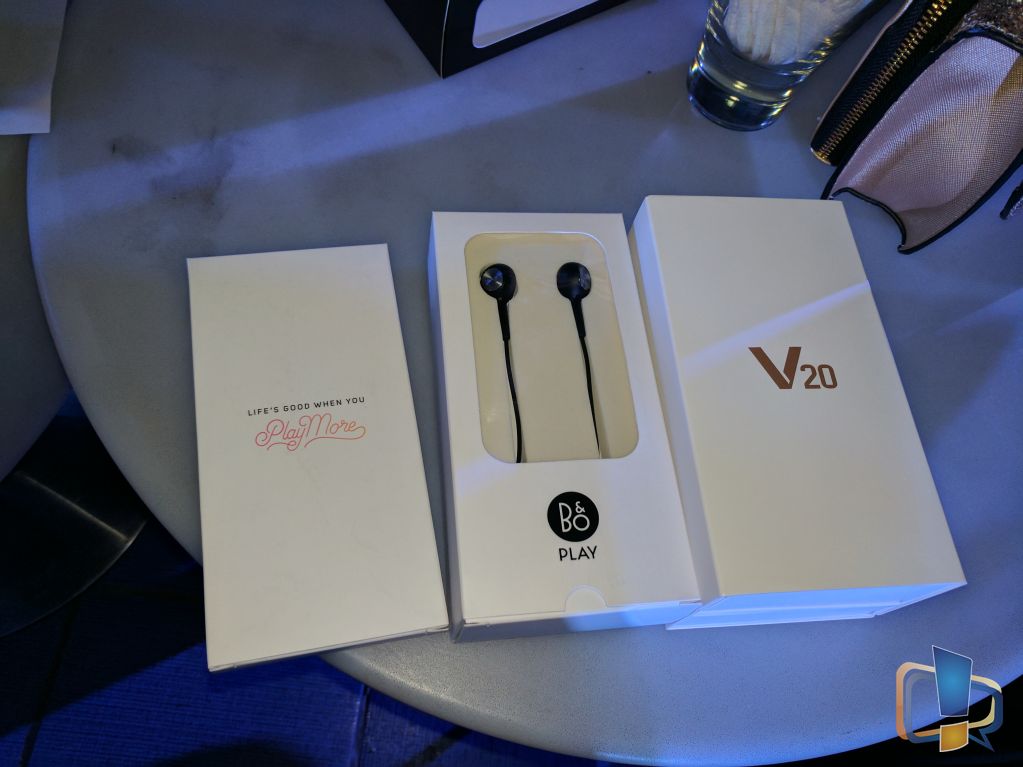 LG collaborated with renowned European audio brand B&O Play, under the umbrella of Bang & Olufsen – the manufacturer of a complete line of audio and video products. The fastest-growing stand-alone unit of Bang & Olufsen takes the audio game of V20 several notches higher, assuring one to 'Play More'. Hitting the right cords, the new V20 comes with B&O Play headsets for absolutely free.
With V20, LG introduced the first smartphone in the industry to feature 32-bit Hi-Fi Quad DAC (digital to analog converter) capabilities, bringing a superior audio experience to mobile phones. Till now, we have seen devices with 24-bit DAC.
The HD Audio Recorder uses three high Acoustic Overload Point (AOP) microphones which empower users to create studio-quality recordings
LG V20 Display
LG V20 is created for "Story Creators" – anyone who has a story to unfold, a moment to capture or an experience to share. The larger display phone is the perfect balance between productivity and best in the class device to capture videos, incredible audio along with regular and wide-angle photos.
LG V20 Camera
The LG V20 is also the world's first smartphone to come with wide-angle cameras on both the front and back of the phone. The V20 can take wide-angle photographs with rear-facing 135-degree and front-facing 120-degree lenses. Even more interesting is the Hybrid Auto Focus feature which delivers optimal picture sharpness while Auto Shot simplifies selfies with a face detection feature that triggers the shutter automatically.
When it comes to video recording, the V20's Steady Record 2.0 helps neutralize shaky images using both Electronics Image Stabilization (EIS) and Optical Image Stabilization (OIS 2.0) built into Qualcomm® Snapdragon™ 820 processor. This makes me remember that my Google Pixel has only EIS, but V20 has both. Moreover, high-quality video wouldn't be worth watching without an equally high quality of audio. Therefore, the V20 captures audio using formats similar to those used in professional video equipment. The powerhouse smartphone also supports optimal playback, minimizing distortion and noise.
LG V20 Software and Battery
The V20 comes with the mobile user interface UX 5.0+, making even the professional-quality multimedia functions a cakewalk for users.  It's also the world's first smartphone interface specifically designed to work with the Android 7.0 Nougat OS. Had LG launched V20 on time, it could have been the first phone in India offering Nougat.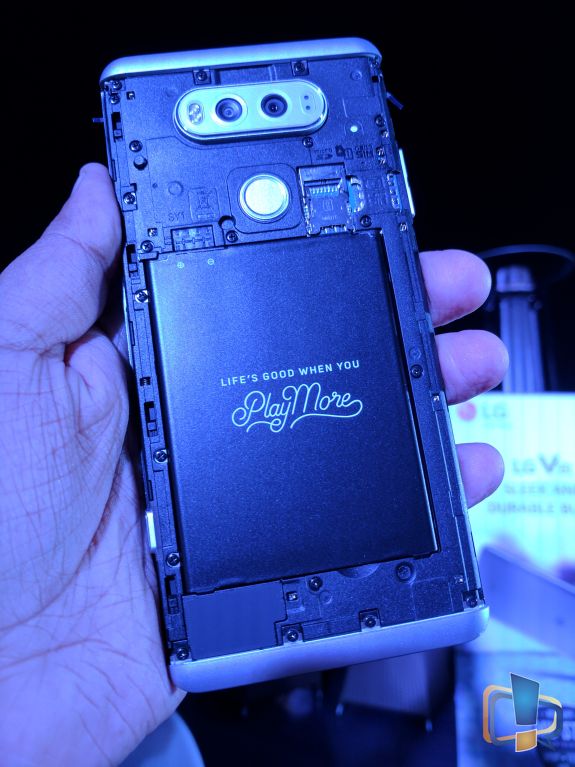 Removable battery and expandable memory functions are nothing new but a rarity among high-end mobile phones these days. One can quickly swap in the reserve battery in times of need and record as many videos as possible without worrying about space.
LG V20 Price and Availability
LG V20 shall be available across India starting 6th Dec 2016 through Retail stores and online exclusively at Amazon. V20 shall be available at market operating price of INR 54,999.
LG V20 Key Specifications
Chipset: Qualcomm® Snapdragon™ 820 Processor
Display: Main 5.7-inch QHD IPS Quantum Display (2560 x 1440 / 513ppi) /Secondary IPS Quantum Display (160 x 1040 / 513ppi)
Memory: 4GB LPDDR4 RAM / 64 GB Internal Memory / microSD(up to 2TB)
Camera: Front 5MP with F1.9 (Wide Angle) / Dual Real Camera 16MP and 8 MP Wide Angle with F1.8
Battery: 3200mAh (removable)
Operating System: Android 7.0 Nougat
Size: 159.7 x 78.1 x 7.6mm
Weight: 174g
Colors: Titan / Silver / Pink
Others: Hi-Fi Video Recording / Steady Record 2.0 / HD Audio Recorder / Studio Mode / High AOP Mic / Second Screen / 32-bit Hi-Fi Quad DAC / In Apps / Finger Print Scanner / Qualcomm® Quick Charge™ 3.0
LG V20 is Probably the Most Tempting Phone Launched this Year!
Summary: LG V20 shall be available across India starting 6th Dec 2016 through Retail stores and online exclusively at Amazon. V20 shall be available at market operating price of INR 54,999.
₹54999
Rated 4 stars
4

/ 5
(

Reviewers

)