Tuesday, 19th of April, 2016, Zoho launched a new software with the innovation inspired by "Made in India, Made for the World.' ethos. The launch of new products includes Zoho AppCreator, Notebook and Zoho writer. Gamescope, a feature is being added to Zoho products which turn work into a game. Zoho has completed 20 years of existence, and they call themselves as "Operating System of Businesses." There are above 3000 startups (excluding other established companies) who are already a Zoho customer, and there are around 1.8 crore customers from 122 countries who are using their products and services.
Zoho Launched 4 Challenging Products Against Microsoft and Google Apps
Zoho AppCreator
Zoho AppCreator is web-based software that enables users to create mobile apps, without knowing iOS or Android programming languages. Some of its key features are: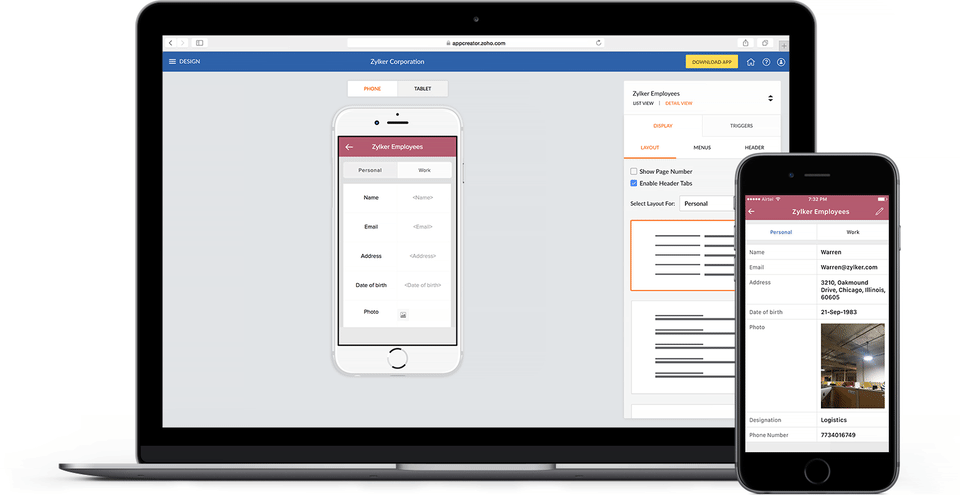 Easy creation: Users can create mobile apps by just dragging and dropping fields. They can set up workflows, rules, and schedules, and even add actions to various gestures like left or right swipe, long press, and tap.
Shareable Apps: Users can share the app with colleagues. Zoho AppCreator has a single database for everyone to work with.
Turn offline data into an app: Zoho AppCreator allows users to turn their data into a cloud-based mobile app. They can simply upload a spreadsheet, and Zoho AppCreator will turn it into a mobile app with a single click.
Connect to cloud apps: Users can connect data from Zoho CRM, Salesforce, and Zoho Creator in a single mobile app. This feature helps them automate custom business processes and give their team mobile apps tailored to their needs.
Apps for all platforms: Mobile apps built using Zoho AppCreator are truly native apps that work on iOS, Android as well as Windows devices.
Zoho AppCreator Pricing and Availability
Zoho AppCreator is currently available on request. For more information, please visit: www.zoho.com/appcreator.
Notebook
Notebook is Zoho's note-taking mobile app. Its key features include:
Create notes: Users can jot down text, create a checklist, capture a photo, and record audio– all on a single note card. They can also create dedicated text, audio or photo notecards.
Organize: Users can store their note cards in separate notebooks. Within a notebook, note cards can be pinched together in a stack, and one can flip through them for a quick view. Note cards can be re-ordered, and moved/copied to a different notebook. Users can also colour code their note cards.
Personalize: Users can create their own custom covers for each notebook, or choose from a host of handcrafted cover designs provided in the app.
Find notes quickly: Users can search for notes within a notebook or across notebooks.
Cloud sync and integration: Notebook syncs across devices, so users can access their notes from anywhere and at any time.
Zoho Notebook Pricing and Availability
Notebook is absolutely free and available immediately on Google Play and App Store in India. For more information on Notebook, please visit: www.zoho.com/notebook.
Zoho Writer
Zoho Writer has been reinvented into a minimal and clutter-free word processor. Here are some of its prominent features:

Minimalistic UI: Zoho Writer has a re-designed interface that is modern, light and distraction free. It has three modes that the users can work on– Compose (for writing and formatting), Review (for collaboration) and Distribute. The new UI provides "Reader View" that strips away clutter like buttons and background images and changes the page's text size, contrast, and layout for better readability.
Better collaboration controls: Users can now lock a section of content that is not to be edited or hide sections containing confidential information. They can also pause and resume collaboration on a document, turn off live cursors that track changes during collaboration and mark the final copy as "complete" to close it for further edits. Zoho Writer also allows users to see which collaborators have viewed the document.
New fonts and templates: Zoho Writer has added 350+ new fonts. It also has predesigned headers and footers and templates for resumes, invitations, etc. that users can choose from.
Enhanced review features: Users can now get links to specific comments, accept all track changes in one click, search through comments, filter comments according to an author, and respond to comments via email.
Real-time mobile collaboration: Zoho Writer mobile app, available for iOS and Android devices, now supports real-time collaboration.
Zoho Writer Pricing and Availability
Zoho Writer is absolutely free for both web and mobile users. A preview of the new version is accessible for all existing users and will be publicly available shortly. For more information on Zoho Writer, please visit: www.zoho.com/docs/writer.html
Gamescope
Gamescope is a new Zoho Projects feature that makes project activities like creating and completing tasks more engaging and exciting. It encourages employees to play friendly games with one another and earn rewards. Its highlights are:
Peer-to-peer games: Anyone, not just the manager, can create a game and invite colleagues to play for a friendly wager. Games like these build a culture of camaraderie and peer respect in the company.
Immediate rewards: In every game, employees earn points as they complete their tasks. They compete with one another to win trophies within the game. Consistent performers can also win badges for hitting targets.
Easy Customization: Users can alter conditions for winning trophies and badges, which are available already. They can also create new ones.
Gamescope Pricing and Availability
Gamescope is currently available for all paying customers of Zoho Projects. For more information, please visit: www.zoho.com/projects/gamescope
Zoho's Monetization Strategy
Zoho monetization policies are strictly against advertisement based model as it disrupts the user experience. With an annual turnover of $300 million, and never accepting any VC funds, their only focus is to make more user-friendly, useful and robust products and then offer them to free for most SMB's. Any company is only required to pay when they start using advanced features, and this is how they monetize, and right now, Zoho is growing at a fast pace. They have also recently invested around Rs 70 crore in their new data center at Chennai to offer SaaS-based products without facing any issue of space or bandwidth.