Xiaomi launched it's latest smartphone Mi 4i on April 23rd on same date of launch of Asus Zenfone 2 in presence of their founders Bin Lin and Lei Jun. This launch was a global launch and keynote presenter was Xiaomi VP Global, Hugo Barra explained to people that 'i' denomination is inspired and made for India. It's pretty obvious that Xiaomi has managed to sell over a million smartphone since it's debut in India and thus India is a very important market for them for a Chinese phone maker.
While this phone has so many similarities with Mi 4, it does have some improvements such as Android 5.0, a larger battery, lighter in weight and many more. Xiaomi till now has relied only Flipkart to sell this phone, but now people shall be offered from multiple platforms to buy this phone. So the exclusivity of Flipkart for Xiaomi has ended. Let's find out more about this phone:
Design and Built Quality
Xiaomi Mi 4i has a non-removable polycarbonate cover at back which and this cover also wraps the phone from both sides giving overall smooth edges to the phone. Overall the cover has a soft touch matte finish with non-greasy coating. Talking of volume rocker and power button, they are made of steel and finishing of these buttons are excellent without any sharp edges. SIM Tray is combined into one piece for both SIM's and is located on left hand top side. On the top left (facing phone screen at front), there is 3.5mm audio jack and at the base, middle, there is the micro USB port for charging and data transfer purpose.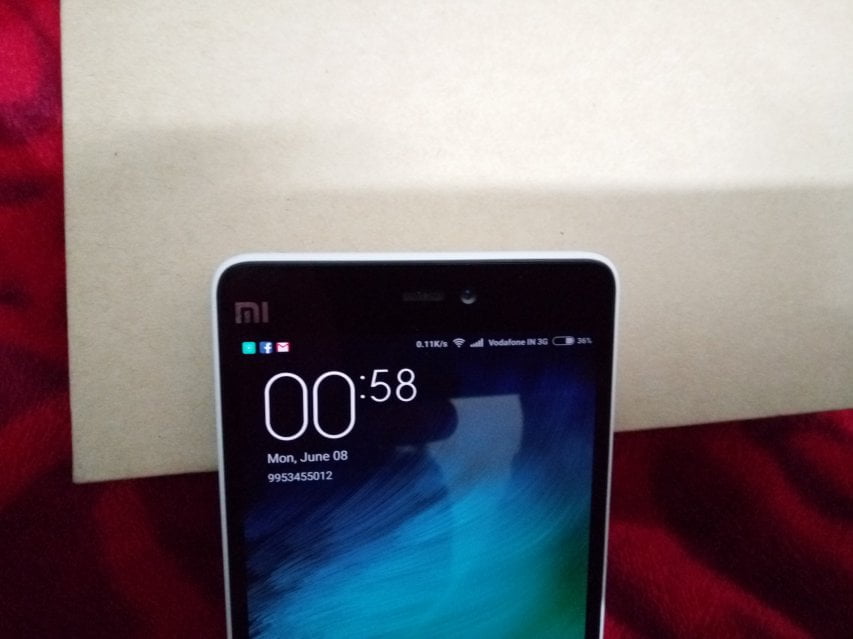 The good things about the design or built quality that it's very light in weight i.e. 130gm and is slim i.e. 7.8mm even when it has a battery of 3120mAh. This phone is slightly thin at the bottom which give a nice grip of the phone to hold even when it has a 5inch display. It's display is made of a One Glass Solution, which uses glass laminated on the display, hence helps in slimming down the phone further.
On the rear side, it has a 13mp camera placed on top left hand corner beside which there is a dual tone LED flash. Camera lens is surrounded by a steel ring which is bit projected out from rear side camera, hence when you keep the phone on a flat surface, it seats itself over steel ring and protects the camera lens. But overall, camera flush well with the rear cover of phone. Towards the rear bottom, there is a silver colored Mi embossed on the cover and below it, there is the grill of speaker, along with a tiny lip to give back of the phone some raise when resting on a flat surface. Height of lip matches the projection of camera steel ring. This raise also helps the sounds from speaker to disperse well to surroundings and it doesn't get muffled up.
Xiaomi also offers multi-colored phone covers which can be attached over the rear side. All these covers have proper openings of camera and speaker grill and the phone ends up having a two-tone color.
Overall, built of phone is quite nice and the whole design is inspired from Apple iPhone 5C which is quiet evident, as only Xiaomi uses a matte finish rear cover.
Features
Xiaomi Mi 4i houses a Qualcomm Snapdragon 615 SoC (2nd generation) which has an octa-core processor. Configuation of Octa core consists of a Quad core Cortex A53 clocked at 1.7GHz which are known as performance core and another Quad core is clocked at 1.1 GHz which are also known as power saving cores. For the GPU, it has Adreno 405 GPU and is SoC is paired with 2GB LPDDR3 RAM.
Xiaomi Mi 4i has 16GB of internal memory in which only 12.77 GB is usable and sadly there is no slot for expanding memory.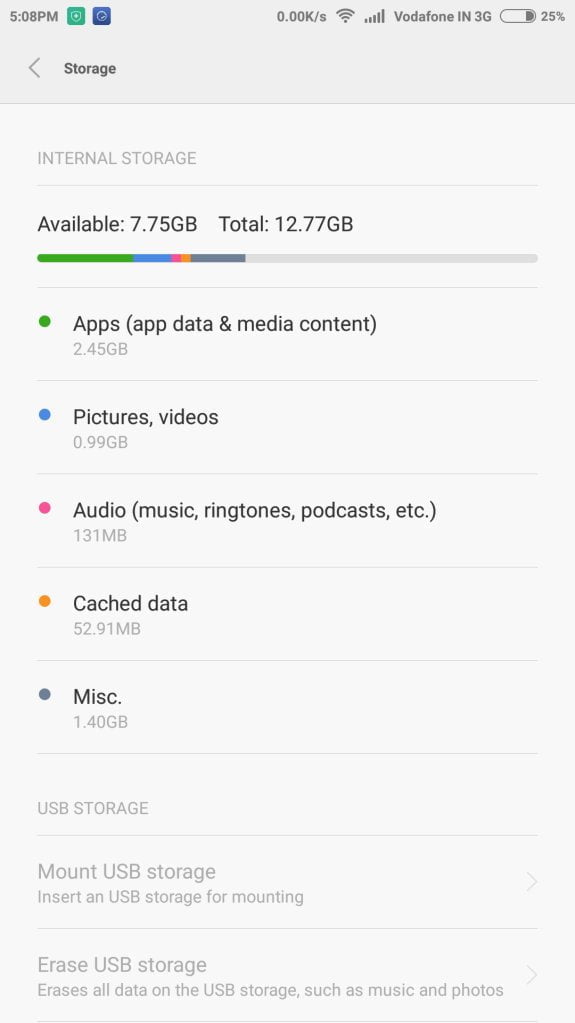 Reason for not having a memory slot, is to ensure spece-saving on the motherboard as Xiaomi has embedded a huge batter (3120 mAh), as according to Xiaomi VP Hugo Barra. He also claimed, that if a user adds a lower speed memory MicroSD in the slot, overall performance of the phone would effect badly.
I had this feeling that Xiaomi is more keen in promoting it's own Mi Cloud storage platform, which is a paid service if you need more than 5GB's of data. It's based on the same theory as of Apple iCloud.
Other features includes dual SIM, dual standby mode, and both SIM are 4G ready and phone also supports 802.11ac WiFi, Bluetooth 4.0, GPS/GLONASS and USB OTG.
Software and Overall GUI
Xiaomi Mi4i is the first phone which has launched with Android 5.0 Lollipop, but is atop with MIUI skin 6 which modifies the core lollipop so much that you might not find much admired features of it like recent apps interface, dialer is smart but don't show favorites contact.
Also the power saver option of Lollipop is also modified in this and is defined in different profiles offering limited features when battery is low. Also notification bar and settings is also of MIUI and nothing matches from core android 5.0.
Here is a trail of screenshots from Xiaomi Mi 4i to show it's software part:
MIUI Bug Report Center
Since MIUI is a heavily modified skin over android and still in developing phase, hence this app offers consumers to report bugs if you faced any, so that the developer team could rectify it as earliest.
Camera
While camera app doesn't offers much options to choose from like various modes which Asus Zenfone 2 offers but it does have panaroma, Beautify, Timer or Night mode. But this app can scans QR codes and can capture images while recording videos and has image stabilization too.
Contacts
While going through contacts, it made me remember interface of iOS. Good thing about this app is it offers option to merge duplicate contacts and also identify contacts with partial info.
There are also other minor yet useful settings like keeping the notification or settings drop down accessible or not when phone is locked. Phone reminds you not to keep your finger on ambient sensor if you're doing so.
Camera Quality
The Xiaomi Mi 4i sports an 5MP front camera (with 5-element lens, f/1.8 aperture) and a 13MP Sony stacked CMOS rear camera (with 5-element lens, f/2.0 aperture). It has the same camera 13MP rear camera as Mi 4. But the only area where it differs is that the Mi 4 has a 6-element f/1.8 lens whereas the Mi 4i has a 5-element lens configuration with an f/2.0 aperture.
Speaking of camera interface, there are three screens when you slide horizontally (in Still mode) – the first one featuring live filters, the middle one is the default camera interface and the last one has toggles for Panorama, Timer, Manual, Beautify and Refocus modes and a settings button. Xiaomi has also added more features to the Beautify section on the front camera. Filters such as Japanese, 1970s, Autumn and Indigo will appeal to all the Instagram and VSCO fanatics out there for their low-contrast film-like simulation modes. In video mode the interface is limited to two screens with one offering toggles for fast and slow motion video in addition to Settings that lets you select full-HD video recording mode.
Image quality from the Xiaomi Mi 4i was quite good. Daylight shots are packed with detail and the HDR mode comes in two variants – Normal mode clicks a series of three shots (underexposed, normal exposure, overexposed) whereas the Live HDR mode shows you the image it would ultimately appear.
Low-light and indoor shots were also decent, but had some noise, especially at 100% zoom. Shots taken under HDR mode had deeper colours and had lighter shadows.
But for its price, this is one of the best smartphone camera I have come across.
Performance
The most you can expect from a 2nd generation Qualcomm Snapdragon 615 SoC is just not to slow the tasks and when it's equipped with 2GB RAM, it's good enough to handle mildly intense tasks. For best results, you need to run the phone on performance mode, or in power saver mode, it's performance is ok, just the minor thing you'll see is in opening or closing of apps. Equipped with Adreno 405 GPU. this phone can handle running games like Ashpalt 8: Airborne and even Dead Trigger 2. However the phone has a little tendency to get little warm after playing games, however on daily routine tasks like using twitter, facebook, whatsapp or Instagram, it worked fair enough without any heating issue.
However there were few times when phone felt sluggish like while loading camera app or when opening a folder which is full of application icons, i would blame MiUi launcher for that, since after using Nova launcher, these issues disappeared.
If you're upgrading from a lower end device, this is one hell of a choice to go for. However there are few niggles which Xiaomi keep fixing with time to time updates. Also, Xiaomi is one the company who takes user feedback seriously and actually work on it for giving best user experience.
In bench-marking part, this phone performed better than Yu Yureaka or Oppo R5, both have same processor but of 1st generation Qualcomm Snapdragon 615 SoC. In GeekBench 3 benchmark, in normal mode, both Oppr R5 and Yu Yureka performed better, howwever in performance mode, Mi4i surpassed the figures comfortably. However, i don't believe in these numbers and for me from a consumer point of view, real life usability and performance is more important with good battery life.
While playing games for a longer period, you'll find top half of rear side getting warm and this happens for very obvious reasons. Especially if you're outdoors in hot summers, clicking a lot of photographs also heats it up from top of both front and rear side and you might need to keep it idle for few minutes to cool it down. Talking of speaker, it's loud enough for watching a video without headphones in a room and sound quality is most responsive in mid-range frequency.
Call quality, network reception is pretty good and i didn't faced any issue while making or receiving calls even in weak reception areas. Also sound doesn't distort even in raising the volume to maximum level. Also, phone was able to get GPS locks in seconds and dual-sim functionality (it supports 4G on both SIM's with dual standby) worked without any noticeable issues.
Mi 4i supports most popular audio and video file formats and you can play those even from USB OTG Pen drives. But be warned, USB OTG also drains battery faster. Mi 4i doesn't have a microSD slot, so the only way to have more memory is by using OTG drives . 12.77 GB of storage is available for a user which is a good number comparing with other many phones having fixed 16 GB storage.
Battery Life
While biggest among it's segment housing a 3120 mAh battery with a 5inch display, yet engineering it as one of the slimmest phone, Xiaomi has shown this world that they are no less in making slim phones with no compromises with battery size. Usually 3000+ mAh are usually seen with phone with 5.5inch display or they're thicker in size, but Xiaomi achieved this by using a smaller motherboard PCB. However the battery is non-removable just like other high-end phones but the good thing is that it supports quick charging technology.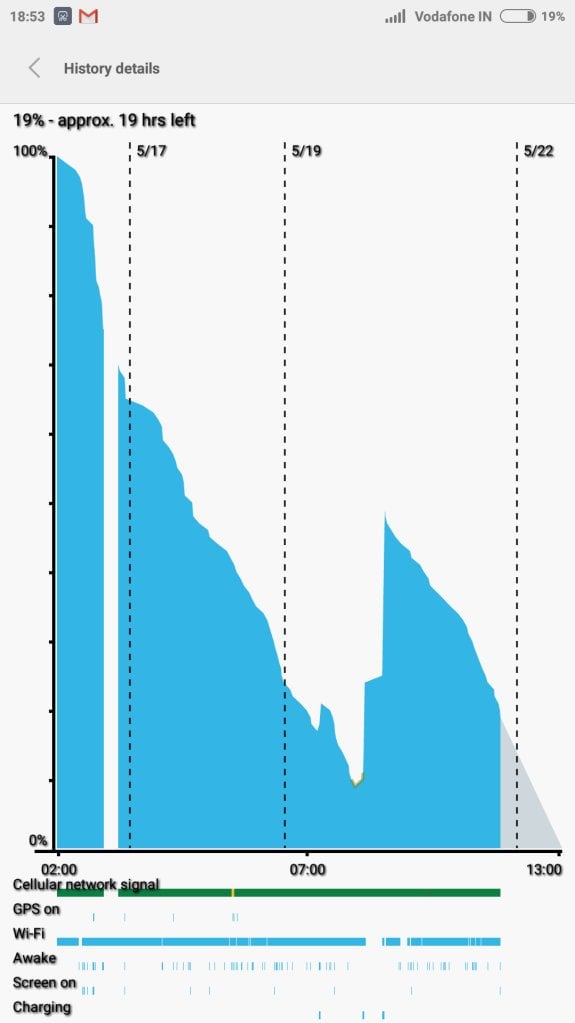 On a usual regular day with moderate usage, battery lasted a day (morning to night) on performance mode and 2 days on normal mode. Moderate usage i meant here including surfing the web, calling for couple of hours, clicking pictures and videos and most it remained on 3G most of the time. So, in short, you can easily extract a day worth of battery life from Mi 4i.
Final Verdict
After Mi3, This phone represents a new face of Xiaomi engineering and with a cost of 12-13K approx, it sports a brilliant full-HD display. Camera is also one the best you can get in it's category comparing with Asus Zenfone 2, Moto G or even Yureak YU or even if you may compare it with expensive phones like Samsung Galaxy A7 or HTC Desire 826. There is no compromise in design aspect and this 5inch phone fits perfectly in your hand for single handedly usage.
The few issues i stated above are few minor glitches which shall not remain forever and would be fixed with incremental udpates, and looking at the positive side, this phone has created a sensation among the users and you'll find many using this phone already. For some, space can be a constrained approx 13GB is not apt for all users but for most, they need a phone with great quality and speed and space is not the as decision making factor.
Just like Samsung, Xiaomi has managed to get a goodwill and trust of consumers, which was clearly seen on Mi 4i launch event. Also when Ratan Tata is with them as an investor, Xiaomi trust factor got a great boost among the consumers. With Mi 4i, Xiaomi has thrown a challenge to other smartphone makers to get their product UP with better specs in lower price. In any way, this brings a win-win situation for the consumers.